Fattoush Salad (Fresh, Crisp & Delicious)
A fattoush salad is sensational with almost any meal, and at a level that some may think is an exaggeration.
However, I'm here to tell you, this is a wonderful salad that you really need to try; you won't be disappointed.
Fattoush salad is very similar to an Italian panzanella salad, both using stale, day old bread to soak up the juices.
And provide a crunch.
Both these salads offer a mix of fresh tomatoes, cucumber, lettuce, and any number of other fresh produce.
The fatt in fattoush is common to the names of several dishes that incorporate day old stale bread as a base for the recipe.
And in the case of this salad refers to the crispy day old pita bread chips included alongside the vegetables.
What Is Fattoush Salad?
The very popular fattoush salad recipe has its base in the romaine lettuce that is at its core.
Romaine is a very common type of lettuce in the Middle East, and used frequently in salads.
This salad is said to have its origins in Lebanon, but it is widely enjoyed throughout the Levant.
Typically made with ripe tomatoes chopped alongside cucumber, thinly sliced green onions, cilantro and fresh mint leaves.
It includes garlic, olive oil, lemon juice and sumac for an extra tangy flavor, with pita chips as the croutons.
When I was a kid I used to buy heads of romaine from street vendors and eat it as one might eat junk food!
The fresh lettuce was delicious and the crunch was addictive; I assure you I wasn't the only one doing it!
Every time I chop romaine for a fattoush salad, I think of those days; how healthy they were!
How To Make Fattoush Salad
Place the lettuce in a large bowl after chopping into bite sized pieces.
Stir together the chopped tomatoes, cucumber, onions, cilantro and fresh mintleaves.
Season with salt and pepper, then add the minced garlic and sumac, and stir until all ingredients are well incorporated.
Add the lemon juice and olive oil and mix again making sure to cover the entire salad.
Finally mix in the pita chips and serve immediately, as this salad will begin to wilt in a short period of time.
Some variations can be made with the use of red onions, for a great burst of extra color.
Some use bell pepper, parsley leaves and in some cases a dollop of pomegranate molasses for a trifecta of sour flavors.
When it comes to the toasted pita bread, the amounts used are really down to personal preference.
Typically served in a small bowl by the side of each plate, it is a favorite salad for many people.
Lebanese restaurants will all boast that they are the ones who have the great recipe everyone is looking for!
A Short History Of Salad?
It was during the Roman Empire that the garden salad we know and love today came on the scene.
Mixed green leaves with salt and oil mixed in for flavor, but also to show one's high status level.
Salt was an expensive commodity known as white gold at that time, and most often used in the preservation of food.
After the fall of the Roman Empire it seems that salad consumption took a precipitous decline.
People in Europe did not begin eating salad again regularly until the Middle Ages.
Popularity of the simple salad grew and chefs began to experiment with different ingredients.
As you may expect from the Renaissance period, people rejoiced in the rejuvenation of the things around them, including salad!
New salad dressings, and preparations began being created, and then a book on the subject put the spotlight on the humble salad.
John Evelyn was a writer and avid gardener who set out his nine step method to the perfect salad in his book Acetaria.
Published in 1699 it is full of all kinds of advice on how to construct your perfect salad and which ingredients to use.
My favorite bit of advice from the book is when he says to make sure that the quality of the oil is "smooth, light, and pleasant upon the tongueâ€.
It's always good to make sure your salad is pleasant upon the tongue, just the way fattoush is!
By the 17th century meats were being added to salads as the creativity continued to build in Europe.
The Dutch cabbage salad known as koolsla became very popular in the New World, along with fruit salads in the 18th century.
Potatoes, fish, and pasta all began to become regular ingredients and salads turned into meals in their own right.
Even jello was getting in on the act and being added to salad with whipped cream and vegetables.
Today salads run the gamut from simple green leaves with a classic dressing to an entire high calorie meal.
Salad At The Arab Table
People in the Middle East are very fond of vegetables, and salads are still included in almost every meal.
Simple dressings of lemon juice, olive oil and salt accompany most salads, reflecting the flavors of the region.
The main vegetables are what you would expect from most salads, such as cucumbers, tomato and onions.
But cabbage salad is popular, green beans, eggplant and cauliflower can also be major ingredients in salads.
One of my favorites is the watermelon salad, with its white salty cheese and mint, truly delicious and refreshing.
What To Serve This Salad With
This salad really goes well with so many things, and a barbecued meat platter is no exception.
It's often part of a Middle Eastern Mezze of appetizers, and other salads such as tabouli.
Another way I like to use fattoush is when making wrap sandwiches, as my salad fixins of preference.
Slicing up cooked chicken breast, or a steak pairs really well with the nice garlicky flavor of the salad.
Rice dishes are another favorite as the crunchy croutons and vegetables contrast well with the fluffy rice.
Tips For Making Fattoush Salad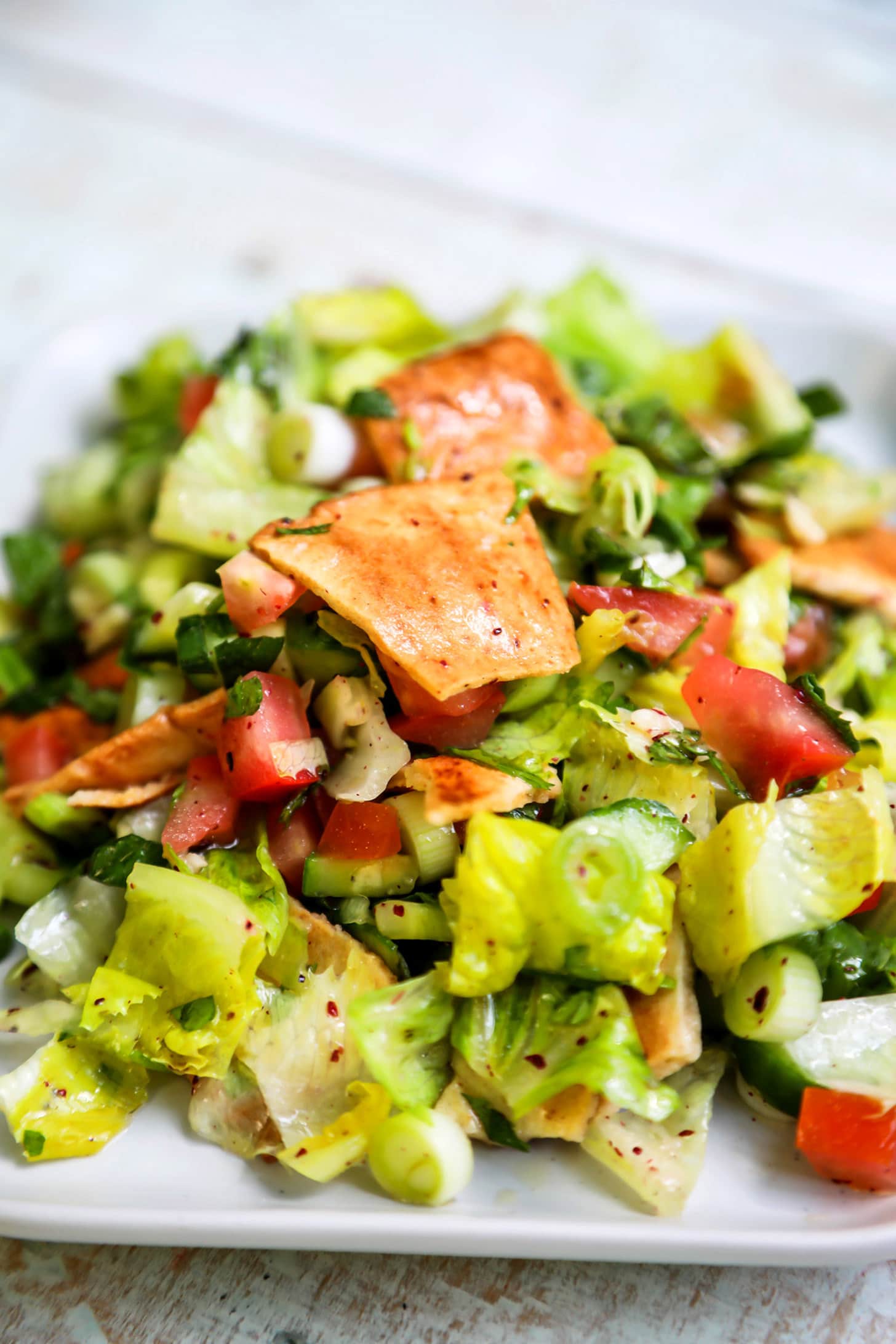 I like to chop up all my ingredients beforehand (same day), and keep them in the fridge separately.
Once I am ready to serve lunch, I will quickly throw all the ingredients together to make sure the flavors stay fresh.
Crisping up the pita chips can also be done last minute if you prefer warm croutons.
The key to this salad is to serve it as fresh as you possibly can for best results!
Fattoush Salad
A fresh salad with a crouton crunch that will fill you with the crisp new vegetables of the season!
Print
Rate
Ingredients
For the Salad
1

Romaine Lettuce Heart

1

cup

Cucumbers

chopped

3

Green Onions

diced

1

cup

Tomato

diced

½

cup

Mint Leaves

chopped

½

cup

Cilantro Leaves

chopped

1

Pita Loaf

toasted and crunchy
For the Dressing
⅓

cup

Olive Oil

3

tbsp

Lemon Juice

1

Garlic Clove

pressed

1

tsp

Salt

1

tsp

Sumac
Instructions
Chop all vegetables and place in a bowl. Mix well.

Add the salt, sumac, crushed garlic and stir in.

Add the lemon juice and olive oil.

Break toasted pita into small irregular pieces, and mix in with salad just before serving.

Do not dress until ready to serve.
Nutrition
Calories:
110
kcal
|
Carbohydrates:
6
g
|
Protein:
1
g
|
Fat:
9
g
|
Saturated Fat:
1
g
|
Sodium:
332
mg
|
Potassium:
125
mg
|
Fiber:
1
g
|
Sugar:
1
g
|
Vitamin A:
704
IU
|
Vitamin C:
8
mg
|
Calcium:
23
mg
|
Iron:
1
mg