Jerusalem is a city that has been around for a long, long time, and I'm going to wager Jerusalem Salad has been around even longer.
The Arab city of Jerusalem is where I lived as a child, as did my father, and his father before him.
Salad is one of those things that is always on the menu in an Arab home.
We always had fresh vegetable salads with our main meal, which was always lunch.
Fruit always came after lunch as dessert, which explains the healthy aspect of the Mediterranean diet.
We always had lots of fruits and vegetables growing up, our snacks were things like carrots and cucumbers.
This is by far one of my favorite salads ever, and it is the simplest of the simple.
The simplest food is so often the best food in the vast majority of cases.
We ate simply, but the tastes were always so good, and the food was nothing if not nourishing for all of us.
What is Jerusalem Salad?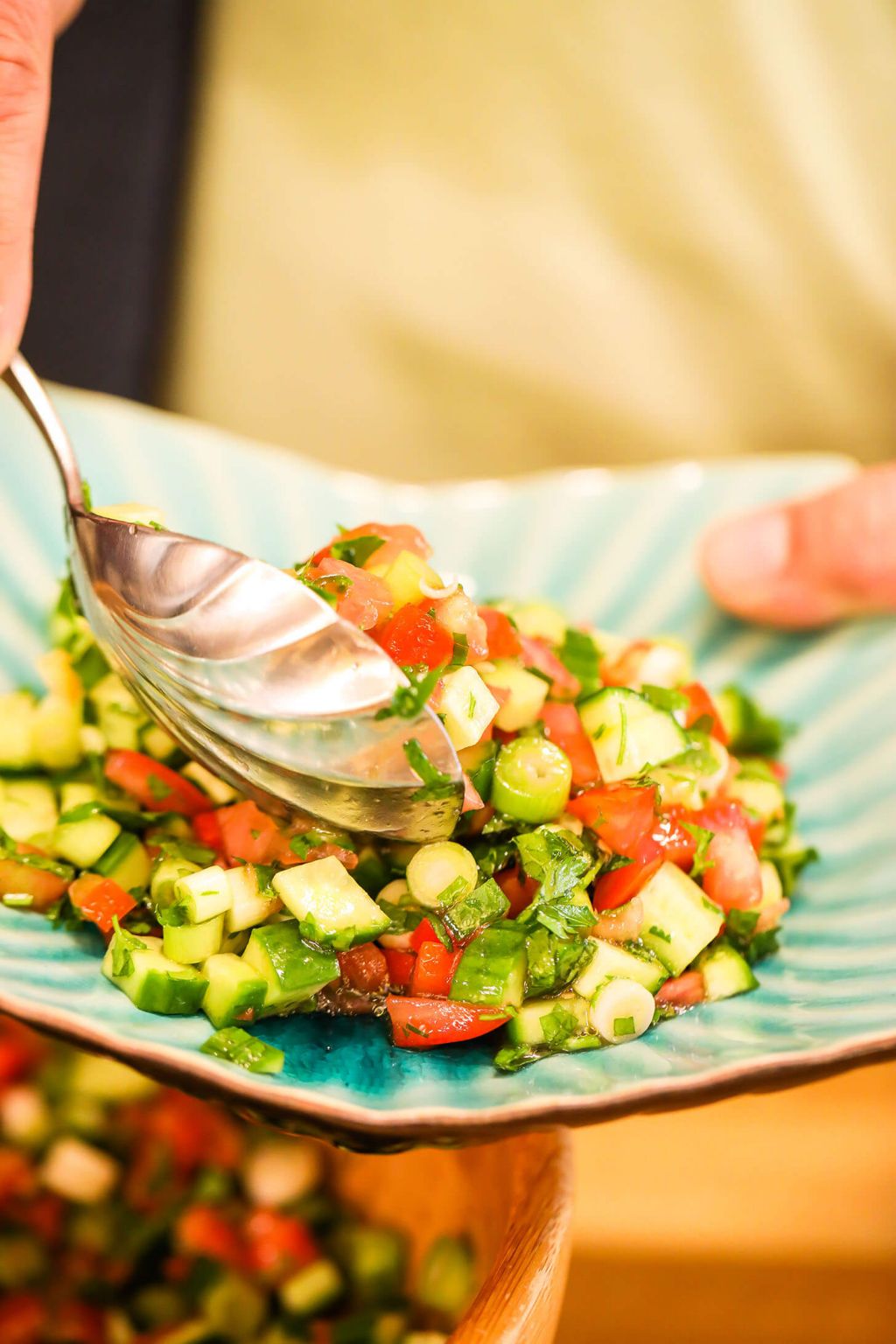 Jerusalem salad originated as a Palestinian salad that had been around for generations.
A traditionally peasant salad eaten by everyone who enjoys a good salad.
In its simplest form it is made of cucumber, tomatoes, onions, olive oil, lemon juice, and salt.
Over the years as others began to inhabit Jerusalem, there are now several versions of this salad.
The recipe I am sharing is a Palestinian recipe that my grandmother got from her grandmother.
I remember my grandmother making this salad at her home in Jerusalem, without any measurements.
We would ask her: "Sitti, how do you know how much to put in?"
And she'd say my sitti showed me.
I find myself doing the same thing today, after a long while of making something it becomes second nature.
She would say it as if that is all you needed to know when it came to food measurements.
This was from a time when you learned things in your head she would say, we didn't need to write things
My grandmother never did learn to read or write, but she could cook like nobody's business.
She sure knew a lot about food of her day, and what tasted good and what didn't.
My grandmother could make something out of very little and it would taste like heaven, just like her Jerusalem salad.
She never liked our blenders or mixers, no place for modern machines she would say.
The machines couldn't feel the food after all, and so why clutter your kitchen would be her question.
How to Make Jerusalem Salad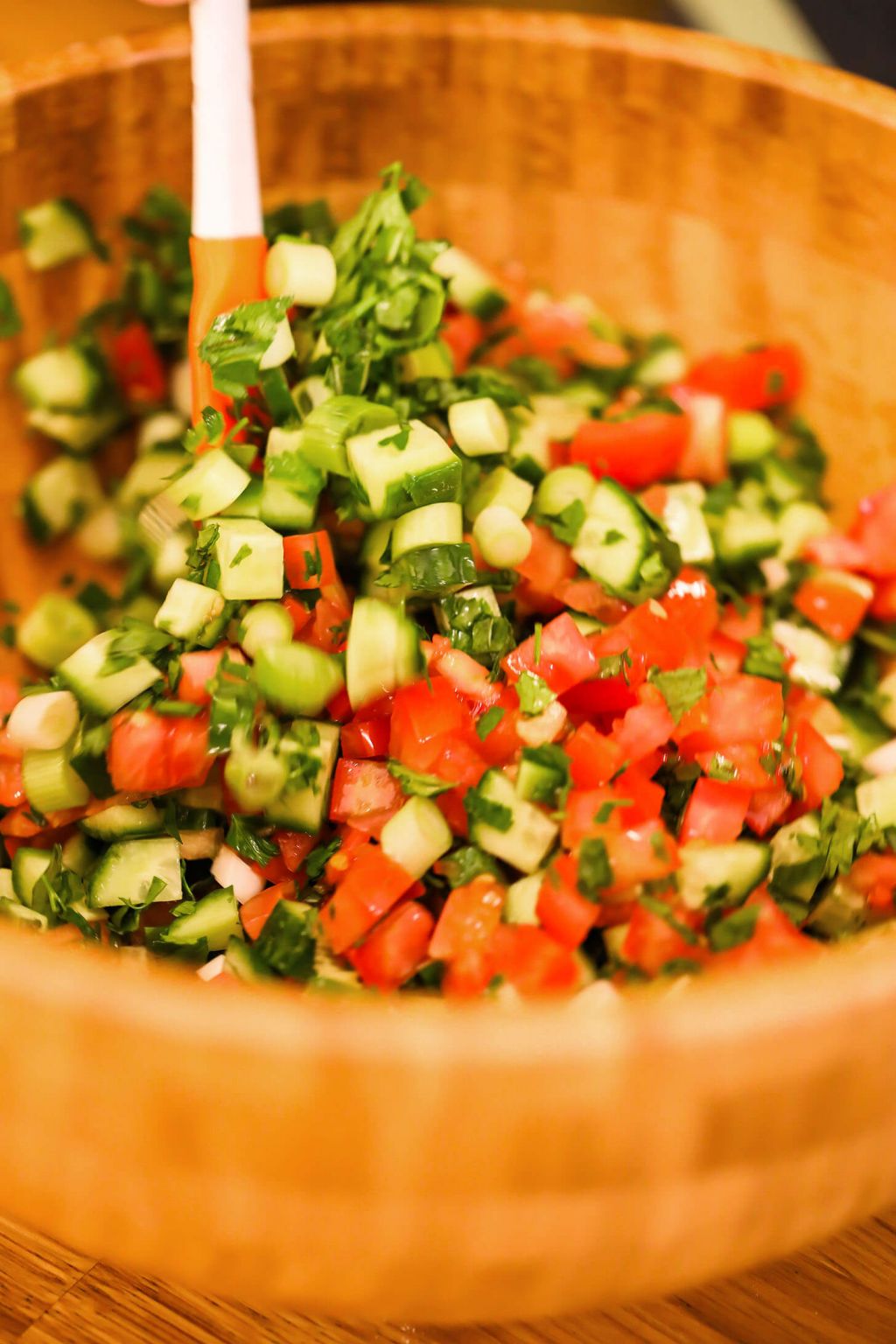 Dice cucumbers, tomatoes and onions, white or red onions, as you prefer, and add to a large mixing bowl.
In the Middle East people use what are known as Persian cucumbers, which are shorter than most European varieties.
English cucumbers can also be used very readily, and will provide just as good a flavor.
Use what you find at your local farmer's market, and you can even through in a bell pepper too.
Chop the mint and parsley, add to a large mixing bowl along with olive oil, salt and pepper if desired.
Add all the vegetables, and stir, adding lemon juice to finish this Middle Eastern salad recipe.
Tips for Making
Getting the lemon juice and olive oil mix for your own preference means try different amounts to suit you.

You want the vegetables to be cut up into small, but not too small pieces for best results.

Spring onions can be a good onion to add to this salad as a delicious alternative.
What to Serve This Salad With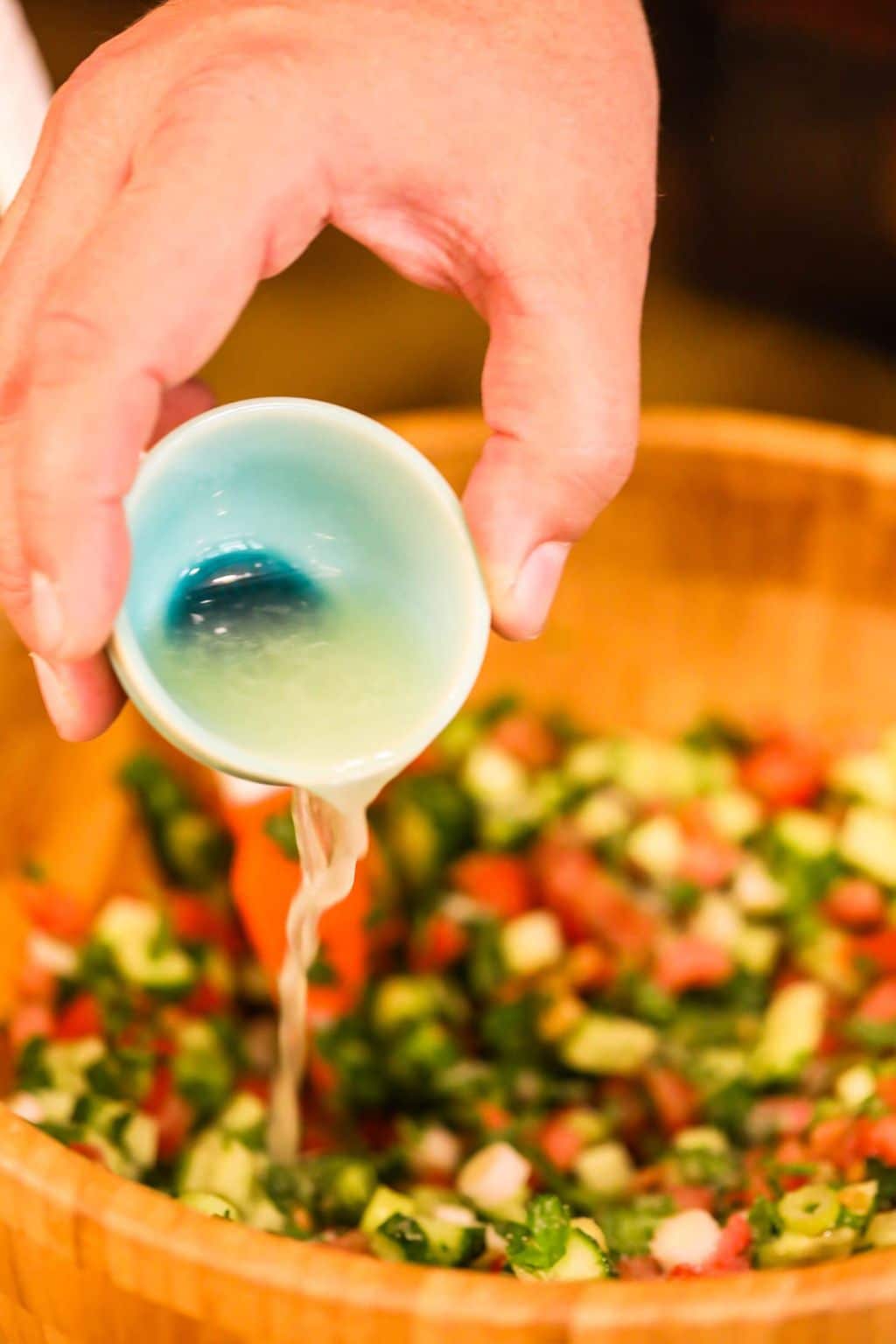 Traditionally this salad goes really well with rice dishes that are also served with yogurt as a side dish.
Dishes like mujadara, maqluba, or even lamb and rice dishes.
This is a really good salad that very often goes along with a Middle Eastern mezze meal or as an appetizer.
But that is not all, it really goes well with so many things or even as a salad on its own.
Print Recipe
Jerusalem Salad Recipe
Jerusalem is a city that has been around for a long, long time, and I'm going to wager Jerusalem Salad has been around even longer.
Instructions
Dice, slice, and chop all vegetables and place in a large mixing bowl.

Stir until all ingredients are well mixed.
Nutrition Per Serving
Calories:
92
kcal
-
Carbohydrates:
6
g
-
Protein:
2
g
-
Fat:
7
g
-
Saturated Fat:
1
g
-
Sodium:
205
mg
-
Potassium:
326
mg
-
Fiber:
2
g
-
Sugar:
3
g
-
Vitamin A:
1154
IU
-
Vitamin C:
22
mg
-
Calcium:
46
mg
-
Iron:
1
mg