Manakish (Za'atar Flatbread)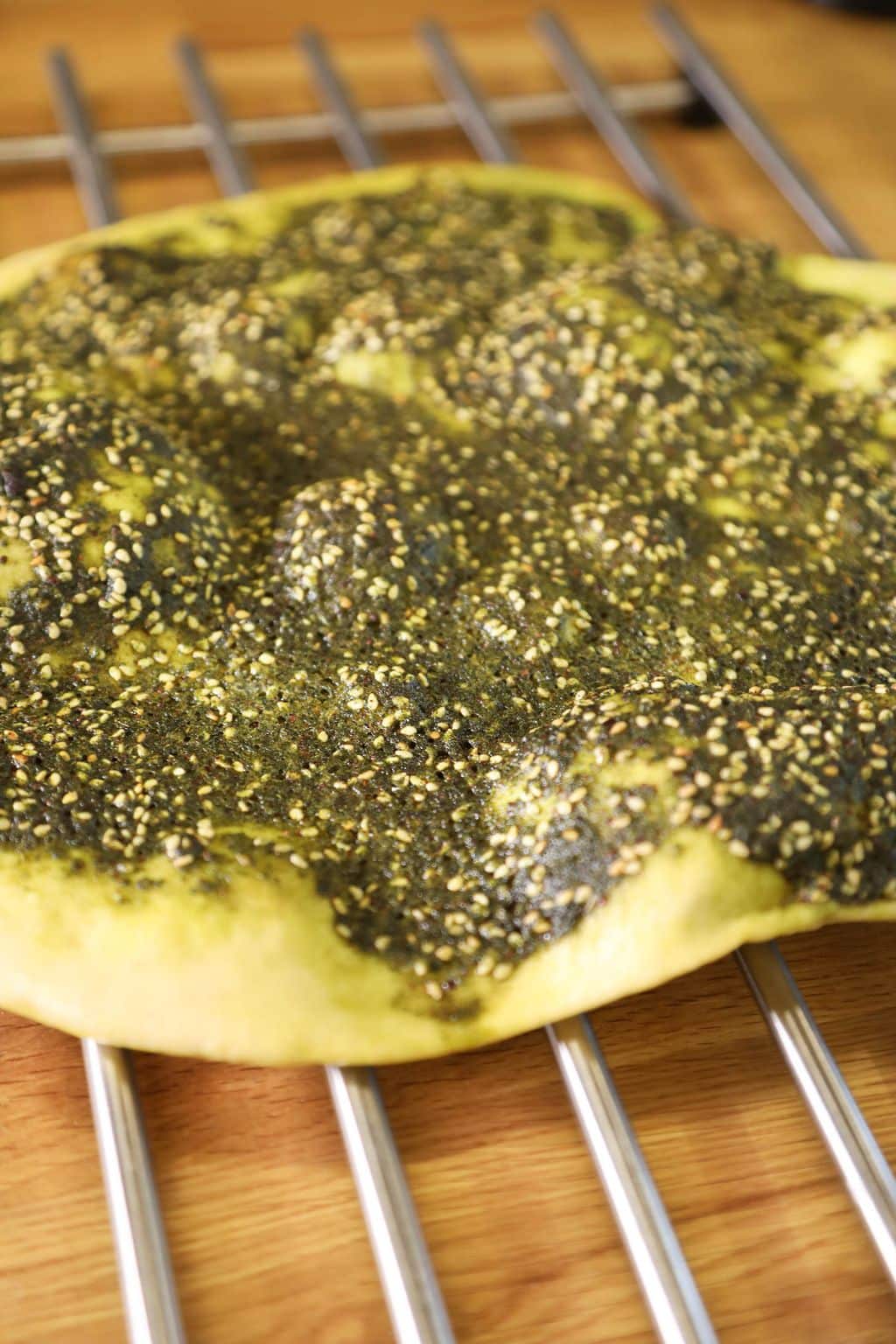 Manakish, manakeesh, manoush, manoushe, manaeesh, regardless of how you spell it phonetically it means the same thing.
And that one thing is the ultimate delicious Middle Eastern flatbread you have ever tasted.
When made well, this is a delightful bread that really has no comparison.
Za'atar, which is the prepared herb topping on Manakish, is unique in its flavor.
Za'atar is a herb grown extensively in the Mediterranean region and is commonly referred to as a form of thyme.
However the actual plant looks more like oregano, and has a flavor combination of thyme, oregano and marjoram.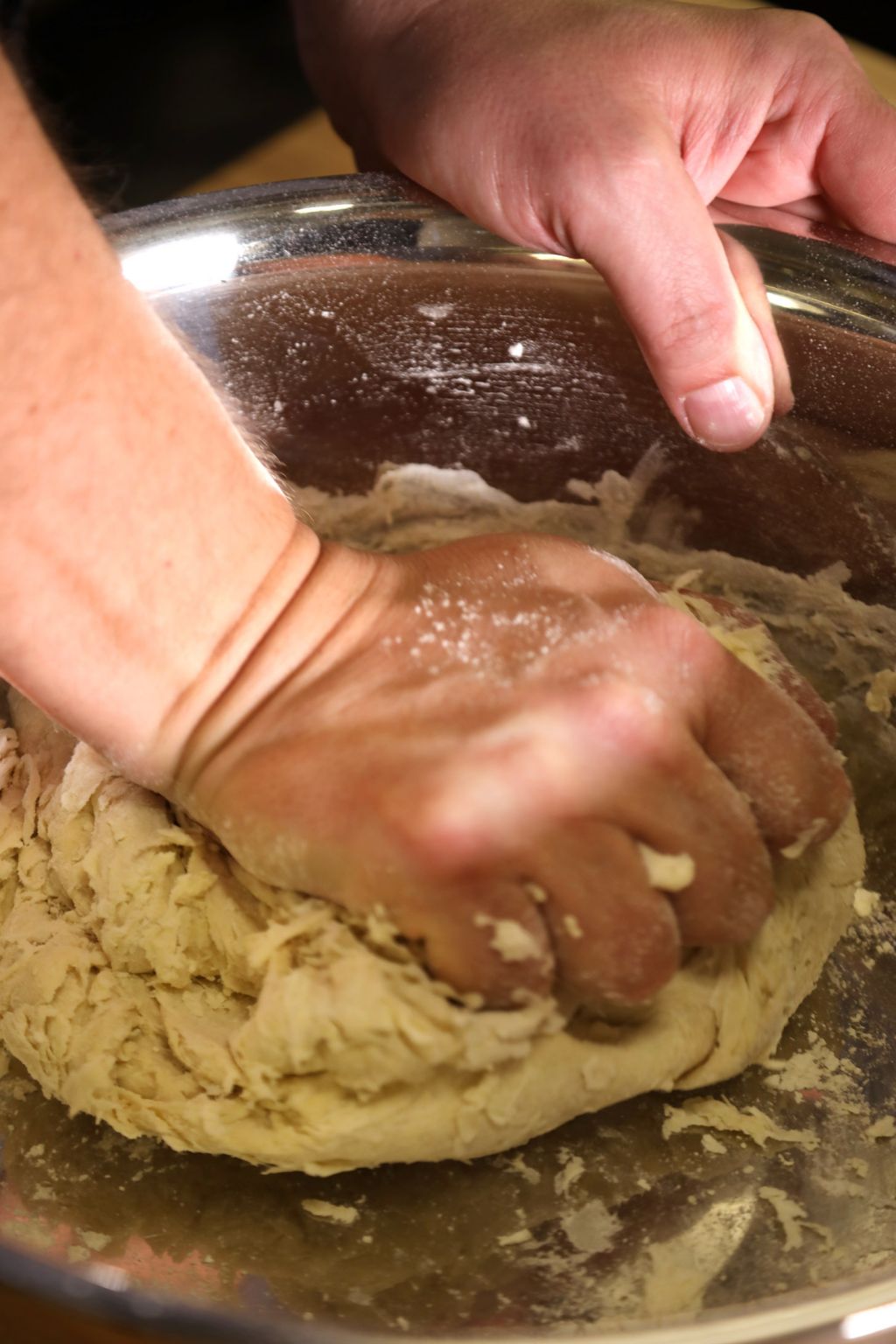 The prepared form of za'atar is generally a combination of the za atar plant, sumac, salt and sesame seeds.
Traditionally a common way to eat it is to dip bread in olive oil and then dip it into the zaatar mixture which sticks to the oil on the bread.
It is absolutely delicious.
And goes perfectly on a homemade flatbread, making the infamous Manakish.
This recipe is very easy and straightforward to make so I encourage you to be adventurous and give this one a go!
What is Manakish?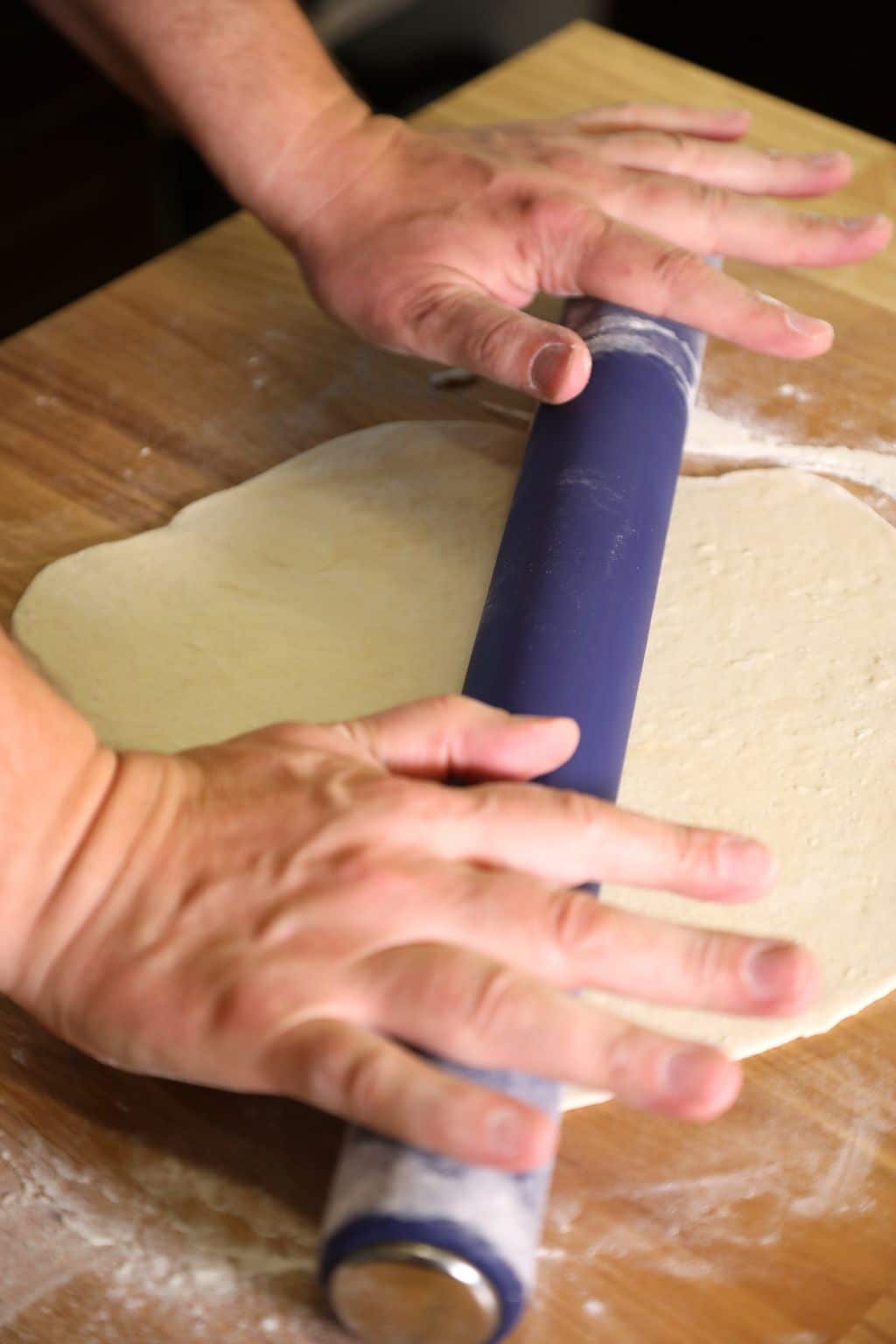 Manakish is a type of soft dough that is covered with cheese, spices or ground meat similar to a pizza.
This dish is usually cut pizza style or folded over itself and eaten for basically any meal of the day.
Lebanon is the place of origin for this dish and it holds strong historical importance for the country.
This is because it was eaten during the civil war as a cheap filling breakfast that would be able to give them the energy to get through the day.
Some of the most classic toppings for Manakish are za'atar which is normally a breakfast variation of the dish.
Cheeses such as akawi and sfatit can be sometimes mixed with za'atar and used as a topping which resembles the look and taste of pizza.
When it comes to the lunch variations of Manakish these usually contain different meats like a minced lamb which are mixed with tomato, spices and vegetable oil which make it a more heavy and filling meal.
How to Make Manakish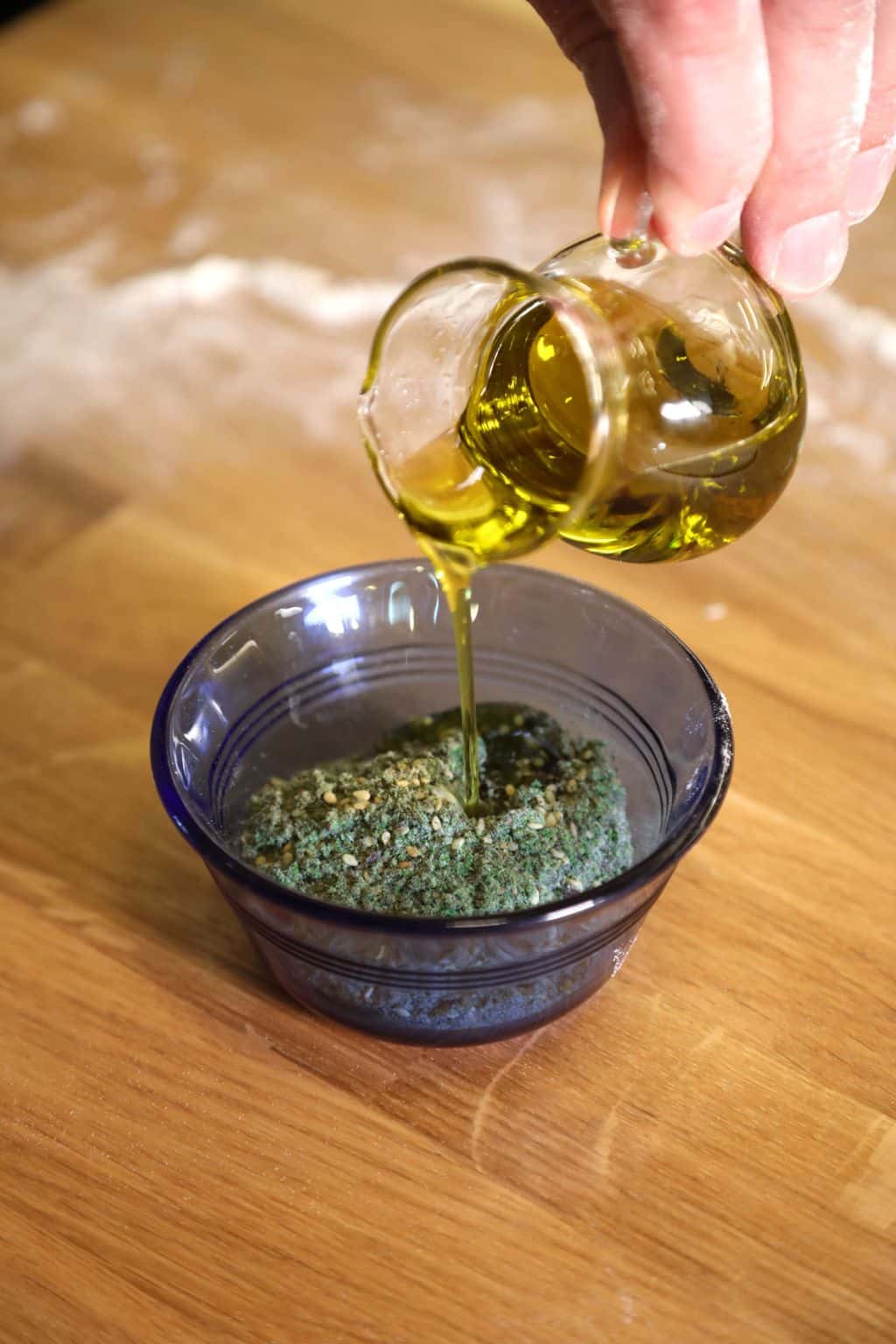 You will start by preheating your oven to 400°F (200°C) while you mix your flour, salt and yeast in a large bowl.
Make a well in the center of the mixture you just made then add the olive oil and warm water.
Mix this up using your hand until the dough comes together.
When the dough becomes formed, knead it for up to 10 minutes then cover with plastic wrap and set aside for an hour or until the dough has doubled in size.
Pour the dough out on a floured surface and cut it so you have 4 equal portions of dough.
Roll out each piece dough you will be using and place on parchment paper on a baking sheet.
You can refrigerate or freeze the other pieces of dough.
Next comes making the topping for your Manakish which is done by putting za'atar in a small bowl and stirring in olive oil until you have a spreadable consistency.
Spread this topping all over dough making sure to leave the edges uncovered.
Bake this flatbread for 15 minutes or until it is cooked to your desired level.
Enjoying Manakish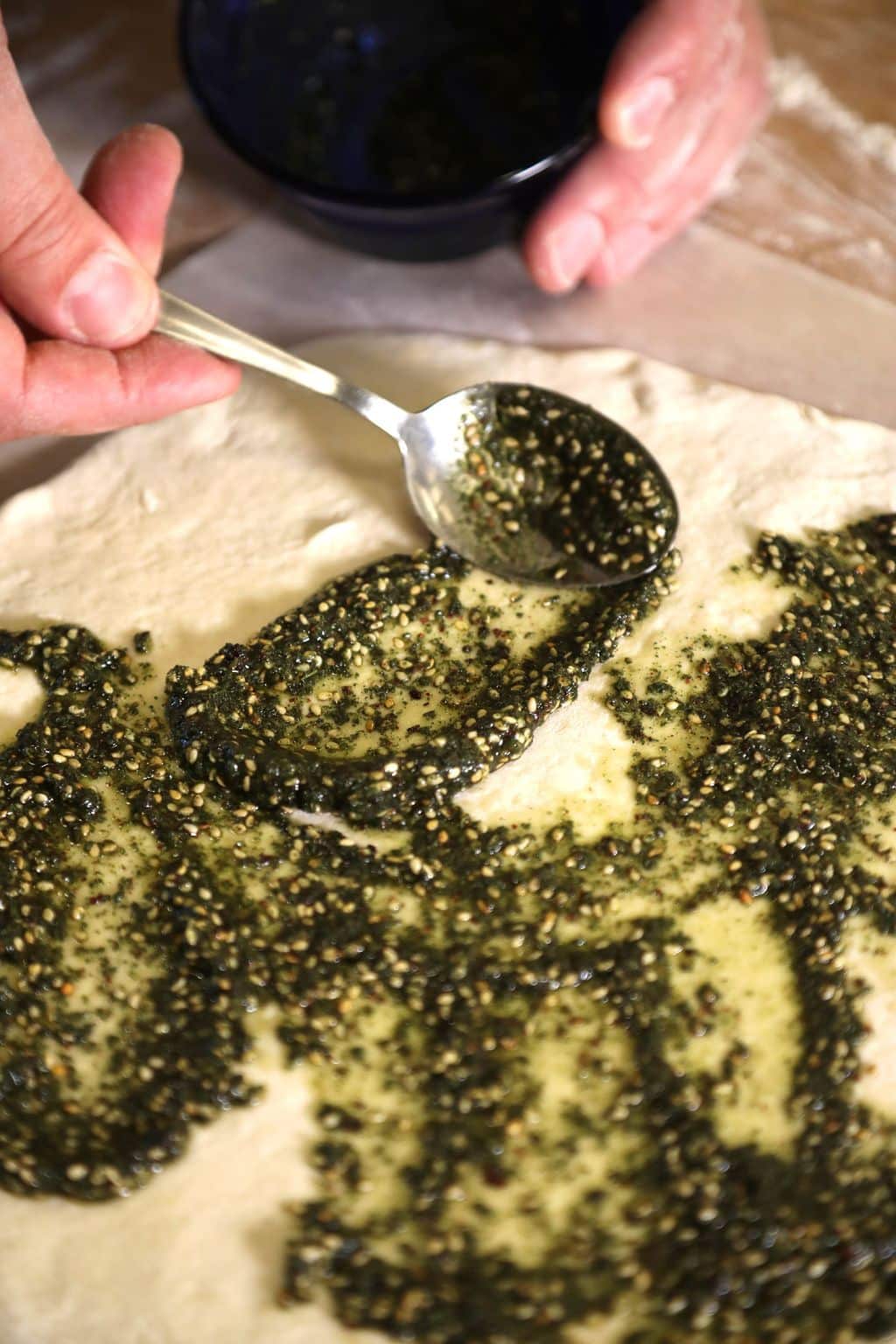 There are as many ways to make za'atar as there are people making it.
Everyone has a favorite way of making it, with different ingredient additions that suit their individual tastes.
I make mine in the purest form as I described above.
In the Jordan Valley, we have a little place down that is our retreat from the city.
We usually go on a Friday which is a day off here.
Down there, we keep chickens and have a bunch of stuff planted for fresh vegetables.
One of the things we have planted is za'atar.
I pick it, dry the leaves and grind them to a powder, add the other ingredients and make my very own za'atar.
Needless to say I love it.
We generally go down to the Valley early in the morning, picking up fresh bread and Manakish from the bakery on the way.
When we arrive at our place in the Valley, we collect fresh eggs and make breakfast.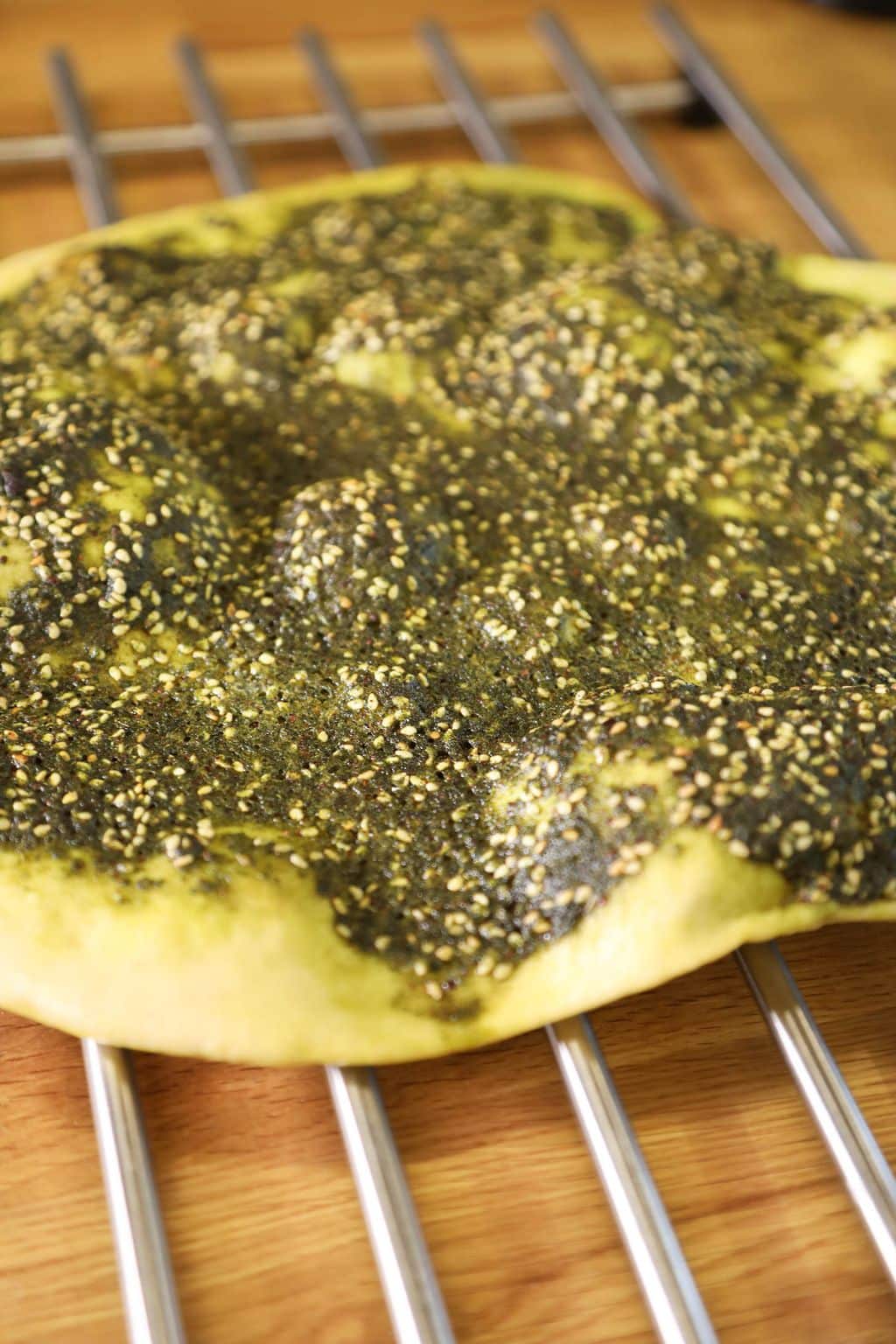 Tradition has my dad doing the cooking.
Eggs with parsley and onions, which he smothers in fresh ground garlic on his plate.
Lamb sausages, and hummus from Abu Jbara (best hummus in the world!) completes the breakfast.
All eaten with the freshest of fresh Arabic pita bread.
I think that once you make a Manakish you will be a lifelong fan of this delightful flatbread.
Invite family and friends over for a treat.
Homemade appetizers are like no other.
They will be grateful.
That is if you want to share once you've had a taste.
Equipment I Used
Kitchenaid Mixer
Dough Scraper
Rolling Pin
Parchment Paper
Measuring Cups and Spoons
Baking Tray
Manakish (Za'atar Flatbread) Recipe
One taste will make you a lifelong fan of this very delicious flatbread. Go on, try it!
Print
Rate
Ingredients
For the Dough
4

cups

Flour

all purpose

1

tbsp

Salt

2¼

tsp

Yeast

instant acting

2

tbsp

Olive Oil

1¾

cups

Water

warm
For the Topping
3

tbsp

Za'atar

3

tbsp

Olive Oil

more if needed
Instructions
For the Dough
Preheat oven to 400°F (200°C).

Mix flour, salt and yeast in a bowl.

Make a well in the mixture.

Add the olive oil and water.

Mix using your hand until the dough comes together.

Once the dough is formed, knead for

ten minutes

.

Cover and set aside for

60 minutes

or until dough has doubled in size.

Pour dough out on floured surface and cut into four pieces.

Roll out each piece dough you will be using, place on parchment paper on a tray. The other pieces of dough can be refrigerated or frozen.
For the Topping
Put za'atar in a small bowl. Stir in olive oil until you have a spreadable consistency.

Spread the za'atar mixture on the dough with edges exposed.

Bake for

15 minutes

or until flatbread reaches your desired doneness.
Nutrition
Calories:
312
kcal
|
Carbohydrates:
49
g
|
Protein:
7
g
|
Fat:
9
g
|
Saturated Fat:
1
g
|
Sodium:
877
mg
|
Potassium:
89
mg
|
Fiber:
2
g
|
Vitamin A:
55
IU
|
Vitamin C:
0.7
mg
|
Calcium:
39
mg
|
Iron:
4.8
mg