Mint And Cucumber Yogurt Sauce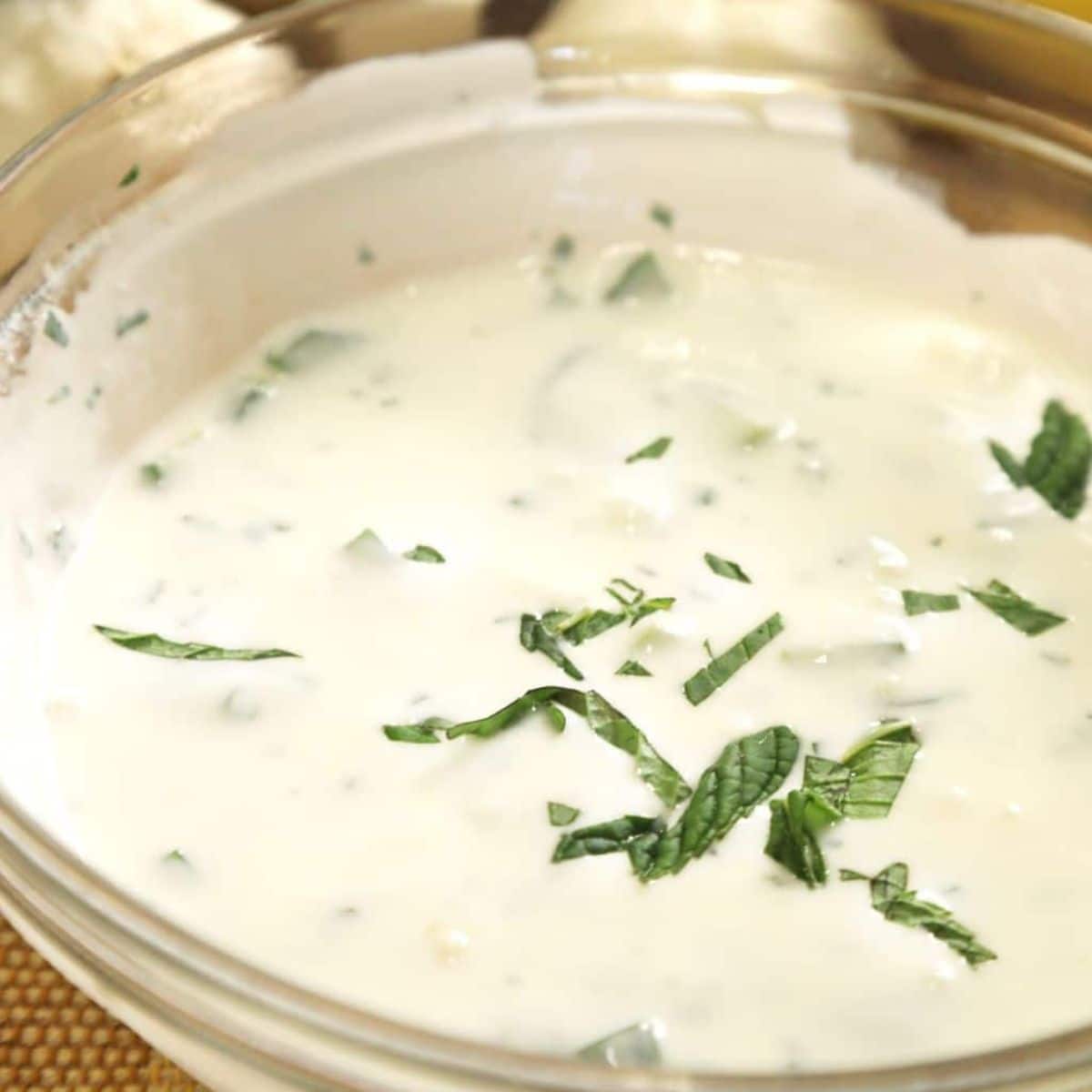 A cucumber and mint yogurt is a must in any mezze!
Wow! What a flavor.
A flavor that goes along with so many foods, from meats to savory bread and rice dishes.
My favorite is always the mellow taste of sheep's yogurt, but any plain yogurt will do.
I do not like flavored yogurts, mainly because they are usually full of sugar. Plus I just love the slightly tangy taste of fresh plain yogurt.
The word for yogurt in Arabic is 'laben' from which 'labeneh' (a semi soft cream cheese) is derived.
The simple way to make labeneh, which can be used in a variety of ways in Middle Eastern cuisine, is to pour fresh yogurt into cheese cloth and hang it so the whey will drain out of the yogurt.
You can use the whey in place of water to add flavor to your favorite bread recipe.
After allowing the yogurt to drain through the cheesecloth for a day or two, you will have the most wonderful cheese spread.
If you want to go a step further, you can make your own yogurt using fresh milk.
Yogurt was around for a long time before we could buy every kind of variety in the supermarket.
In fact, it was thought to have originated in what is now the Middle East between 5000 and 6000 BC.
After milking livestock, the natural enzymes would curdle the milk creating a type of yogurt.
Making your own would be about as easy a process.
Milk and a little bit of fresh yogurt as a starter, and then incubated for 9 hours.
Afterward, cool and refrigerate.
Homemade yogurt! Yum!
One great thing to do with this dish is to have it on hand whenever you have a barbecue.
It goes so well with all kinds of grilled meats and is perfect as a side dish on its own.
Combined with a fresh salad and grilled vegetables, your barbeque is sure to be a winner.
Mint & Cucumber Yogurt
The yogurt, lemon and mint flavors in this recipe come together to create a beautifully refreshing side dish.
Print
Pin
Rate
Ingredients
1

medium

Cucumber

diced

1

cup

Yogurt

1

tsp

Salt

2

cloves

Garlic

minced

1

tbsp

Mint

chopped

1

tbsp

Lemon Juice
Instructions
Dice the cucumber and mix in bowl with all other ingredients.
Nutrition
Calories:
46
kcal
|
Carbohydrates:
4
g
|
Protein:
2
g
|
Fat:
2
g
|
Saturated Fat:
1
g
|
Cholesterol:
7
mg
|
Sodium:
610
mg
|
Potassium:
163
mg
|
Sugar:
3
g
|
Vitamin A:
115
IU
|
Vitamin C:
3.8
mg
|
Calcium:
84
mg
|
Iron:
0.1
mg