Flatbread with Herb Butter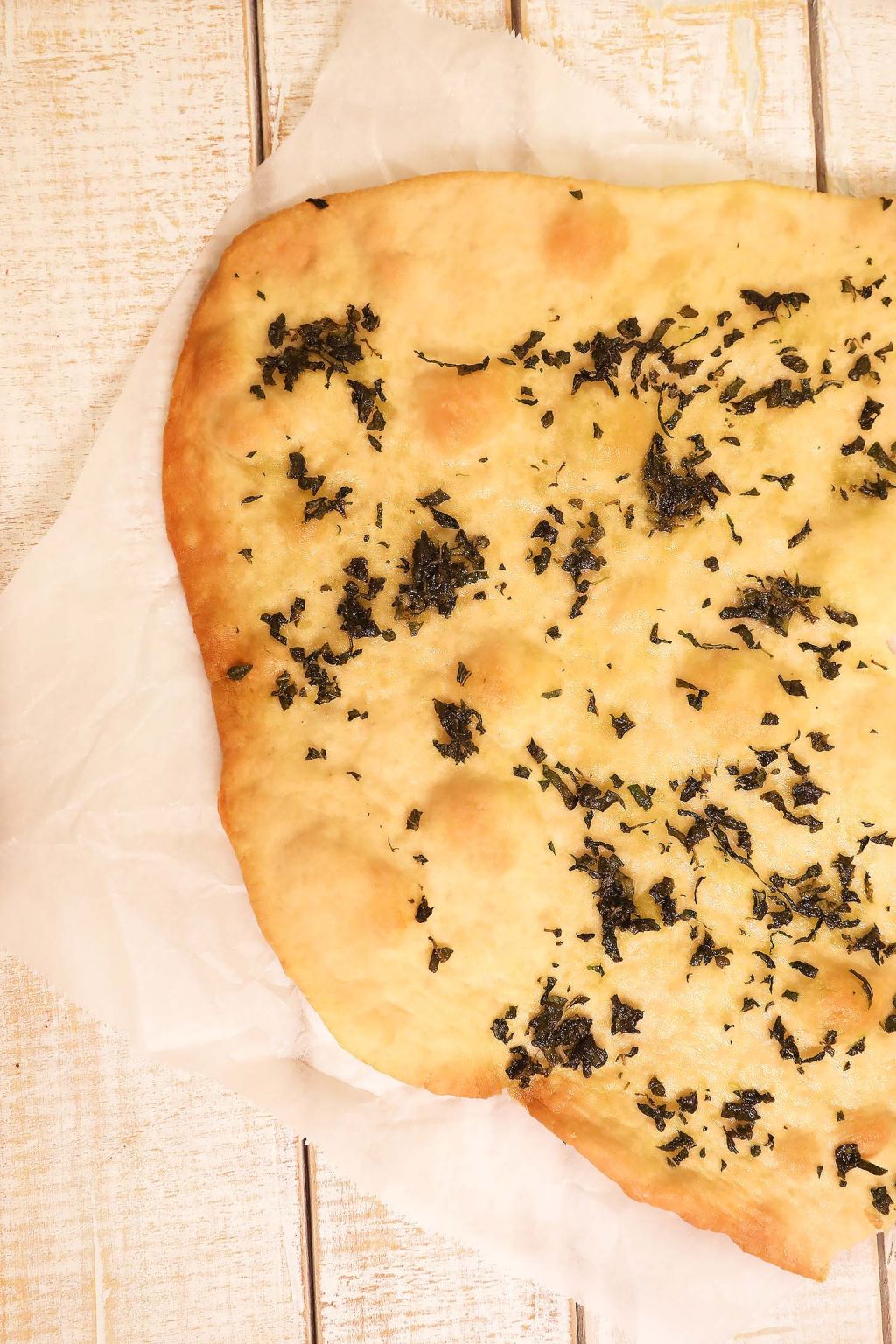 This is a very simple flatbread designed to act as an appetizer while sipping a glass of wine, and snacking on some olives and cheese.
Essentially this is a dough that has been rolled flat, had butter spread on it, and a collection of herbs sprinkled on top.
As I've mentioned before I love bread in all its forms, so this recipe works for me!
As I write this I'm waiting to finish my ciabatta dough.
I made the sponge for it last night, which is looking great this morning, and I will finish it in a little bit.
Allowing it to then rise a couple times before I bake it later.
I will also be making pizza for dinner this evening for dinner.
A couple of my cousins are coming over this evening to sit in the backyard and enjoy a slice and a drink.
The culture we live in here is a very social one, people spend a lot of time visiting each other.
Whether sharing tea, coffee, a meal, or dessert people enjoy being in each other's company with family and friends.
This is one of the aspects that attracted me to coming here for the next year or two.
It is nice to be in a place where importance is put on people, and human relationships are valued.
It feels like that is something that is disappearing the world over.
I like to think that it is food that greases the wheels when people are together and gives them a reason to be with each other.
Bread is the very basic essence of food in this region, and probably why I have such a fixation with it.
We get used to the food we are raised on, and it is hard not to revert back to those comfort foods when given the chance.
I also think that the physiological effect that food has on our bodies is a big factor in what we eat.
That is one of the reasons why humans tend to like highly refined, and highly processed foods.
It gives them a concentrated jolt of something that their bodies crave, and seek to ease a certain desire they lust after.
I make it sound like an addiction, and I believe in many cases it is.
And people remain unaware of what is driving them to eat certain foods.
In some South American countries people chew on coca leaves that acts as a mild stimulant, and suppresses hunger, thirst, and fatigue.
These leaves chewed this way are not addictive to the body, but when refined and turned into cocaine become highly addictive.
I believe the same goes for food.
Things in their rough form are easy for us to enjoy without being over supplied by the concentration of certain compounds in the food.
This is what highly refined processed foods do to us.
Foods like sugar and flour are some of the worst culprits.
But every once in a while some bread, maybe even a flatbread, or a flatbread with herb butter hits the spot.
Satisfies the cravings!
So far, bread is not illegal, and until it is, I will keep eating it!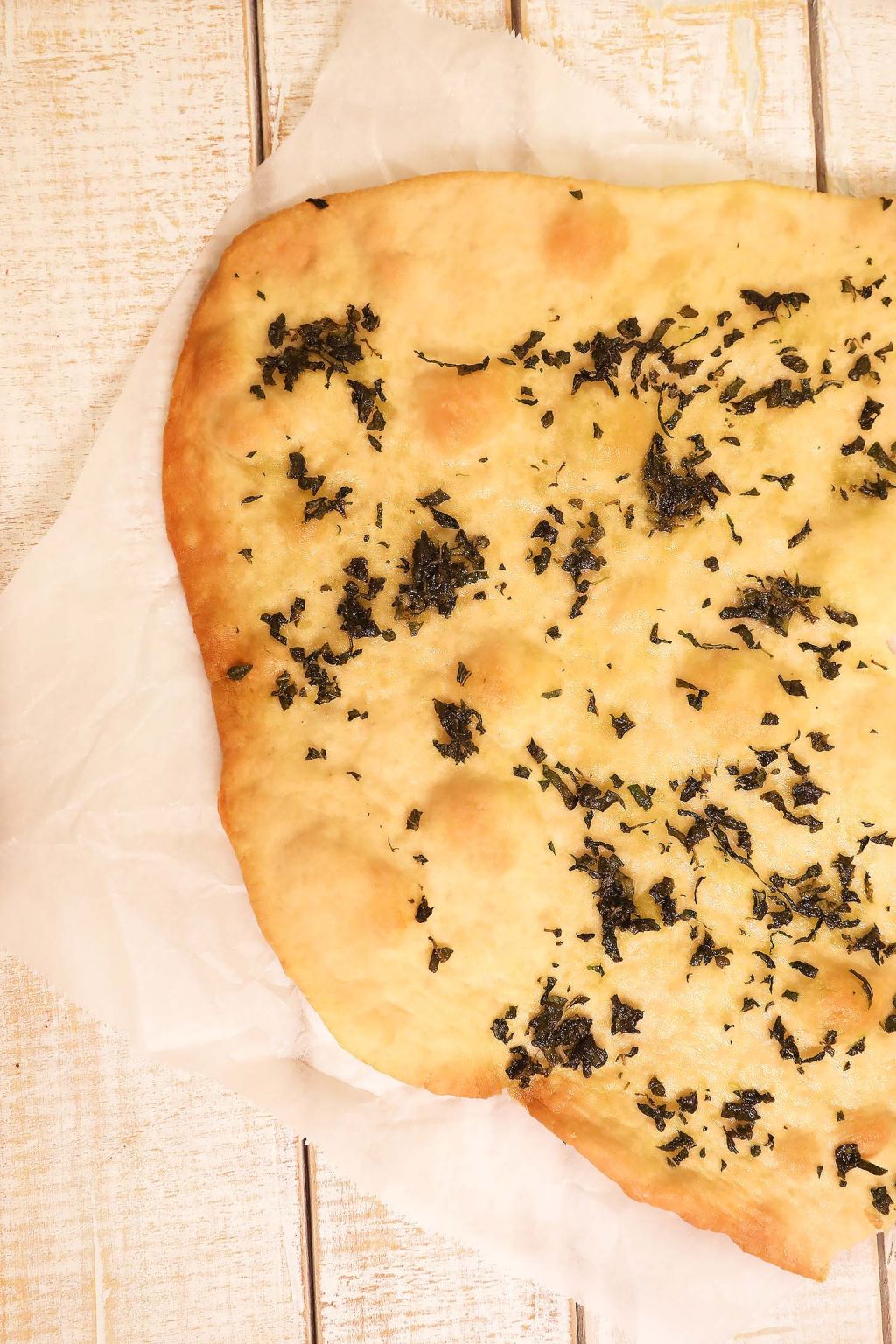 Flatbread with Herb Butter
A glass of wine, a piece of flatbread with herb butter equals heaven!
Print
Rate
Ingredients
4

cups

Flour

2¼

tsp

Yeast

1

tbsp

Salt

2

tbsp

Olive Oil

1¾

cups

Water

½

cup

Butter

melted

¼

cup

Basil

chopped

¼

cup

Cilantro

chopped
Instructions
Preheat the oven to 400°F (200°C).

Mix together flour, yeast and salt in a large bowl.

Add olive oil and water. Mix together until you form a dough.

Cover and let rise until double in size.

Flour a surface and divide the dough into 4 balls. Each ball will make a flatbread.

Roll out 1 ball of dough until you reach the desired size for your flatbread.

Melt the butter in a bowl and mix in the basil and cilantro.

Spread the herb butter mixture over the flatbread.

Place the flatbread on a baking tray and cook for 15-20 minutes or until brown.
Nutrition
Calories:
182
kcal
|
Carbohydrates:
24
g
|
Protein:
3
g
|
Fat:
7
g
|
Saturated Fat:
3
g
|
Cholesterol:
15
mg
|
Sodium:
489
mg
|
Potassium:
38
mg
|
Vitamin A:
215
IU
|
Vitamin C:
0.2
mg
|
Calcium:
8
mg
|
Iron:
1.5
mg