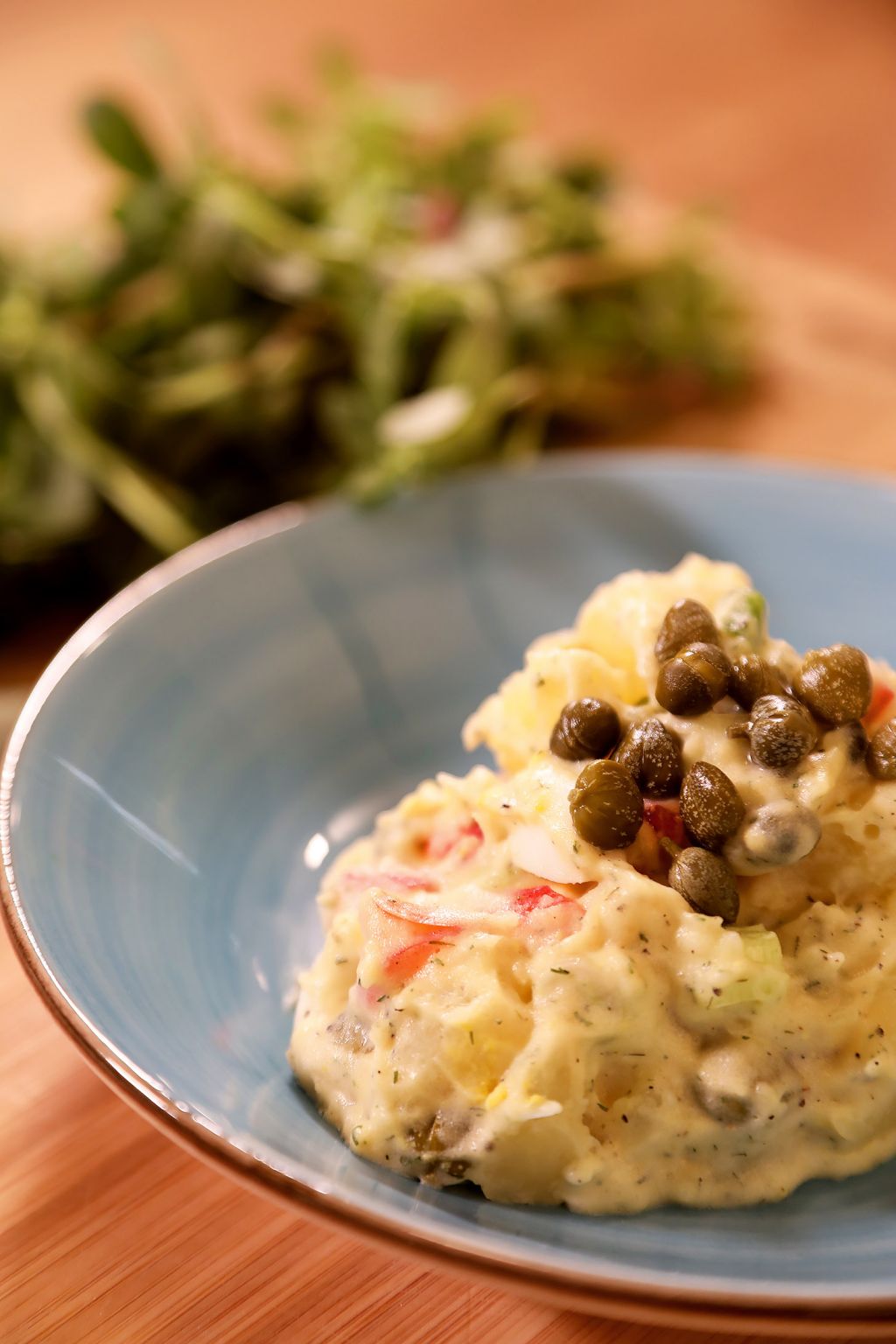 You can't beat a delicious, creamy potato salad at any gathering or BBQ!
Did you know, potatoes were first cultivated between 8000 BC and 5000 BC by the Inca Indians of what is modern day Peru?
The Spanish conquerors of South America took the potato back with them to Europe where it was quickly adopted as a staple in many countries.
Sir Walter Raleigh then first introduced the potato to Ireland where it played a big part in sustaining the population.
Many variations of how to cook with potatoes popped up and many began as very individual to their respective countries.
Today I will be talking about how to make potato salad, including my favorite potato salad recipe.
JUMP TO:
How to Make Potato Salad
Russet potatoes work really well for potato salad, and red potatoes make a nice option as well or even a mix of both for something a little more interesting.
Peel your potatoes and cut them into quarters.
Add the potatoes to a large pot and cover in cold water, bring water to a boil, and boil for around 20 minutes until they are slightly soft.
Once they've cooled a little, in a bowl add chopped green onions, capers, hard boiled eggs and diced red peppers. 
In another bowl, make your potato salad sauce.
I personally like to use mayonnaise, dill weed, yellow mustard, capers jar juice, salt and pepper.
Mix together until you get a creamy consistency.
Then just pour your sauce over the potato salad and gently mix together.
Ingredients added should be based on your favorite flavors.
I've add this recipe below!
Use it as one of your side dishes at your next barbecue.
It won't disappoint.
How to Boil Potatoes for Potato Salad
You can either boil potatoes with skins on or off, russets, which are often used for making mashed potatoes, have a tougher skin and maybe better peeled, but red potatoes work really well with the skin left on.
And of course keeping the skins on make your potatoes far more nutritious for you to eat.
Place your potatoes in a large pot, cover with cold water, and bring to a boil.
How long to boil potatoes for potato salad?
Usually about 20 to 25 minutes should do it.
This can of course vary depending how many potatoes etc.
The key is to wait until the potatoes are well cooked, meaning soft throughout where a fork will pass through them easily.
Drain the potatoes using a colander in the sink.
Potato Salad Recipe
Common Questions
Can you Freeze Potato Salad?
Yes you can freeze potato salad, but the consistency can change when it is defrosted.
For best results, freeze the potato salad in an approved freezer container with as little air as possible around the salad.
Place in the deep freeze for up to three months.
To defrost the potato salad, remove from freezer and place in the fridge overnight until thawed.
Open container and place the potato salad in a bowl, stir, and serve.
Do not defrost on the countertop or in the microwave, as this can lead to bacteria growth.
Are Potatoes Gluten Free?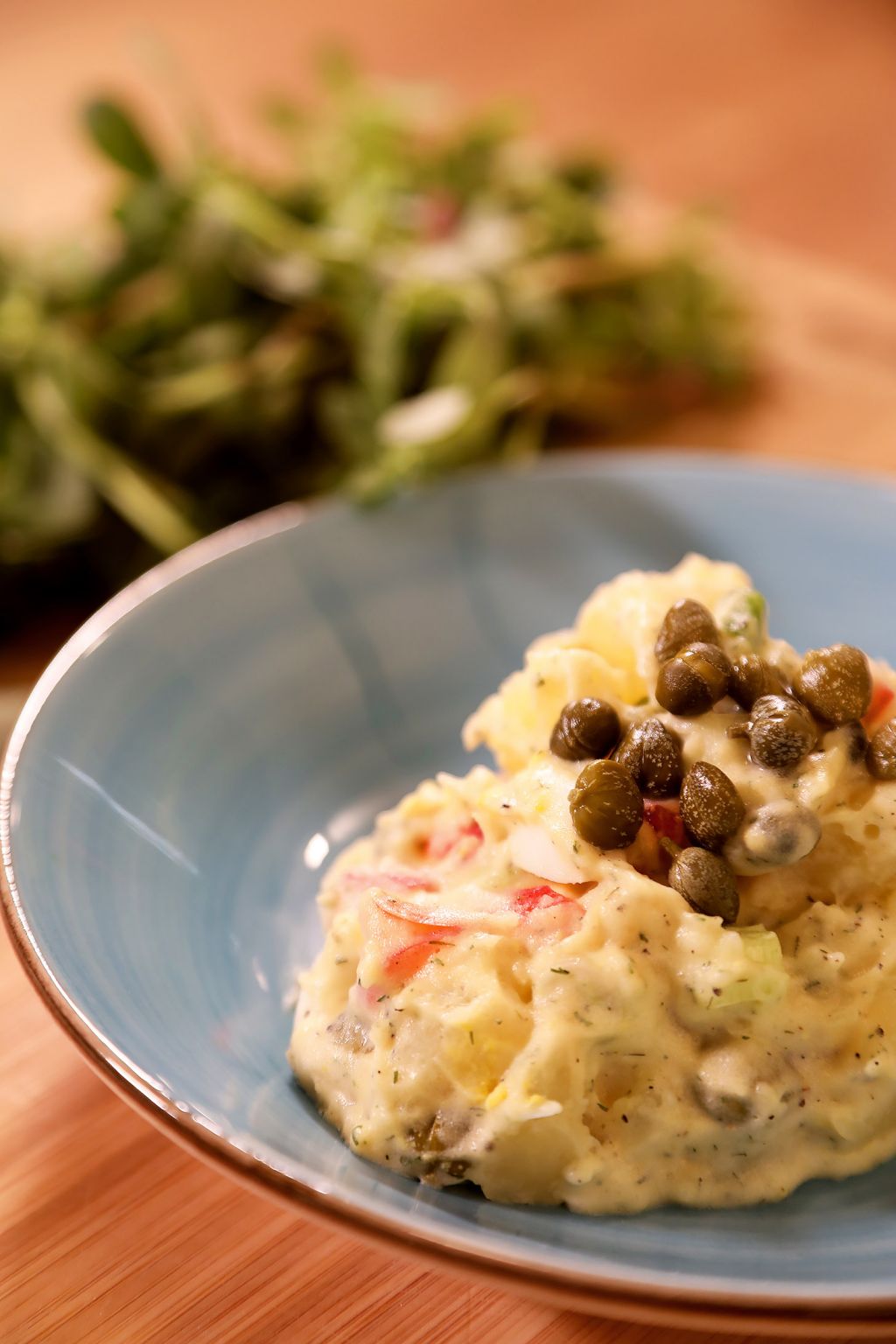 Yes potatoes are completely gluten free.
They are also fat, sodium, and cholesterol free.
However, what potatoes do have, is fiber, magnesium, and antioxidants.
More potassium than a banana, both vitamins C, and B6, all with only 110 calories.
How to Store Potatoes
For best results store potatoes in a dark cool and well ventilated area.
Ideally the temperature should remain between 45º and 55º fahrenheit (7-13°C).
Check potatoes regularly for any that are going soft or sprouting.
One bad potato can spoil the whole lot so you want to stay on top of any changes to quality.
It is also wise not to store potatoes in the same container as your onions, as they both release gases that ripen the other more quickly.
Do not wash potatoes until you are ready to use them.
How Long do Potatoes Last?
At normal room temperature potatoes will last one to two weeks.
But under ideal conditions when stored in a well ventilated dark space at a temperature between 45º and 55º F (7-13°C), potatoes can last two to three months.
Best not to keep potatoes in the fridge as the lower than ideal temperature will turn the starch in the potato to sugar, and cause it to be sweet, and gritty.