How to easily Roast Beetroot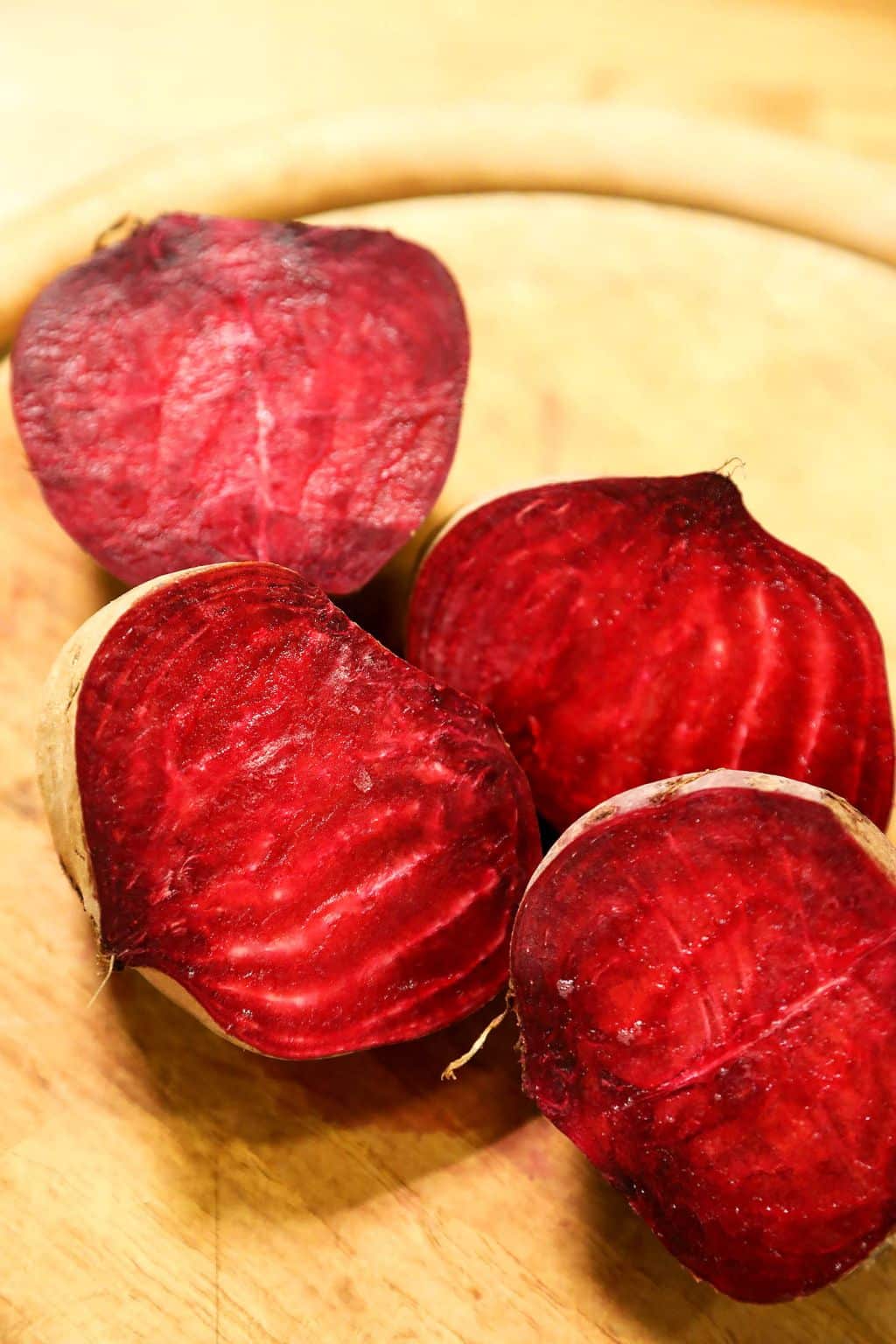 Would you like to know how to easily roast beetroot in a way that keeps the nutrition in?
Beetroot is one of those foods that people either love or hate, with very few in the middle, it's either yum or yuck!
I happen to be one of those people who loves beetroot in all its forms, in fact I can't get enough.
I really can't imagine how anyone could not like beetroot; I've loved them as long as I can remember.
It is such an amazingly delicious root vegetable, and so good for you in so many ways.
Not to mention how beautiful they are to look at, with colors that deep and vibrant.
Think about a beet salad with a lovely goat cheese, olive oil, pumpkin seeds, chopped fresh spinach, and dried figs.
What's not to like about that?
If you are not a lover of beetroot, read on and maybe I can change your mind, or at least try.
JUMP TO:
Some FActs about Beetroot
Beetroot has been thought in many cultures to be an aphrodisiac.
Ancient Romans were convinced that beetroot, and beetroot juice would cause 'amorous feelings' to occur in those ingesting them.
Greek goddess Aphrodite ate beets as a way to be even more appealing in love.
Beets are painted on the walls in one of the brothels in Pompeii, I assume in the hope of generating the right mindset for the clients.
I think eating them works better than looking at them but then you can never underestimate the placebo effect!
There is often some truth to these stories and anecdotes.
It is now known that beets contain both betaine, and tryptophane, substances that create a feeling of wellbeing.
And also contained in the humble beetroot is the mineral boron which is responsible for increasing sex hormones in humans.
Another good reason to eat beets!
Love them or hate them, beets can be responsible for lowering your blood pressure.
It's also been found to boost your stamina, and not just in the bedroom.
The juice increases plasma nitrate which in turn enhances physical activity of all kinds.
Beetroot juice is helpful to your liver, and has anti cancer properties.
On top of that beets contain lots of fiber, vitamins, and minerals, making them an awesome addition to your diet.
How to prepare beetroot
You can peel beets if you like, but leaving the skin on is a better move from a nutritional perspective.
Lots more vitamins and fiber will be available to you when leaving the skin on this root vegetable.
If you are roasting the beets you can simply peel the beets with your fingers once they have been roasted.
The most important thing will be to clean the beets well given that they can come caked in dirt and mud.
(In fact these are probably the ones you want to eat since they will have been minimally processed.)
Do this by using a stiff vegetable brush under cold running water.
Don't forget to save the greens!
They are wonderful sauteed with onions, and are a perfect side dish in their own right.
So save the greens, and never throw them away again!
cutting beetroot
Using a paring knife, slice off the top of the beet, and take off the long root that is sometimes present at the bottom of the vegetable.
Place the beetroot on the flat surface you created by cutting off the top, slice the beet into slices, then slice into batons.
You can utilize this method with either raw or cooked beetroot.
Just remember that beets can cause staining that will be difficult if not impossible to remove, so best to cut them on a non-porous surface if possible.
seasoning beetroot
Seasoning can be as simple as salt and pepper, olive oil, and balsamic vinegar.
Or you could go for something a bit more involved by adding goat cheese, lemon zest, thyme, and watercress.
Beets pair well with dill, hyssop, horseradish, and star anise to name a few lesser known flavors.
Try different cheeses like burrata, or feta, try nuts, and different vinegars, or make a curried beet dish.
So many things are possible with beetroot, don't be timid!
One of my very favorite ways to eat cooked beets is when I simply sprinkle them with salt.
Try flavors you like and see what new ones you can come up with!
Easily roasting beetroot
Preheat your oven to 400 degrees Fahrenheit (200C).
Cut beets in half, and enclose in aluminum foil crimping the edges so it is airtight to keep the heat inside.
This method will cook the beetroot more quickly.
Place on a baking sheet, or baking dish , and bake for about 30 minutes or until beetroot is fork tender.
You don't have to bake a beet until it is completely soft, it's actually nice to have a bit of tooth in it.
Once removed from the oven, cool enough to handle.
If you have decided to peel the beets this will be easy to do by peeling with your fingers.
As I mentioned I always leave the skin on my beetroot for extra benefits.
How long to roast beetroot
Much will depend on how you go about roasting your beetroot.
Factors such as whether you leave them whole or cut them up will determine how long it will take to roast.
Obviously leaving beetroot whole will take longer to roast and why it is a good idea to cut the beet into smaller pieces.
Usually if cut in half, and depending on how big the beets are, and if they are wrapped in aluminum foil or not, but will usually range from 30 to 60 minutes.
Roasted Beets Recipe