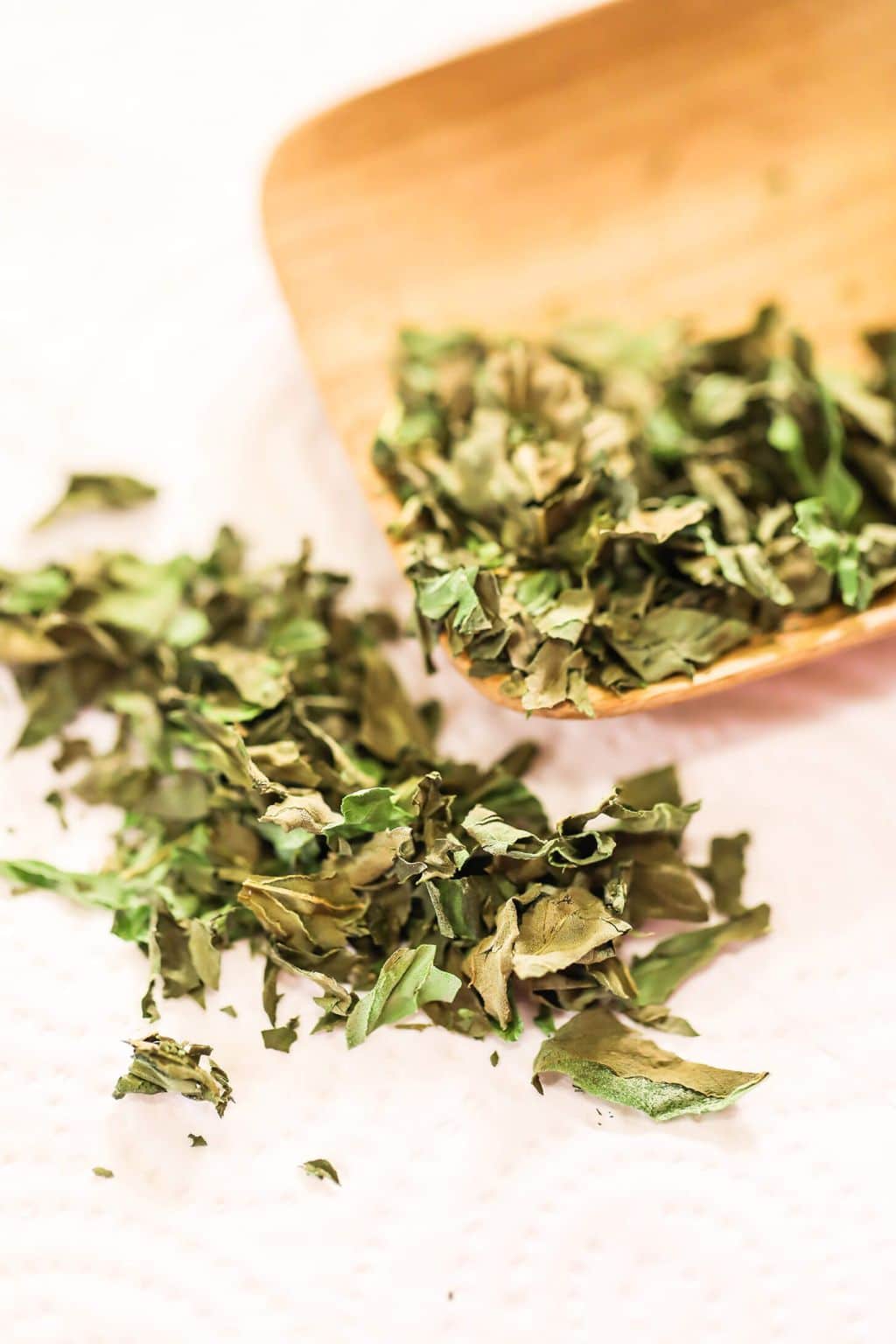 Once you know how to dry basil, you've got on of the most important herbs needed in your kitchen.
Basil is a member of the mint family, and has long been used in cuisines.
It has been used for thousands of years in many parts of the world.
Fresh basil is usually used at the last minute to take advantage of the fresh flavor.
If fresh basil is cooked too long it will lose its intensity.
Dried basil leaves hold up much better in cooking flavorwise, and is another reason that it is used in dry form.
There are many different types of basil with Genovese Basil probably being the most familiar to most people.
There is Thai basil, purple basil, lemon basil, lettuce basil, holy basil, globe basil, cinnamon basil, and the list goes on.
I like having my own varieties of basil in my garden.
It's a good way to go if you have a nice sunny spot and like to try different flavors..
I love to grow my own herbs.
That way all I have to do is go out the backdoor and there they are, waiting to be used.
Nothing better than a nice herb garden, they are so satisfying to experiment with, growing all your favorites.
Why Dry Basil?
Drying is one of the best ways of storing basil.
It will maintain a stronger flavor, which is also true for most dried herbs.
Basil will also have a more concentrated flavor when in the dry form, allowing it to be cooked with.
Dry basil takes up much less space than freezing for example, freeing up space for other things.
Down in the Jordan Valley, we have a sizable herb garden.
We grow lots of herbs, and tend to dry them because of the sheer amount we get.
We also keep a bunch of chickens and they are prolific layers meaning we have to keep up the eggs!
It's a good thing that basil goes well in a herb and cheese omelet, with a side of sausage.
The flavor of dry basil will begin to diminish with time, but it has an extremely long shelf life.
How to Dry Basil
There are several ways to dry basil depending on if you are in a hurry or not.
The drying process remains one of the most popular as far as basil goes.
You can dry basil in the oven by placing the fresh, washed leaves on a baking tray in a single layer.
Turn your oven to its lowest setting, prop the door open for good air circulation.
You should know that this method can take many hours.
A much quicker method is to use a microwave oven to get your dried leaves.
Place the fresh leaves in a single layer on a microwave safe plate lined with paper towels.
This will take anywhere from 3 to 10 minutes on a low setting depending on your microwave oven.
Another method is air drying basil, by picking the stems and either bunching and hanging them where air circulation is good.
Or you can place the stems of leaves on a baking tray at room temperature.
Make sure to turn them regularly so that they dry uniformly and do not rot.
A food dehydrator will also provide you with dry leaves in 12 to 24 hours.
How to Store Basil
One of the methods of storing basil is to dry it and keep it in a tightly sealed container.
Basil can be frozen using a couple of different methods.
One of which is to chop or even puree the leaves, and add a little olive oil to maintain the color.
Then freeze in ice cube trays for use whenever basil is called for in a recipe.
You can freeze the leaves of the plant whole separated with parchment paper.
Then place them in a freezer bag with as much air squeezed out of it, and freeze.
What to Use Basil In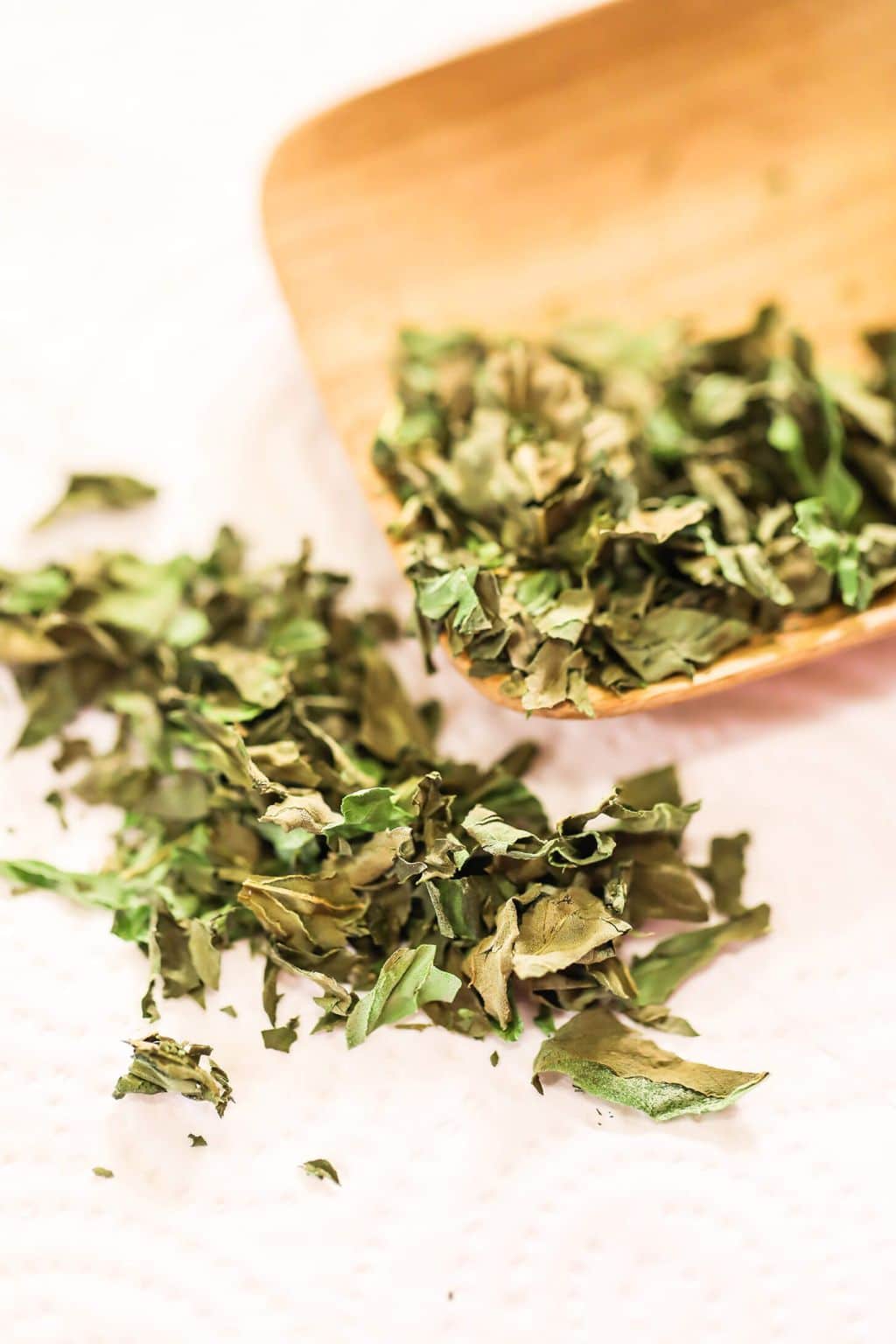 Basil has so many uses, from being the main ingredient in pesto to being part of a mix of herbs.
Try basil in pasta sauces, on pizzas, in soups, pasta dishes, souffles, salads.
Basil can even be used in dessert sauces, in a balsamic vinegar reduction.
You can use basil on Caprese skewers, in panini sandwiches, add it to orzo, risotto, with roasted vegetables.
Try it in lasagna, Asian stir fry, chopped with quinoa, crostini, with strawberries, sprinkled on ice cream.
More about basil
Around for 4000 years, basil has long been believed to posses magical powers.
Basil was used in Ancient Egypt in the embalming process, and was therefore a very important herb.
Known to protect the poor, the basil plant was revered by many ordinary people.
An antidote to snake bites it was also used to verify the chastity of women.
If the basil leaves withered in a woman's hands, she was deemed impure, and punished.
In some places basil was used to ward off the devil, and in medieval times some thought it was poisonous.
Others thought it was a great way to clear the brain, and cheer your spirit.
These days basil is most often used as a culinary herb in dishes all over the world.
How to Dry Basil Recipe
Once you know how to dry basil, you've got on of the most important herbs needed in your kitchen.
Print
Rate
Instructions
Remove the leaves and place them in a single layer on a microwave safe plate.

Set the microwave to low, and microwave for a few minutes at a time. 

This can take anywhere from 3 to 10 minutes depending on the microwave.

Be careful not to burn the leaves.

You may have to take some leaves out earlier than others as they dry.
Nutrition
Calories:
2
kcal
|
Carbohydrates:
1
g
|
Protein:
1
g
|
Fat:
1
g
|
Sodium:
1
mg
|
Sugar:
1
g
|
Vitamin A:
422
IU
|
Vitamin C:
1
mg
|
Calcium:
14
mg
|
Iron:
1
mg