Candied Lemon Slices (Simple & Quick)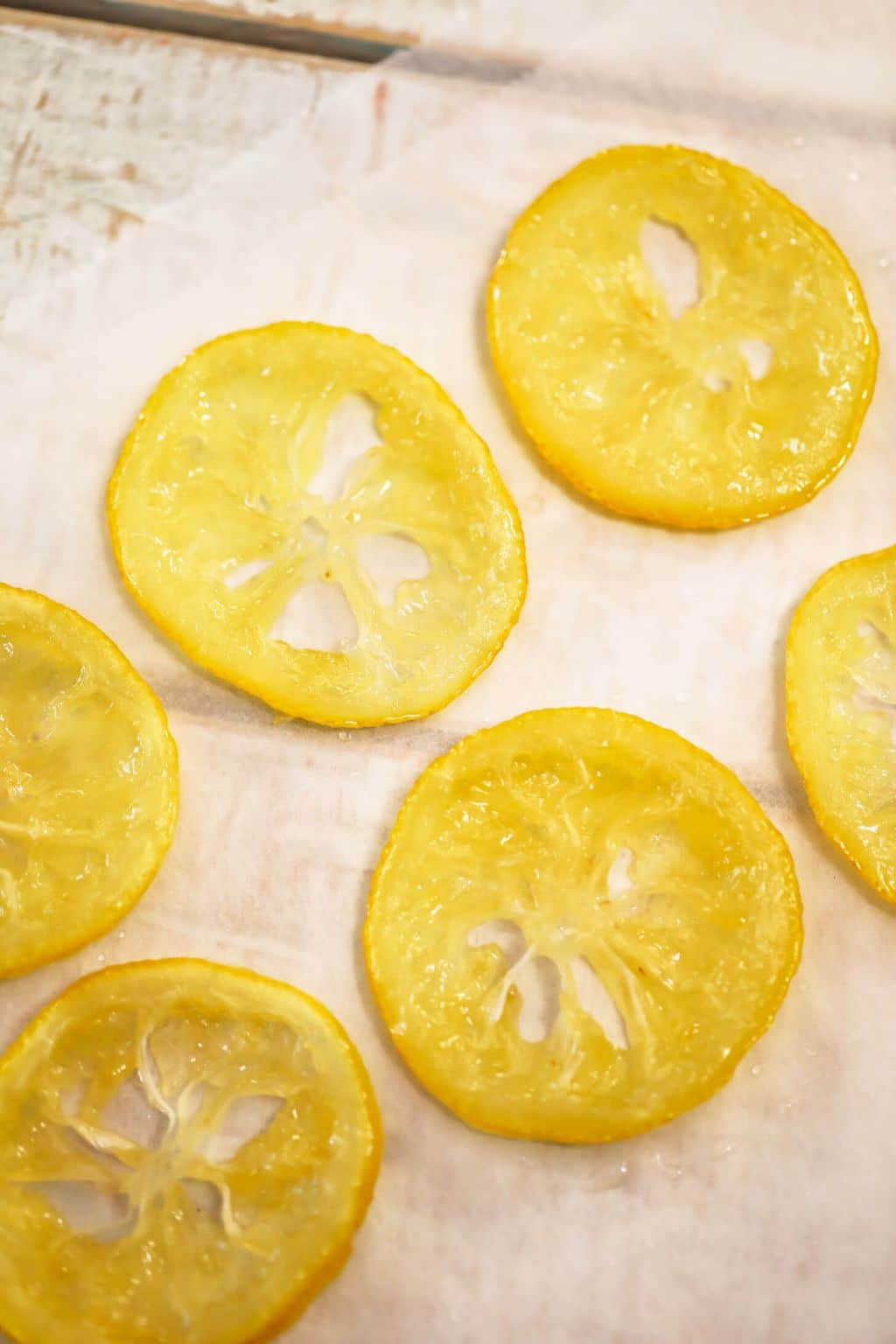 One of the things that can make all the difference on a dessert is a garnish like candied lemon slices.
With minimal effort you can make something that will highlight your dish, elevating it above the ordinary.
It is very often the garnish on a dessert that catches an eye, making it more likely to be eaten with the eyes before the mouth.
These lemon slices can be added in pots of tea as well to make them into something special.
I love lemon slices, candied and otherwise, as well as candied lemon peels, and I really like having them as garnish to my desserts.
What are Candied Lemon Slices?
Candied lemon slices are whole slices of lemon that are boiled for a period of time in simple syrup.
This softens them up and infuses them with a sweet sugary film that will later dry and become a kind of glaze.
They can be sprinkled with extra sugar and dried, or they can be eaten as is, but most often they are used as a garnish.
The candied slices are not to be confused with candied lemon peels which are similar to the slices but just the lemon peels.
How to Make Candied Lemon Slices
Cut lemons into thin sliced rounds that are about a quarter inch thick, and set aside.
Place lemon juice, water and sugar in a pan and heat until the sugar has dissolved.
Bring to a boil, and boil for 2 minutes, turn down to a simmer.
Place the slices in a single layer in the syrup, allowing them to absorb the sugar water.
Using tongs to turn every once in a while.
Cook for about 15 minutes or maybe a minute or two more until the whites of the lemon begin to become slightly translucent.
But if undercooked the pith will remain white and the slices will have a bitter taste.
Remove the candied citrus from the simple syrup and allow to dry on parchment paper.
What Can I Use Them On?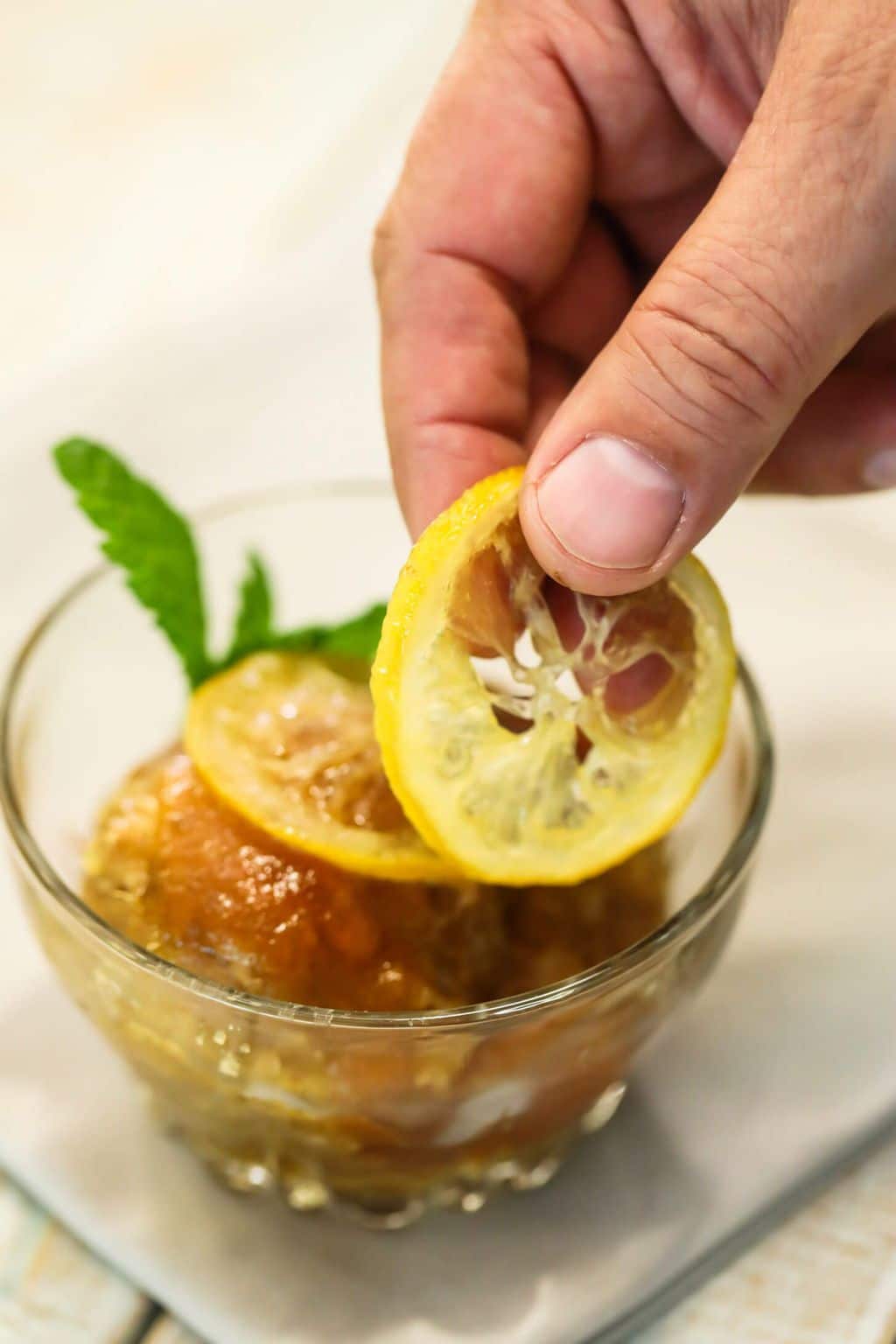 These slices can be used on all kinds of desserts, like cheesecake, key lime pie, cakes, cupcakes
Add lemon slices to the bottom of a tea cup, for both the flavor and also the esthetic aspect.
Another use is in a carmelized lemon cake, as a layer on the top of the cake that is flavored with caramel.
When making lemonade, throw some of these slices in the pitcher for a prettier presentation.
How Long Will They Last?
Lemon slices will last up to a week to ten days in a closed container in the fridge.
Just place some plastic wrap between each slice.
It is important to separate the slices with plastic wrap or parchment paper.
This is so they don't stick together making it difficult to keep their shape.
They can also be frozen for up to 3 to 4 weeks in a freezer bag with as much air as possible squeezed out of it.
Thaw at room temperature until lemon slices are soft and pliable.
Tips for Making
You will want to keep the thickness of the slices at around a quarter of an inch.

Don't over cook or the lemon will start to disintegrate, and won't look very nice.

Place the lemon slices in a bowl of ice water to cool rapidly after boiling.

Be sure to use the leftover simple syrup to make lemonade!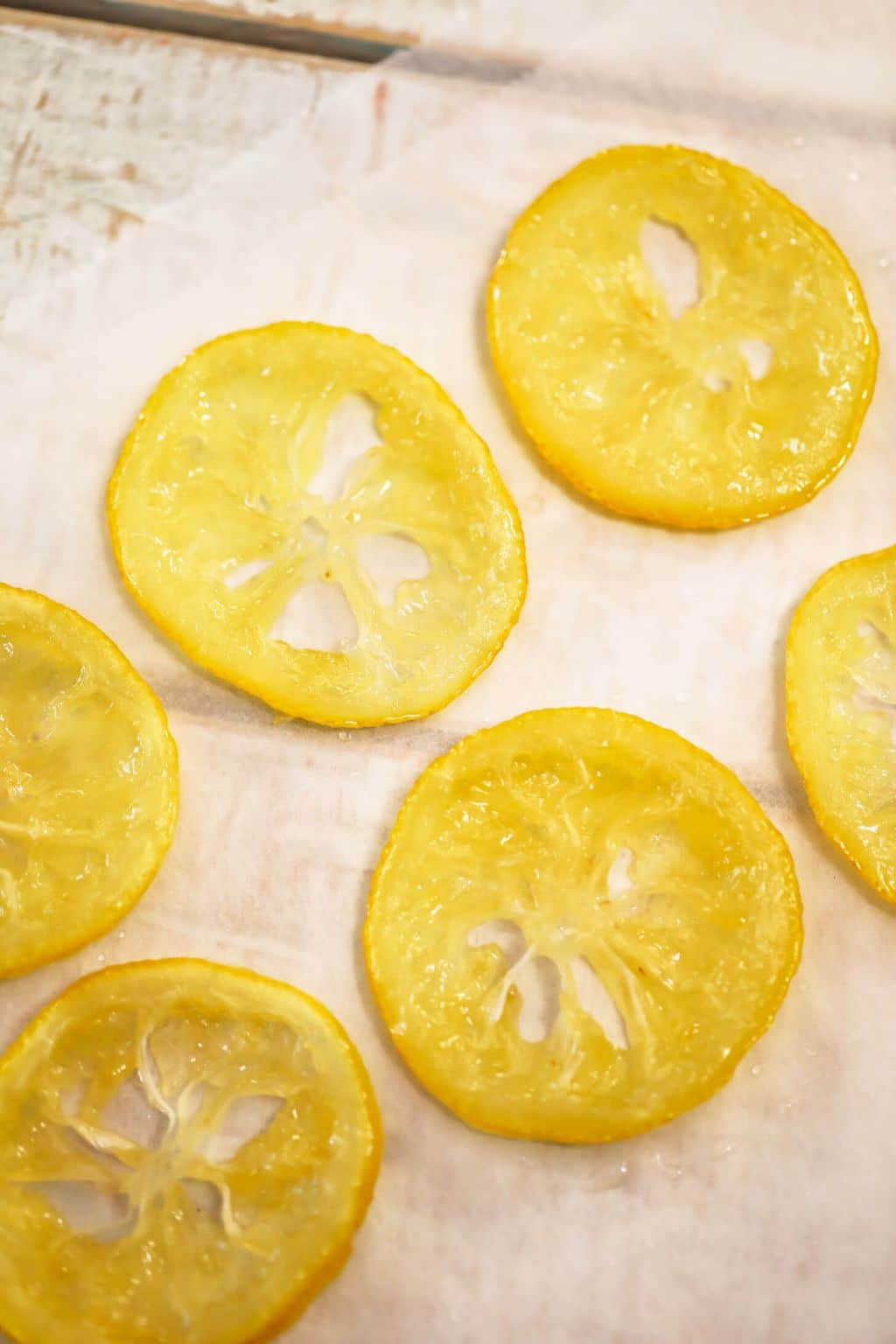 how else to Use Candies Lemon Slices
A wonderful thing to do with these slices to create a heavenly treat is to cover them with chocolate!
Another way to use these lovely sweet morsels is to cut them in small pieces and add them to trail mix, or with nuts.
If you are looking for a way to enhance a cake, try slicing the slices in lengths and add to your batter for an unforgettable dessert.
These candied lemon slices are a perfect addition to your next cocktail or mocktail.
Raise the bar when serving your favorite drink!
Candied Lemon Slices Recipe
One of the things that can make all the difference on a dessert is a garnish like candied lemon slices. 
Print
Rate
Ingredients
2

Lemons

sliced

1

cup

Sugar

2

tbsp

Lemon Juice

¾

cups

Water
Instructions
Slice lemons in quarter inch slices.

Bring water, sugar, and lemon juice to the boil.

Stir and boil for two minutes. Turn down to a gentle simmer.

Add lemon slices in a single layer.

Using tongs turn lemon slices a few times.

Simmer for 15 to 20 minutes until whites become slightly translucent.

Remove from the syrup and dry on parchment paper.
Nutrition
Calories:
53
kcal
|
Carbohydrates:
14
g
|
Protein:
1
g
|
Fat:
1
g
|
Saturated Fat:
1
g
|
Sodium:
1
mg
|
Potassium:
19
mg
|
Fiber:
1
g
|
Sugar:
13
g
|
Vitamin C:
8
mg
|
Calcium:
4
mg
|
Iron:
1
mg