Festive Sourdough Cranberry Stuffing Recipe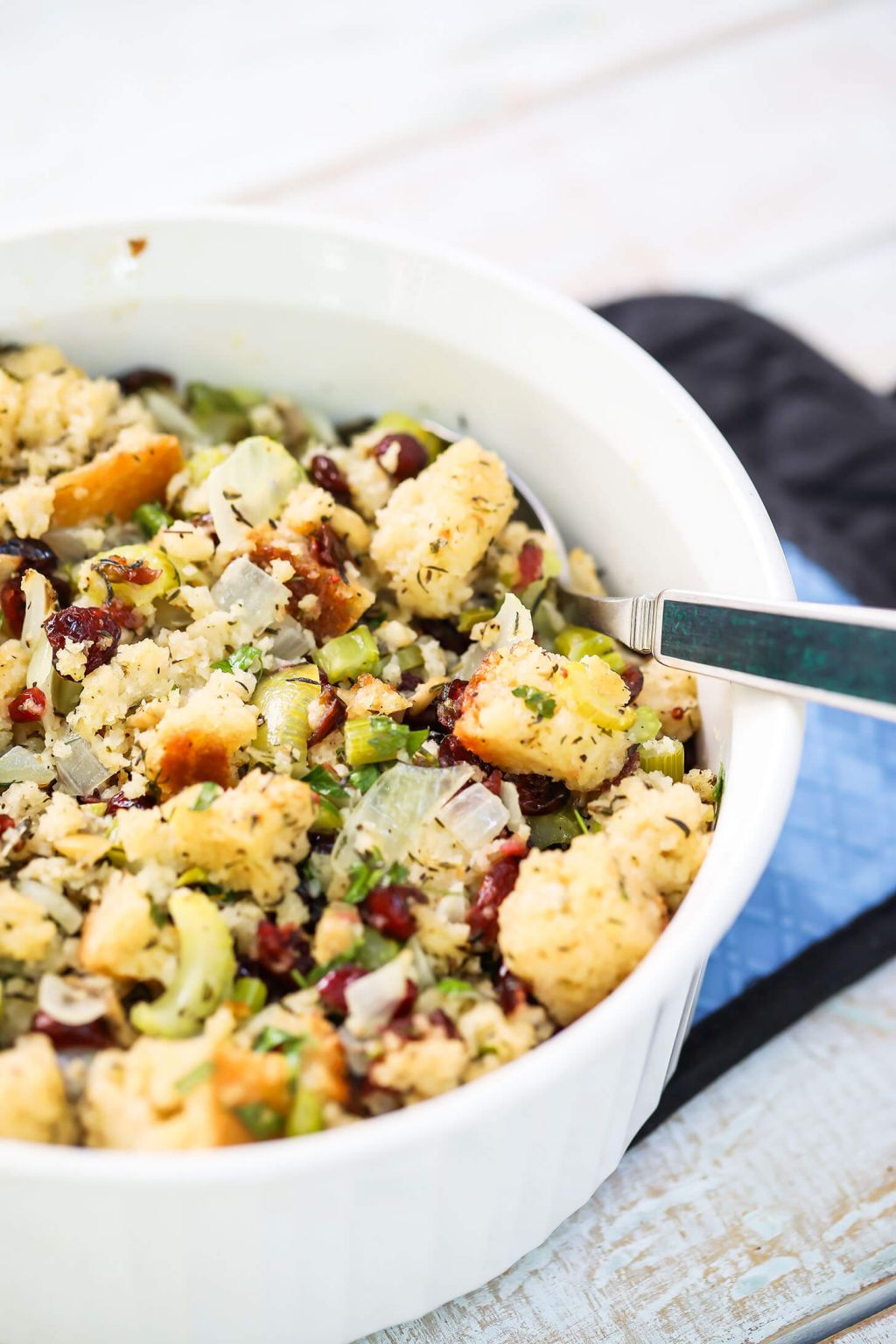 Cranberry stuffing is by far my favorite kind of stuffing at Thanksgiving, and a must for my table.
Whether you refer to it as stuffing, dressing or even filling, this is one indispensable dish during the holidays.
Today's stuffing differs from the stuffing that was served by the Pilgrims of early America.
Their side dishes were most likely a wild rice of some kind, or maybe potatoes.
Including bread in stuffing was a great way to use stale bread and help stretch the dish.
A practice that came later, as did the change in name from stuffing or filling, to seasoning in some places.
In the Southern States where Victorian sensibilities were more likely followed, the word stuffing was thought rude.
So to this day it is typical that stuffing in the South is known as dressing.
What is Sourdough Cranberry Stuffing?
Thanksgiving stuffing can be cooked inside the meat being cooked, or it can also be made as a side.
Some stuffings can be made on the stovetop, and others are baked stuffings utilizing the oven.
This version is one that is made as a side dish to the main event of turkey.
Very often bread cubes are used when making this dish; but not always, there are many different types.
Sourdough bread has a lot of flavor in its own right and brings that additional taste to this recipe.
The dried cranberries bring a sweetness, and a slight tart flavor that compliments this choice of bread.
With a somewhat chewy texture dried cranberries are the ingredient that make this dish stand out.
How to Make Sourdough Cranberry Stuffing
Chop and dice onion, celery and mushrooms, set aside.
Melt the butter in a cooking pot on the stovetop, add the onions, and celery.
Saute until the onions are beginning to turn translucent, and the celery begins to soften.
Add the mushrooms and continue cooking the vegetables until soft, and remove from the heat.
Pour the ingredients into a large bowl.
Combine the dry and fresh herbs in with the vegetables along with salt and pepper to taste.
Using day old sourdough for best results, cube the bread into moderate sized pieces.
An optional step is to spread bread cubes on a baking sheet to toast in the oven making them crunchy.
Add the cranberries and stir thoroughly to make sure all ingredients are mixed well.
Stir in the chicken broth, taking care that it is well distributed in the pieces of bread.
Pour all the ingredients into a baking dish and bake in a preheated oven for 30 minutes.
Remove from the oven and serve with thanksgiving dinner, add extra chicken stock if you want it softer.
Best Bread to Use
You can use almost any kind of bread in stuffing for your stuffing to be successful.
I really like to use sourdough because it is a type of bread I like the flavor of, and it also goes well with the cranberries.
Sourdough ranges in sourness and so do cranberries making them work well together.
I recommend using something with a distinct flavor like rye or even a raisin bread.
Be bold with your flavors for an unforgettable contribution to your feast.
Make it Ahead of Time
Given Thanksgiving dinner normally has so many dishes, it's always nice to have some dishes you can make ahead.
This stuffing is a good candidate to make ahead, and keep in the fridge from the day before.
On the day, remove the stuffing from the fridge and microwave for a couple of minutes until just warmed through.
Then place in the oven to crunch up the top, roughly 15 minutes.
Serve with a nice hearty gravy.
Can you Freeze Sourdough Cranberry Stuffing?
Yes, you can freeze stuffing with great success for at least three months.
You can cook and mix all your ingredients, and then freeze before you put it in the oven for baking at a later date.
Or you can freeze leftover baked stuffing as well.
To cook, just place the frozen stuffing covered until it is warmed all the way through in a 350º oven.
Tips for Making
Get the right consistency between dry and moist bread, you will not want it to be one extreme or the other.

Use bread that is one or two days old that has been stored in a plastic bag.

Toast the bread cubes in the oven until slightly crunchy for best results.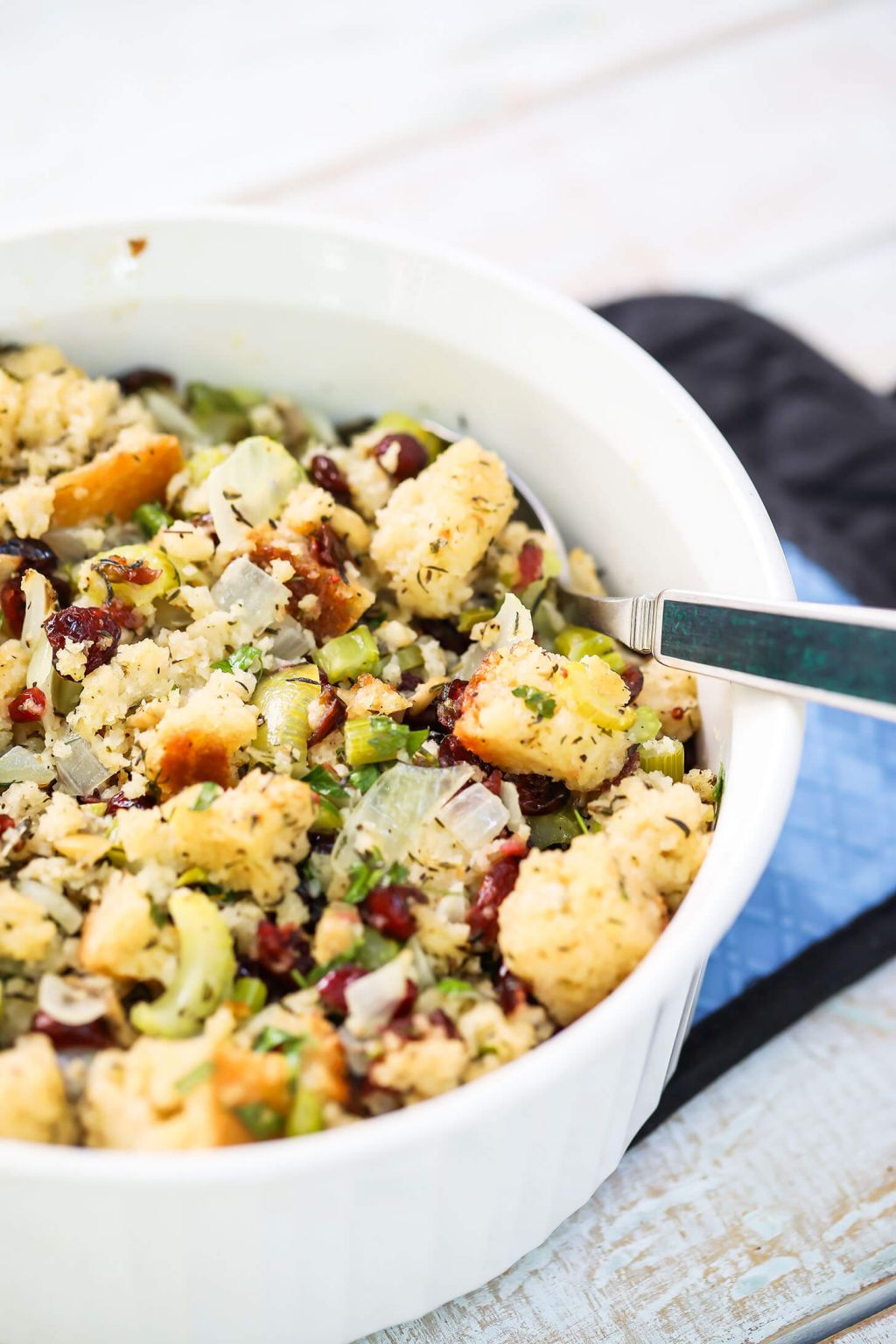 Cranberry Stuffing Recipe
Cranberry stuffing is by far my favorite kind of stuffing at Thanksgiving, and a must for my table.
Print
Rate
Ingredients
¾

cup

Onion

chopped

¾

cup

Celery

chopped

¾

cup

Mushrooms

chopped

1

cup

Butter

1½

cups

Chicken Stock

1

tbsp

Parsley

chopped, fresh

1

tbsp

Dill Weed

chopped, fresh

1

tbsp

Thyme

1

tbsp

Sage

1

lb

Bread

day old

¾

cup

Cranberries

dried

¼

tsp

Black Pepper

¼

tsp

Salt
Instructions
Preheat oven to 400ºF (200ºC).

Melt the butter in a saute pan over medium heat, add the onions and celery, saute until they begin to soften, then add mushrooms.

Cook until all the vegetables have softened, remove from the heat, and set aside.

Place the cubed bread into a large bowl, then add the mushroom mixture, and mix well.

Add the chicken stock, cranberries, dill weed, thyme, sage, parsley, pepper and salt. 

Mix all ingredients well and pour into a 9 inch casserole dish, and bake in a preheated oven for 30 minutes.
Nutrition
Calories:
259
kcal
|
Carbohydrates:
22
g
|
Protein:
5
g
|
Fat:
17
g
|
Saturated Fat:
10
g
|
Cholesterol:
42
mg
|
Sodium:
429
mg
|
Potassium:
164
mg
|
Fiber:
2
g
|
Sugar:
4
g
|
Vitamin A:
555
IU
|
Vitamin C:
3
mg
|
Calcium:
68
mg
|
Iron:
2
mg