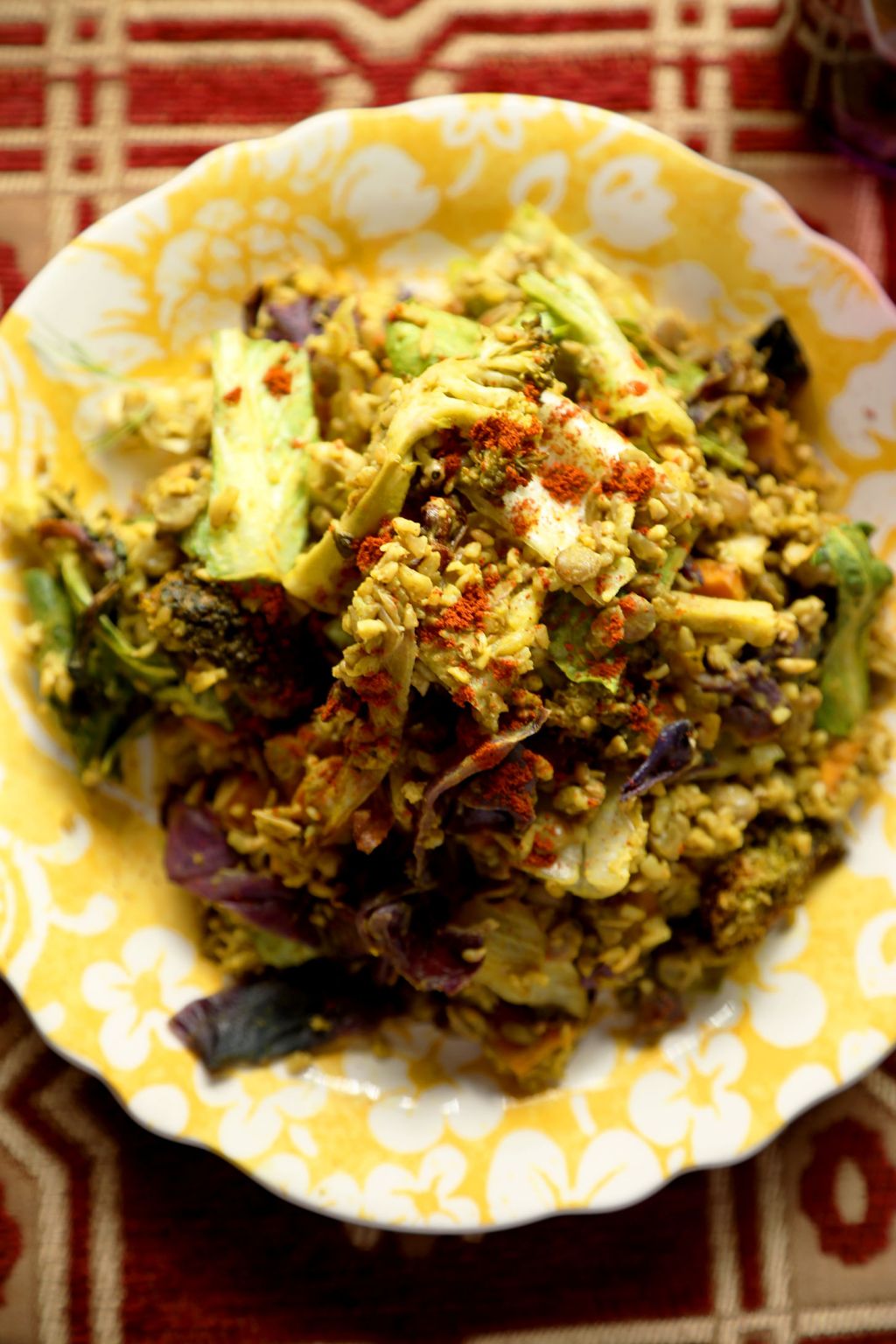 Sometimes a whole mess of vegetables is just what the doctor ordered.
This tahini salad is just right for times like that.
It's nice to have something fresh and refreshing and all put together in a salad.
It has become somewhat of a trend to include more vegetables in salads.
This is a great thing given there is so much flavor in so many vegetable, like sweet potato and red cabbage.
The earthiness of the tahini dressing really brings this salad together.
A lovely treat.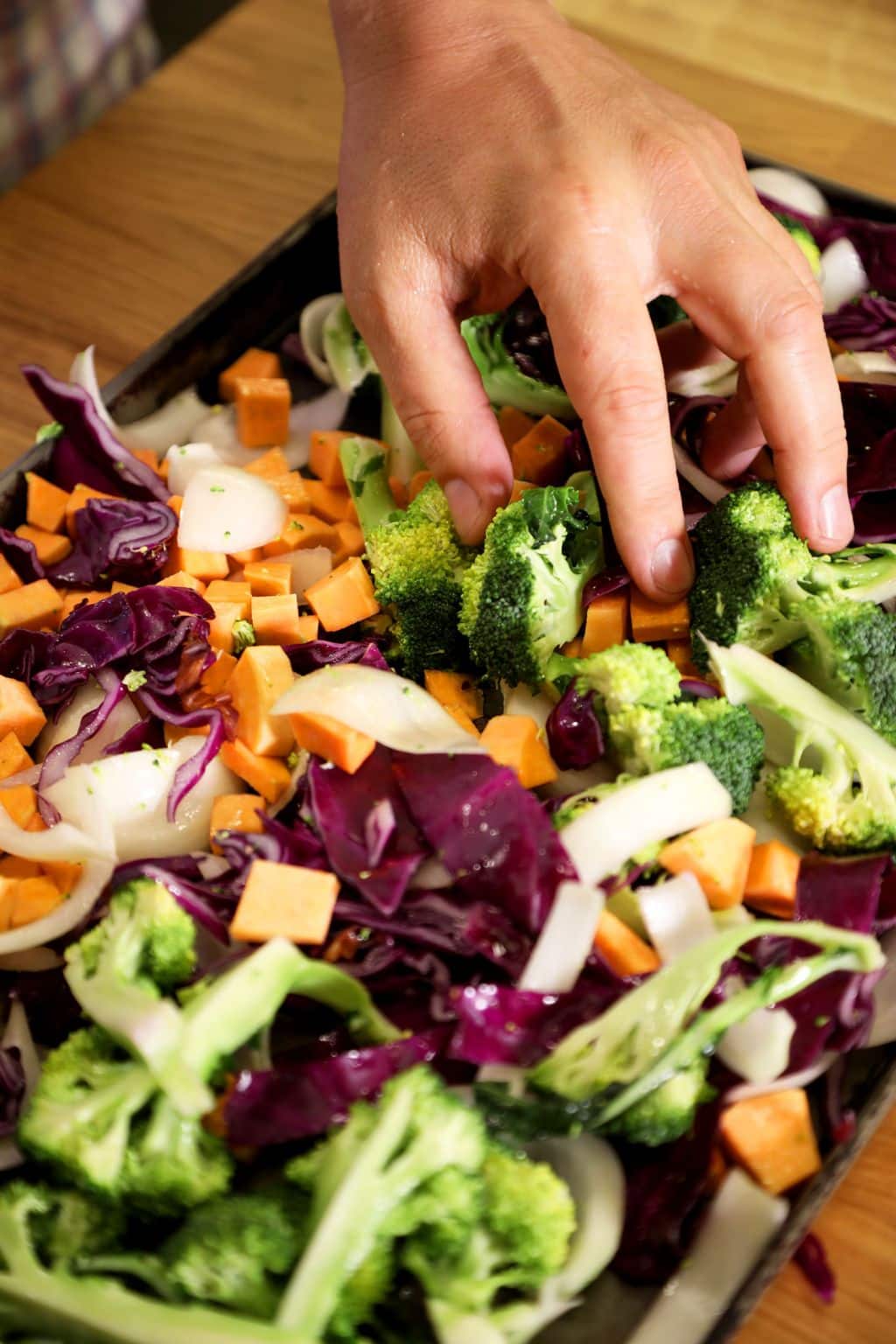 We are having a strange Spring here in Jordan this year, the weather has been all over the place.
We've had a lot of rain this year as well.
Maybe climate change will benefit the Middle East in the long run.
However it does remind me of when I was younger and we had lots of rain and snow in the winter.
When I was growing up we didn't have central heating in our house.
We would rely on kerosene stoves to keep us warm, so you can imagine how cold it could get when it snowed.
I was in charge of keeping the stoves filled.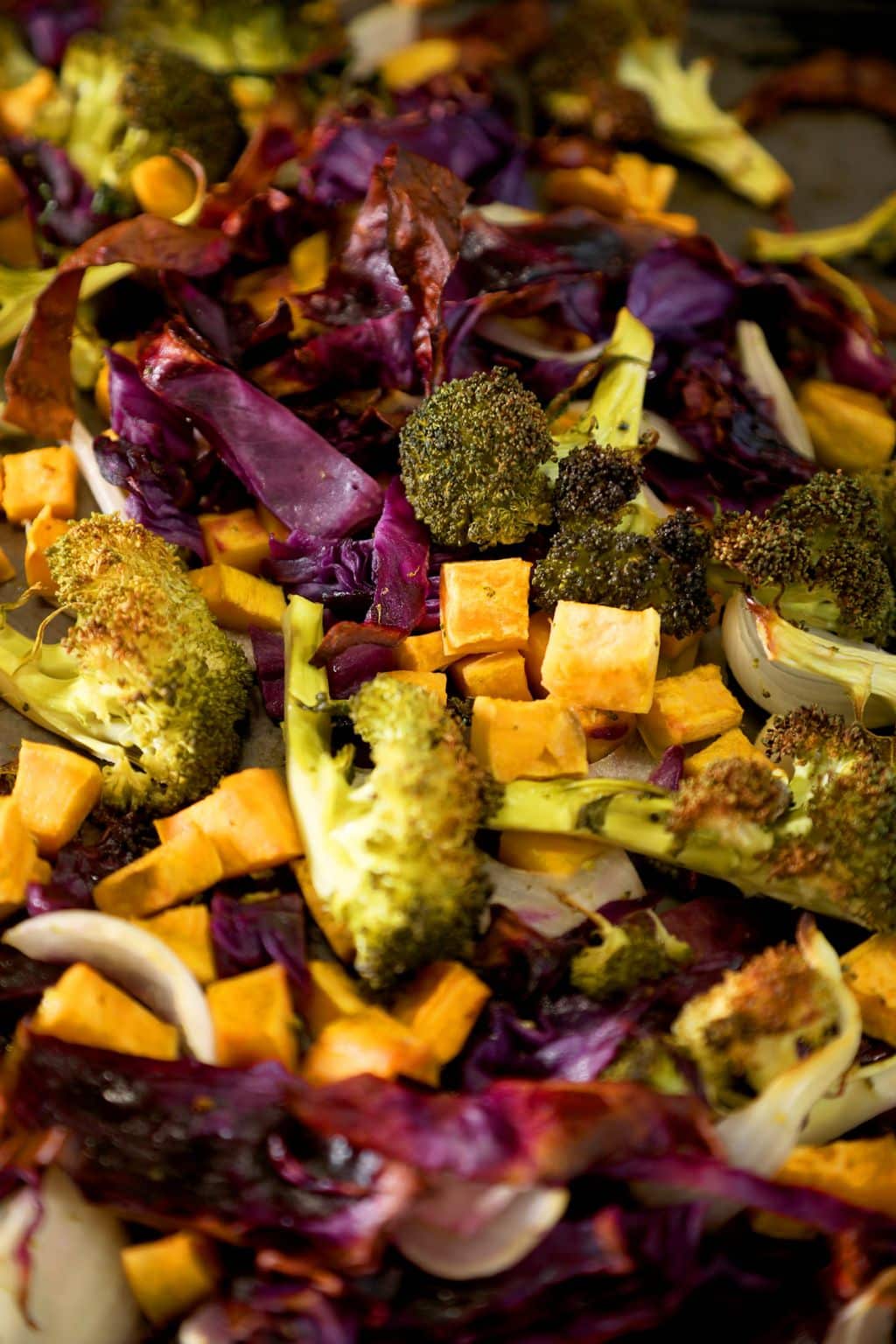 We kept the kerosene on the back porch where I would go when the stoves were getting low and fill a metal canister with a spout and handle.
My hands would get covered in kerosene, and it would smell something awful.
At night we'd turn off the stoves as it would have been dangerous to keep them going overnight while we slept.
By morning the house would be truly freezing.
I'd be under my warm duvet and have to get out of bed in the morning to turn on the stoves to get the place warmed up.
I will always remember how when I put my foot on the tile floor it would feel as if all the heat was being sucked into the very cold tile!
I'd run to turn on the stove and then run back to bed and try to warm back up while my feet throbbed from the cold floor.
But of course that was luxury compared to when I was very young and we first moved to Jerusalem from the States and stayed with my grandparents who heated their home with a 'kanoon' which was a container that held crushed olive pits that were lit, and instead of creating fire, the crushed pits would glow and smolder.
Only really giving off enough heat to maybe warm your hands.
It was pretty cold.
Thankfully today I have central heating and warm water on demand!
Pure extravagance!
Time to go prepare this tahini salad for dinner, and try and let the memories of cold days go.
I am looking forward to when it is constantly warm and pleasant before it gets to really hot part of the year in July and August.
I don't have sweet potato on hand today for the tahini salad so I will use beetroot instead.
I love beetroot, which I have found is one of those foods that people either really like or really hate.
The nice thing about this salad, and a lot of recipes, is that you can tailor it to the way you like it.
Enjoy!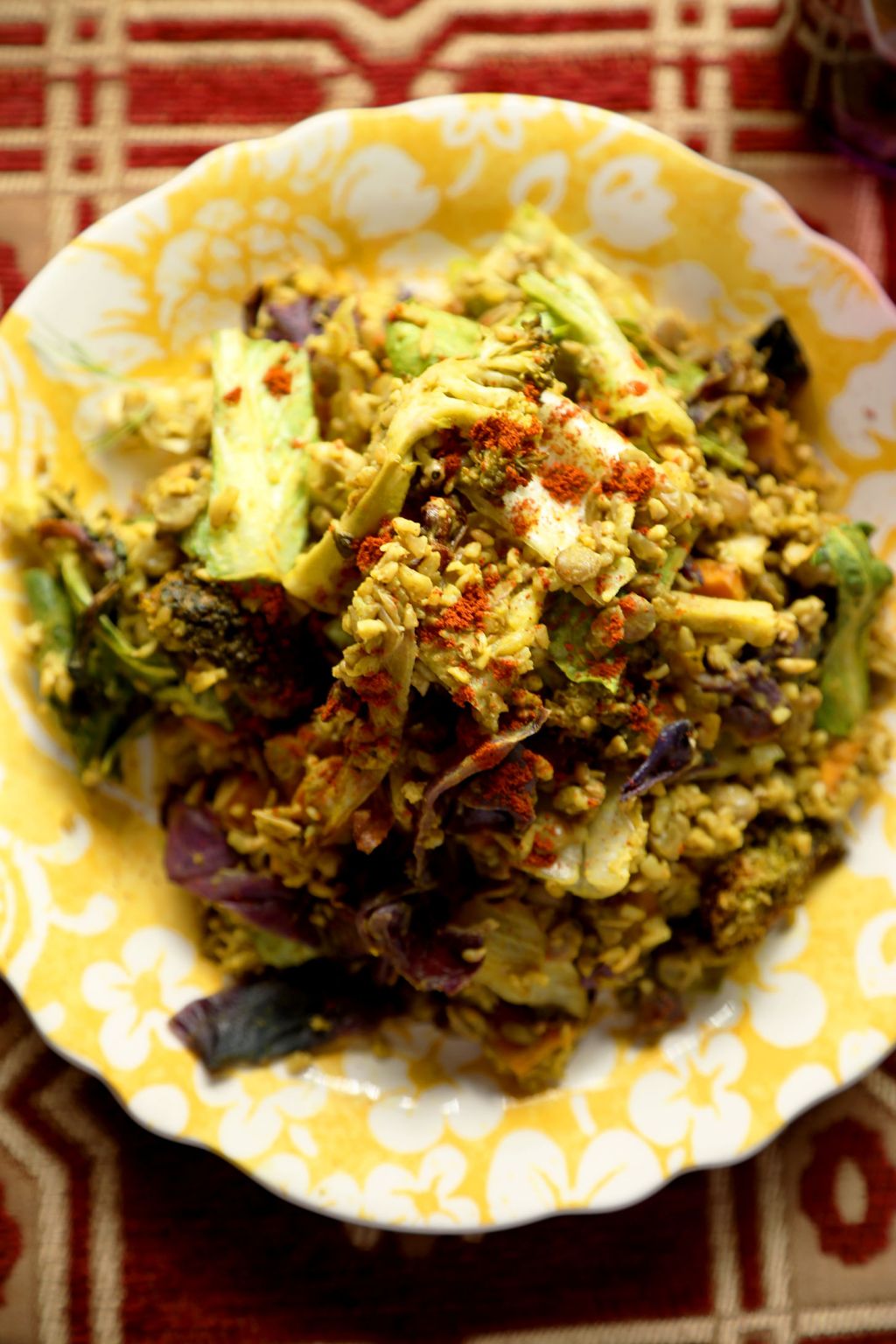 Vegetable Tahini Salad
This vegetable tahini salad pops with the added flavor in the dressing. It's an easy, flavorful, and nutrition packed dinner!
Print
Rate
Ingredients
Salad
1

cup

Freekeh

soaked

2

tbsp

Olive Oil

2

cups

Sweet Potato

peeled & diced

300

g

Broccoli

250

g

Red Cabbage

1

tsp

Cumin

1

tsp

Turmeric

125

g

Lentils

cooked

150

g

Romaine Lettuce

1

Onion
Dressing
4

tbsp

Tahini

1

tbsp

Balsamic Vinegar

2

tbsp

Olive Oil

2

tbsp

Water

2

Garlic Cloves

1

tsp

Salt
Instructions
In a bowl, add the broccoli, red cabbage, onion and sweet potato. Drizzle over olive oil and stir to coat well.

Place on a baking tray and cook at 350°F (175°C) for 40 minutes, or until cooked.

Combine all the dressing ingredients in a bowl and whisk to combine.

In a large serving bowl, add the cooked vegetables, freeka, lentils, cumin, turmeric, romaine lettuce and dressing.
Nutrition
Calories:
339
kcal
|
Carbohydrates:
50
g
|
Protein:
15
g
|
Fat:
10
g
|
Saturated Fat:
1
g
|
Sodium:
797
mg
|
Potassium:
1135
mg
|
Fiber:
17
g
|
Sugar:
9
g
|
Vitamin A:
13895
IU
|
Vitamin C:
110.1
mg
|
Calcium:
148
mg
|
Iron:
5.5
mg