Out of all of the many recipes I make, I love Maqluba the most for its simplicity and flavor.
Maqluba means 'upside down' since it is a one pot dish that when done is flipped over on a big plate.
This classic Middle Eastern recipe can be spelt in a variety of ways: Maqluba, Maklouba or Maqlooba.
It is a total comfort food to me that brings with it many memories of being a kid.
I guarantee you'll love this dish as much as I do.
What is Maqluba?
Maqluba is traditional Syrian, Iraqi, Palestinian, and Jordanian dish.
The dish consists of meat, rice, and fried vegetables placed in a pot.
This dish is flipped upside down when served in reference to its name which translates to "upside-down".
It is many centuries old and is often theorized to have been discovered in the 13th century.
The types vegetables often included in Maklouba are cauliflower and eggplant.
Other vegetables added are usually based on what the cook has in the home at that time which can be things potatoes or carrots.
The meats that are commonly in Maklouba are chicken or lamb.
To garnish Maklouba, it is best to add pine nuts and chopped fresh parsley.
Great side dishes to pair with this recipe are a simple salad or yogurt based sauce.
Whatever side you make it should be decently large because this recipe is made for feasts.
How to Make Maqluba
To start with, lay the lamb chops out on a tray and season with salt and pepper.
Place these in the oven and roast until brown.
Slice the eggplant, pat dry with paper towels and brush with olive oil.
Again, bake these in the oven for around 20 minutes or until brown.
In a bowl, mix the rice with the spice mix and a teaspoon of salt until well combined.
Once you have all these components, it's time to construct your dish!
First, layer the lamb chops at the bottom of a large pot.
Place the eggplant slices as the next layer.
Next, pour your rice over the vegetables into the pot.
Finally, add 5 cups of water – it's best to use hot water!
Cook over a medium high heat and bring to a boil, until you get a consistent boil.
Then lower the temperature to a simmer and cover the pot, leaving a generous gap for steam to escape.
After around 30 minutes, your dish should be cooked!
To test, make sure all the water has cooked off and the rice is fluffy and tender.
How to Serve It
Now comes the fun part!
Get a large plate and place it over the top of your pot.
In one swift motion, using oven mitts, hold the pot handles against the platter and flip your pot so it is now upside down.
With careful dexterity, gently lift your pot to reveal your wonder!
There are a couple of variations with this dish, one is made with lamb and eggplant, and the other with chicken and cauliflower.
You can also make a vegetarian version by using canned chickpeas as a substitute for the meat if you want.
I prefer the lamb and eggplant version, it feels and tastes so much more substantial.
I begin by slicing the eggplant in rounds.
Traditionally the eggplant is fried, but as you may know eggplant loves sucking up liquid, and when fried becomes utterly greasy.
Very tasty, but very greasy.
What I like to do is pour some olive oil in a large pan and then dip each side of the eggplant round just so it soaks up a bit of oil.
You can also use a pastry brush if you prefer even less oil absorption.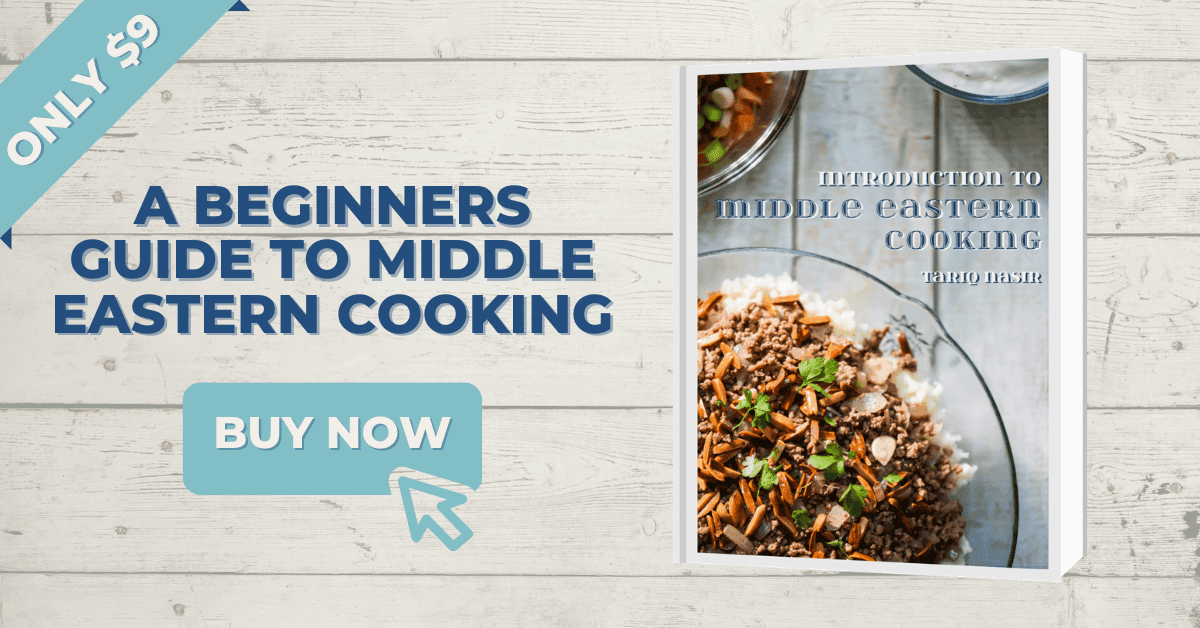 It's up to your individual taste.
This can be a show stopping dish when it comes time to serve it.
As you lift the pot off the food to unveil your masterpiece to your guests you always feel a bit of magic!
Enjoy the substantial flavors, and little bit of drama this food provides!
Tips for Making
Greasing the pot and using a circular piece of parchment paper will ensure easier removal once flipped upside down.

Make sure the eggplant is cooked through properly and browned. This will act as a seal between the rice and the meat.

Use a heavy bottom pot with low set handles. So when you come to flipping, a plate will fit flat against the pot top and not be obstructed by the handles.

When flipping, be confident! Make sure you have a good grip on both the plate and pot handles before attempting. Do a quick, controlled flip and place down gently.

After flipping, you should hear the contents of your dish drop onto the plate. If it doesn't, knock on the bottom of the pot to loosen it.
Print Recipe
Maqluba Recipe
Out of all of the many recipes I make, I love Maqluba the most for its simplicity and flavor.
Instructions
Preheat the oven to 390°F (200°C).

Slice the eggplant into 2cm thick pieces.

On a baking tray, put a generous glug of olive oil. Take a slice of eggplant and dip it in the oil, then turning over and dipping again until well covered. Place on the baking tray and repeat for all eggplant slices. Use more olive oil if needed. Bake in the oven until brown.

On another baking tray, place the lamb chops. Season with salt and pepper. Bake in the oven until brown.

Grab a deep pot and cut out a circular piece of parchment paper to fit the bottom. Spray the bottom of the bottom with oil and place in your parchment paper.

Add in your cooked lamb chops, followed by your cooked eggplant slices and then pour over your uncooked rice mixture.

Bring to a boil, half cover with the lid and reduce to a simmer. Let cook for 20 minutes or until all the water has evaporated. Remove the lid.

Find a large flat plate and place it on top of the pot. Holding onto the plate and pot handles, quickly lift and flip upside down.

Lift the pot up to reveal your Maklouba and remove the parchment paper.
Nutrition Per Serving
Calories:
509
kcal
-
Carbohydrates:
44
g
-
Protein:
46
g
-
Fat:
15
g
-
Saturated Fat:
5
g
-
Cholesterol:
129
mg
-
Sodium:
691
mg
-
Potassium:
735
mg
-
Fiber:
3
g
-
Sugar:
2
g
-
Vitamin A:
13
IU
-
Vitamin C:
1
mg
-
Calcium:
36
mg
-
Iron:
6
mg
Have you made this recipe? I'd love to hear your thoughts below.