Roasted Garlic Labneh Dip Recipe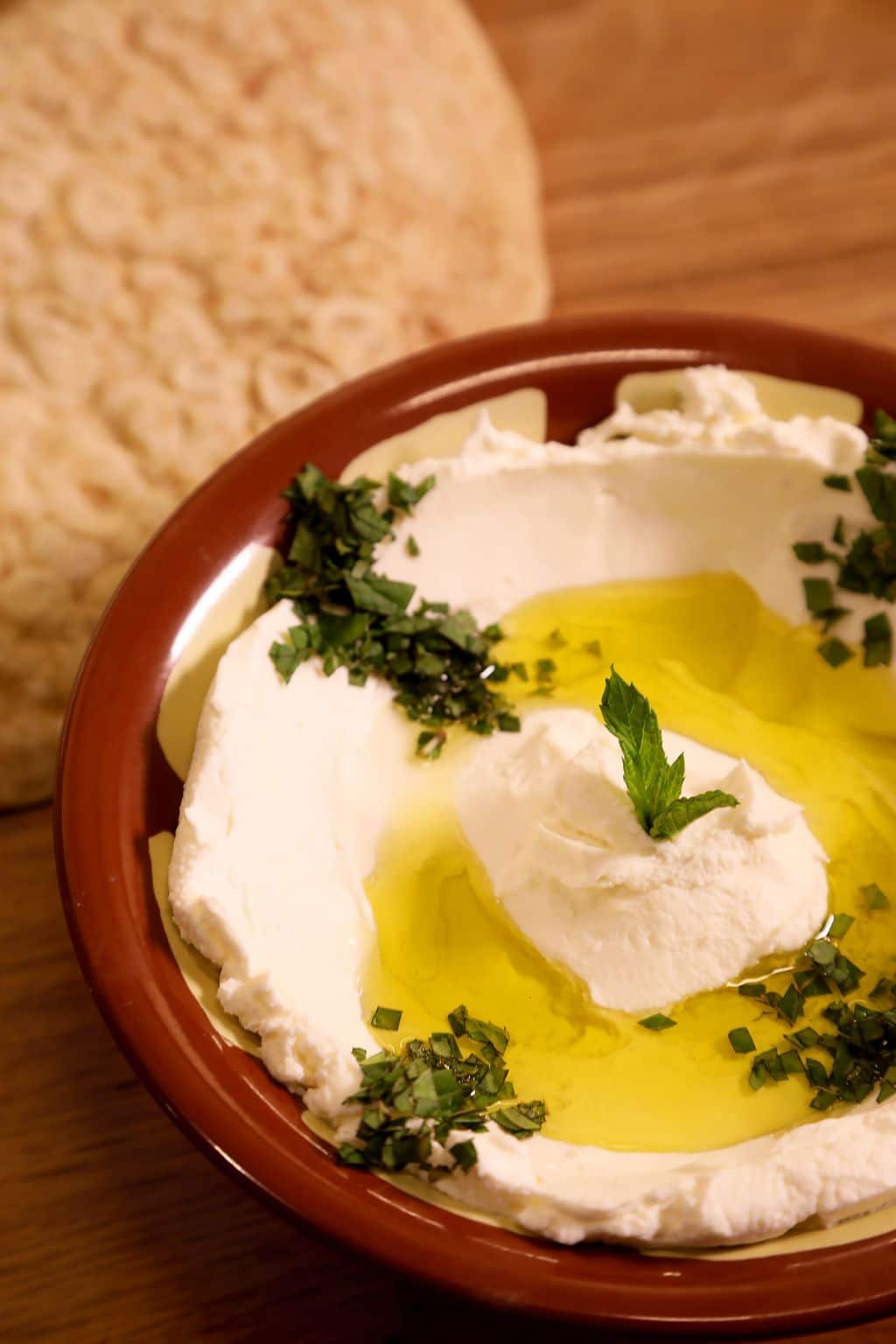 Pairing the deep taste of garlic in this labneh recipe creates the perfect partnership.
Garlic is such a wonderful ingredient, and roasted garlic is no different.
Milder and sweeter than raw garlic cloves, roasted garlic has such a sophisticated flavor; deep and robust.
Combined together, it makes the most irresistible labneh dip!
The labneh is a bit sharp and sour, with a certain sweetness.
The roasted garlic, hearty and bold, broadens the tastes to a very wide palate.
From sharp through to smooth, giving your mouth a treat!
What is Garlic Labneh?
Popular in Middle Eastern cuisine, labneh is a think cream cheese dip made from straining yogurt.
Yogurt is one of the most common ingredients in the Middle East.
It's a versatile ingredient and is used in many different dishes.
Labneh is a perfect healthy alternative to cream cheese as it has about half the calories and fat.
You can use it in the same way that you would cream cheese.
Dip your favorite vegetables in it, use it in your cooking or spread it on some crackers or toasted bread!
The most traditional way of serving Labneh is with some extra virgin olive oil and za'atar.
How to Make Garlic Labneh
Homemade labneh is very easy to make, and extremely satisfying to eat!
Basically drain the liquid from the yogurt using layers of cheesecloth for 24 hours, and you instantly have labneh cheese.
You can mix different ingredients into the yogurt before draining to infuse with flavor, such as I did with this recipe.
Add olive oil and crunchy toast or pita bread or pita chips for a lovely treat.
Another nice thing to do with labneh is let it sit in the fridge draining for two or three days at which point you divide the labneh into equal parts so that you can roll it into little balls.
These can be dusted on the outside with things like mint, sumac, or other herb mixtures.
These can also be dipped and soaked in olive oil.
Where to Buy Labneh
You can find labneh at most speciality supermarkets and ethnic shops.
It's hard to find labneh online as well.
This is why I would recommend making your own.
And it's a lot more delicious!
It is a very low maintenance product to make.
You just pour the yogurt in a cheesecloth over a deep bowl and leave for 24 hours.
Then you have labneh!
Labneh can be part of a typical breakfast, alongside hummus, ful, eggs, manakeesh and a whole host of other things.
Breakfast can be a heavenly mezza to get lost in.
I often like to have lots of little tastes of things at breakfast and dinner, with lunch the more of a sit down for a cooked dish meal of the day.
This is typical for this part of the world.
Of course, these days I'm continuing the intermittent fasting regime that I have been trying.
So far it's working well.
We made some pizza last night that turned out to be amazing, if I do say so myself! I had the dough proofing all day.
I love the feel of good dough, the feel is an amazing thing to behold!
For my pizza, I topped it with homemade tomato sauce, then a layer of chopped fresh basil, followed by mushrooms, green onions, salami, feta cheese, fresh chopped cilantro, pepperoncini peppers, green olives, and mozzarella cheese.
A very satisfying pizza that everyone loved.
We paired it with a chilled Sauvignon Blanc that went very well with it.
It was a nice evening of sitting in the backyard with the fountain and waterfall running providing a nice, cool environment for us to talk, and have fun.
Using it in Cooking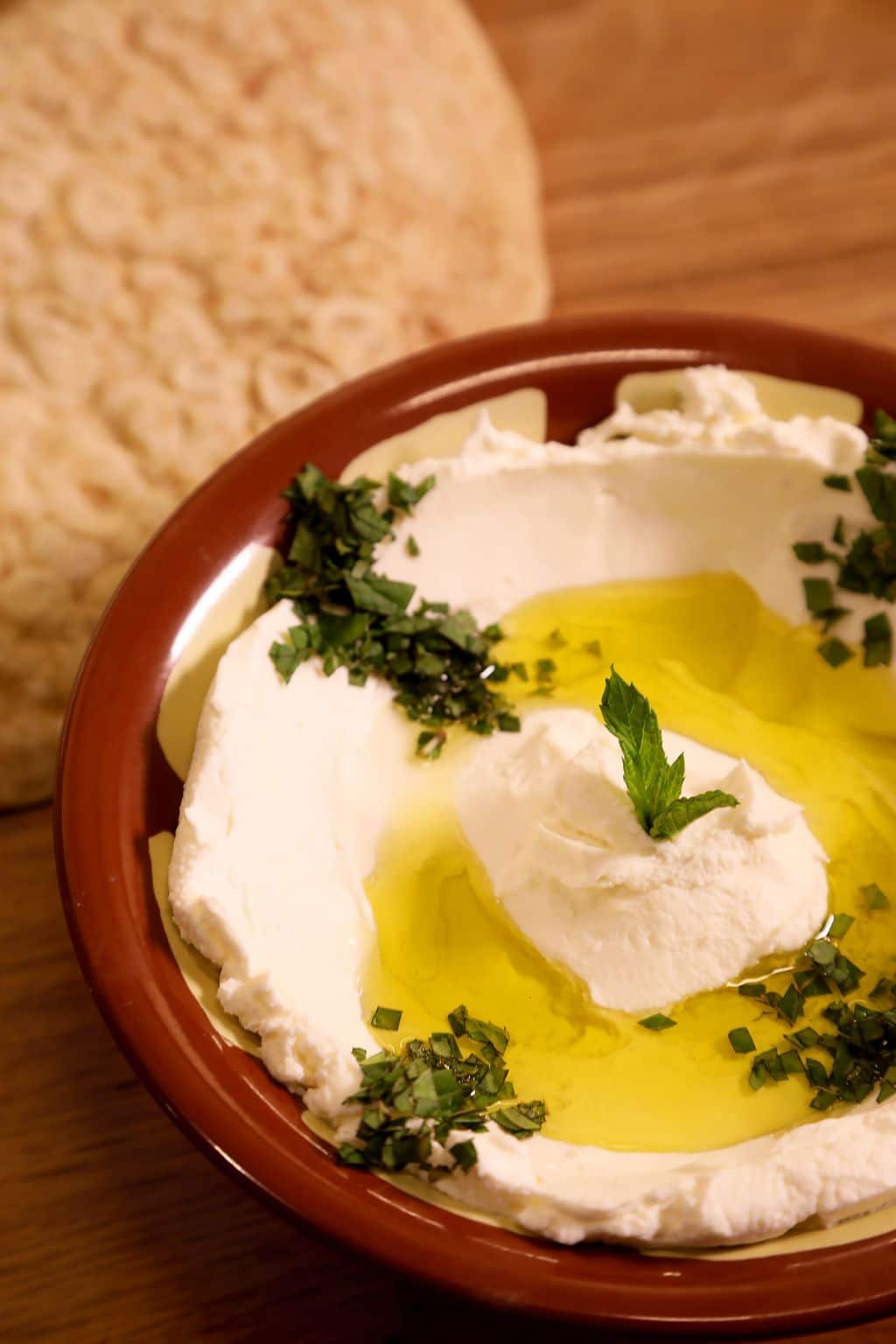 Labneh that has had time to really develop is a really good topping for pizza or flatbread.
For example a flatbread with labneh, green olives, fresh mint, and some red pepper flakes would be a lovely treat for any occasion.
But the options could be endless, and just waiting for your creativity to come up with the ultimate flatbread of your own invention.
I think you will find that if you make this you will have a lot of takers who are more than happy to share your dish.
Maybe you could use it as a filler for your omelete, or a topping for your tacos, or nachos.
I've given you some of my ideas, I hope you will share yours with me!
Equipment I Used
Chef's Knife
Mixing Bowl
Sieve
Cheesecloth
Silicone Spatula
Roasted Garlic Labneh Recipe
From sharp tastes through to smooth and sweet, your mouth gets a treat!
Print
Rate
Ingredients
1

Garlic

whole head

2.2

lbs

Yogurt

1

tsp

Salt
Instructions
Wrap head of garlic in foil. Bake for 1 hour in 400°F (200°C) until soft. Remove from oven and cool.

Slice off end of garlic bulb and squeeze out soft, cooked garlic.

Stir garlic and salt into yogurt.

Line a sieve with cheesecloth, place over a bowl. Pour yogurt into sieve, cover and refrigerate. 

Allow yogurt mix to drain for 24 hours.

Place the strained yogurt in a bowl and mix together with a spatula until you get a creamy consistency.

Serve in a bowl with olive oil drizzled over the top and pita bread to dip in.
Nutrition
Calories:
76
kcal
|
Carbohydrates:
5
g
|
Protein:
4
g
|
Fat:
4
g
|
Saturated Fat:
2
g
|
Cholesterol:
16
mg
|
Sodium:
348
mg
|
Potassium:
193
mg
|
Sugar:
5
g
|
Vitamin A:
125
IU
|
Vitamin C:
0.7
mg
|
Calcium:
151
mg
|
Iron:
0.1
mg
Have you made labneh?
What's your favorite flavors to infuse?