Homemade Flatbread with Labneh & Olives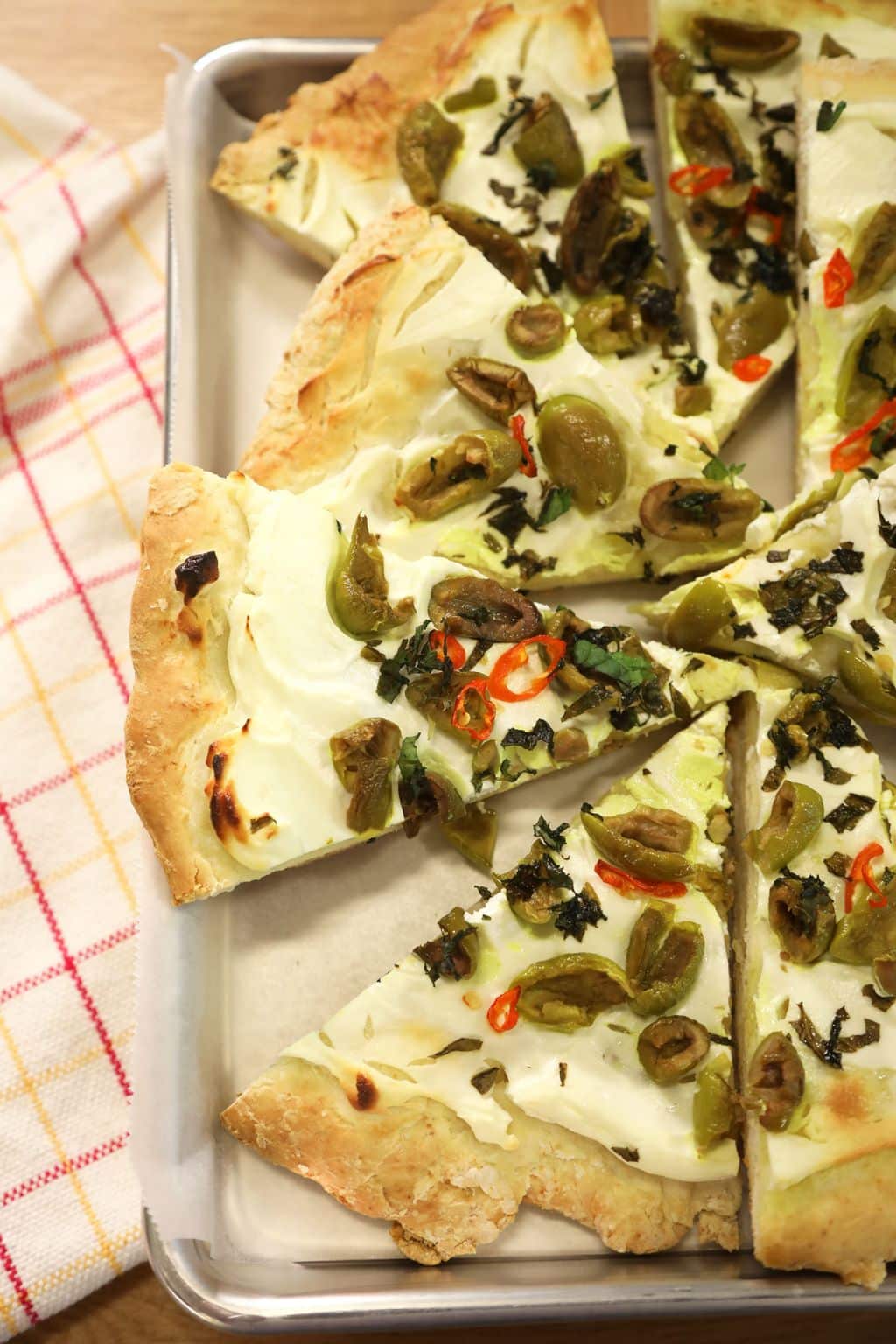 There is a certain memory that comes to mind when I eat this homemade flatbread from when I was a kid at school during lunch.
It was common that we brought our own food given the schools did not provide any meals.
My mother would often send me to school with a pita sandwich filled with labaneh, green olives, and dried mint.
A fantastic combination of goodness.
Being at school was never the easiest thing for me.
Growing up in the Middle East was a mixed blessing for me like most things in life.
I went to Arab schools because my father wanted me to learn Arabic, and today I see that as having been a good thing.
Back in the day it seemed less of a blessing.
The only trouble was that in those days corporal punishment was still the method of discipline of the day.
So we'd spend much of days avoiding smacks and slaps!
Being half American also meant that I was teased an awful lot.
So school days were not the best days for me.
But the Labaneh sandwich made up for a lot!
Along with the Choco Prince chocolate that I would buy with my allowance as a dessert on any days I had the money.
This was a Dutch chocolate bar that consisted of chocolate stuffed cookies all enveloped in smooth delicious chocolate.
One of the things I learned in school is that food can bring joy when life is stressful, and a good labaneh and olive sandwich would be my recommendation for bringing a little bit of joy into one's life.
Another great way to prepare labaneh is to dry it out a little further when you make it, and then form the labaneh into balls that can be stored in a clean jar and covered in olive oil.
You can add all kinds of flavor either to the labaneh itself or to the oil it is soaked in.
This recipe is based on the flavors I experienced as a young kid.
I've added some hot pepper to give the taste a robust depth that is cooled by the bites of dairy.
Of course when straight from the oven the fresh bread contributes to making this a real winner.
And as always, experiment with different ingredients, or more of one ingredient and less of another, to make this a personalized treat.
You can always sprinkle a bit of homemade zaatar on this homemade flatbread before serving.
For me, homemade flatbread is one of my favorite things to serve when sharing a bottle of wine with friends.
It makes for a good snack, and sometimes I'll add a salad and a couple of mezze dishes, as appetizers before dinner.
And if we are sitting in the backyard on a warm summer evening I would follow this snack up with a barbeque of grilled meats and vegetables marinated in garlic, olive oil and lemon juice.
Yum!
It's hard to beat a meal outdoors in Amman during a warm summer evening.
Even if it's been hot during the day by the time the sun goes down cooler weather prevails.
Hooray for dry heat!
Homemade Flatbread with Labneh & Olives
A homemade flatbread that will bring a little bit of joy to your life!
Print
Pin
Rate
Ingredients
Dough
3¼

cups

Flour

3

tsp

Baking Powder

¾

tsp

Salt

¾

tsp

Yeast

1½

cups

Milk
Topping
250

g

Labaneh

120

g

Olives

green

⅓

cup

Mint

chopped

1

Hot Pepper

sliced
Instructions
Combine flour, baking powder, salt, yeast, and milk to make a dough. Knead until throughly mixed and forms a ball.

Place in bowl, cover, and leave in a warm place until dough has doubled in size, about 60 minutes.

Split dough in two pieces. Using a rolling pin, roll into irregular oblong shapes.

Spread the Labneh on the dough and dot olives and peppers on surface. Sprinkle half the mint on and place in the oven and bake for 15 to 20 minutes.

Remove from oven and sprinkle remaining mint.
Nutrition
Serving:
6
g
|
Calories:
308
kcal
|
Carbohydrates:
56
g
|
Protein:
11
g
|
Fat:
3
g
|
Cholesterol:
2
mg
|
Sodium:
625
mg
|
Potassium:
430
mg
|
Fiber:
2
g
|
Sugar:
2
g
|
Vitamin A:
255
IU
|
Vitamin C:
11.6
mg
|
Calcium:
183
mg
|
Iron:
3.7
mg