Fish and Rice (Simple, Yet Heavenly)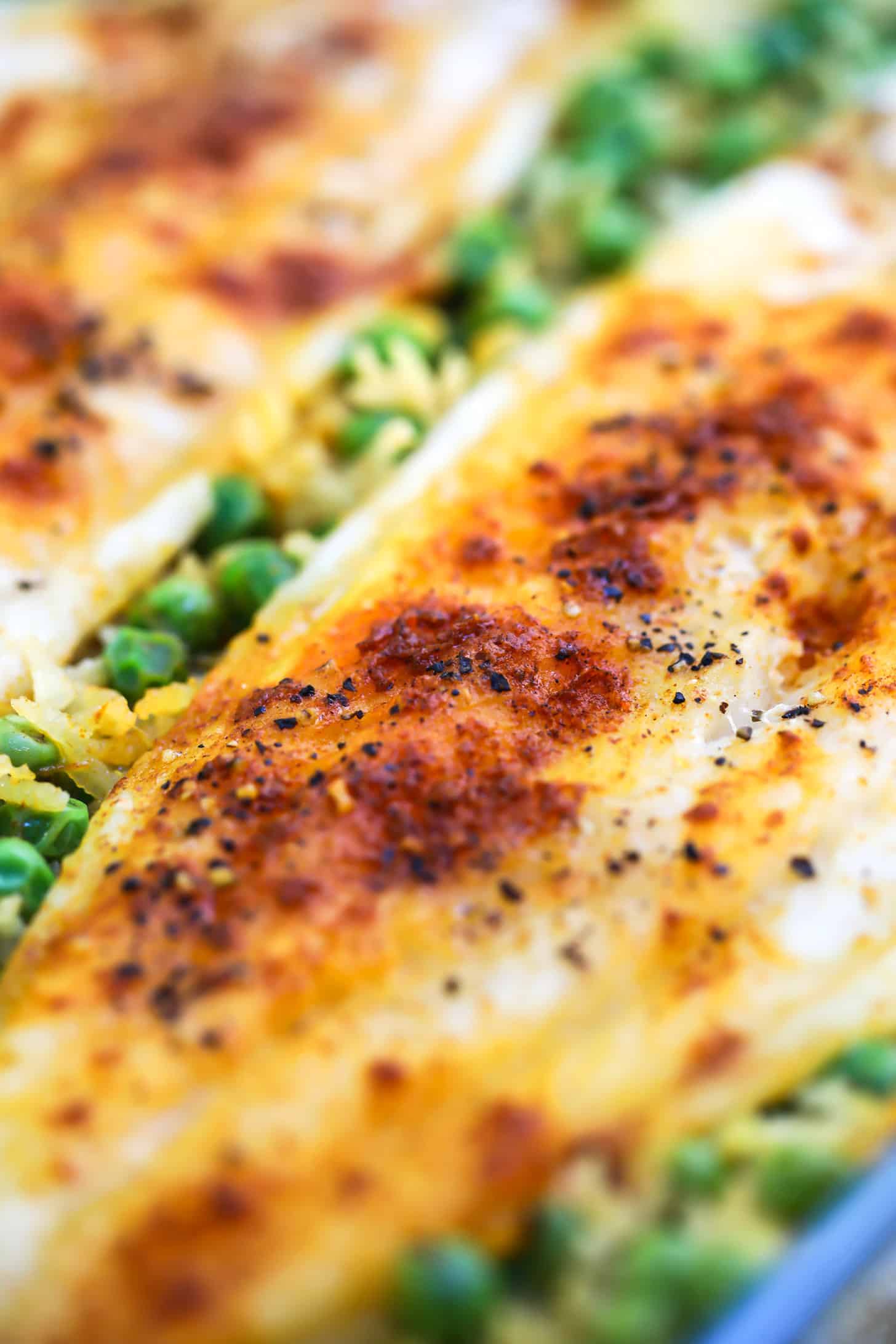 Sometimes the simplest dishes are the best dishes, just like this recipe for fish and rice.
Two ingredients that compliment one another really well, with all the subtleties of their flavors.
Filling, and yet light at the same time, I think you will find this recipe with its tender rice, and white fish to be delicious.
What is Fish and Rice?
Simply put this is a dish that is a combination of rice and fish cooked in the same baking dish.
The rice is par baked with the fish fillets being added later in an oven at medium heat.
Garlic powder and olive oil are often added and it is cooked until the rice is tender and the fish flakes easily.
How did This Combination Originate?
In the east and south coastal regions of India, fish and rice are easily available, which is why they are found in many of their dishes.
Rice is the staple food of Eastern India, Southern India and a few parts of Central India.
Many coastal areas like West Bengal, Kerala, Odisha, Goa and other east and south regions in India prefer eating fish and rice in their meals.
In Bangladesh, rice and fish are considered staple foods.
This is due to their easy availability, due to the geography of the country.
Japan is also popular for sushi, which combines raw fish and rice.
This method of preserving fish by fermenting it in cooked rice soon developed into sushi and became popular.
Before 1854, eating meat was prohibited in Japan, due to religious reasons, which is why fish was eaten as a substitute for protein.
In Spain, seafood Paella is a classic dish that consists of rice, saffron, vegetables, and seafood cooked and served in one pan.
It's believed that Muslims began rice cultivation around the 10th century in Spain, and by the 15th century, rice had become a staple.
Rice as a Staple Food
Rice is a common staple food in a variety of cultures around the world.
In terms of nutrients, it is also the most essential grain consumed by humans.
Rice comes in 40,000 different variations, each with its own form, color, and size.
This hearty grain originated thousands of years ago in Asia.
It's thought to have been domesticated originally in India or Southeast Asia.
Rice was first introduced to Japan over 3,000 years ago.
It was most likely brought to South America by the Portuguese in the 16th century.
Interestingly, the Chinese word for rice is the same as their word for food.
Rice is the symbol of life and fertility, which is why it is thrown at weddings, in the Celtic tradition.
Fish as a Staple Food
Fish is a valuable food because of its unique blend of high-quality protein and essential elements.
Consumption of fish is very high in countries like China, Myanmar, Vietnam, and Japan.
This food is particularly important in many developing countries.
Fish is frequently the only affordable and widely available animal protein source.
Fish is consumed less in many African countries south of the Sahara, despite the fact that fish can contribute significantly to human nutrition.
In 2009, fish provided 16.6% of total global animal protein consumption and 6.5 percent of total protein consumption (animal and plant protein combined).
Wild vs Farmed Fish
Farmed seafood is cultivated in huge tanks, whereas wild-caught seafood is caught in its natural habitat (lake, ocean, or river).
The two may appear to be the same in the store or on your plate, but they are not guaranteed to be similar.
The nutritional value is mostly determined by the diet of the fish.
Wild fish consume a natural diet and have a lower saturated fat content than farm-raised versions.
Farmed fish can have somewhat greater levels of omega-3 fatty acids.
According to certain research, farm-raised versions can have greater contaminants.
Furthermore, due to farming circumstances, farm-raised fish have a higher risk of disease.
This often requires huge amounts of antibiotics to be given to the fish.
And of course they can then pass on to the humans who consume the fish.
White vs Brown Rice
Although white rice is the most popular, brown rice is usually regarded as a healthier alternative.
Rice in general is almost entirely made up of carbohydrates, with only a small amount of protein and almost no fat.
Brown rice is classified as a whole grain.
This means it contains all of the grain's components, including the fiber bran, nutrient-dense germ, and carb-dense endosperm.
The bran and germ, which are the most nutritious components of the grain, have been removed from white rice, which makes brown rice healthier.
"In the hands of an able cook, fish can become an inexhaustible source of perpetual delight."
In addition, brown rice has more fiber and antioxidants, vitamins and minerals than white rice.
100 grams of cooked brown rice contain 1.8 grams of fiber, whereas 100 grams of white contain only 0.4 grams of fiber.
Brown rice may help lower blood sugar levels and minimize the risk of type 2 diabetes.
White rice, on the other hand, may raise your chances of developing type 2 diabetes.
Brown rice and other whole grains may help to boost blood antioxidant levels and lower the risk of heart disease and obesity.
In terms of nutritional value and benefits, brown rice is the best option.
However, there is nothing wrong with a little white rice every now and then.
Fish and Rice (Simple, Yet Heavenly)
Sometimes the simplest dishes are the best dishes, just like this recipe for fish and rice.
Print
Pin
Rate
Ingredients
2

lbs

Fish

white

1

cup

Basmati Rice

3

cups

Vegetable Broth

2

cups

Peas

frozen

1

tsp

Cumin

½

tsp

Garlic Powder

Salt

to taste

Pepper

to taste

Paprika

pinch
Instructions
Bring the rice, cumin, garlic powder, salt and pepper to a boil in the broth.

Once boiling transfer the rice and broth into an 11X7 dish.

Bake in a preheated oven for 10 minutes covered at 375ºF (190ºC)

Remove from the oven, add the fish, and recover.

Bake for a further 25 minutes or until done.

Sprinkle with paprika and serve.
Nutrition
Calories:
305
kcal
|
Carbohydrates:
33
g
|
Protein:
35
g
|
Fat:
3
g
|
Saturated Fat:
1
g
|
Polyunsaturated Fat:
1
g
|
Monounsaturated Fat:
1
g
|
Cholesterol:
76
mg
|
Sodium:
553
mg
|
Potassium:
619
mg
|
Fiber:
3
g
|
Sugar:
4
g
|
Vitamin A:
624
IU
|
Vitamin C:
19
mg
|
Calcium:
39
mg
|
Iron:
2
mg