Baked Lamb Chops in the Oven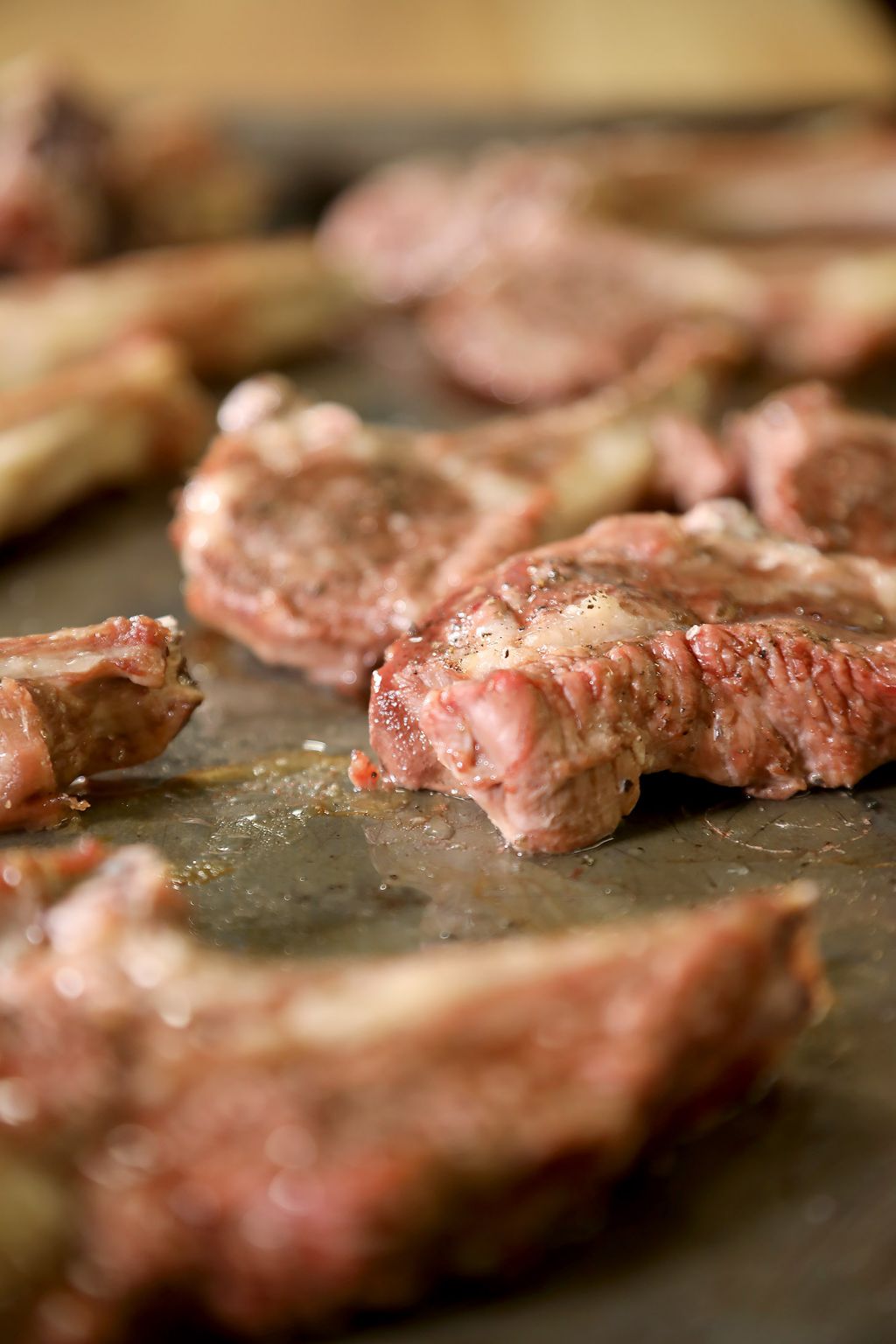 Baking lamb chops in the oven is by far the best way to get really tender meat.
Lamb is the word used to refer to sheep that are less than two years old.
Before the age of two, a lamb's meat is much more tender than an older sheep, which is known as mutton.
When butchering sheep, there is a prescribed number of cuts obtained from each animal.
The rib chops and lamb loin chops are two of the favorite cuts when it comes to roasting lamb.
One popular way to cook lamb is with olive oil, chopped fresh rosemary, salt, and black pepper to a medium rare temperature.
What are Lamb Chops?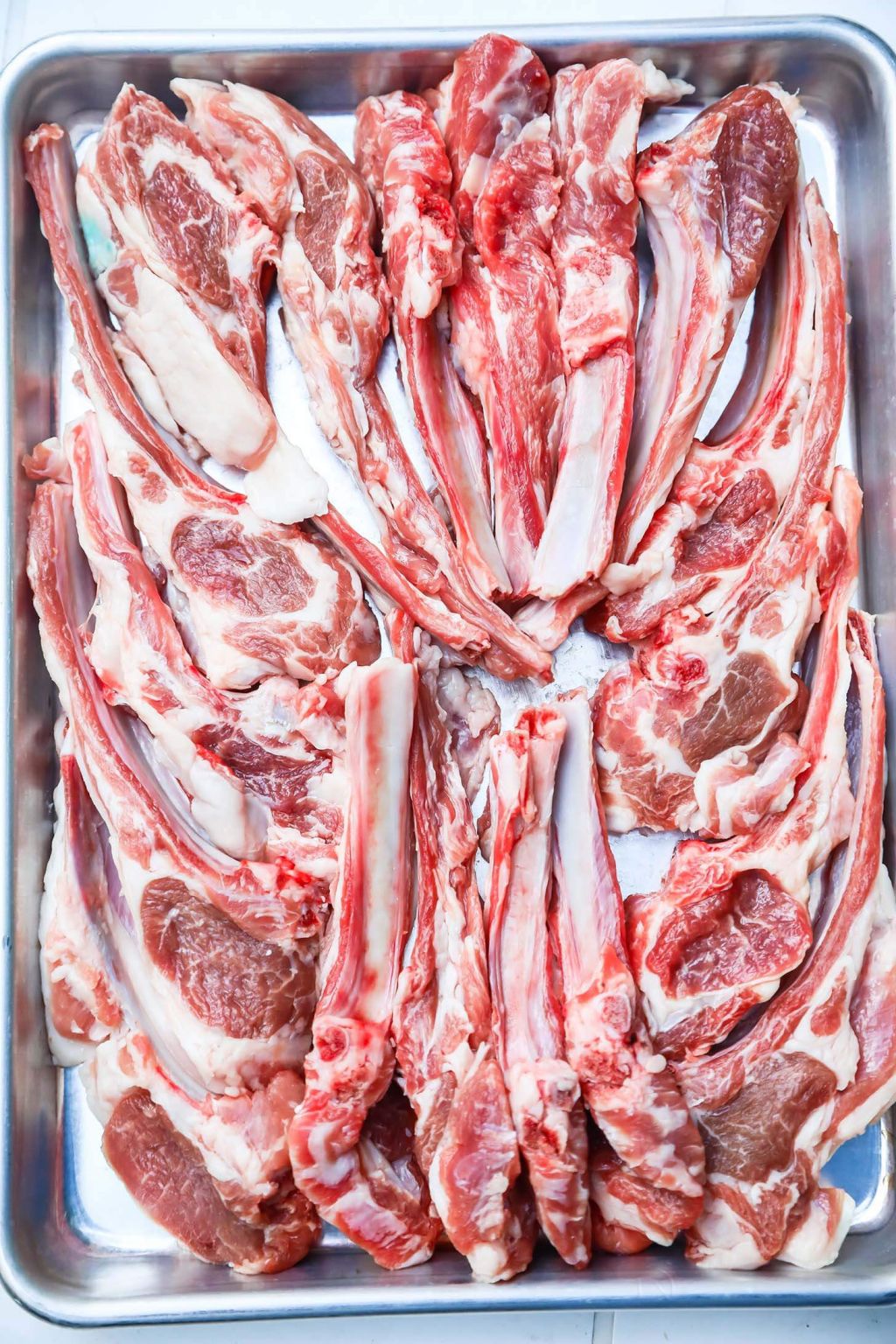 Some of the most tender cuts are those from the backbone of the lamb; the lamb chop.
When lamb chops are served together in one piece, they are known as a rack of lamb.
The rack is a very popular cut, and very often baked as one piece for dramatic presentation.
Not to be confused with loin chops, which are cut from the back part of the backbone.
A lamb chop is a rib bone with a chunk of meat attached on one side.
The lamb chop comes from a rack of lamb that has been cut into single chops.
How to Marinate Lamb Chops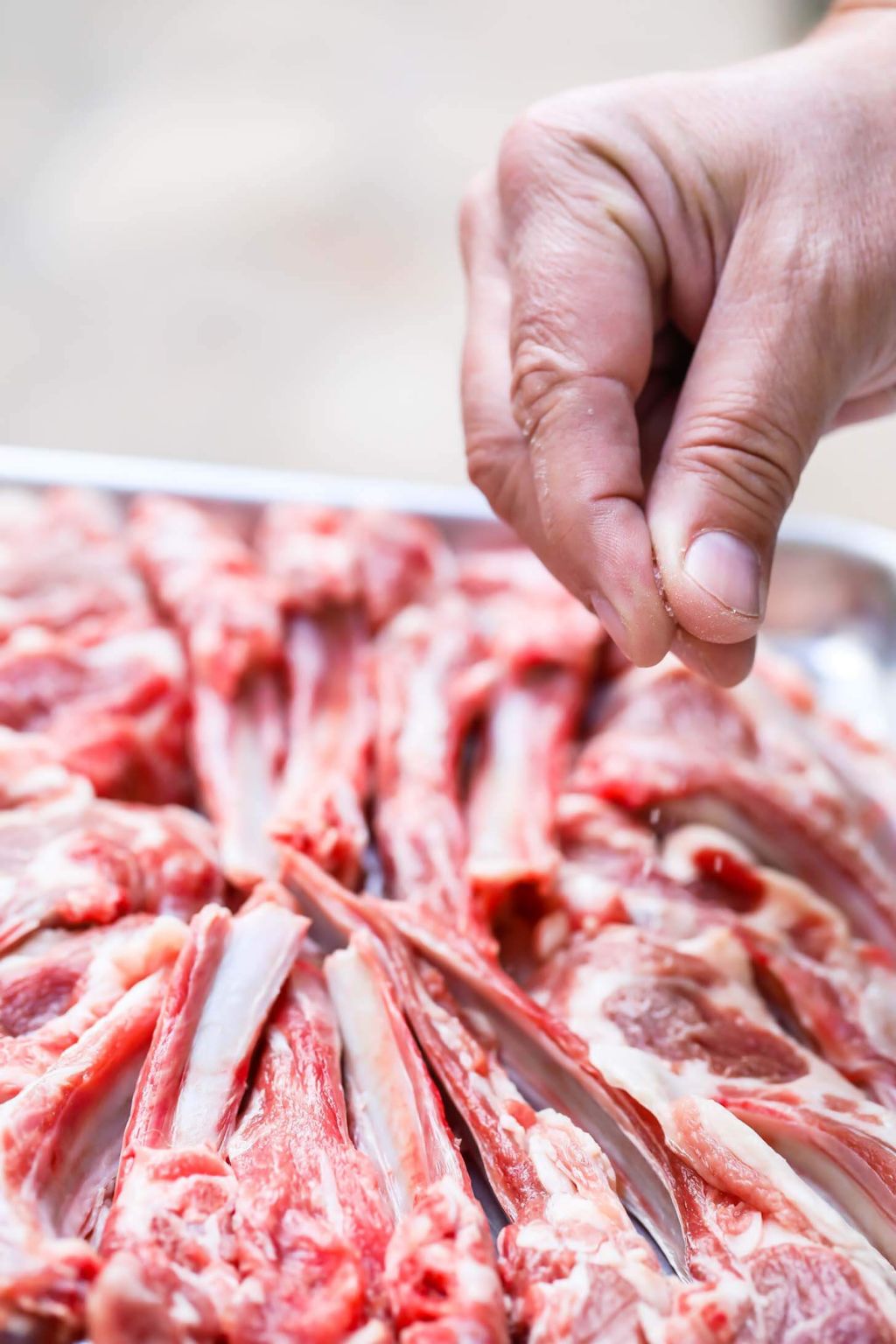 Marinating lamb chops will give them so much more flavor, and can help with tenderness.
Of course chops can be very tasty on their own with just a little bit of salt and pepper.
If marinating, I like to make my own marinade which can really enhance the chops.
In a bowl I mix olive oil, lemon juice, rosemary, thyme, salt and pepper.
I then add lamb chops and marinate for at least 30 minutes per side at room temperature.
Ideally marinating in the fridge overnight will give even better results.
Allow chops to come back to room temperature before you bake them.
Cooking Lamb Chops in the Oven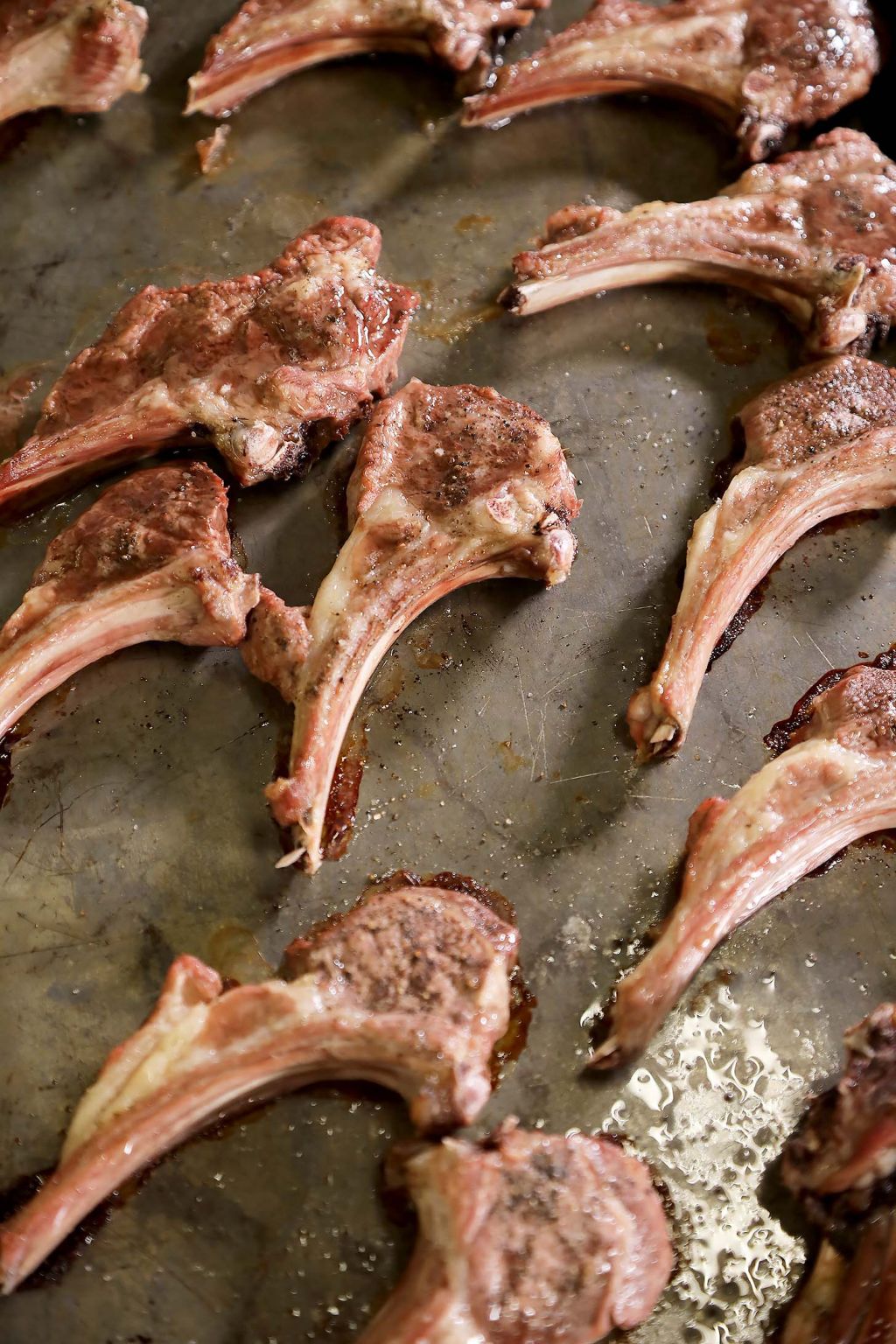 My favorite way to make lamb chops is by cooking them in the oven.
By cooking the lamb chops this way, the juices stay with the meat making it very tender.
My method starts by preheating the oven to 400 degrees Fahrenheit (200°C).
While the oven is heating, heat a pan with a tablespoon of olive oil on a high heat.
Sear the lamb chops just for a minute on each side to really lock in the goodness.
Place the lamb chops on a baking tray and place in the preheated oven for 30 minutes until cooked.
An alternate method for cooking lamb chops is using your broiler.
Cooking times when placing your lamb chops under the broiler:
Medium-Rare: 7 to 11 minutes @ 145ºF (63ºC)
Medium: 15 to 20 minutes @ 160ºF (71ºC)
Make sure to turn your chops once during broiling for even cooking on both sides.
I like to cook my roast lamb chops to a medium temperature leaving them pink in the middle.
What to Serve with Lamb Chops
So many things can be a great accompaniment to grilled lamb chops.
Such as garlic mashed potatoes, oven roasted potatoes, green beans, broccoli, mac & cheese and wild rice.
Try carrots cooked in butter and ginger, asparagus with hollandaise sauce or garlic butter beans.
One of my favorites is sage stuffing with a wonderfully rich lamb gravy poured over the top.
Which Lamb is Best: American, Australian, or New Zealand?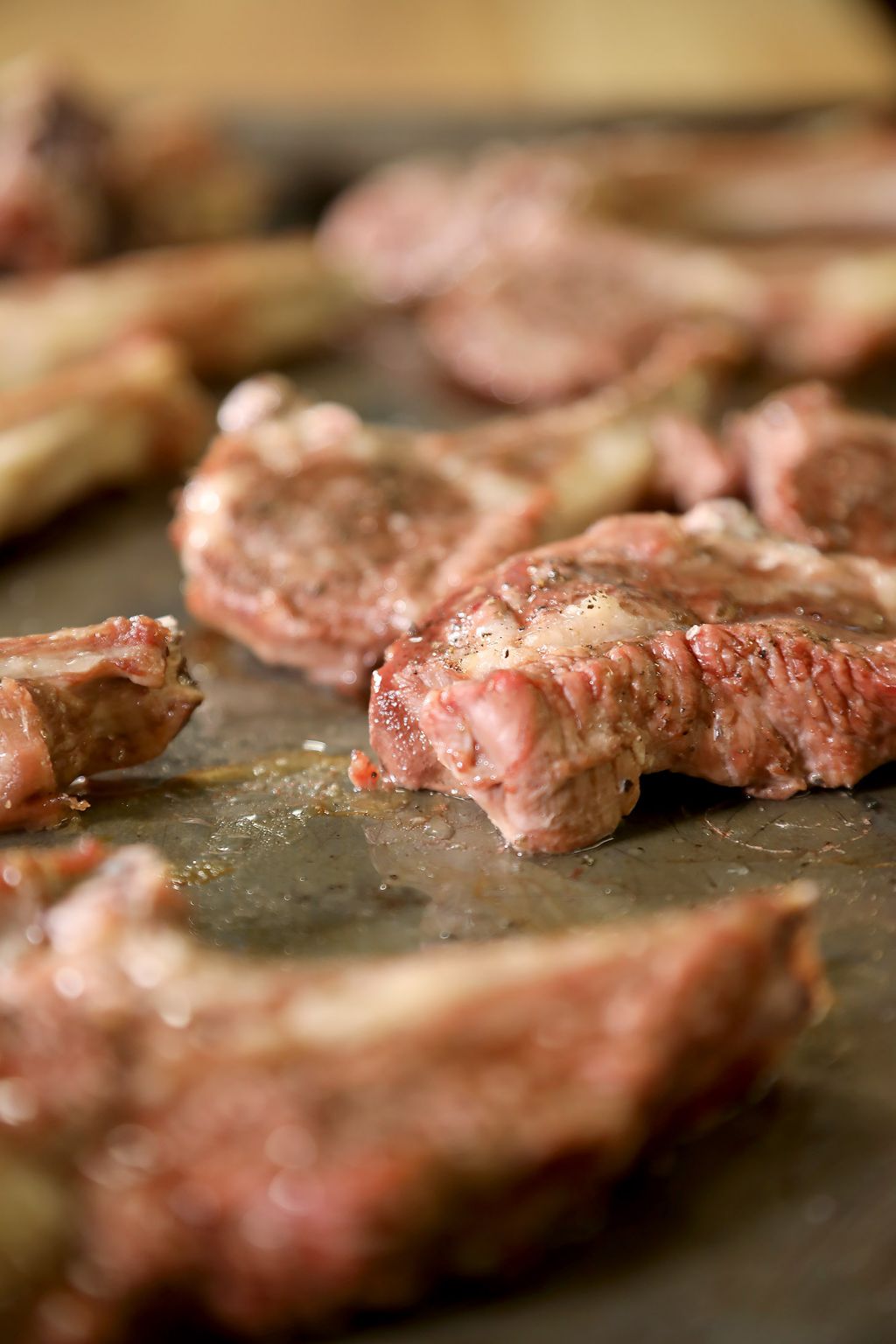 Most high quality American lamb is raised in Colorado, and the MidWest where they are grain fed.
Less gamey flavor is one of the characteristics of American lamb, which has a relatively small industry.
The Australian lamb industry is larger with more consistency in size and weight of the animals.
Providing a good robust flavor Australian lamb has become very popular.
New Zealand has been producing lamb for many decades, growing a smaller breed than either the Americans or Australians.
It is a large industry, with very tasty meat, produced at very economical prices, making it sought after.
Wine Pairing with Lamb Chops
Normally I would recommend a wine with heavier tannins like a Cabernet Sauvignon.
And a cab will definitely work every time, but there are other choices as well.
If heavier tannins are not your thing, then try a Pinot Noir, which will be softer, yet still full of flavor.
My personal favorite wine with lamb chops is a Cote du Rhone from France.
This wine has the tannins I like, as well as a nice spiciness that stands up well to the lamb flavor.
Some other wines are Merlot, Syrah, or if you feel like indulging – a Bordeaux.
Speaking of indulging, I also love a Barolo with this dish.
With its very strong tannins, a characteristic of the Nebbiolo grape.
Just be sure to decant these wines first for a better experience.
Have no fear if you have a preference for a white wine over red, you still have options.
You should gravitate towards whites that are more complex and weighty like a rich Viognier or Gruner Veltliner.
A Gruner Veltliner is similar to a Riesling, a very food friendly wine, that works well with lamb.
Tips for Making
If the rack of lamb is small making each single rib very small think about cutting them two ribs at a time.

This will give you a thicker piece of meat to work with and enjoy.

Sear on high heat on both sides before baking to give the chops a nice color.

Grease the baking sheet to make sure the chops do not stick, leaving delicious meat behind.
Baked Lamb Chops Recipe
Tasty, tender cut of meat. Don't pass up the lamb chop!
Print
Rate
Ingredients
16

Lamb Chops

single chops

½

tsp

Salt

½

tsp

Black Pepper

1

tbsp

Olive Oil
Instructions
Preheat the oven to 400ºF (200º).

Bring chops to room temperature.

Pour olive oil into a pan and sear the chops on both sides until brown.

Place the chops in a baking tray in a single layer and bake for 30 minutes, turning once.
Nutrition
Calories:
764
kcal
|
Carbohydrates:
3
g
|
Protein:
84
g
|
Fat:
42
g
|
Saturated Fat:
19
g
|
Cholesterol:
296
mg
|
Sodium:
638
mg
|
Potassium:
1118
mg
|
Fiber:
1
g
|
Sugar:
1
g
|
Vitamin A:
38
IU
|
Vitamin C:
3
mg
|
Calcium:
62
mg
|
Iron:
9
mg