Shepherd Salad (Traditional & Easy)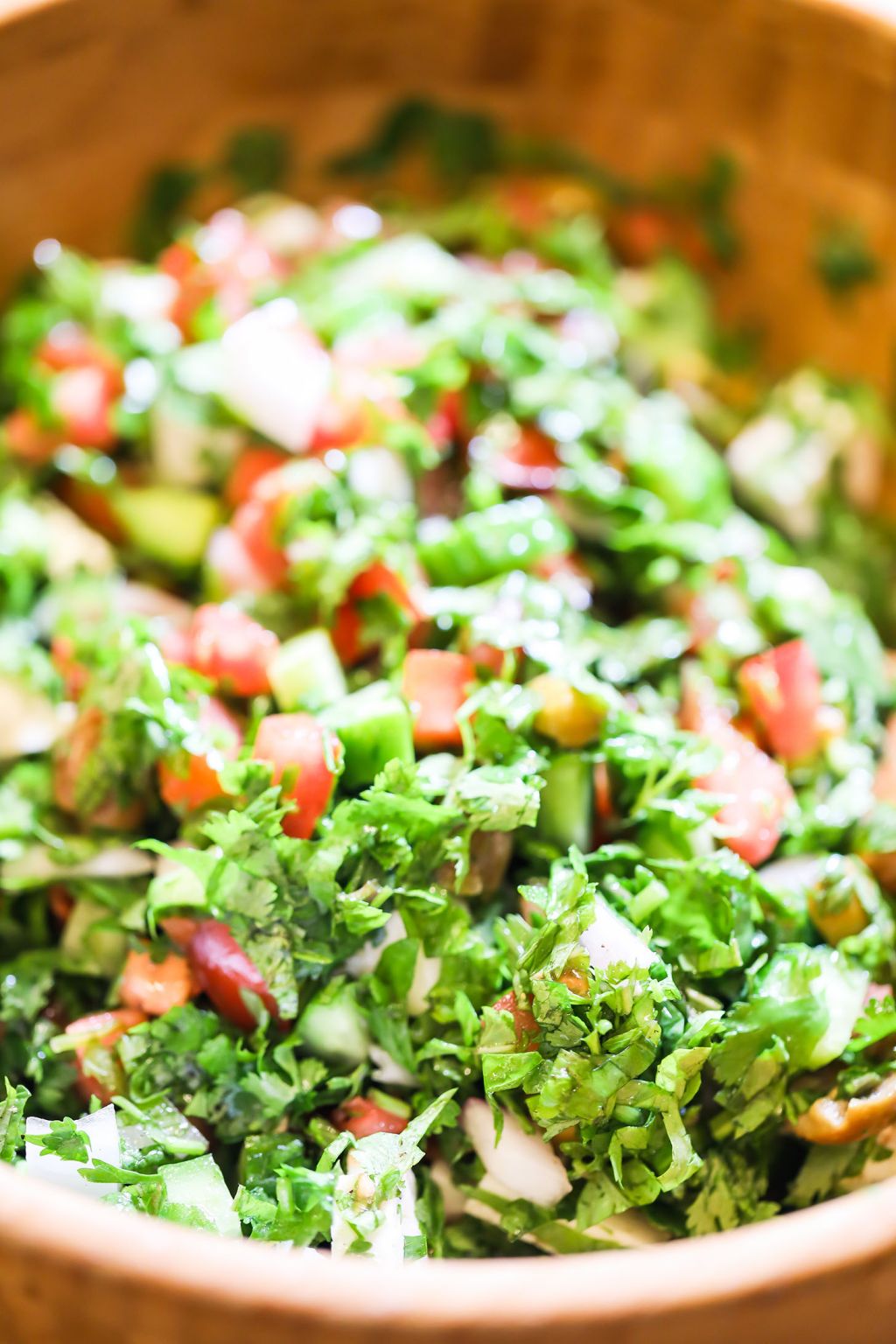 Across the Middle East a simple salad known as shepherd salad is common to many countries, Arab speaking and otherwise.
A well known one in the West being a Turkish shepherd salad.
Usually consisting of tomatoes, cucumbers and onions at its base, several additions can be found from added herbs like mint, to different types of cheeses.
This salad relies on the simplicity of the ingredients at hand, without any complicated additions.
The dressing is usually an easy mix of olive oil, lemon juice, and a little bit of salt.
Often the cheese included in this salad is also a cheese that is available to the shepherd from his flock of sheep or goats.
A nice feta, or halloumi adding an extra layer to the flavors and textures, not to mention an additional color to the salad.
What is Shepherd Salad?
Known also as a summer salad, using the seasons fresh cucumbers and tomatoes, and on occasion green pepper, seeded and diced, black olives, with sumac and red pepper.
So many variations make this salad recipe easy and versatile.
From a simple tomato salad with red onion and feta cheese to something more involved, with added vegetables and herbs, this is a winning salad.
Adjust seasonings to your own tastes, and serve in a large bowl for sharing or on a side dish.
How to Make Shepherd Salad
Always start with the freshest vegetables to make this a good salad.
Use a variety of tomatoes to give the salad a variation of flavor, color and texture.
Heirloom, roma, yellow, and even green tomatoes.
Use cucumbers with little seeds, or seed the cucumbers for a more refined offering.
My favorite is to use green spring onions for this salad, but any kind of onion will do from, white to red, and everything in between.
These three ingredients form the simple base for this salad.
Add whatever else you have on hand vegetable wise from fresh fennel, sweet peppers, and even cooked beetroot if that is something you like the flavor of.
White cheeses are an especially good addition to this salad with the salty taste they add, along with the soft texture in contrast to the crunch of the vegetables.
Add a salad dressing of about 1 to 1 olive oil to lemon juice, with a little salt and pepper.
Taste and adjust seasonings to your liking.
Fresh herbs are a nice addition to this salad.
I will often add, fresh mint, parsley, and cilantro for a nice variation and change from the ordinary.
Experimenting with Flavors
Like most foods, it is great to experiment and and all the flavors you like.
Try new things.
If you like radishes try those in your salad.
Or if you like something sweet, try raisins or even chopped dates.
You may be surprised at how well white cheese and dates compliment each other.
As always I am a big advocate for trying your own thing when it comes to cooking.
Sometimes you can surprise yourself and stumble across something new and delicious.
Sometimes you have to go back to the drawing board when what you tried could have been better.
In the end, cooking is all experimentation to find what works for you.
Share your recipe variations with me, I'd love to hear from you and learn what you are up to with your culinary endeavors.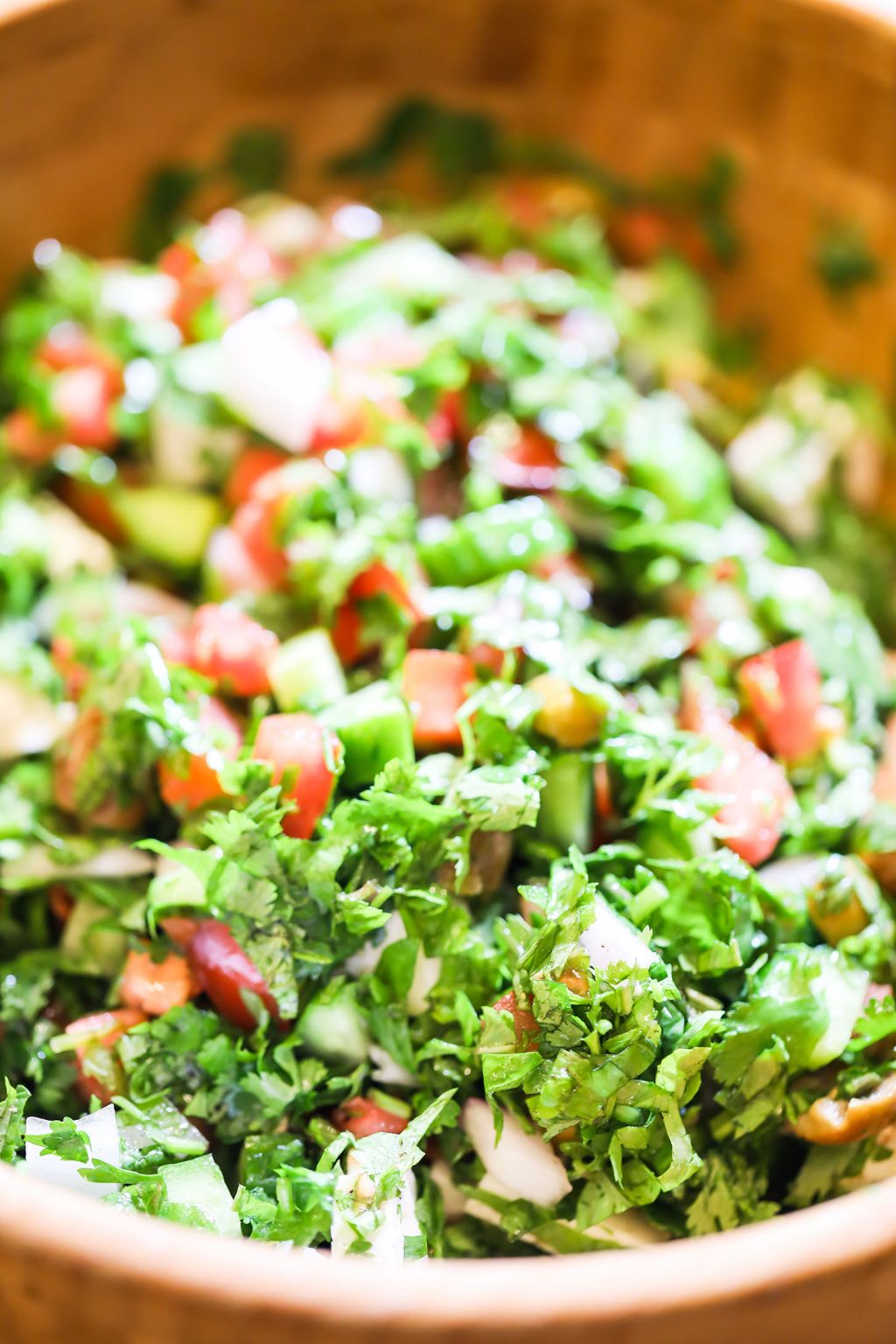 Shepherd Salad Recipe
Across the Middle East a simple salad known as shepherd salad is common to many countries, Arab speaking and otherwise.
Print
Rate
Ingredients
2

Tomatoes

diced

2

Cucumbers

diced

1

bunch

Cilantro

chopped

1

bunch

Mint

chopped

½

cup

Pitted Olives

chopped

½

Red Onion

diced

2

tbsp

Lemon Juice

2

tbsp

Olive Oil

¼

tsp

Salt

¼

tsp

Black Pepper

6

oz

White Cheese

cubed
Instructions
Mix all ingredients together and serve immediately. 
Nutrition
Calories:
295
kcal
|
Carbohydrates:
9
g
|
Protein:
12
g
|
Fat:
24
g
|
Saturated Fat:
10
g
|
Cholesterol:
45
mg
|
Sodium:
680
mg
|
Potassium:
422
mg
|
Fiber:
3
g
|
Sugar:
5
g
|
Vitamin A:
1290
IU
|
Vitamin C:
18
mg
|
Calcium:
346
mg
|
Iron:
1
mg