Muhammara (Roasted Red Pepper Dip)
Muhammara is a deliciously spicy mezze dip made from roasted red peppers.
This red pepper and walnut dip is one of my favorites and is always a crowd pleaser.
It is one of the more complex dips to make, but well worth the effort.
This is definitely one to perfect for inclusion in your next mezze.
It's a dish that is sure to impress.
What Is Muhammara?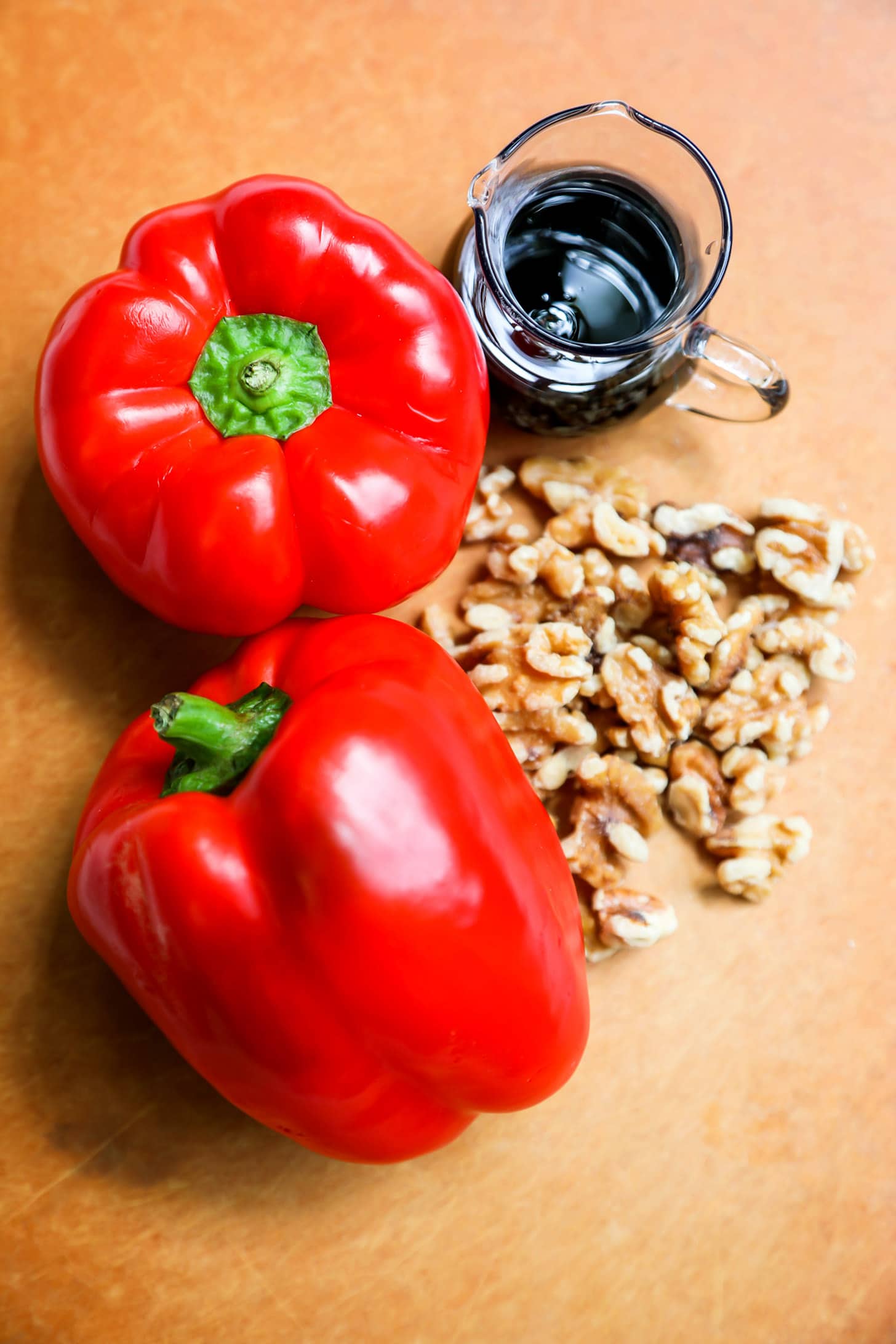 Muhammara is a dip that originated in Aleppo, Syria, and is made out of sweet red peppers, and is how it got its name.
Muhammara in Arabic literally means 'reddened' and of course refers to the color of this dip.
It really is a wonderful addition to any Middle Eastern meal.
Spicy and nutty, it will hold its own alongside any other dish.
One thing that holds some people back from making this recipe is that it's messy, given the baking and peeling of the peppers.
Some people will open the pepper up, and clean out the seeds before baking.
Then after the peppers are well baked and soft, they throw them in a Vitamix blender with skin and all.
It will have a little more bitterness that way, but as with most dishes, it's down to what you like.
If the hassle of peeling is too much, then go ahead and use them skin and all.
I like to make mine with peeled peppers to make sure the mixture is smooth.
How To Make Muhammara?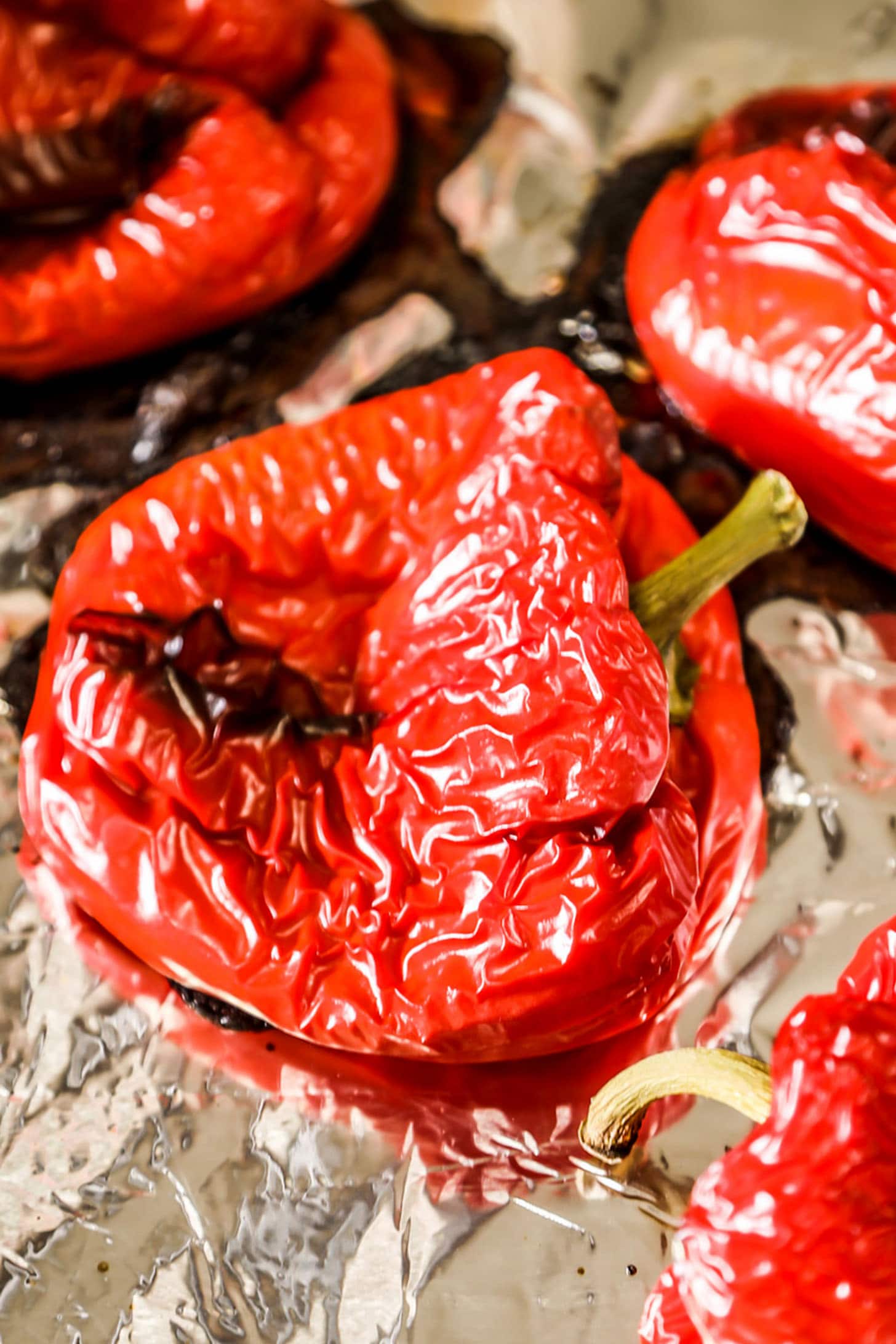 My muhammara recipe is a relatively simple recipe to make.
It can essentially be broken down into two easy steps.
Roasting the red bell peppers and then bringing everything together in a food processor.
Start by preheating your oven to 400°F (200°C).
Place your red bell peppers on a baking sheet and place them in your hot oven.
You want to bake the peppers until they collapse and are soft.
Make sure to turn them intermittently so they cook eveningly.
Whilst they are baking, let's move onto the other ingredients.
Start by toasting your pita bread to make bread crumbs.
You can also make bread crumbs from any other type of bread or buy them from the grocery store.
Use gluten free bread if you prefer to avoid gluten in your food.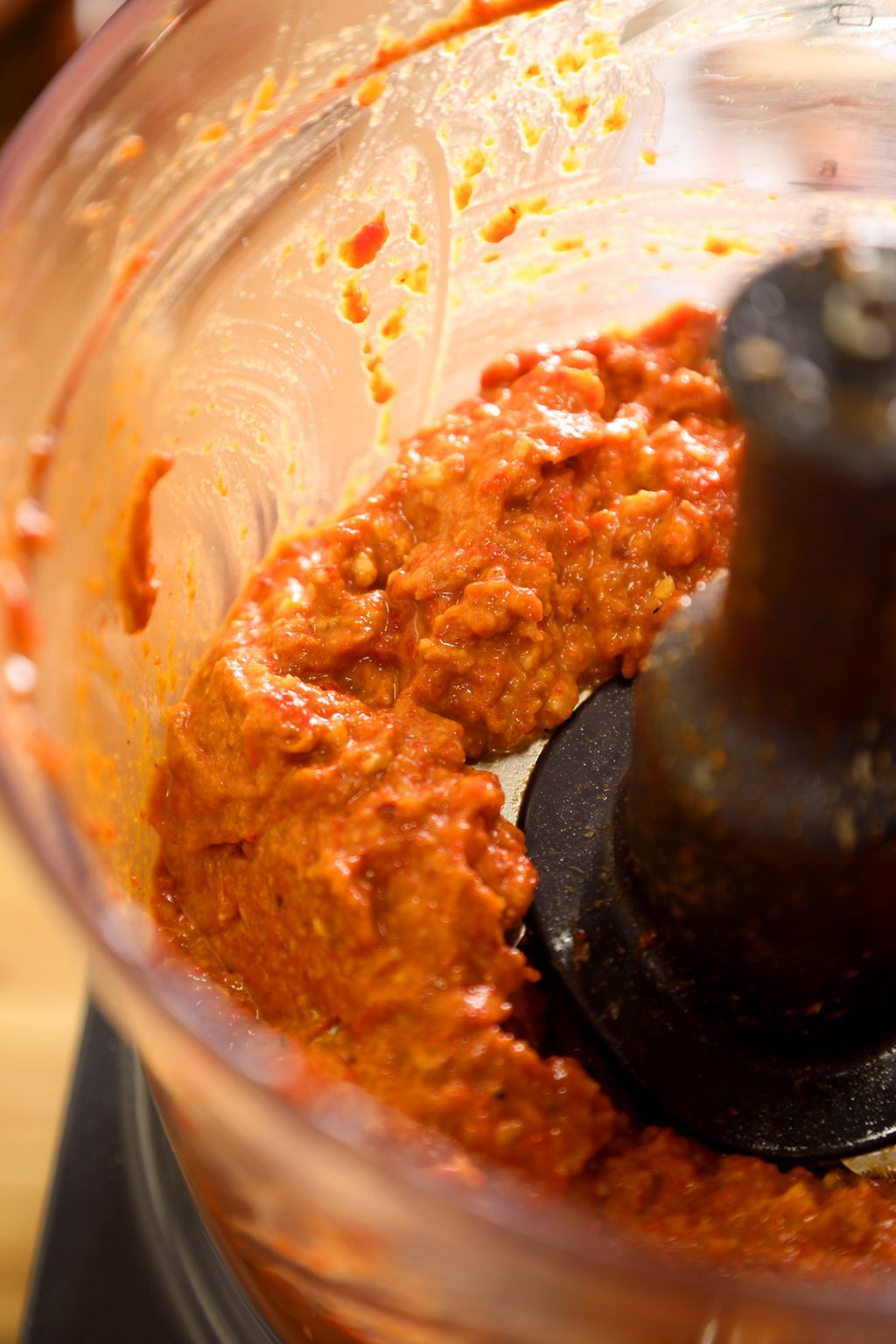 I like the authentic flavor that pita bread brings to this dish.
Once your peppers are finished cooking and cool enough to handle, remove the seeds.
Roasting peppers is great for bringing out their flavor but we don't want to add too much charred flavor.
I like a little of the charred taste, so I let one side burn a bit.
Next, we want to peel the peppers.
Once finished, place them into your food processor.
If you're short on time, you can use jarred roasted red peppers instead.
Add in your breadcrumbs, red pepper flakes, lemon juice, pomegranate molasses, cumin, garlic, walnuts, olive oil and salt.
If you want to add in an extra bit of flavor, you can toast the walnuts before adding.
If you aren't able to find pomegranate molasses at your local store, you can substitute this for pomegranate juice.
The flavor won't be as intense but you can add some sugar to heighten the sweetness.
Once you have all of your ingredients in your food processor, just pulse until smooth.
To serve, place your muhammara in a bowl and top with some additional olive oil.
Health Benefits Of Red Peppers
Full of vitamin C, which is an antioxidant, helps with the good absorption of iron.
There is about a 25% reduction in vitamin C after roasting the peppers, but with 200% of daily intake, you should still get plenty.
Red peppers also have high levels of vitamin A, which is very helpful for night vision.
Also full of antioxidants, and lycopene which wards off several types of cancer.
What To Serve With Muhammara
Muhammara is a really versatile dip that can be used in a wide variety of dishes.
The most obvious way to eat Muhammara is as a dip with some delicious crusty bread or arabic style bread.
Another option is to slather it on a piece of toasted bread, or eat with crudites.
Or put it inside a sandwich or wrap> with some chicken and salad.
A really interesting way to use this dip for breakfast is to bake an egg in it.
In a small ramekin, place some Muhammara and crack an egg into a small well.
Bake it in the oven and you have a tasty, healthy breakfast.
Tips For Making
If you're not a fan of spice, just reduce the amount of red pepper flakes you use.
The slower you cook your peppers, the tastier they'll be.
Make sure to use good quality olive oil to drizzle over the top. It will make a world of difference to the flavor
How Long Will It Keep?
This dish will keep easily for a week.
Make sure to store it in an airtight container in the fridge.
When you want to eat it, just take it out of the fridge and let it come to room temperature before serving.
Can You Freeze It?
Absolutely!
Again, place it in an airtight container and store it in your freezer.
It should keep up to 6 months stored this way.
When you want to use it, just place it in the fridge to thaw it.
This should take roughly a day so take it out the night before you want to use it.
It's better to let it thaw slowly so you don't lose the texture and taste.