Kofta Kebab (Ground Lamb On A Skewer)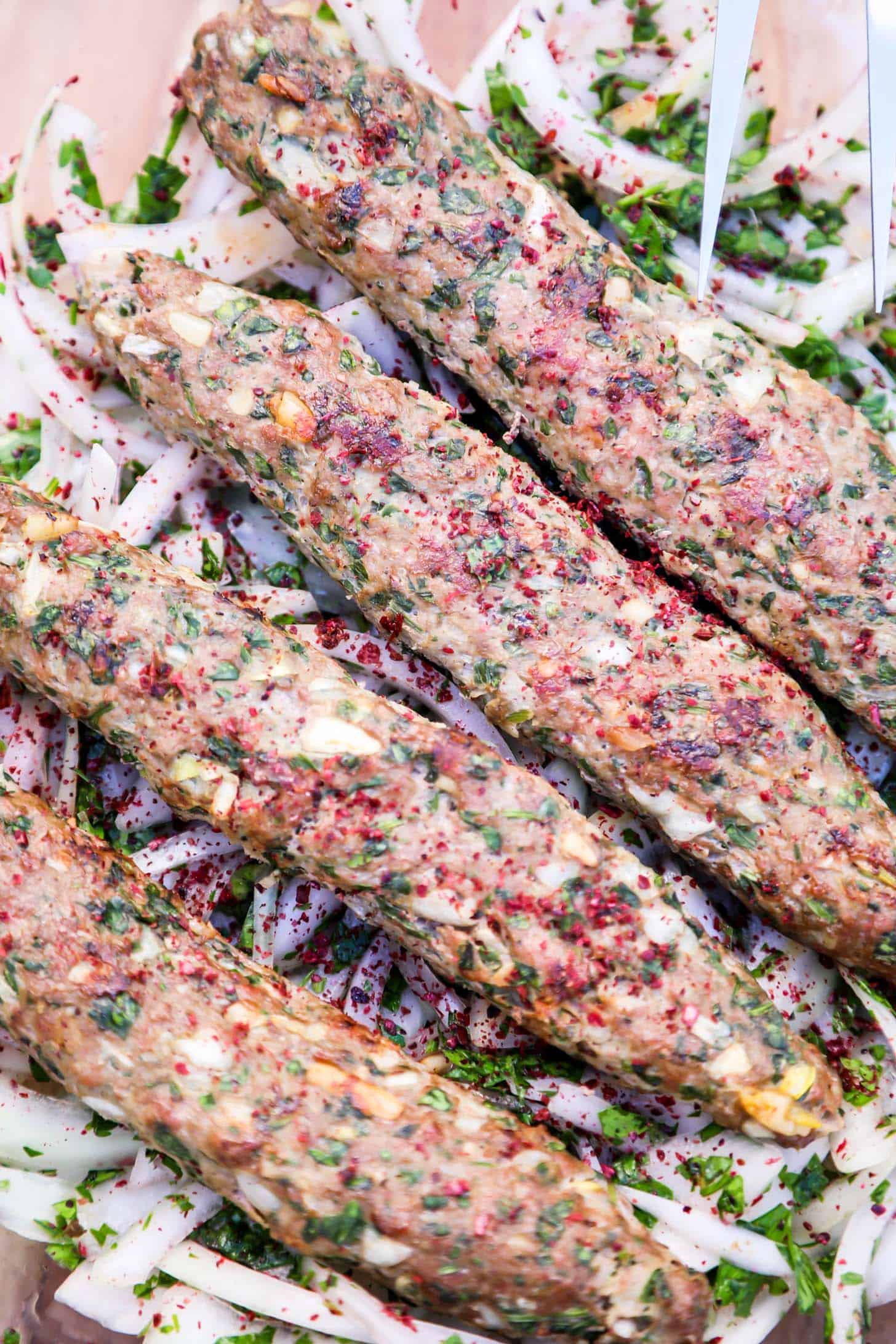 There are so many ways to make kebab, and kofta kebab is one that you definitely need in your wheelhouse as a chef.
Presenting a variety of grilled meats on one platter can be such a thrill to the chef offering it to their guests.
Having variety, as they say is the spice of life, and this kebab will definitely provide you with that extra zing.
This kofta kebab recipe is one you will go back to again and again.
What is Kofta Kebab?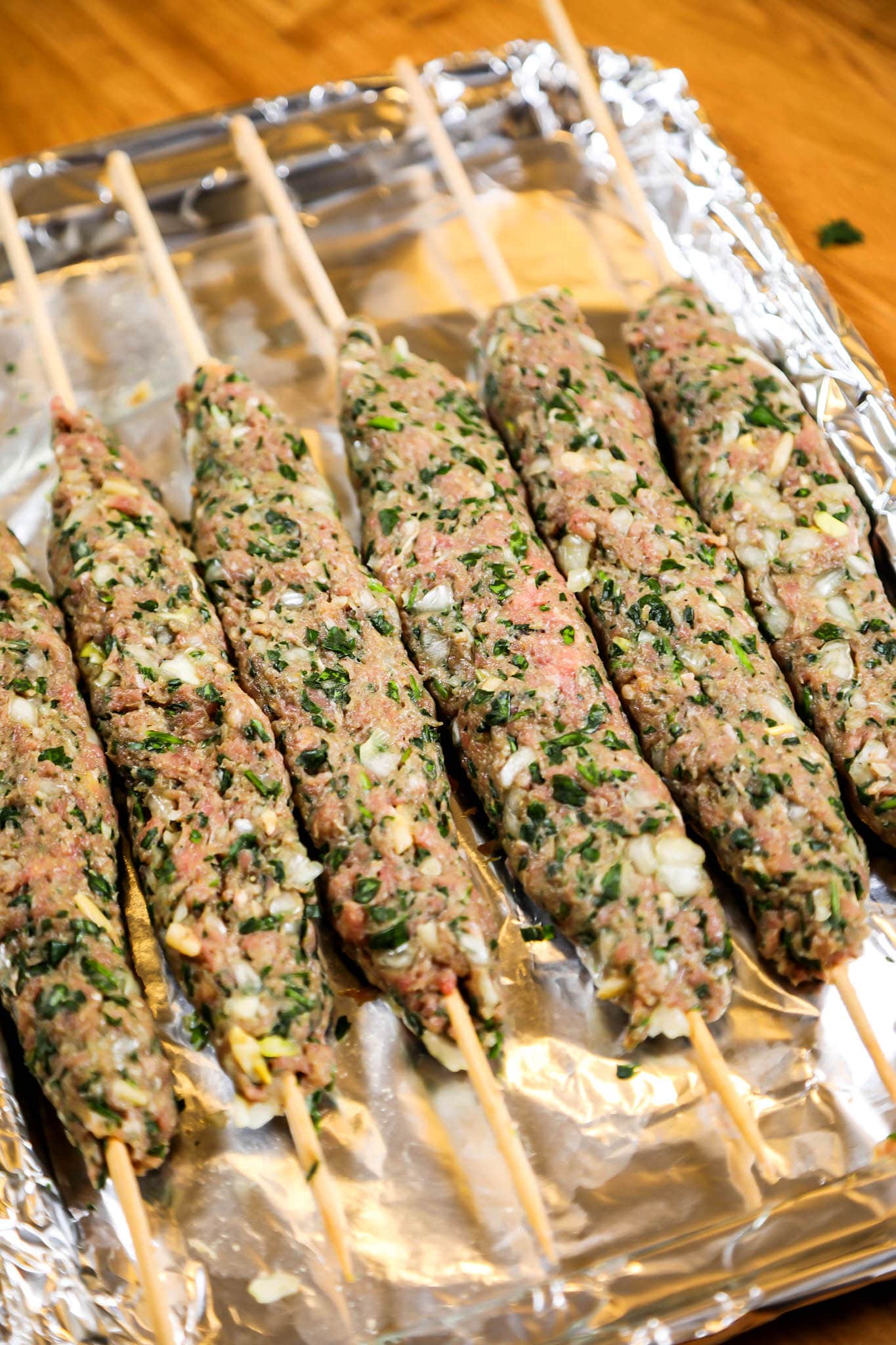 Originating in the Medieval kitchens of ancient Persia and Turkey, kebab developed as a way to cook smaller chunks of meat.
The technique of putting what may have been leftovers from larger cuts seemed to develop in cities.
Maybe the smaller kitchens would have necessitated for new methods in cooking to be developed.
And this type of cooking became very popular, and was utilized as the perfect way to quickly cook over an open fire.
Cooking quickly for residents of cities was a preferred practice given cooking fuel was in short supply.
The word kebab comes from the Arabic word kabab meaning roasted or cooked over fire.
Kebab is referenced in the first Arabic cookbook, written in the tenth century by an author from present day Iraq. 
Just showing how far back this form of cooking goes, and how ingrained it has been in local cultures for centuries.
Kebab is the word used to identify this type of cooking, of which there are many different forms.
Beef chunks, ground beef, lamb kofta, chicken and even fish can be cooked this way with a good outcome.
How to Make Kofta Kebab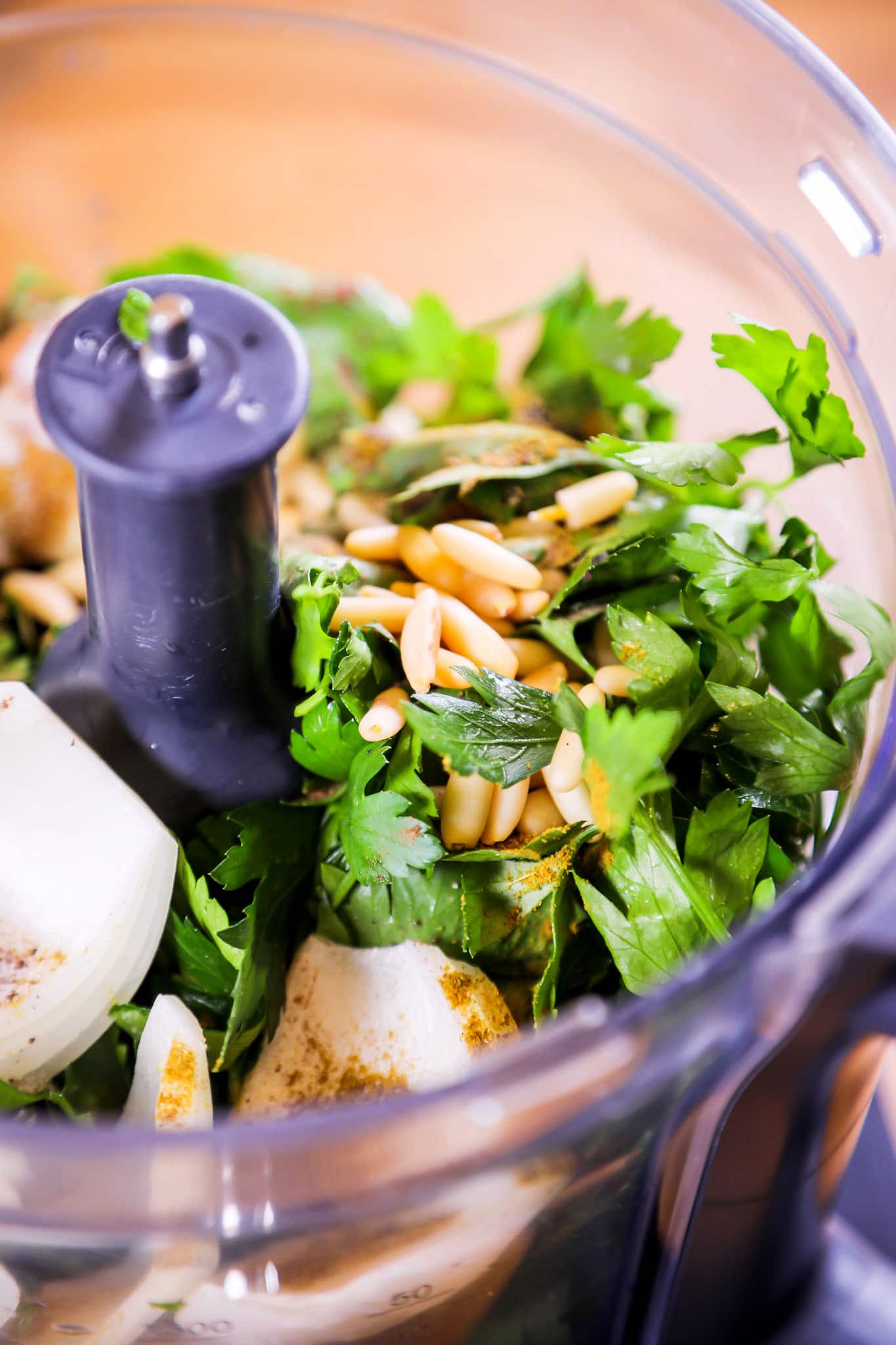 In English there are several different spellings for this dish, from kofta, to kafta and kufta.
In Arabic it is the same word, perhaps sounding different with some regional dialects.
There are several recipes, and many of them are extremely delicious.
The differences often depend on the differences of where a particular recipe originates.
Making kofta using a food processor makes the procedure of chopping everything so much easier.
It also makes it much better for incorporating the chopped ingredients with the ground meat.
This simple recipe is easy to make, having only a few herbs and spices along with salt and pepper.
I like to add an onion, garlic is also fine to add if you so choose; I choose not to in this recipe.
Yellow, white or red onions, all used in the Middle East,  will work just fine with this meat mixture.
The one other thing I like to add to this particular kofta is raw pine nuts which I feel add a lot of flavor.
After all the ingredients are mixed, split into equal size meatballs, ideally the size of your fist.
Shape the meat onto wooden skewers that have been soaked in water for at least 30 minutes. 
They are ready for the grill, and a great way to cook these off is over medium high heat.
However, they are also good in the oven, which is where I often cook them on a lined baking sheet.
What to Serve Kofta Kebab With
Kebab is typically served with and goes really well with rice, salad and a yogurt sauce.
It is also very often served in a pita bread as a sandwich, with tomatoes, cucumber and tzatziki sauce.
A classic kebab meal will begin with salads, and a meze course before the main course of mixed grilled meats.
Served on a large platter atop warm pita bread that is normally spread with a spicy tomato sauce.
Does it Always Have to Be Red Meat?
The quick answer is no, there are a lot of different ways to make delicious kebab.
Chicken has emerged as the frontrunner as the alternative meat to the traditional kebab.
With less saturated fat, chicken is a much healthier option, however, it can have a tendency to be dry if overcooked.
Pork is also a meat that can be used as an alternative to beef or lamb.
Of course pork would not be served in the Middle East given that in Islam it is forbidden to eat pork.
And if you can make a fish mix that will stay on a skewer, then fish will work too!
Can I Make Kofta Ahead of Time?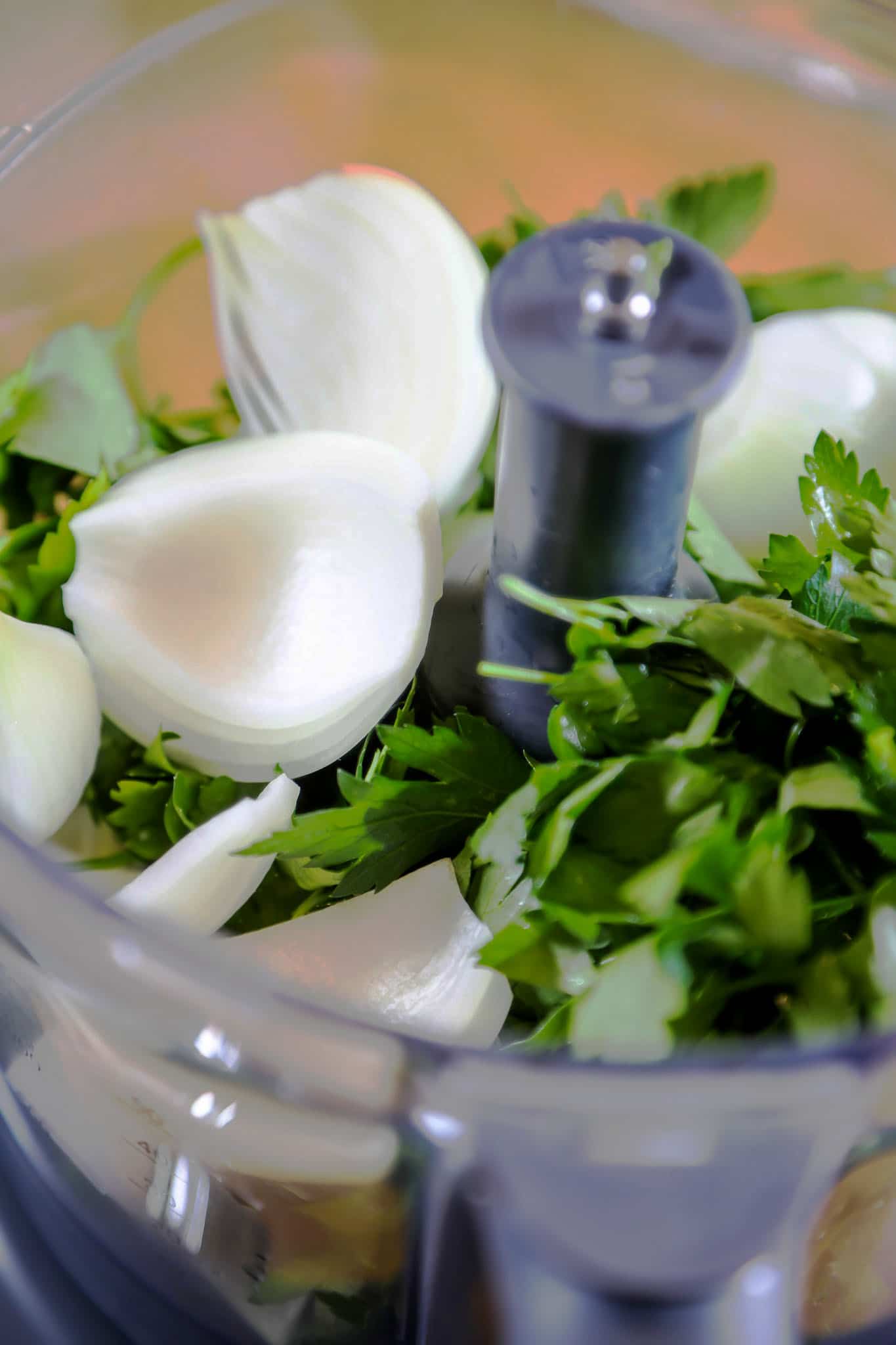 Yes, it is easy to make these the day before you are going to cook them. 
Once mixed and on a skewer  keep them wrapped in an airtight container in the fridge.
Bring the koftas to room temperature when you are ready to go ahead and grill or cook them.
Again, if using wooden skewers make sure you soak them before putting the meat on to reduce the risk of them burning.
Can Kofta be Frozen?
Kofta is a great candidate for freezing, either before or after cooking, depending on what you want to do with them.
I like to freeze mine raw, thaw them in the fridge overnight, then grill or bake them off fresh.
This technique will provide you with the highest quality flavor and texture after cooking.
The best way to thaw the kofta is by doing it in the fridge slowly, to avoid any bacteria growth by leaving the meat out.
The microwave can also be utilized but will leave them a bit rubbery.
How is It Eaten?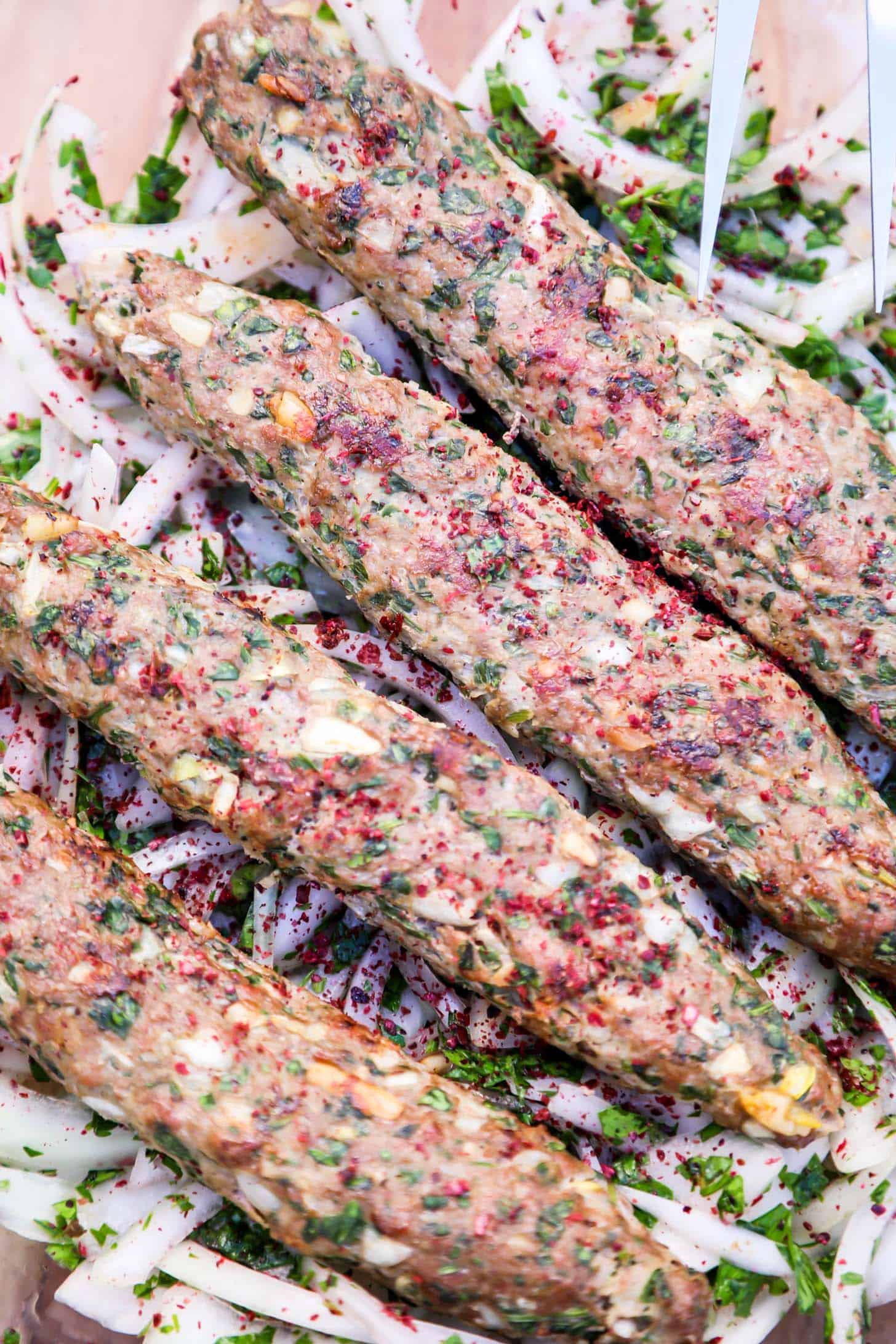 People in the countries of the Levant enjoy a good picnic as a way to get out of the house with family, and friends.
A fire will figure prominently at these gatherings, when stones are collected to make a safe space for the flames.
Everyone will help gather wood from the surrounding area, and bring it to the fire pit.
Usually just about everyone will have an opinion on where the fire should be made, and how it should be lit.
Once the embers have died down the skewers of meat come out, and all is cooked with great excitement.
Using pita bread to pull the meat off skewers makes an instant picnic sandwich ready for toppings.
Tahini sauce, garlic sauce, salad fixin's all at the ready to top up any sandwich.
Of course all the sides you'd expect at an Arab table are present for everyone to enjoy.
These will include hummus, tabouli, baba ghanouj, along with baked savory pies like sfiha, and turnovers.
But the main event of course is the meat cooking!
And usually there will be a selection of many different types of meat on the grill.
Depending on the particular minced meat mix, you will have kofta, kafta, kufta, along with lamb chops, and chicken.
The favored chicken recipe over the grill is shish tawook, a marinated and spiced chicken cooked over hot coals.
All in all, as usual, there is more than everyone can eat, given the culture of offering more than enough.
I know that once you try this kofta recipe it will become a favorite you will return to time after time.
Kofta Kebab (Ground Lamb On A Skewer)
There are so many ways to make kebab, and kofta kebab is one that you definitely need in your wheelhouse as a chef.
Print
Rate
Ingredients
1

lb

Lamb

ground

½

bunch

Parsley

1

Onion

½

tsp

Black Pepper

¾

tsp

Salt

½

tsp

Cinnamon

½

tsp

Cumin

2

tbsp

Pine Nuts
Instructions
Place the parsley, onion, salt, pepper, spices and pine nuts into the bowl of a food processor.

Process until all ingredients are chopped and mixed together.

Add the ground lamb, process using the pulse function in bursts.

Take care not to overmix the ingredients in the food processor. Finish by hand mixing if necessary.

Preheat oven to 400ºF (200ºC)

Divide meat mixture into six portions.

Place the meat mix and shape on skewers.

Bake for twenty minutes or cook over the grill to your desired temperature.
Nutrition
Calories:
246
kcal
|
Carbohydrates:
3
g
|
Protein:
13
g
|
Fat:
20
g
|
Saturated Fat:
8
g
|
Cholesterol:
55
mg
|
Sodium:
339
mg
|
Potassium:
247
mg
|
Fiber:
1
g
|
Sugar:
1
g
|
Vitamin A:
405
IU
|
Vitamin C:
8
mg
|
Calcium:
28
mg
|
Iron:
2
mg