How to Make Cauliflower Rice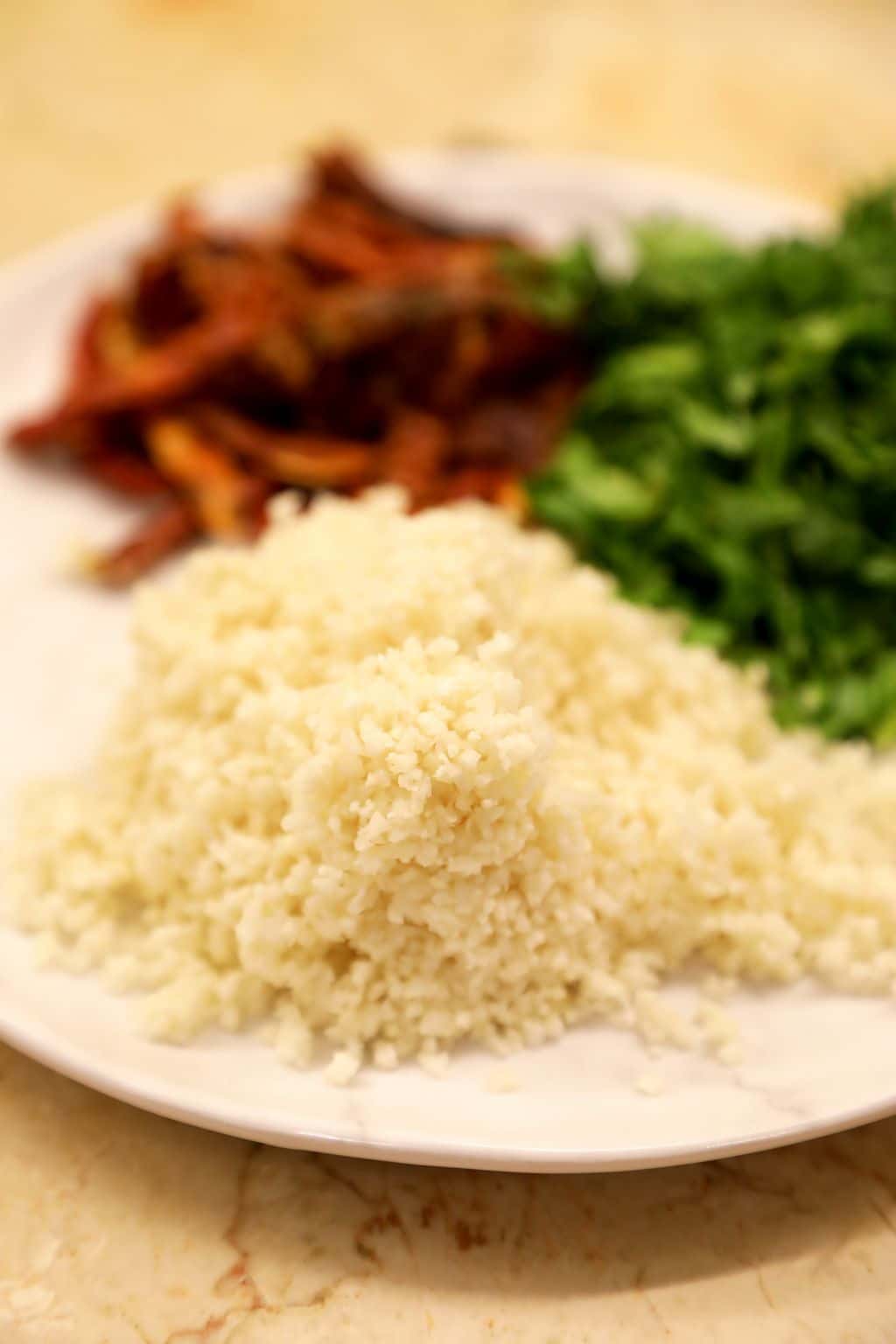 Cauliflower, kale, cabbage, broccoli, brussels sprouts, collard greens, and kohlrabi came from the same species of plant, Brassica oleracea, also known as wild mustard.
Selective breeding over the centuries created a whole slew of new vegetables with the first being kale and collard greens.
As selective breeding continued, vegetables such as cabbage, broccoli, and cauliflower emerged.
Who would have thought that the cauliflower we know and love was created through the intervention of man.
Just the same way the carrot was turned orange by the Dutch in honor of the Royal Prince of Orange, so too many new variations of plants have been born over the years.
Before then carrots were purple, yellow or white.
Humans have intervened to make a lot of things different than they were originally, some for better, and some for worse.
All for the better in the case of the cauliflower.
JUMP TO:
What is Cauliflower Rice?
Cauliflower rice is an innovation invented to take the place of regular rice, it is very easy to make, and even more delicious to eat.
Raw cauliflower rice has many more nutrients, and much more fiber than white rice, with far fewer calories, while delivering a whole lot of goodness.
Cauliflower contains magnesium which is vital for the functioning of many enzymes in the body.
Calcium in cauliflower is good for your bones, and the potassium supports good cardiovascular health.
Vitamin C, Vitamin K, B6, all good things to include in your diet.
One cup of cauliflower gives you over 70% of the requirement for vitamin C for example.
Also contained in cauliflower rice is phosphorous, iron, niacin, riboflavin, potassium, manganese, and very importantly Vitamin B5.
B5 is one of the most important supporters of human life.
It is crucial for making blood cells, and helps convert the food you eat into energy.
All of these benefits from delicious food!
What could be better?
Oh, and as an added bonus for those avoiding gluten, cauliflower rice is of course naturally gluten free.
How to Make Cauliflower Rice
Cauliflower rice is easy to make, especially if you have a food processor, but don't worry if you don't have a food processor you can always use a box grater instead.
Start with a head of cauliflower.
Cut the cauliflower florets, wash, and then tamp dry with a paper towel.
Place the cauliflower in a food processor and pulse using the grater attachment, being careful not to turn the cauliflower into mush.
You want it to resemble the size of short grain rice.
An alternative method is to use a box grater and grate your cauliflower until you have you desired form.
I will then place the cauliflower rice into a cheesecloth lined colander and squeeze any excess liquid from the cauliflower.
This will ensure you don't end up with waterlogged meals.
You can eat cauliflower rice either cooked or raw, whatever your preference.
The cauliflower can be stored in this form in the fridge for up to five days, or alternatively, you can freeze it for up to a month.
How to Cook Cauliflower Rice
Pour some olive oil in a large skillet over medium high heat, add the cauliflower and saute for 5 to 7 minutes until cooked through.
One of the best ways to eat is when it is simply seasoned with salt and pepper.
You can of course season with other spices, such as seven spices blend to give it a bit of a Middle Eastern twist.
You can add chicken breast, with or without vegetables to make this a full and nourishing meal.
Or alternatively, finely chop some fresh basil and stir with the cauliflower rice for a very tasty side dish.
Another idea is to use cauliflower rice as an alternative to bread crumbs when making chicken nuggets, or you can use it to form the crust for a pizza by shaping it and cooking it quickly in the oven before place the toppings of your choice.
How to Make Cauliflower Rice Taste Good
There are so many ways to make cauliflower rice taste good.
One way is to a large skillet over medium heat, and add vegetables to make a series of stir fries with soy sauce, mirin or other types of sauces.
Other ideas include, cauliflower crust pizza, cauliflower mac and cheese, cauliflower rice stuffed peppers.
Cauliflower rice stuffing, Thai chicken cauliflower rice, Indian cauliflower chickpea biryani, and pretty much as a substitute for most rice dishes.
Can You Freeze Cauliflower Rice?
Yes indeed!
And no defrosting necessary when you get ready to cook it, in fact that is the preferred method after freezing, thawing will make the cauliflower rice mushy.
Fill a freezer bag a little less than half full.
Seal after removing the air in the bag, and freeze flat.
Where to Buy Cauliflower Rice
Most major grocery stores such as Costco, Whole Foods, and Trader Joe's, sell both fresh and frozen cauliflower rice.
Making your own is definitely the way to go, especially the fresh variety, it will be so much fresher and last longer.
Plus a lot of the store bought cauliflower rice is made from the stems and not the florets.
What to do With Cauliflower Rice
You can use cauliflower rice in place of rice in most dishes.
You can make cauliflower 'bread sticks' or a cauliflower rice pizza base.
You can use it as an alternative when making sushi rolls.
A vegetable burrito is also a great use of cauliflower rice, or a 'rice' casserole, stir fry, tabouleh, cauliflower rice fritters, and the list goes on.
Be creative and see what you can come up with as a way to use cauliflower rice.