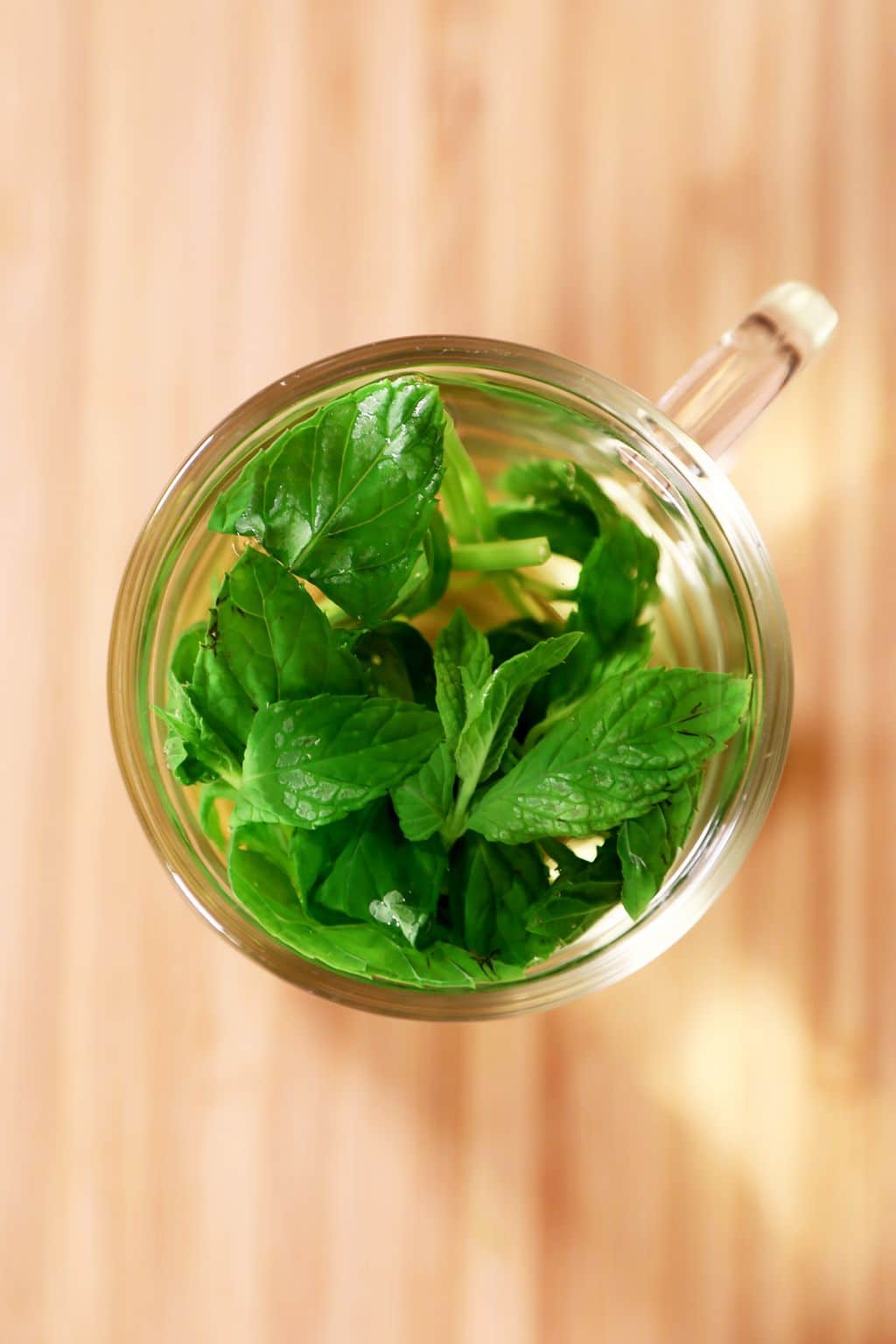 When I was a kid growing up in Jordan I learned how to make mint tea from mint in our garden.
We had a leaky faucet in our garden which caused us to have a runaway crop of mint every year.
I loved a handful of fresh mint then, and I still love it today.
Mint is a lovely herb that can provide a wonderful addition of a unique flavor to tea.
When you rub mint between your forefinger and thumb you unlock the most beautiful smell.
This tea recipe is also good for serving over ice when the weather is hot if you prefer.
In the Middle East where people love this type of tea, it is served hot, and usually in a small glass.
What is Mint Tea Good For?
Mint tea is a good digestive, and one of the reasons that it is often served after a meal.
It is caffeine free, and a good way to have something hot to drink in the evening and not worry about insomnia.
It can also soothe an upset stomach by helping to relax the muscles so as to alleviate cramping.
Mint has antibacterial properties that help reduce and eliminate bad breath by eliminating germs.
Mint tea can boost your immunity which can help ward off the common cold.
Peppermint tea has antispasmodic components that will reduce nausea, and help prevent vomiting.
In Ayurveda mint tea is used to reduce stress thanks to the anti-inflammatory properties.
Mint tea can also lower your temperature, and blood pressure making it easier to relax.
It can even support healthy skin and hair!
How to Dry Mint Leaves for Tea
Either pick or buy fresh mint leaves and give them a good wash in water.
Dry them well and put them on a baking tray in a single layer.
Put them in an oven at 300ºF (150ºC) for about an hour until they are completely dried out.
Another method I use is, after washing and drying, I put the mint in a single layer on newspaper and leave to dry.
This can take a couple of days and will require you to keep turning the mint so that it dries uniformly.
I kind of like this natural method, but either way will do!
How to Make Mint Tea
There are few things as refreshing as a nice cup of hot fresh mint tea, or mint iced tea for that matter.
This tea can be as simple as taking fresh mint leaves still on the stalk and putting them in a teapot or cup.
Wait for the water to boil, pour over the mint leaves, let steep for a few minutes, and it is ready to serve.
Pour the tea into a cup, and sweeten if desired; enjoy your herbal tea.
The other way is to use dried crushed mint leaves which will give you a stronger flavor of mint.
You can put the dried mint directly into a teapot and pour hot water onto the dried crushed leaves.
Pour through a sieve when pouring the tea into your cup to ensure no leaves in your tea.
Or you can put the sieve with dried mint in on your cup and pour hot water over the mint leaves.
A French press is another good way to make your Moroccan Mint Tea.
Some people like a regular cup of tea with a tea bag adding mint leaves for a hot mint tea flavor.
I like to drink green tea which is one of the varieties of mint tea that is available on the market.
Other flavors to choose from are orange mint, or chocolate mint peppermint teas.
Fresh Mint Tea Recipe
All the refreshing flavor of mint packed into a steaming cup of tea.
Print
Rate
Ingredients
2

cups

Water

2

Fresh Mint

stalks with leaves

Sugar/Honey/Sweetener

optional

Lemon Slices

optional
Instructions
Place mint into a teapot.

Allow to steep for 5 minutes.

Add lemon slices or sweeteners if desired.
Nutrition
Calories:
1
kcal
|
Carbohydrates:
1
g
|
Protein:
1
g
|
Fat:
1
g
|
Sodium:
13
mg
|
Vitamin A:
42
IU
|
Calcium:
8
mg
Tips for Making
Always make sure to use hot boiling water for best results.

If you twist and squeeze the fresh leaves as you put them in your cup the flavor will be more intense.

Combine dry and fresh leaves for a super minty experience!
How to Store Mint Leaves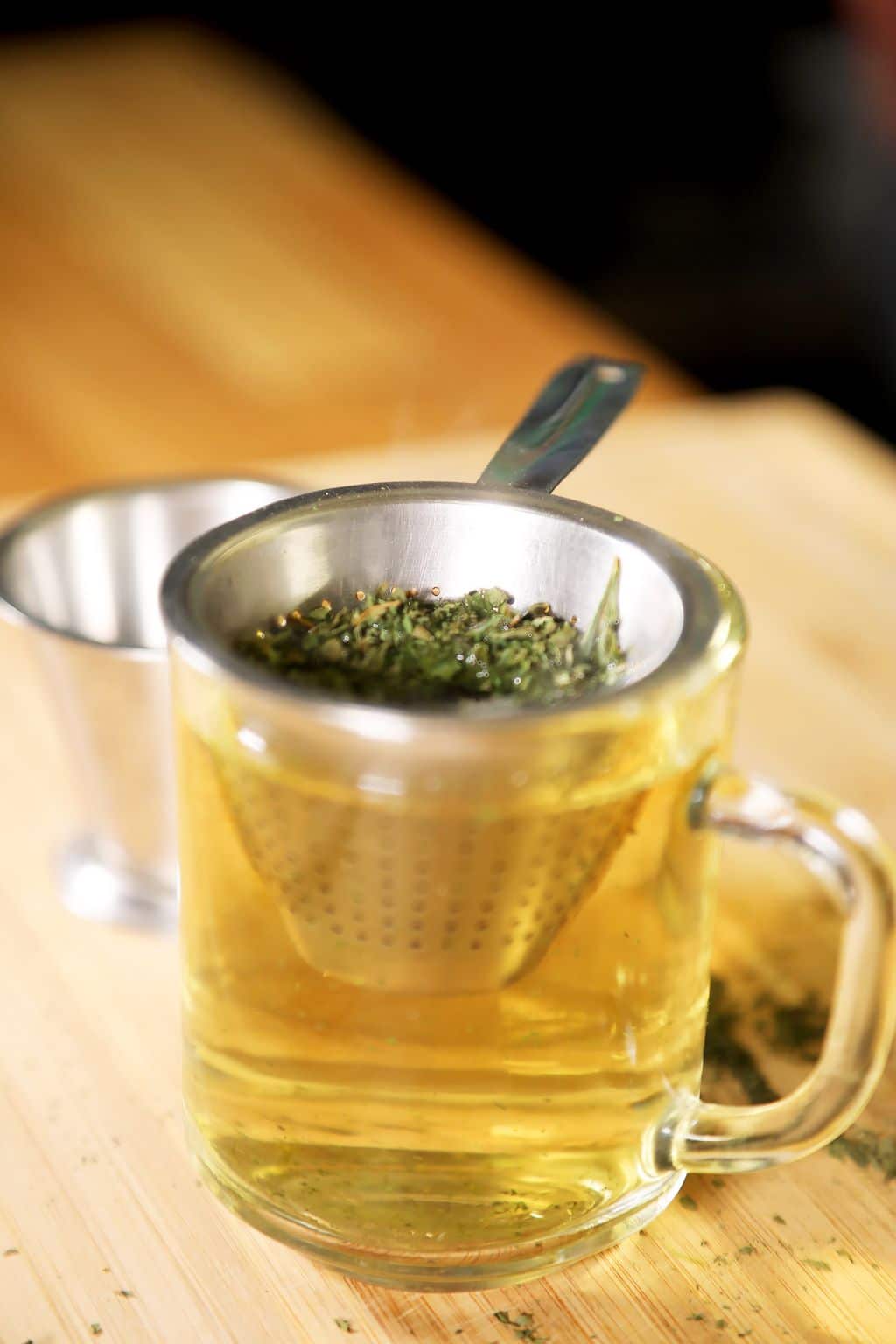 Fresh mint will last 7 to 10 days in the refrigerator when stored properly.
The best way to store them is to place the leaves on a damp paper towel and roll it up.
Place it in a plastic bag but leave the bag open, the airflow will keep things from turning moldy.
Make sure the paper towel is not too wet since too much moisture will make the mint leaves go bad.
You can also freeze mint leaves by placing chopped leaves in an ice tray and adding water before freezing.
Where to Buy Mint Leaves
You can buy mint leaves at most grocery stores.
My favorite place to buy mint leaves are at local farmers markets.
When buying mint leaves, make sure the leaves look bright and not wilted.