Moist Cake (Making Your Cake)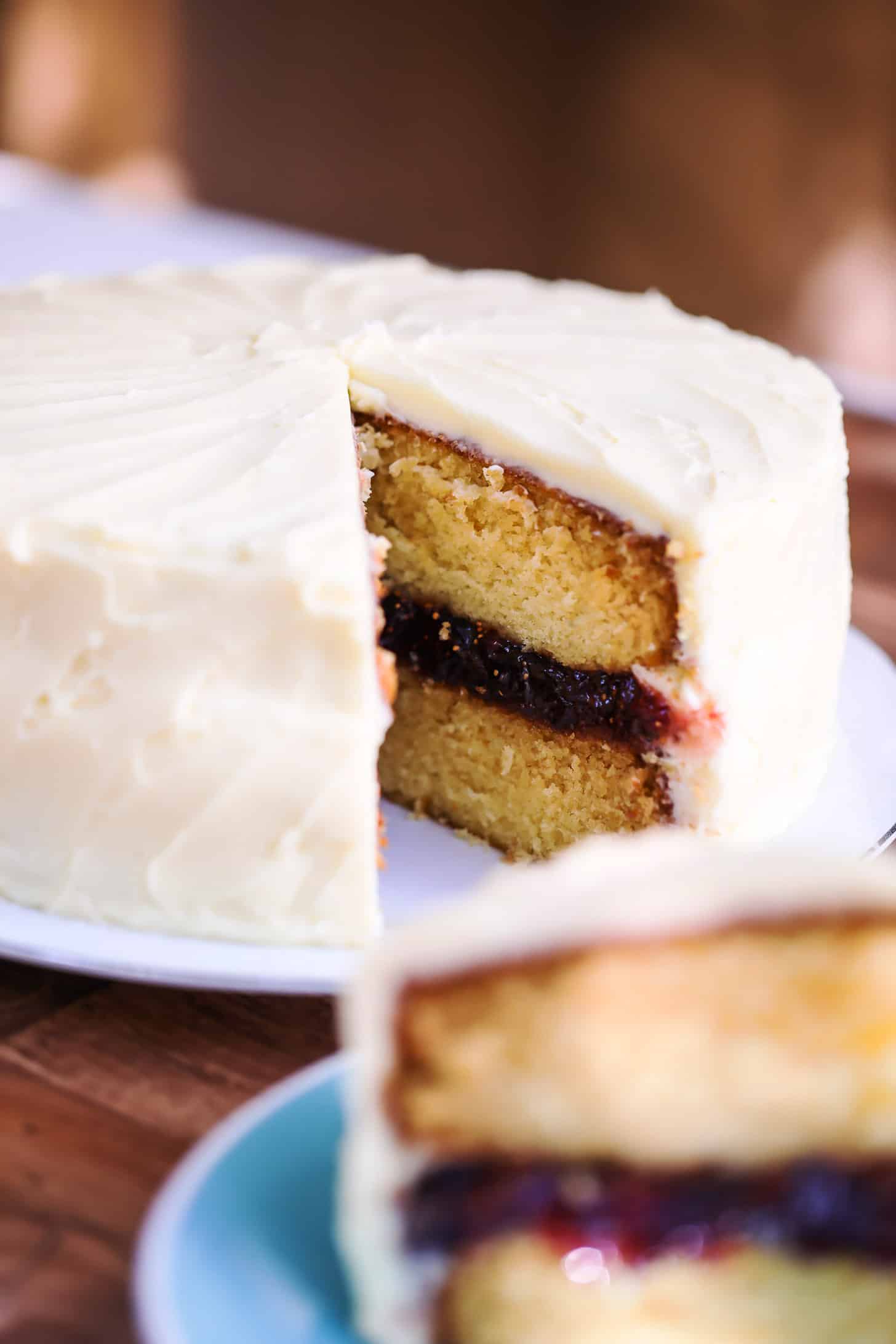 A moist cake is something that most of us have tasted at some point in our lives, usually leaving us wanting more.
More likely, most of us have probably had the less than happy experience of eating a piece of dry cake.
A dry slice of layer cake at a birthday sucking all the moisture out of your mouth is no fun.
This vanilla cake recipe should remedy that problem, providing you with a lovely moist cake everyone will enjoy.
What Makes a Cake Moist?
As you might expect, the biggest factor that determines if your cake is moist or not is the ratio of wet to dry ingredients.
If the dry ingredients outweigh the wet then you will end up with a dry cake.
If the ratio is the other way around then you will end up with a wet cake that may never set up when baked.
As in all other baking, correct ratios, and exact measurements are very important.
Another factor that is often overlooked is baking time, where cakes are regularly overcooked, making them dry.
But if you do get ratios right and are careful with ingredients then you will have a moist and tasty cake.
You may not have heard this but having sugar in a cake is not only to sweeten it but also to make it moist.
So don't skimp on the sugar!
Another trick to utilize if a cake calls for fewer wet ingredients, is to blend together the butter and the flour.
Instead of the usual creaming the butter with the sugar first.
Try combining the butter with the flour so that the flour coats the fat, helping to keep the cake moist.
Adding oil to a cake can also up the moisture quotient.
How to Make This Moist Cake
I almost always use a stand mixer when it comes to baking cakes because it saves time.
I am not a cake making purist, I do like a good cake, but I won't go to any length to get one!
Start by first mixing all my dry ingredients together and setting them aside.
Next I cream the butter and the sugar together until well combined, then I add some rosewater for flavor and moisture.
At medium speed I add one large egg at a time, incorporating each egg fully before adding the next one.
Once all the eggs are added I add the dry ingredients in stages.
Alternating with the addition of milk or buttermilk.
Mix well, but don't overmix because this can make your cake tough.
Pour out the cake batter evenly between two greased and lined eight inch cake pans.
Bake at 350ºF (175ºC) for about forty minutes or until a toothpick inserted comes out clean.
Cool cakes on a cooling rack until they reach room temperature.
You can make your choice of buttercream frosting while the cake cools.
Once frosted this makes an ideal birthday cake.
All purpose flour or cake flour work well in this recipe, producing a light and fluffy cake.
A Little Bit About Cake
The first cakes are descended from bread, and were sweetened mainly by honey and fruit.
Nuts were added as cakes became more sophisticated, and less plain.
It is generally agreed that the Ancient Egyptians were the first to show advanced techniques in cake baking.
The word cake comes from the old Norse word kaka.
This word then rebounded and came back to Norwegian, that refers to biscuits as kjeks.
It is thought that cakes evolved to be round because they were based on early loaves of bread.
When making bread it is typical to portion into balls, which when left will stretch out naturally to a flattish rounded shape.
Over time as cake batter became more and more loose and delicate, pans were made to hold the ingredients in until they were baked.
Cakes have come to be used to celebrate special occasions, beginning with them being used as part of religious ceremonies.
Today there seems to be a cake for everything, and for everyone, from angel food cake to flourless chocolate cake to zucchini bread.
If you can imagine it you can find a recipe for it somewhere, or work on making your own.
How to Keep Moist Cakes Moist
One way to keep a cake moist is by icing it as soon as it has cooled to room temperature.
This will allow the frosting to lock in the moisture keeping your cake tasting fresh.
Of course covering a frosted cake will be important in order not to dry out the frosting.
If you are not going to frost a cake immediately after cooling then wrap it tightly in plastic wrap.
It is a better idea to wrap the cake tiers individually for best results.
Also if long storage is required putting the cakes in the freezer is also an option, however, over time they can dry out a bit.
Some cakes call for liquid to be added after they are cooked to provide extra moisture and sweetness.
Moist Cake (Making Your Cake)
A moist cake is something that most of us have tasted at some point in our lives, usually leaving us wanting more.
Print
Pin
Rate
Ingredients
2½

cups

Flour

2½

tsp

Baking Soda

½

tsp

Salt

¾

cup

Butter

1½

cups

Sugar

3

tbsp

Vegetable Oil

1

tbsp

Rosewater

4

Eggs

1¼

cup

Milk
Instructions
Mix the flour, baking soda, and salt and set aside.

Add the sugar and butter to the bowl of a stand mixer, and cream together.

Add one egg at a time incorprating well between each addition.

Add the vegetable oil and mix in.

Alternatively add the dry ingredients with the milk, and mix until just incorporated.

Spilt batter between two greased and lined cake pans.

Bake in a preheated oven at 350ºF (175ºC).

Bake for 40 minutes or until a toothpick stuck in the center comes out clean.

Allow to cool to room temperature, then run a knife around the cakes before turing them out.
Nutrition
Calories:
270
kcal
|
Carbohydrates:
35
g
|
Protein:
4
g
|
Fat:
13
g
|
Saturated Fat:
8
g
|
Polyunsaturated Fat:
1
g
|
Monounsaturated Fat:
3
g
|
Trans Fat:
1
g
|
Cholesterol:
66
mg
|
Sodium:
344
mg
|
Potassium:
64
mg
|
Fiber:
1
g
|
Sugar:
20
g
|
Vitamin A:
356
IU
|
Calcium:
33
mg
|
Iron:
1
mg