Almond Flour Peanut Butter Cookies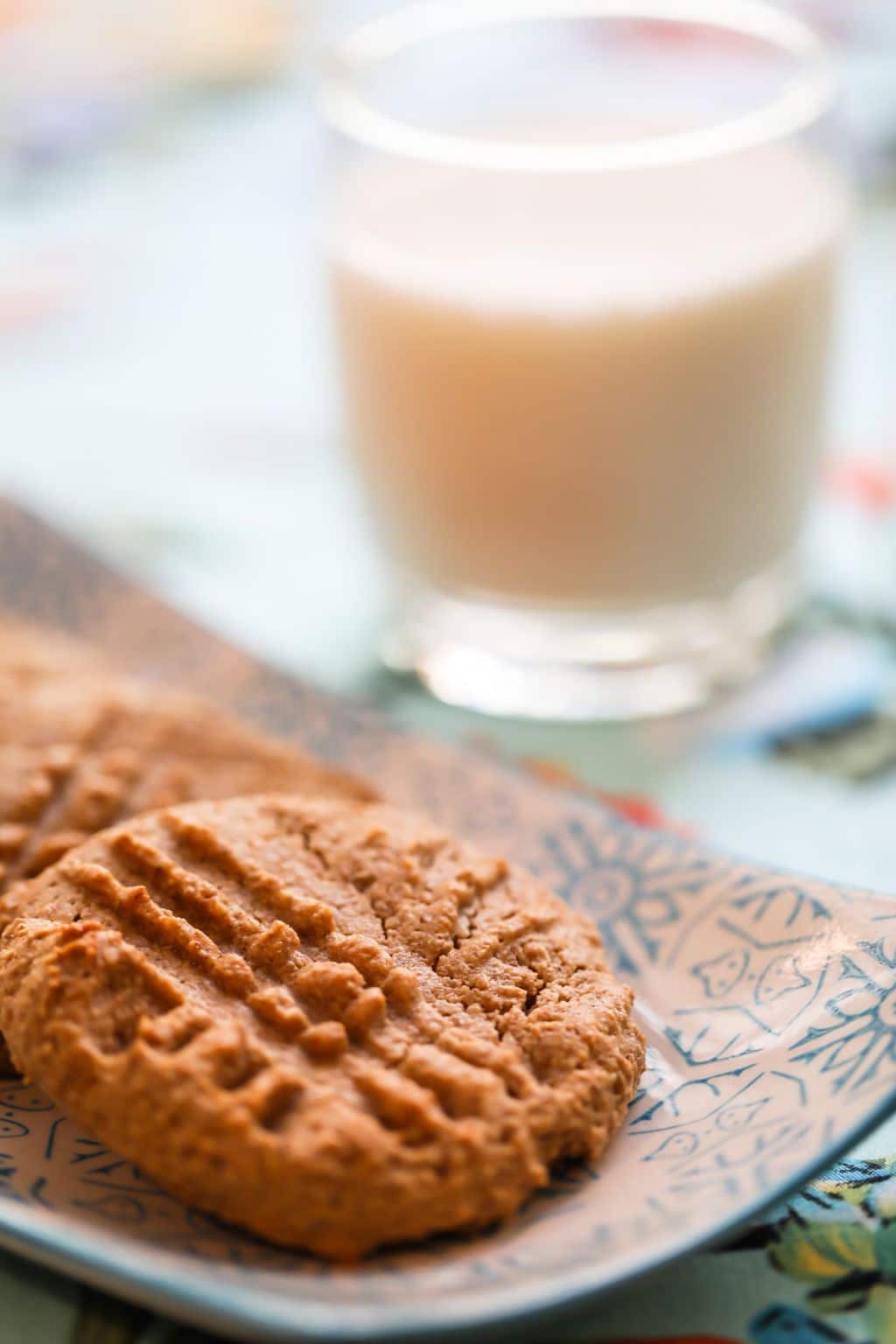 For a very nice gluten free dessert, try this almond flour peanut butter cookies recipe.
I really like this dessert because it has no gluten, sugar and is dairy free, and the cookies taste really good.
No sugar as long as you use sugar free peanut butter, which in my opinion is the better way to go.
Natural peanut butter is so much better for you, and is a keto friendly food.
However, because this cookie contains honey it won't be great for a keto diet.
It is not always easy to find a good gluten free dessert that does not have a lot of sugar in it.
It is also a very easy dessert to make, with easy to find ingredients, and you can always make your own almond flour.
Almonds are also full of protein that is very beneficial, which is not often found in desserts. 
In fact almonds are the most nutrient dense tree nut.
About 25 almonds have 160 calories, no cholesterol, and are a great source of vitamin E and magnesium. 
Almond flour first appeared in the Middle East and was introduced to Europe via Italy.
The sicilians were introduced to a Middle Eastern cookie made from almond flour, that became known as maccherone.
This was the predecessor to the macaron, and it was also a predecessor to macaroni as well.
It was 827 when Arabs first arrived in Sicily introducing new foods like pistachios, lemons and rice.
The Arabs also brought a lot of nut based desserts, one of which was the predecessor to marzipan.
Marzipan comes from the Arabic word matraban meaning jar, because the name came from the casing of the dessert.
This casing surrounded the nut based dessert which we think of marzipan today.
Pasta was an important food that originated in Sicily and was spread far and wide by the Arabs.
Sicily was where pasta and almond pastry collided with most pastas being sweet in those days.
Pasta came in a savory form with cheese or a sweeter form with almond paste.
The almond variety gained favor during Lent when cheese could not be eaten.
The demand for almond sweets blew up in 1500 when the almond pastry was spread to much of the rest of Europe.
And the macaron developed an English name, the macaroon.
Once again we can see how food moved from place to place changing as it went.
New cultures and people would put there stamp on it, and made the new foods one of their own
People can sometimes get very possessive about what they identify as things that originated from their culture.
But food like language has moved back and forth over borders.
Back and forth so many times that the language and the foods began to morph into something totally new.
I think we certainly should be aware of the originals, but I also think we should celebrate the new combinations.
It is amazing how much the Arabs spread around the world from the culinary, to astronomy, science, mathematics and medicine.
I like to trace these contributions back to where they began, and how they spread and changed.
And in many cases changed the world for the better.
I sometimes think it would be a very interesting undertaking to research old original recipes of foods and try and make them.
It would be very interesting to see how and why foods change from decade to decade, and from culture to culture.
Almond flour started being used a very long time ago in a very far away world.
Today it is being used to make peanut butter cookies, a very American invention.
How is that for a collision of two worlds that couldn't be more different.
This is one of the few desserts I make that seems to disappear faster than I expect it to.
Everyone seems to love this very tasty cookie, and that is even before any chocolate chips are added.
Chocolate chips are optional and of course if these are added it will introduce sugar, raising your carb count.
Having alternatives to flour has become so important to so many people these days that it is important to have alternatives.
Almond flour works very well as a good alternative to regular flour with a little bit of a sweetness to it.
How to Make Almond Flour Peanut Butter Cookies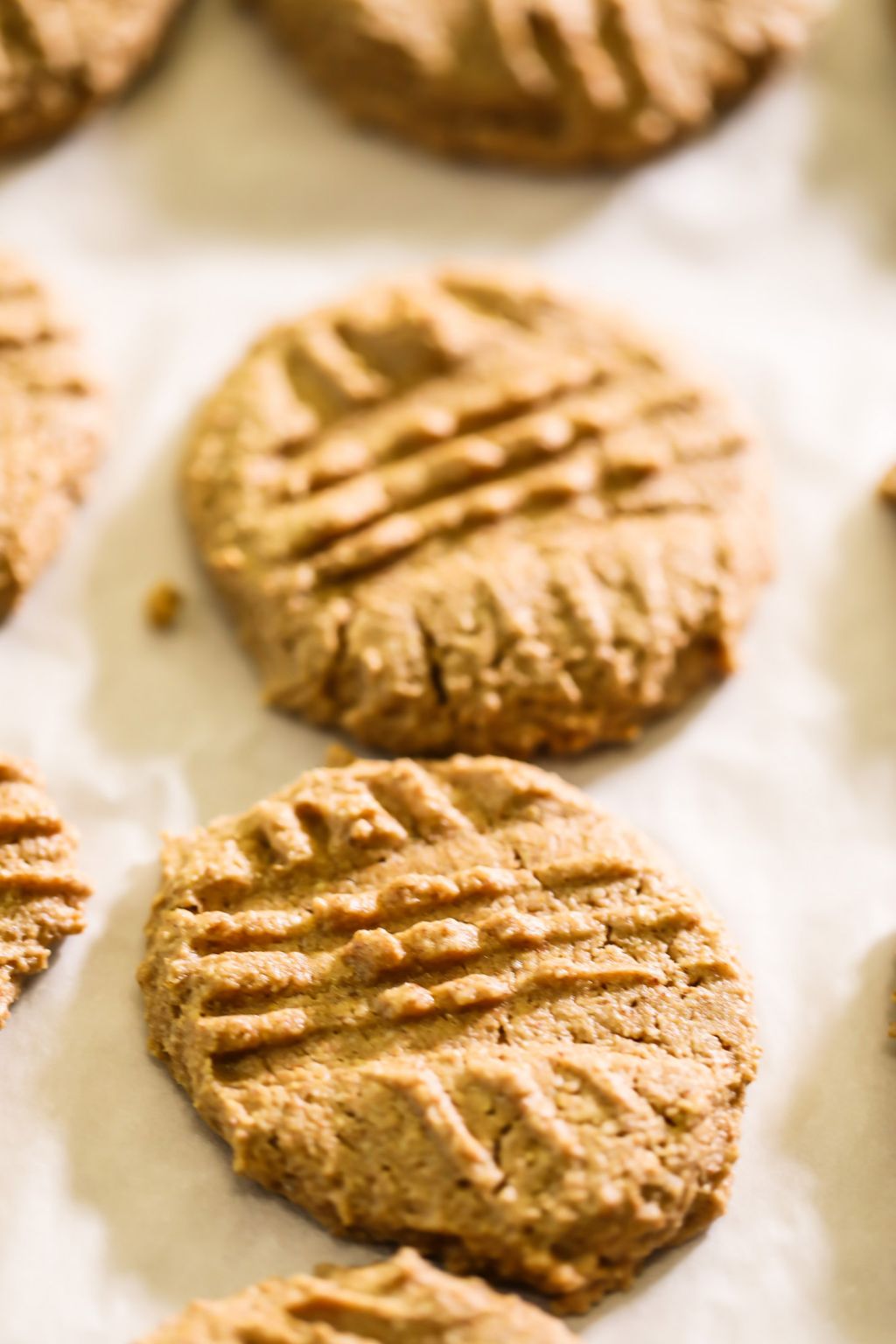 As I mentioned this a very easy cookie to make, starting with the dry ingredients.
Pour the ground almond flour into a mixing bowl, add and whisk baking soda to mix well.
Add peanut butter, honey, vanilla and eggs, mix well.
If necessary add more almond flour in order to get a nice cookie dough texture.
Roll into cookie size dough balls or use a small sized ice cream scoop for uniformity. 
Place on a baking sheet lined with parchment paper.
Push dough down into a cookie shape with a wet fork to create a criss cross design of lines.
Cook for 10 to 14 minutes and no longer that 15 minutes.
Do not overcook.
The beauty of these cookies is that they are soft and flavorful.
Tips for Making Almond Flour Peanut Butter Cookies
Make sure ingredients are mixed well so that the cookies cook in a uniform way.

Don't overcook or they will become hard, and not taste as good as they could.

Cool for at least ten minutes on the baking sheet after removing from the oven, and before transferring to a cooling rack.
How to Make Almond Flour
Making almond flour is a pretty straightforward process as long as you have a food processor.
First you are going to want to blanch your almonds to remove the skins.
You do this by bringing water to a boil, and cooking the almonds for no longer than a minute.
Remove and cool the almonds right away after removing them from the boiling water.
Squeeze each almond between thumb and forefinger and the skins will pop right off.
Allow the almonds to dry very well before progressing.
Once dry, Put the almonds in the bowl of a food processor and grind until you have something that resembles wet sand.
Remove and allow the flour to dry out completely, then use in your recipes. 
Can I Use Other Nut Butters?
You can use almost any other nut butter for this recipe, but not all nut butters have strong peanut-like flavors.
However, you may know that I am a huge proponent of trying things that are new and different.
So try different nut butters or combinations of them and see what works for you.
And be sure to let me know if you come up with a winning version, I'd love to hear about it.
How Long Will They Keep?
As I mentioned before these cookies don't stick around in my house!
You can keep these in an airtight jar for at least a week, if not longer.
You can also freeze these cookies with good results.
They might get a bit soggy when defrosted but you can dry them out a bit in the oven.
Not too much to the point where they get hard.
Almond Flour Peanut Butter Cookies Recipe
For a very nice gluten free dessert, try this almond flour peanut butter cookies recipe.
Print
Rate
Ingredients
1

cup

Almond Flour

½

tsp

Baking Soda

1

cup

Peanut Butter

smooth

½

cup

Honey

1

tsp

Vanilla

2

Eggs
Instructions
Preheat oven to 350ºF (175ºC).

Mix all ingredients together in a mixing bowl.

Divide into equal size portion and roll into balls. Push down on balls to form cookie shapes with a wet fork. Make a criss cross design with the fork.

Place on a baking tray lined with parchment. Bake for 10 to 14 minutes until cookies are cooked and are soft.

Let cookies cool on the tray for at least 10 minutes before placing them on a cooling rack.
Notes
Add more almond flour if your mixture is too wet.
Nutrition
Calories:
117
kcal
|
Carbohydrates:
9
g
|
Protein:
4
g
|
Fat:
8
g
|
Saturated Fat:
1
g
|
Cholesterol:
14
mg
|
Sodium:
78
mg
|
Potassium:
79
mg
|
Fiber:
1
g
|
Sugar:
7
g
|
Vitamin A:
20
IU
|
Vitamin C:
1
mg
|
Calcium:
17
mg
|
Iron:
1
mg