I am a big fan of natural style rice so I'm going to show you how to cook black rice – one of my favorites!
Here are some numbers that may surprise you; there are 40,000 varieties of cultivated rice in the world.
And there are 90,000 known cultivated and wild rice species, so plenty to choose from!
Rice is generally separated into three categories, long grain, medium grain, and short grain.
A staple food in many countries of the Middle East and East Asia rice has been cultivated since 5000 BC.
I personally really like rice in all its many forms and many ways of being prepared.
Many dishes in the Middle East are served with rice and therefore something I'm used to eating.
We all gravitate toward eating what we are used to, usually the things we grew up eating.
Favorite dishes of our childhood are usually the favorite of our adulthood.
I know that I like rice based dishes, one reason is that they are tasty and another may be because of familiarity.
When I think of rice dishes beyond the Arabic food I grew up eating, things like risotto and congee come to mind.
There are few things more satisfying than a well made risotto, with it creaminess, delicate flavor.
It turns out that it was the Arabs who brought rice to Sicily which turned out to be the perfect environment to grow short grain rice.
Arborio rice, which is the Italian variety of rice, is the only one used to make risotto because of its ability to absorb water without becoming overcooked.
All the different rices have their own way of being cooked.
Black rice also known as forbidden rice has a mild nutty taste and has about the same amount of fiber as brown rice.
The reason it became known as forbidden rice is because it was known to have special health benefits.
And therefore became the property of royalty in China, and was only consumed by the rich and powerful.
The common people of ancient China were even denied the ability to plant this rice.
What is Black Rice?
Black rice is a variety of the Oryza sativa species of rice, taken from the Latin botanical name.
It has a black or deep purple color and is similar to brown rice with a nutty flavor.
It is a refined rice and therefore has a lot more fiber associated with it, and is not cultivated in huge quantities.
Its dark color is due to anthocyanin which is a type of flavonoid that gives red, purple, and blue food their color.
How to Cook Black Rice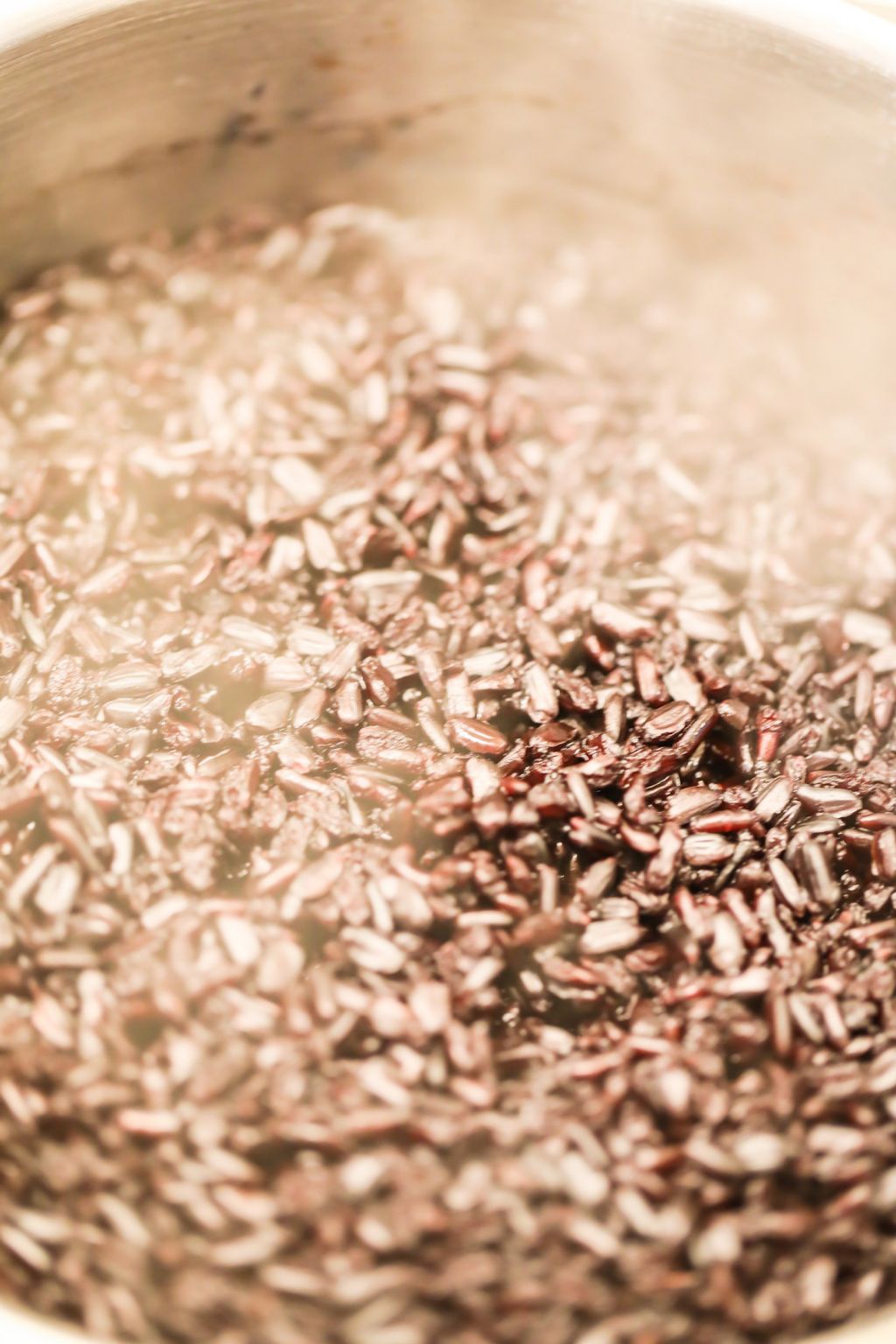 Cooked very similarly to other rice with similar but a bit longer cooking time.
1 cup of rice to 2 cups of water.
Add the rice to water in a pan, with a ½ tsp salt, bring to a boil on medium high heat, then simmer on low.
Cook for about 30 minutes until the rice is tender.
Black rice can also be cooked in a rice cooker.
Black Rice Recipe
A simple recipe for cooking black rice.
Print
Rate
Ingredients
1

cup

Black Rice

2

cups

Water

½

tsp

Salt
Instructions
Add the rice to water in a pan, with a ½ tsp salt, bring to a boil on medium high heat, then simmer on low.

Cook for about 30 minutes until the rice is tender.
Notes
Black rice can also be cooked in a rice cooker.
Nutrition
Calories:
171
kcal
|
Carbohydrates:
36
g
|
Protein:
4
g
|
Fat:
1
g
|
Saturated Fat:
1
g
|
Sodium:
300
mg
|
Potassium:
103
mg
|
Fiber:
2
g
|
Sugar:
1
g
|
Calcium:
14
mg
|
Iron:
1
mg
Black Rice Benefits
Packed with all kinds of benefits, black rice is much more nutritious than white rice.
Full of antioxidants which remain intact due to the fact that this rice is not refined.
Most of the goodness is in the hull, bran and outer layer.
Through the antioxidants black rice can act as a detoxifier by helping the liver remove unwanted substances.
Black rice is very high in fiber which is very good for your digestive tract, and elimination.
Fiber attaches to toxins and waste and funnels them out of your body.
It will also give you a satiated feeling.
Whole grains such as black rice will help reduce the risk of diabetes by helping to maintain steady blood sugar levels.
This rice has more protein than white rice which can help you stay healthier and a proper weight.
Black rice can also help with heart health by keeping cholesterol in check.
What to Serve It With
You can eat black rice with almost everything that you would eat other rice with.
Roasted chicken and vegetables is something that comes to mind.
Baked fish would be another good combination of black rice.
A stir fry would also be something to try, include some tofu and keep it vegan friendly.
Eat black rice with chili, in a burrito, with egg fried rice, or try making it into a rice fritter.
Make garlic butter black rice, or a rice casserole, cook it with lentils as a base for your chicken or fish.
Make the black rice with honey garlic shrimp, or serve it with roasted eggplant.
Try different things and see what you com up with.