How to Make Meatballs Without Breadcrumbs (Gluten Free)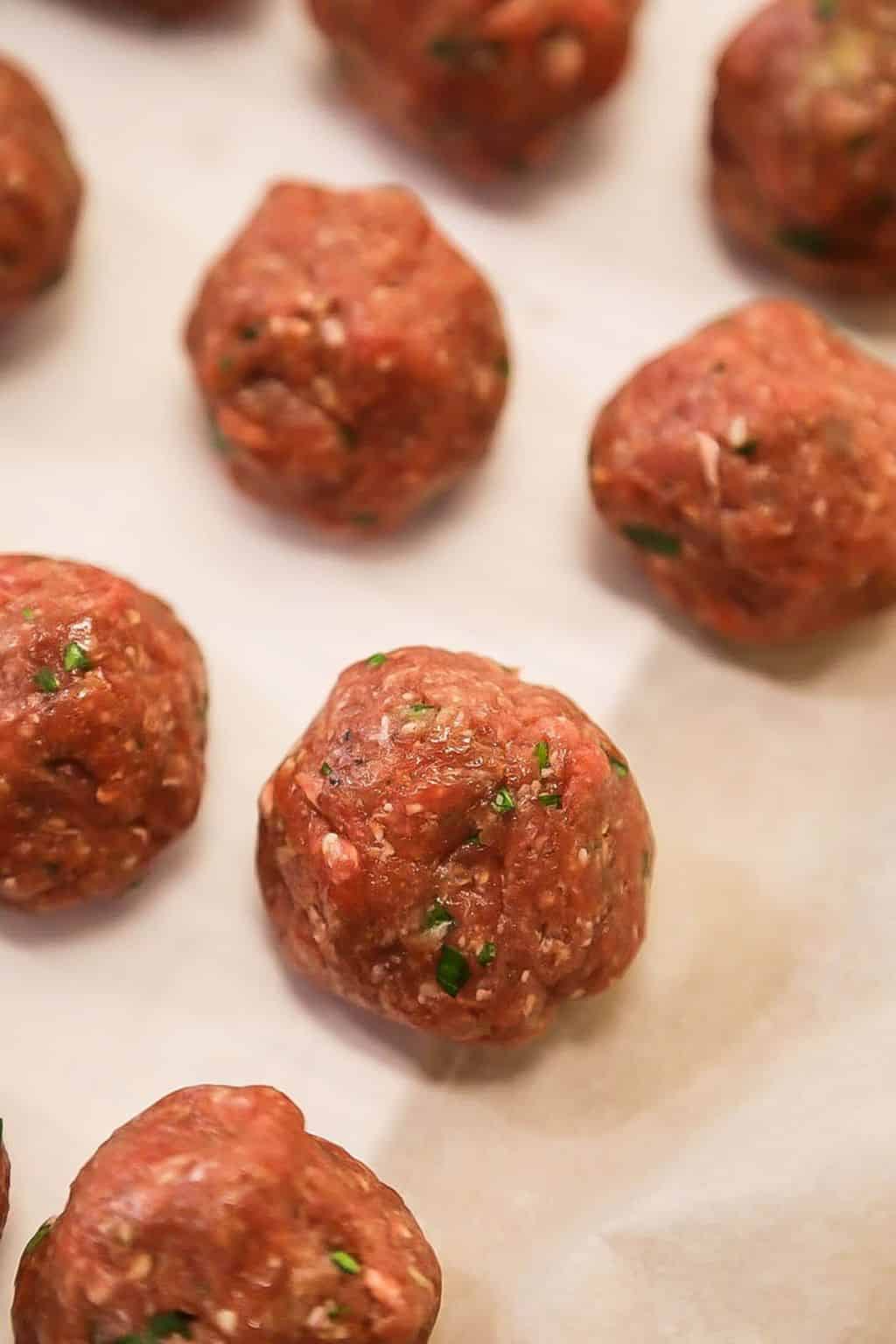 Is it possible to make meatballs without breadcrumbs?
And the answer would be yes!
It is very common that meatballs will have breadcrumbs in them.
Meatballs without breadcrumbs are so much better in my opinion.
So I thought I would show you how to make meatballs without breadcrumbs.
Being gluten intolerant myself, this is my go-to method for making meatballs.
The main reason bread is used to make meatballs, usually along with egg, is to act as a binder and hold the meat together.
Some people worry that their meatballs will fall apart without a binder, but it is usually too much binder that causes them to fall apart.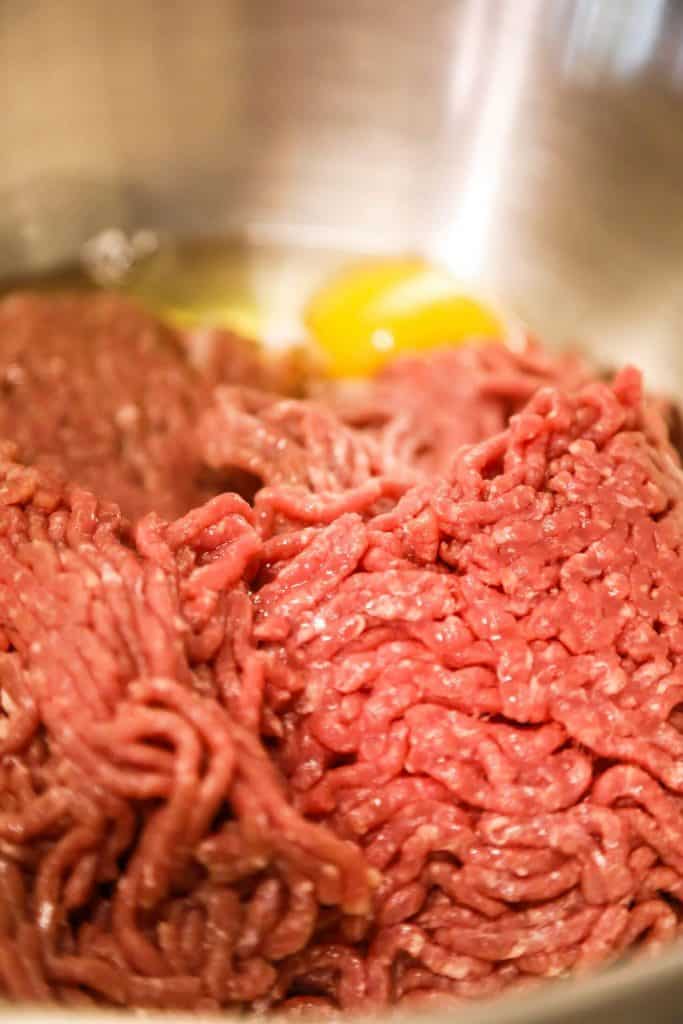 Sometimes breadcrumbs are used as a way to make the meat go further, if you're trying to save money for example.
It's also as a way to add some flavor to the meat when seasoned bread crumbs are used.
Ground meat will hold together quite well all on its own with the help of a little bit of egg, especially when making baked meatballs.
By not using any bread, this method will be gluten free and keto meatball friendly.
The following recipe will work for meatballs made of ground pork, ground beef, ground turkey, and lamb.
I personally love using chicken or turkey meatballs when I'm trying to manage my weight successfully.
Whatever the meat mixture follow this meatball recipe and you will end up with nice, tasty and tender meatballs.  
How to Make Meatballs Without Breadcrumbs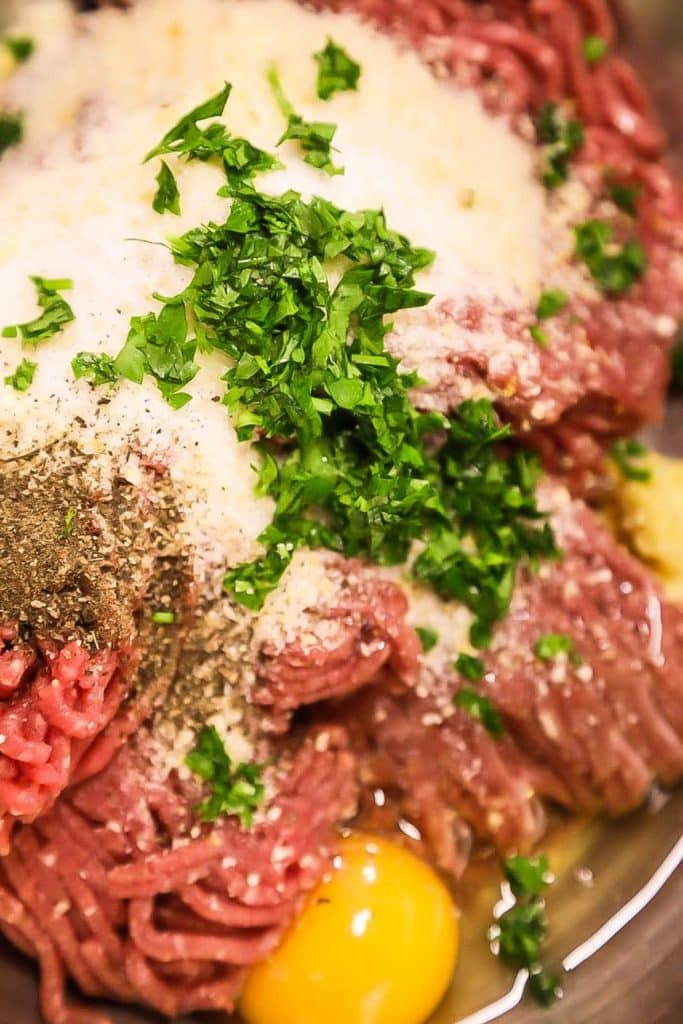 When making the best meatballs without breadcrumbs, it starts with good quality meat.
Choosing the right kind of meat will help when it comes to making nice juicy meatballs.
If you're making beef meatballs, make sure to choose lean ground beef mince that is about 75% lean.
If you're making lamb meatballs, choose lamb mince which has a fair amount of fat in it.
The fat will help with flavor of course, and will make the meatballs that much more juicy.
My favorite way is to make a mixture of beef and lamb for a meatball with a deep and robust flavor.
So, on to the actually making of your meatballs.
Start by grinding and mixing your meats together in a bowl.
Mix together parmesan cheese, egg, cilantro, garlic, salt, pepper, onion powder and olive oil.
Mix all the ingredients with the meat until they are fully combined.
Shape the meat into balls (I like to use latex gloves here).
Then place on a baking sheet lined with parchment paper.
In a frying pan over a medium heat, brown the meatballs on all sides.
Once you've browned all the meatballs, transfer them to a saucepan with tomato sauce or an alternative sauce of your choosing.
Bring it all to a boil, then turn down to a simmer.
Cook the meatballs for about 15 minutes or until cooked through.
Alternatively, you can place the meatballs in the oven on a baking tray in a 400ºF oven, and bake for about 20 minutes.
How to Cook Meatballs Without Breadcrumbs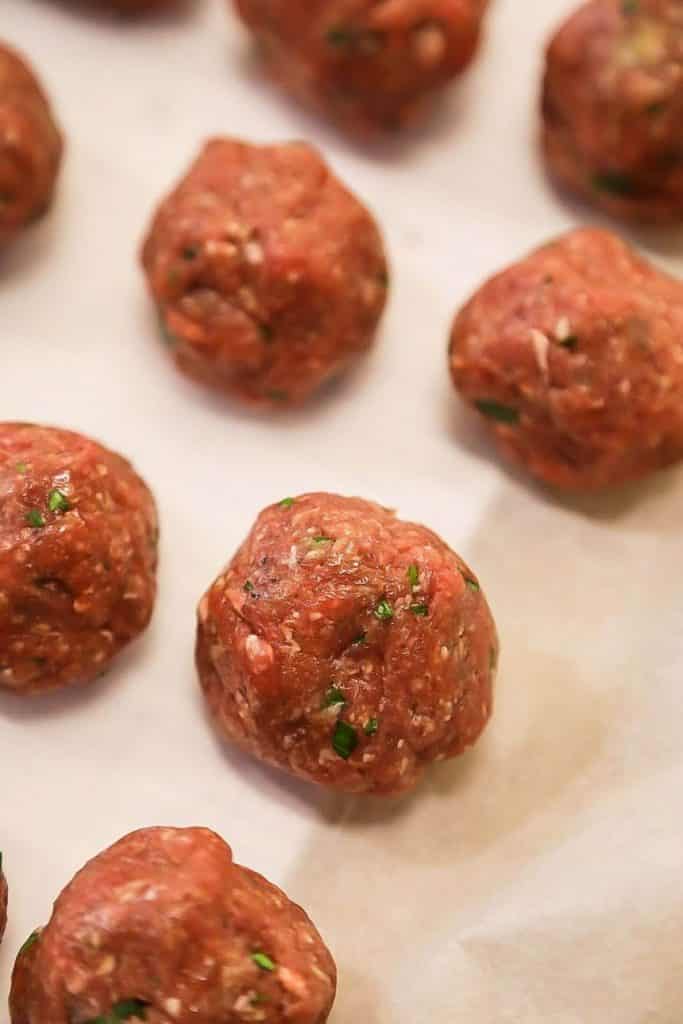 Cooking meatballs is very easy and simple.
Once you have shaped your meatballs, it will be important to brown them so that you sear in the juices, as well as make the meatballs more aesthetically pleasing.
Be sure to do this on all sides of the meatball over a medium heat with a little oil in the pan.
There are two main ways of cooking meatballs.
You can either cook the meatballs on a baking sheet in the oven or alternatively, in sauce on the stove top.
To bake your meatballs, preheat oven to 400 degrees Fahrenheit (200ºC) and place the meatballs on a baking tray lined with parchment paper.
Place the tray in the oven and cook them for about 20 minutes or until your desired level of doneness is achieved.
Remove them from the oven, and serve immediately.
Meatballs are best served on a bed of pasta or rice.
If you are cooking the meatballs on the stove top, begin by heating your sauce on a medium heat until you have a strong simmer.
After browning the meatballs first, place them slowly in the sauce using tongs.
You don't want a tomato sauce splashing onto you!
Cook them for about 15 minutes or until cooked through and they are then ready to serve.
What to Make with Meatballs
There are a lot of foods that will go really well with meatballs.
Pasta, rice, burghul, buckwheat just to name a few.
You could add some kind of potato.
My favorites are garlic mashed potatoes or scalloped potatoes.
Most importantly, don't forget to add the veg.
Broccoli, carrots with ginger and butter, or brussels sprouts.
You can also put the meatballs into a hoagie roll and add cheese, tomato sauce and onion for a perfect sandwich.
If you're looking for a healthy alternative, try adding brown rice and a nice simple green salad.
How to Make Meatball Sauce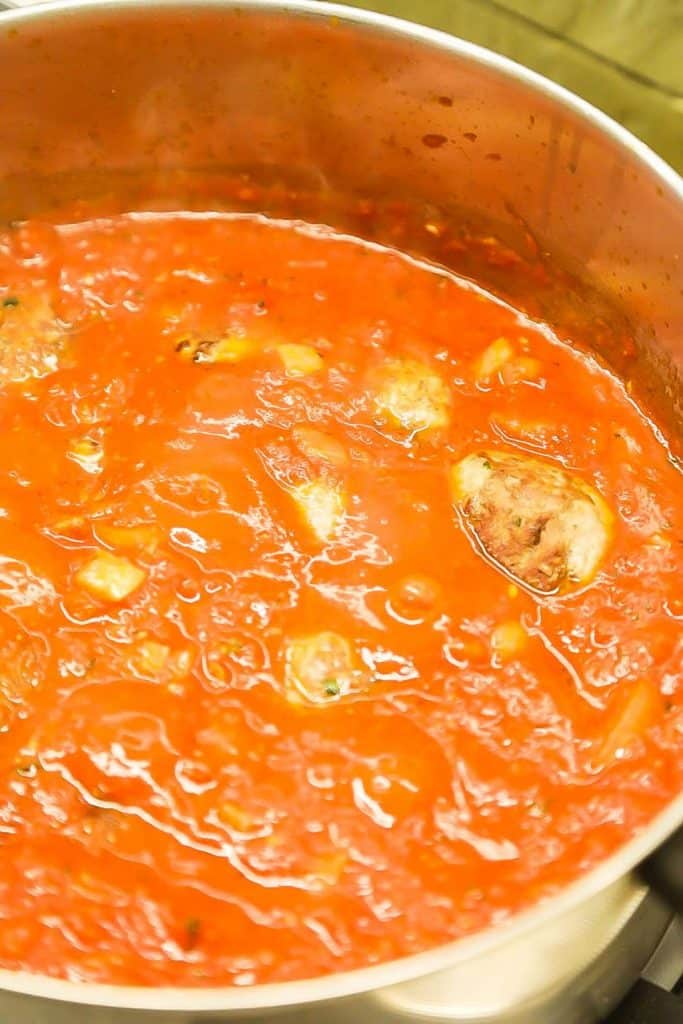 My preference when it comes to meatball sauce is always a tomato sauce – it's a classic.
To make a tomato sauce, start with chopped onions and garlic in a saucepan over a medium high heat with a little bit of olive oil.
Next, sauté the onions and garlic until they are soft and translucent.
Then add some diced tomatoes along with italian seasons like basil, thyme, oregano and rosemary.
Put a dash of salt and pepper in the pot along with a little garlic powder for extra flavor.
Cook until the tomatoes are bubbling, at which point I will add some hot water with tomato paste mixed into it.
Stir the sauce until heated through and then turn down to simmer allowing the sauce to thicken.
I will then add meatballs one at a time using tongs to save splashing tomato sauce over myself.
Cook thoroughly until the meatballs are done and enjoy!
How to Freeze Meatballs
Meatballs can be easily frozen at any stage of making them.
Whether they are raw, browned or fully cooked.
Once you have the meatballs shaped and ready, put them in a single layer on a baking tray.
Place them in the freezer until frozen, which should take about an hour.
Once they are fully frozen, place them in a freezer bag and seal.
When sealing, try and remove as much air as you can when you seal the bag.
This prevents them getting freezer burn and they will keep a lot longer.
Additionally, you can also freeze the cooked meatballs in their sauce.
Just place the meatballs with sauce in a freezer safe tupperware.
How long can you keep them in your freezer?
The uncooked meatballs will stay good for 4-6 months.
The fully cooked once can last in good condition up to 18 months.
Meatballs Without Breadcrumbs Recipe
Try my take on meatballs without breadcrumbs, they're easy to make, and taste great!
Print
Rate
Ingredients
½

lb

Ground Beef

½

lb

Ground Lamb

¼

cup

Parmesan Cheese

grated

⅛

cup

Olive Oil

1

Egg

2

tbsp

Cilantro

chopped

1

tbsp

Onion Powder

1

Garlic Clove

minced

½

tsp

Salt

¼

tsp

Black Pepper

2

tbsp

Vegetable Oil
Instructions
Combine the 2 types of meat in a bowl.

Add all other ingredients, except the vegetable oil, and mix well.

Shape into meatballs and place on a baking tray.

Pour the vegetable oil into a frying pan and brown the meatballs.

Add browned meatballs to your preferred sauce and cook until done (about 20 minutes).
Nutrition
Calories:
469
kcal
|
Carbohydrates:
2
g
|
Protein:
23
g
|
Fat:
41
g
|
Saturated Fat:
18
g
|
Cholesterol:
127
mg
|
Sodium:
480
mg
|
Potassium:
311
mg
|
Fiber:
1
g
|
Sugar:
1
g
|
Vitamin A:
122
IU
|
Vitamin C:
1
mg
|
Calcium:
106
mg
|
Iron:
2
mg