Garlic Roasted Lemon Salmon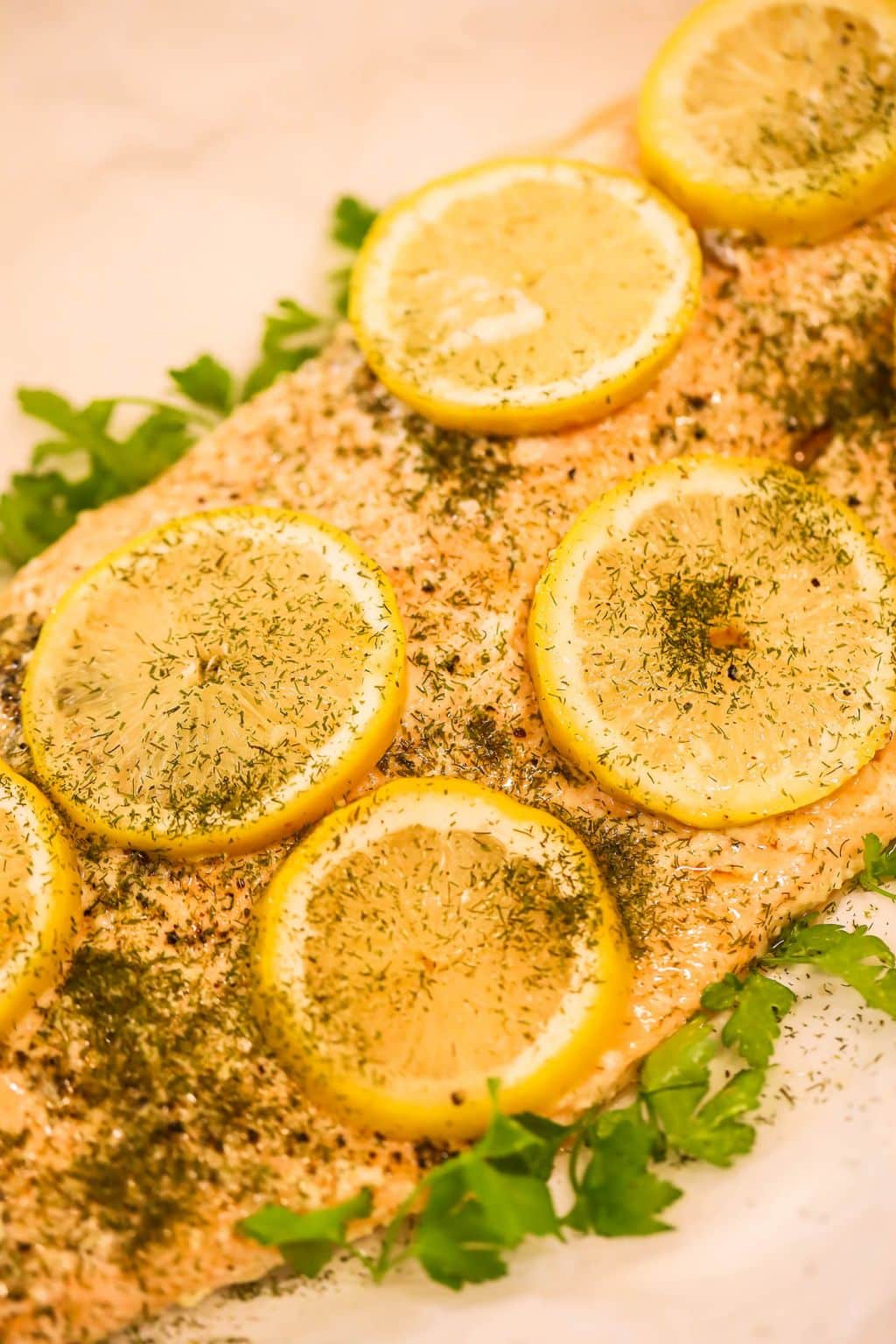 One of my favorite fish is salmon, raw or cooked in fact, and this lemon salmon recipe is amazing.
Salmon is a fish that is often mild in flavor, and very popular as a seafood on many restaurant menus.
Most people who eat salmon see it as a boneless fish and that is part of its appeal to many.
I remember years ago working in kitchens, having to pull the bones out the fillets of salmon.
The customer never knew that bones once dwelled in that boneless piece of salmon that they were enjoying.
It's funny the things we remember sometimes about the past.
Such is the popularity of salmon, all the Atlantic salmon sold in the US is farm raised.
Wild salmon is caught mostly in the Pacific ocean.
You can tell salmon is wild because it has a deeper orange red color, unlike the light pink of farm raised.
The salmon is an interesting fish that takes on an incredible journey in its life.
It starts off its existence in freshwater, and makes its way to the salty ocean where it lives its life.
Towards the end of its life it returns to the freshwater streams where it performs miraculous feats.
It swims upstream, leaps up four foot waterfalls and evades predators all along the way.
The word salmon comes from the Latin word salire, which means 'to leap' and is certainly one of the characteristics we notice.
Only the strongest of the strong comes to the end of its life as it spawns the new generation that will repeat the adventure.
Native peoples had a lot of respect for the salmon that helped to give them their lives.
There were sacred salmon dances that were practiced during the first salmon eating rituals.
In some ways it is like us humans, being tested, and pushed through life with our experiences.
Why Lemon with Salmon?
So the scientific answer is that fish contains amines, which is a derivative of ammonia, and lemon juice neutralizes it.
As fish muscle starts to break down it releases the amines which cause that 'fishy' smell.
One of the ways to know that fish is indeed fresh, is that it does not have an odor.
The older your fish is the more it will begin to smell, so better to avoid fish that smell like fish!
Squeezing lemon juice on fish will improve the flavor by reducing the amines.
The addition of lemon juice is not that you are covering up bad fish flavors.
It is that you are in fact enhancing the natural taste of the fish by adding the acidy taste.
Lemons are also good for you, providing vitamin C which can help enhance heart health.
Why Garlic with Salmon?
In my opinion garlic is well paired with most food, and salmon is no exception.
Salmon is a robust fish with a meatiness that can hold up to strong flavors like garlic.
I like to marinate my garlic first to allow the flavors to act more subtly with the fish I'm cooking.
All the health benefits of garlic add to the health benefits of salmon giving you double the benefits.
Another way to serve the garlic with fish, is by making Lebanese garlic sauce and using it like you would tartar sauce.
It is just another way to get that awesome garlic taste onto the fish that you are eating.
How to Make Garlic Roasted Salmon
This is a very straightforward and easy process that produces a lovely professional level meal.
Mince garlic and marinate in canola oil, olive oil or melted butter for a couple of hours.
Prepare lemon slices by cutting thin lemon rounds and set aside.
Lay out your salmon fillet, skin side down, on a piece of foil big enough to wrap the salmon in on a baking sheet.
Cooking the salmon in foil allows for the steam to stay inside the pouch and cook the fish.
Brush the marinade of garlic and oil over the salmon, making sure you get the fish well covered.
Sprinkle with sea salt and black pepper before placing the lemon directly onto the fillet of salmon.
Sprinkle dill weed onto the salmon and wrap in the foil squeezing the sides to keep the steam in.
Place sheet pan in the oven and bake salmon for 15 to 20 minutes.
Your goal with cooking salmon is to get it to where it flakes and still looks a bit translucent.
You just do not want it to be raw looking which is not translucent.
Remove from the foil and place on a serving platter, garnish with lemon zest and fresh parsley if desired.
Tips for Making Lemon Salmon
Fish cooks quickly so be sure not over cook your salmon, it is easy to do.

Be generous with the garlic oil you brush the fish with, the more garlic taste, the better

Allow the fish to rest for a minute or two before removing it to the platter.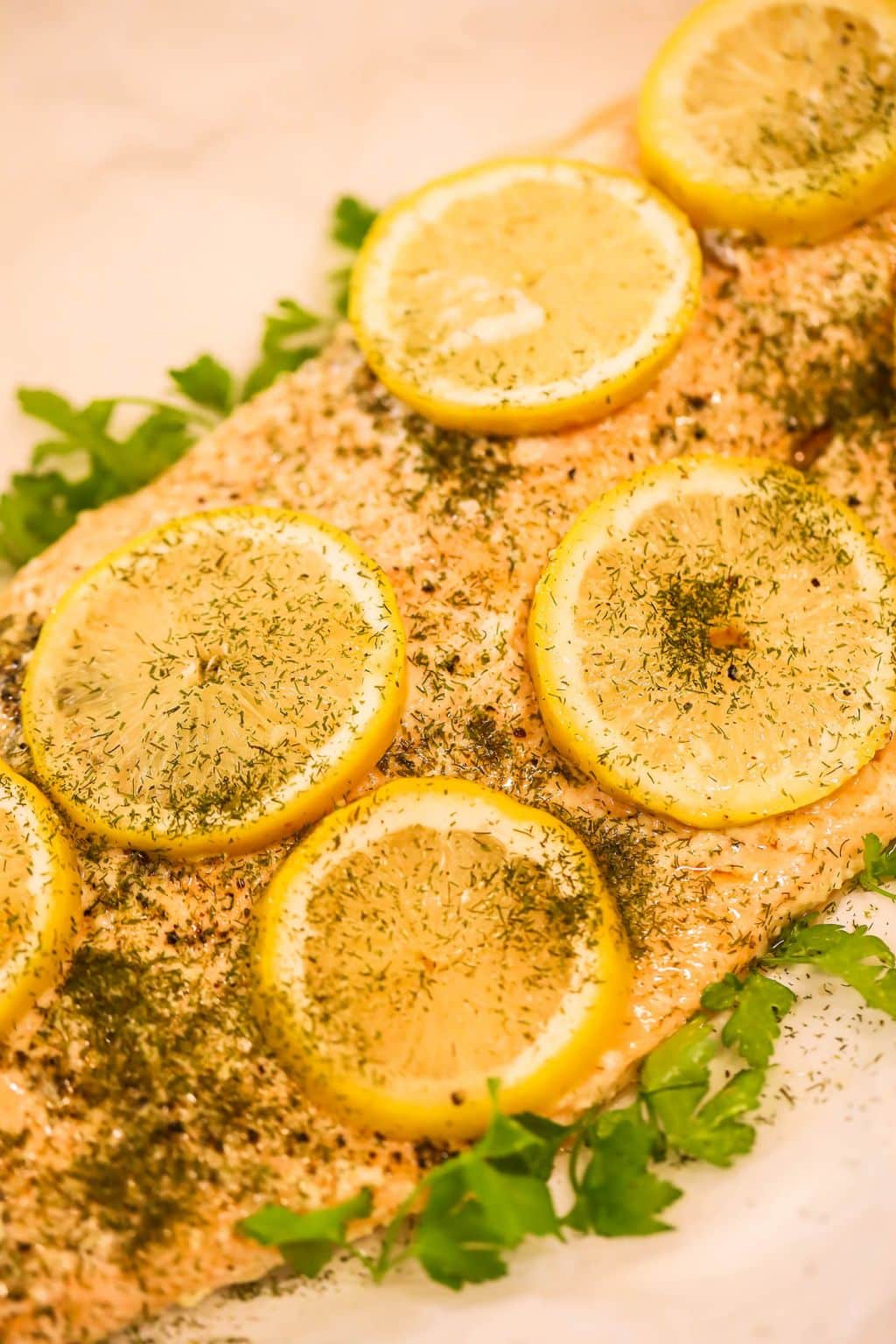 What to Serve This Dish With
I like to serve this dish with new potatoes, and green beans drenched in butter and ginger.
This salmon does really well served on a bed of rice, with caramelized brussels sprouts.
Chili garlic cucumber noodles on the side of this salmon fillet with marinated white beans.
And of course served with mashed potatoes, buttered carrots and peas, makes this salmon outstanding.
A marinara sauce with capers and herbs over a bed of a wild rice mix and sauteed pine nuts.
Any leftover salmon can be included in your next risotto, it works really well with the rice cooked in this way.
Cold salmon is also good in salads with a light vinaigrette and crunchy vegetables.
Garlic Roasted Lemon Salmon Recipe
One of my favorite fish is salmon, raw or cooked in fact, and this lemon salmon recipe is amazing.
Print
Rate
Ingredients
2

lb

Salmon Fillet

1-2

Lemons

sliced into rounds

⅓

cup

Canola Oil

4

Garlic Cloves

minced

¼

cup

Lemon Juice

1

tsp

Dried Dill

Pinch of Salt

Pinch of Black Pepper
Instructions
Preheat the oven to 375ºF (190ºC).

Mince the garlic into the oil and allow to marinate.

Place the salmon on a large piece of aluminum foil.

Pour lemon juice over salmon.

Brush the salmon with the garlic oil.

Sprinkle it with salt and pepper.

Place the lemon rounds to cover the fish.

Wrap the foil to enclose the fish, folding the sides to seal.
Nutrition
Calories:
252
kcal
|
Carbohydrates:
2
g
|
Protein:
23
g
|
Fat:
17
g
|
Saturated Fat:
2
g
|
Cholesterol:
62
mg
|
Sodium:
51
mg
|
Potassium:
588
mg
|
Fiber:
1
g
|
Sugar:
1
g
|
Vitamin A:
53
IU
|
Vitamin C:
11
mg
|
Calcium:
22
mg
|
Iron:
1
mg