Cabbage Salad (Middle Eastern Style)
Cabbage salad are not two words that are often seen together.
And yet, serving cabbage this way is incredibly refreshing, and crosses many cuisines.
Although unknown exactly where the first cabbage originated, today it is grown, and eaten all over the world.
It is safe to say that it has a long history, and has been cultivated for centuries.
With hundreds of varieties, there are many types to choose from for your next salad.
Don't underestimate the mighty cabbage!
Make having cabbage in your salad as normal as having lettuce, you won't regret it!
What is Cabbage Salad?
Just like its name implies, this is a salad using raw cabbage as one the main ingredients.
There are several versions of this salad in several cultures around the world.
This cabbage salad recipe is a very popular one in several Middle Eastern countries as a side dish.
Often made by thinly slicing, or shredding cabbage with other ingredients from bell peppers to sunflower seeds.
Many different salad dressing ingredients are also used depending on the type of food being served.
Many of those dressings are olive oil, and sesame oil based, usually depending on the mixture of cabbage used.
Cabbage is a vegetable that is full of vitamins, minerals, and lots of fiber, making it a nutritious food choice.
This vegetable became a staple for long journeys by ship because of its high vitamin C content.
Sailors were prone to suffer from all kinds of vitamin deficiencies being at sea for months at a time.
Cabbage taken on the journey was one way to ensure good nutrition.
The cabbage was usually in the form of sauerkraut, a pickled version made for a longer shelf life.
But fermenting cabbage also enhances the nutritional value, making it more advantageous to eat in pickled form.
Sauerkraut can even be used to help the healing wounds sustained by any crew members.
Another reason cabbage was taken on long ship journeys of the past.
What Kind of Cabbage to Use?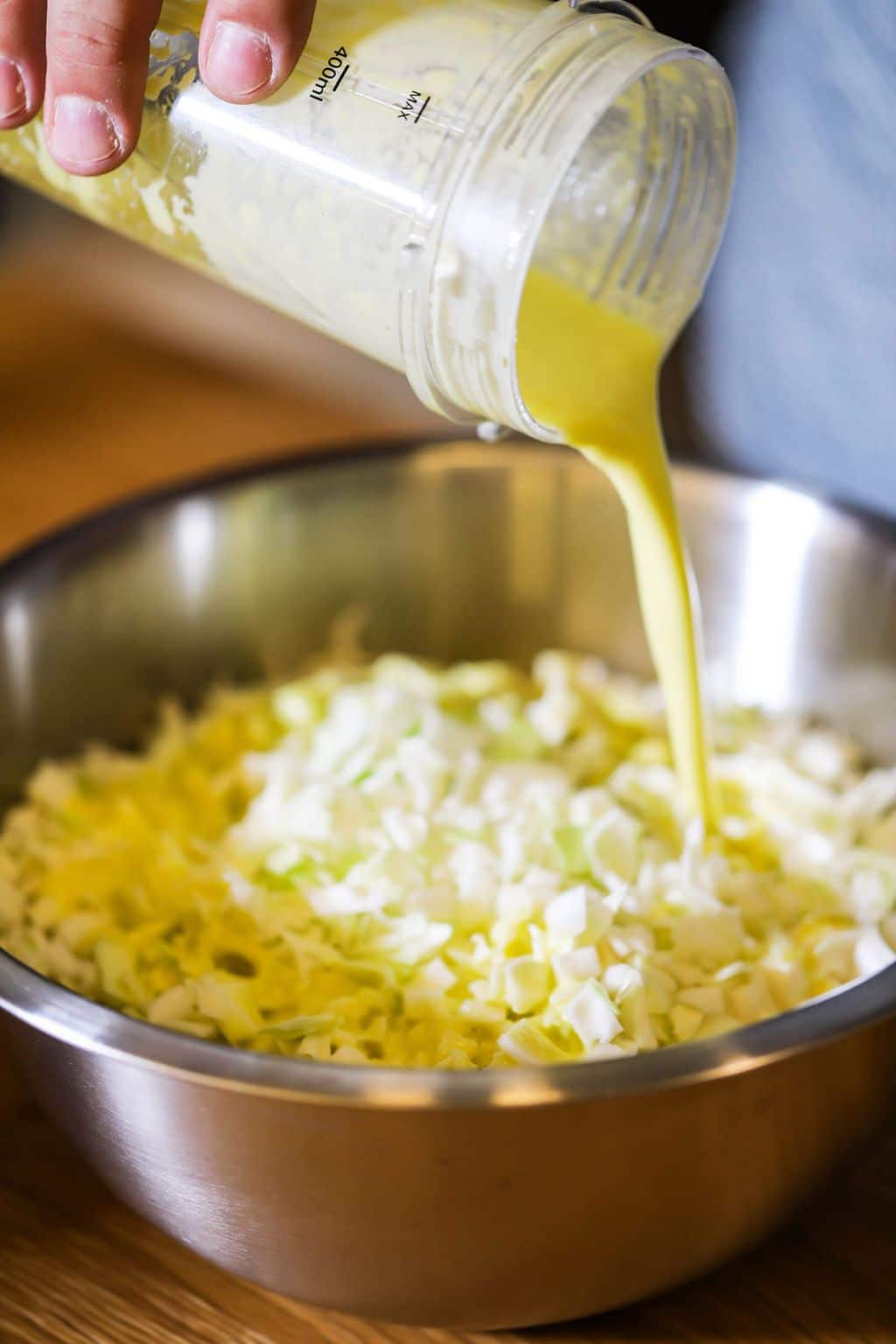 Given that there are somewhere in the region of 400 varieties of cabbages, the answer is many, and any!
Green cabbage, known as cannonball cabbage is the round tight leaved variety that is by far the most popular.
Red cabbage is a close second and often used in salad, giving a wonderfully bright color to the dish.
Don't forget that not all cabbage varieties are headed with tight leaves.
Many have other characteristics such as long leaves like a bok choy and other Chinese varieties.
Napa cabbage is another popular one, as well as savoy cabbage, which are also health-giving, and good for you.
But at the end of the day the sky's the limit for what kind of cabbage to include in your salad.
I most often use the types of cabbage I mentioned above in my salads.
How to Make Cabbage Salad
This is a relatively easy and straightforward recipe with room for variation.
I start by blending together lemon juice, olive oil, garlic and salt to make the dressing.
I thinly slice half a head of a large cabbage and place in a large bowl.
Next the fresh mint is coarsely chopped and stirred into the cabbage.
Finally I add the dressing and mix well, and serve immediately in a small bowl.
Some additions would be a little red cabbage, carrots, green onions, sesame seeds, or all of the above!
I've enjoyed this salad so many times during the hot summer we've had this year.
Feel free to make substitutions to this salad with your favorite vegetable additions.
Experimenting is one way how I come across new and interesting ways of making delicious recipes.
What to Serve with Cabbage Salad
One of my favorite pairings for this salad is with grilled meat when I have a barbecue.
It is a very fresh and crisp alternative to the indispensable coleslaw that is a staple at many backyard events.
This salad will be a good fit for any kind of summer menu where a light and fresh flavor is desired.
It is also great at Thanksgiving, adding another favorite salad to be included every year with your turkey.
And don't forget including it with your favorite fried chicken recipe.
Delicious!
Tips for Making
Shred or chop the cabbage mixture very thinly to ensure uniform pieces of the vegetable.

Soak chopped leaves in ice water until ready to mix in order to give more crisp to the cabbage.

Use freshly squeezed lemon juice for best results.
Cabbage Salad Recipe
Cabbage salad is a favorite in my house! Just like its name implies, this is a salad using raw cabbage as one the main ingredients.
Print
Pin
Rate
Ingredients
½

Head of Cabbage

large

¼

cup

Lemon Juice

⅓

cup

Olive Oil

3

Garlic Cloves

¼

tsp

Salt

1

tbsp

Poppy Seeds
Instructions
To a blender add the lemon juice, olive oil, garlic and salt. Blend until smooth.

Shred or finely chop cabbage.

Add all ingredients to a bowl and mix well.

Finish by adding the poppy seeds and mixing well.
Nutrition
Calories:
103
kcal
|
Carbohydrates:
5
g
|
Protein:
1
g
|
Fat:
10
g
|
Saturated Fat:
1
g
|
Sodium:
84
mg
|
Potassium:
117
mg
|
Fiber:
2
g
|
Sugar:
2
g
|
Vitamin A:
56
IU
|
Vitamin C:
24
mg
|
Calcium:
41
mg
|
Iron:
1
mg