Booza Ice Cream (Lebanese Style)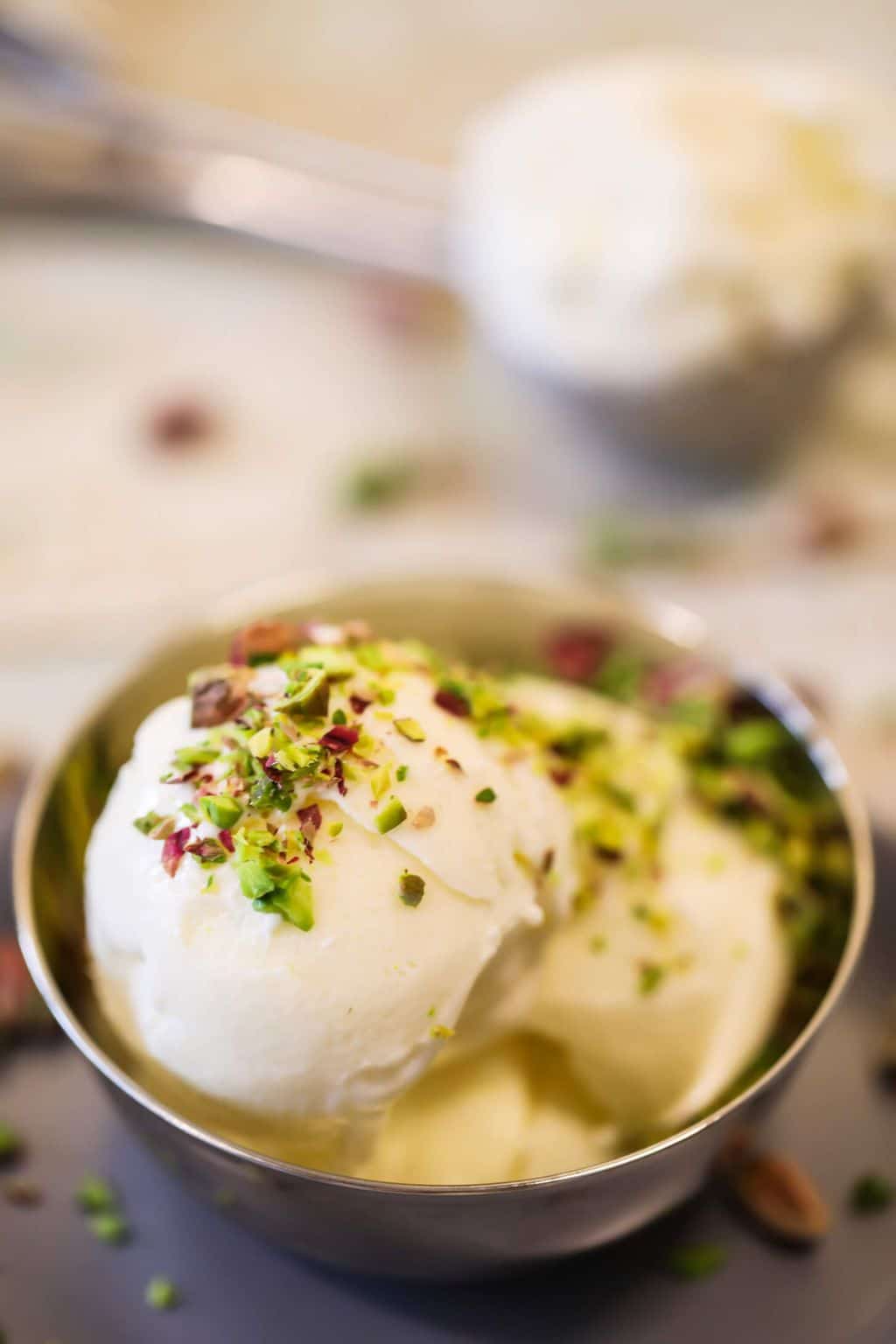 Booza is the predecessor to modern ice cream the way we are familiar with it today.
Born five hundred or so years ago in the region of the Mediterranean, it is a favorite in many Arab countries.
A famously stretchy ice cream, I remember eating as a kid in the Old City of Jerusalem, in what was then Palestine.
Stretchy and chewy with a traditional flavor of mastic, it was a glorious treat.
What is Booza Ice Cream?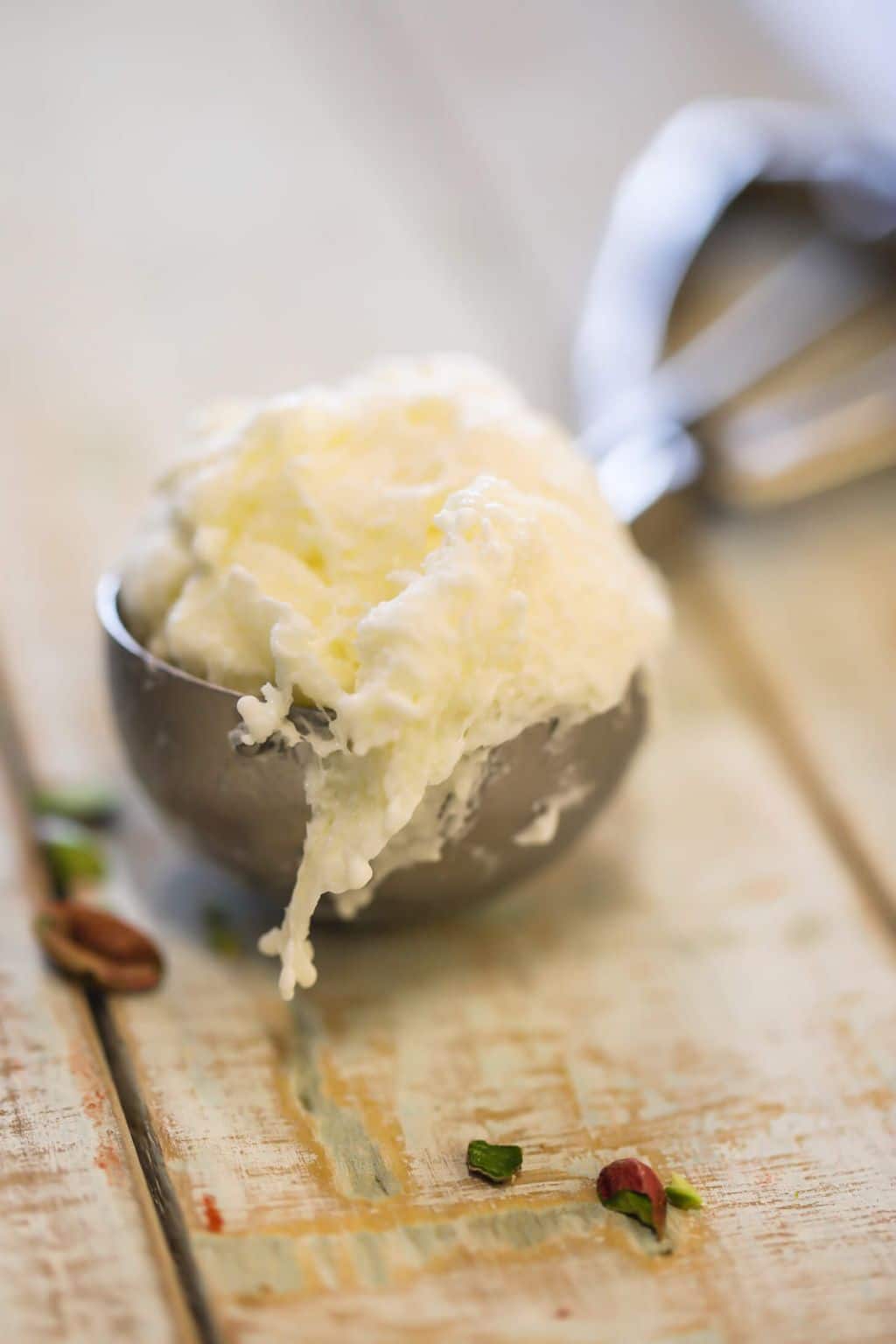 Booza is a form of ice cream that is made with milk, cream, and most often these days with corn starch.
Booza is the word for ice cream in Arabic.
Historically it was thickened with sahlab, ground orchid root, with mastic as flavoring, still used today.
Sahlab is a very good thickening agent, however, if you can't find this ingredient then cornstarch does just as good a job.
Using thickeners makes a very unique consistency which is thick, stretchy and substantial tasting; soft serve this is not.
The process of making this ice cream includes alternating freezing, stretching, and pounding the ingredients.
Very often chopped pistachios are rolled into it, enhancing the qishta, candied cream flavor.
The only flavor it came in for the longest time was qishta, but many other flavors have popped up over time.
They run the whole gamut of popular ice cream flavors.
There is no doubt in my mind that Middle Eastern booza packs more flavor per scoop than traditional ice cream.
How to Make Booza Ice Cream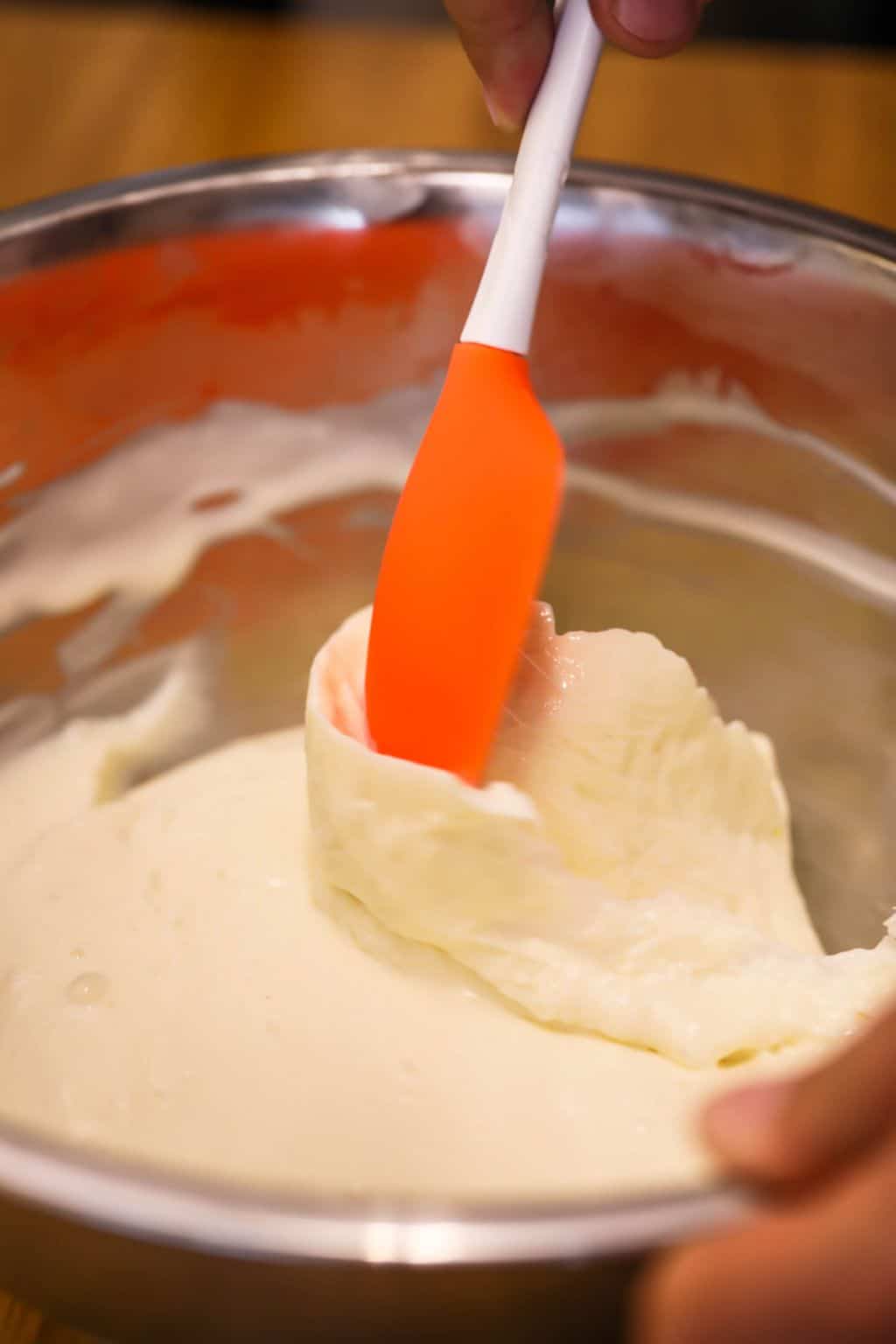 As delicious as booza is, it can be a little time-consuming to make, but definitely worth it.
Start by whisking together sugar, mastic and sahlab in a heavy bottomed pan.
Slowly pour in the milk, followed by the cream.
Heat over medium heat as you whisk continuously allowing the mixture to thicken to a pudding like consistency.
Just as the ice cream reaches the boiling point, remove from the heat immediately.
The mixture should continue getting thicker on its own at this stage.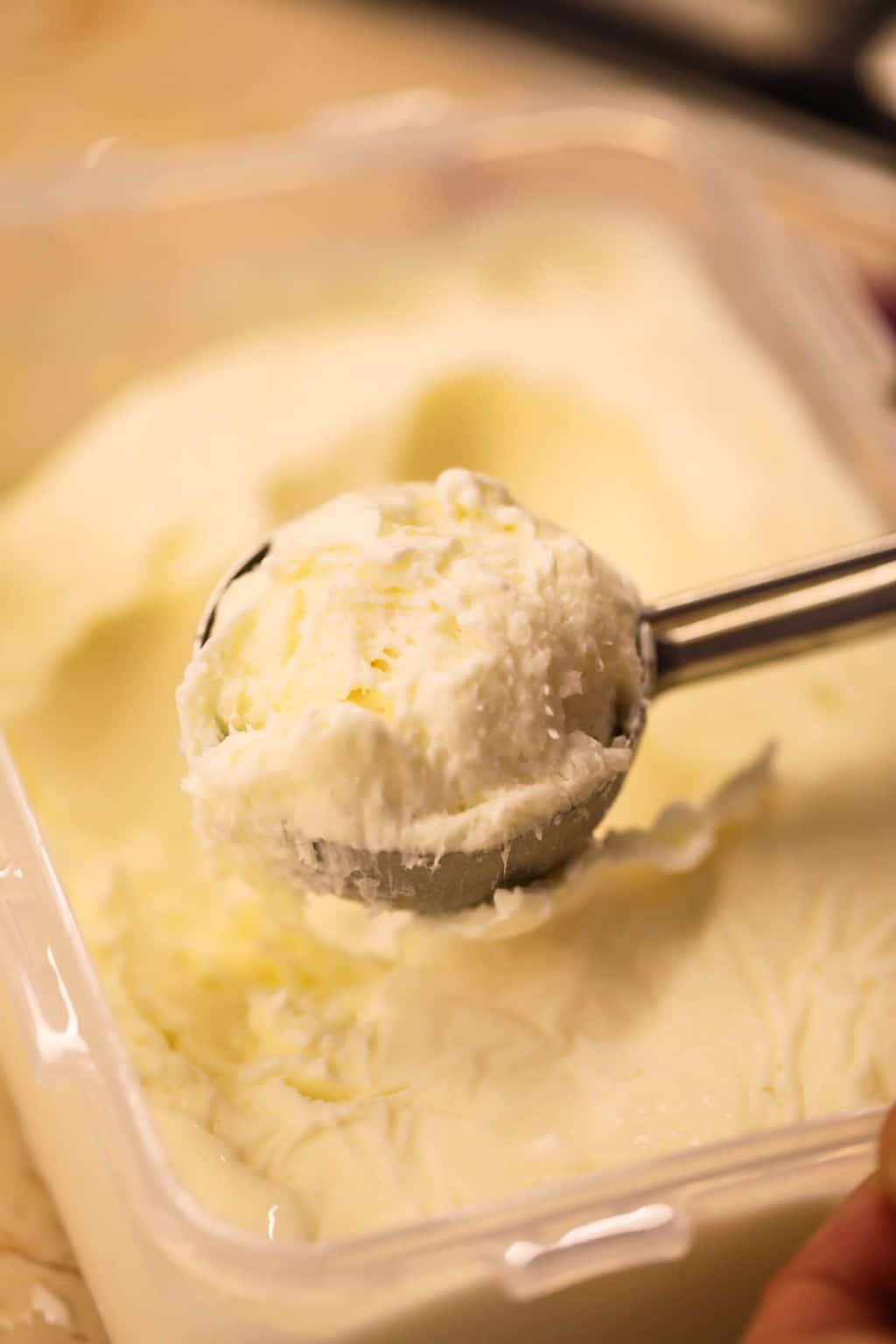 Do not allow to boil, and add any additional flavoring at this point, then pour the mixture into a bowl and set aside to cool.
Once cool, whisk the mixture, then place the bowl in the freezer for 30 minutes.
Remove from the freezer, and stir and stretch the ice cream with a rubber spatula.
If adding pistachio nuts, this is the time to make the addition.
Put the ice cream back in the freezer for another 30 minutes.
Remove and repeat the mixing and stretching process, and continue to do this until the ice cream has reached a consistency you like.
Serve with crushed pistachio nuts, chocolate shavings, or caramel sauce for a taste that you deserve.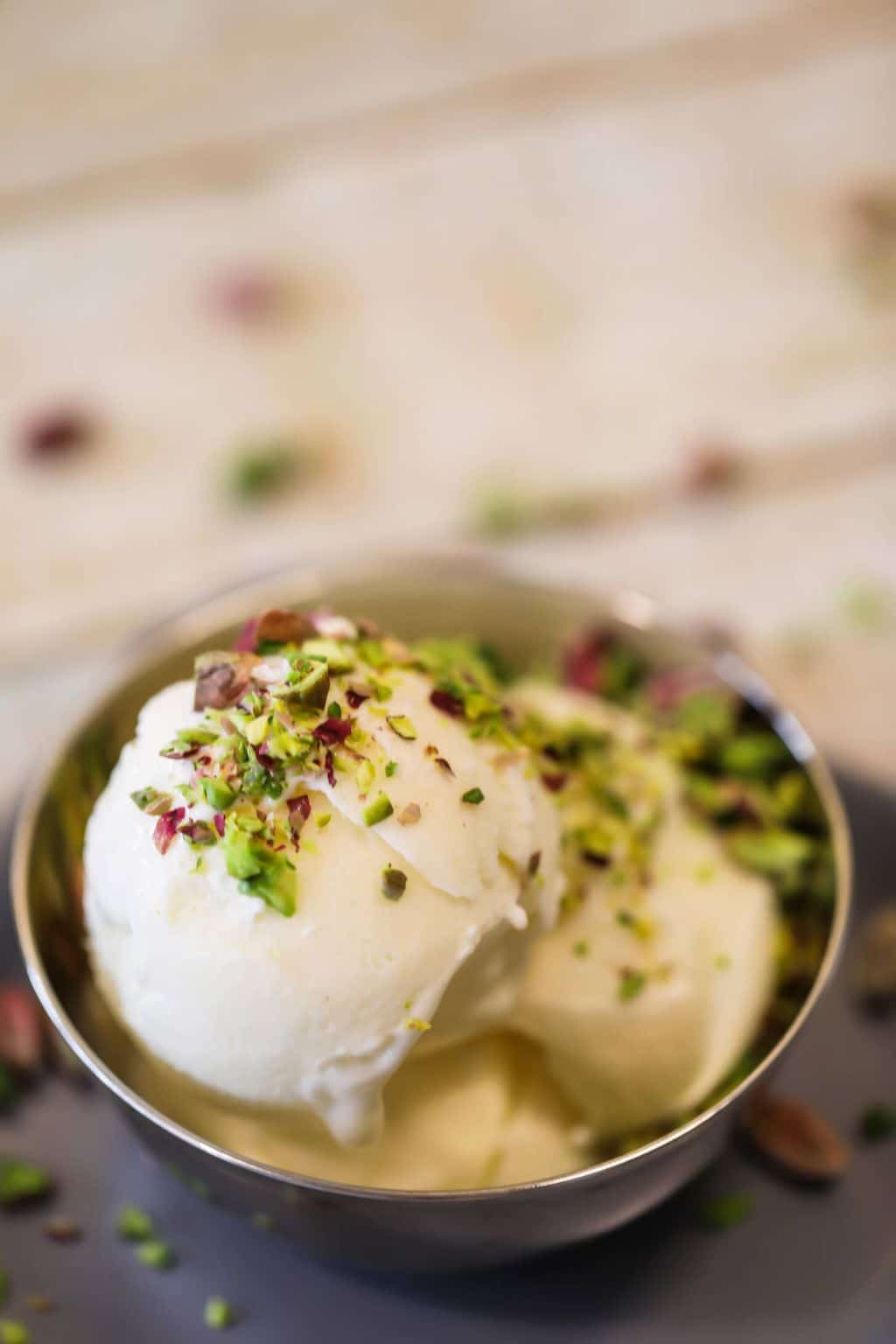 Booza Ice Cream Recipe
Booza is the predecessor to modern ice cream the way we are familiar with it today.
Print
Rate
Ingredients
1½

cups

Cream

2½

cups

Milk

1

tbsp

Sahlab

or ¼ cup cornstarch

¼

tsp

Mastic

1

cup

Sugar

1

tbsp

Orange Blossom Water
Instructions
Whisk together the sugar, mastic and sahlab, and place in a pot.

Slowly pour in the milk and cream into the pot while whisking.

Slowly heat while whisking until just before boiling. The mixture should be getting very thick by now.

Remove from the heat and whisk in the orange blossom water. Pour into a bowl and allow to cool completely.

Once cool, whisk well and place in the freezer for thirty minutes.

Remove and whisk again, and replace in the freezer for 30 minutes more.

Once again remove from the freezer and this time using a spatula, mix and fold over ice cream.

Repeat this procedure until the mixture reaches a frozen ice cream consistency.

Place in an airtight container and place in the freezer.

To serve, scoop into a ball and sprinkle with chopped pistachios.
Nutrition
Calories:
201
kcal
|
Carbohydrates:
21
g
|
Protein:
2
g
|
Fat:
13
g
|
Saturated Fat:
8
g
|
Cholesterol:
46
mg
|
Sodium:
33
mg
|
Potassium:
89
mg
|
Sugar:
19
g
|
Vitamin A:
520
IU
|
Vitamin C:
1
mg
|
Calcium:
77
mg
|
Iron:
1
mg