Musakhan (Chicken and Sumac Onions)
Musakhan is the national dish of Palestine, and it is as tasty as it is unique.
Definitely one of my favorite things to eat from the Middle East.
When made well, it makes you want to eat your fingers up after it, as the Arab expression goes.
It's an easy recipe to make but a hard one to get just right.
Essentially it is chicken, onions, sumac, bread, and olive oil.
The trick is to get the perfect balance of well done chicken, soft bread with just enough crunch to it.
What is Musakhan?
Musakhan is an Arabic word that literally translates to mean heated up.
It is typically served on taboon bread, which is a thicker variety of flatbread, cooked over hot stones.
Chicken musakhan is a Middle Eastern dish originating in Palestine.
The dish consists of roasted chicken, baked with diced onions, sumac, olive oil and toasted pine nuts.
It is traditionally eaten with the hands, and can guarantee a messy culinary experience.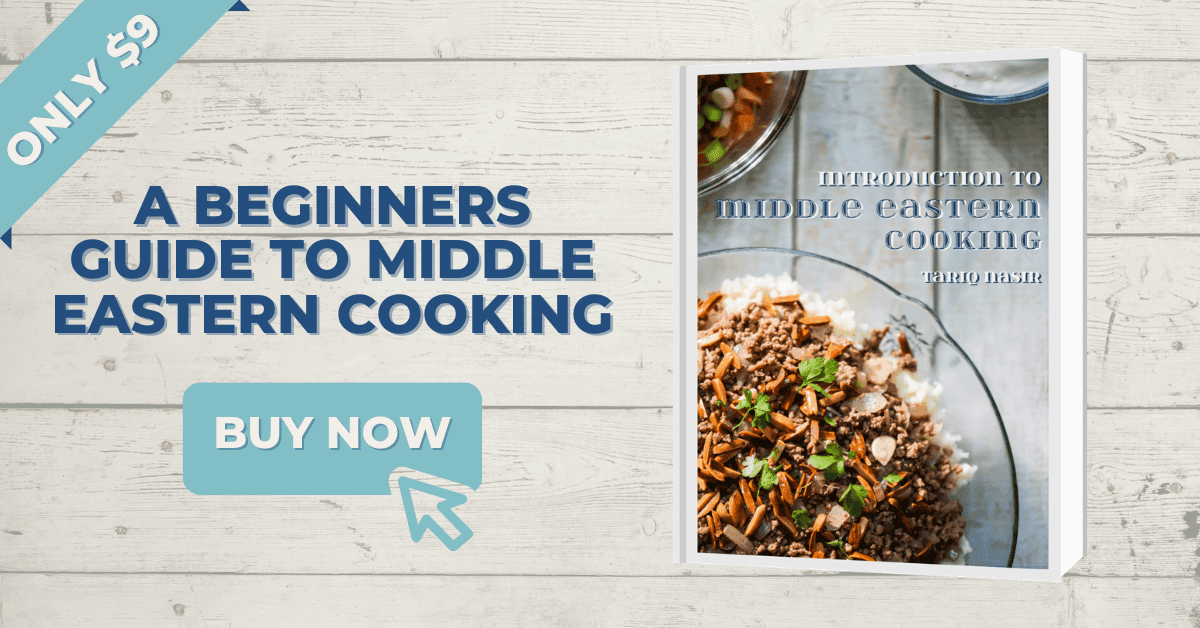 But there is no better way to eat this dish, it's actually quite awkward to eat with a knife and fork.
Using your hands you can more easily gather up a piece of each ingredient for a full Musakhan experience with every bite.
Musakhan was typically made around olive oil pressing season when fresh oil could be incorporated in the dish.
How to Make Musakhan
It is a relatively easy to make this very Palestinian food, and even more enjoyable to eat it.
Preheat your oven to 400ºF (200ºC) and begin by placing the chicken pieces on a baking sheet.
Then mix olive oil, salt, seven spices and sumac in a small bowl.
Massage the olive oil mixture thoroughly into the chicken on both sides.
You don't want your chicken to come out having not absorbed these succulent flavors!
Bake for about 30 minutes to 40 minutes, or until you have browned the chicken.
Other methods that are used to cook the chicken are either boiling in water or pan frying.
If you do boil until the chicken is cooked then put the chicken under the broiler until golden brown.
Next, it's time to construct the scrumptious onion mixture that sits on top of the taboon bread.
Heat the olive oil in a frying pan over medium heat, and cook the onions until they are translucent, stirring occasionally.
This can take some time, upwards of 25 minutes.
In a small bowl, combine: salt, cumin and seven spices.
Don't forget to add the sumac as well, this is what these onions are all about!
Add the spices to the onions, and keep cooking until you have beautifully caramelized onions.
Once you have your chicken and onion mixture, it's time to assemble and crisp up!
Using a spoon, spread the caramelized onions over the taboon bread until you have a nice coating.
On top of this, place a piece of chicken, sprinkle a few pine nuts on it, and put back on a baking tray.
Sprinkle with black pepper, or even cayenne pepper, for a little bit of extra heat.
Throw this under the grill until the bread has toasted slightly around the edges and serve.
Make sure to serve this while it's still hot!
Where to Find Taboon Bread
It can be very hard to find good taboon bread in the States, so I always opt for making my own.
It's quite easy to make (you can see the full recipe here).
But if you're looking for a quick solution and can't find taboon bread at your local bakery or supermarket, there are a couple of alternatives.
The best alternative is greek pita bread (the thick pita style bread with no pocket).
It's ideal as this type of bread is thicker than traditional pita bread.
But you can also use regular pita as well as tortillas if in a pinch.
Tips for Making Musakhan
To avoid soggy bread, toast the bread slightly first under the grill with some olive oil brushed on them. This crisps them up before adding the onion mixture and chicken.

Avoid cooking the onions too much. Crispy onions don't work well on this dish.

Baking the chicken instead of boiling or pan frying gives it more flavor.

Pour the chicken juices into the cooked onions for extra flavor.
Give this Musakhan recipe a chance, and I think you will find it to be one of the food success stories you are looking for!
Musakhan Recipe
Musakhan is the national dish of Palestine, and it is as tasty as it is unique.

Print
Rate
Ingredients
For The Chicken
8

Whole Chicken Legs

skin and bone on

3

tbsp

Olive Oil

1

tsp

Seven Spices

1

tsp

Sumac

½

tsp

Salt
For The Bread
¾

Cup

Olive Oil

8

Onions

chopped

1

tbsp

Salt

2

tbsp

Sumac

1

tbsp

Cumin

2

tsp

Seven Spices

8

Taboon Bread

large

¼

cup

Pine Nuts

roasted
Instructions
For The Chicken
Preheat the oven to 400°F (200°C).

Mix the olive oil, seven spices, sumac, and salt in a small bowl.

Place chicken in a baking tray, using your hands rub the spice mixture into the chicken skin.

Bake for 40 minutes until well done.
For The Bread
Put the chopped onions with the olive oil in a pan over medium heat. Cook stirring occasionally, until onions are soft and translucent. Do not brown.

Mix the salt, sumac, cumin, seven spices. Add to onions once done.

Split the onion mixture between the taboon bread loaves spreading on the bread leaving a rim around the edge.

Place one chicken leg on each loaf of bread. Sprinkle equally with a few pine nuts.

Place each loaf under the grill to toast the bread slightly.
Nutrition
Serving:
8
people
|
Calories:
732
kcal
|
Carbohydrates:
43
g
|
Protein:
28
g
|
Fat:
49
g
|
Saturated Fat:
9
g
|
Cholesterol:
119
mg
|
Sodium:
1432
mg
|
Potassium:
527
mg
|
Fiber:
3
g
|
Sugar:
4
g
|
Vitamin A:
130
IU
|
Vitamin C:
8.4
mg
|
Calcium:
96
mg
|
Iron:
2.9
mg