Malfouf (Stuffed Lebanese Cabbage Rolls)
Malfouf is traditionally a stuffed cabbage roll with a rice and meat filling.
Adapting this dish as a vegetarian or vegan one is as simple as can be.
Rolled cabbage is common in many countries, although the flavoring is different from place to place.
In the Middle East malfouf is made with a cabbage that has very large leaves.
Once blanched, the leaves are easy to roll and to fill with a mixture of ingredients.
Adding additional garlic cloves to this dish gives it a nice rich flavor reminiscent of the Arab world.
What is Malfouf?
The word malfouf means cabbage, as well as rolled up in Arabic.
When referred to as a dish, it indicates the stuffed cabbage leaves enjoyed in this part of the world.
Middle Eastern cuisine has several recipes of stuffed meats, vegetables and leaves, such as stuffed grape leaves.
The filling made for malfouf is similar to other stuffings with a few differences in the spicing.
Normally made with short grain rice, to allow for better stickiness, medium grain rice can also be used.
What Kind of Cabbage to Use
Jaroma cabbage is the one used to make malfouf mainly because of its large leaves.
It is the predecessor to the well known white cabbage that most of us are familiar with.
It has a round shape with a flatness to its top, and has less of a bitter flavor than some other varieties.
This is the predominant type of cabbage found in the Middle East, but you can find other varieties as well.
One type that I like to grow in my own garden is the red cabbage which is wonderful in salads.
How to Make Malfouf
Soak the rice for 20 to 30 minutes before mixing with spices.
This will give the rice a head start so that it will be steamed evenly inside the cabbage leaf.
The core of the cabbage should be removed making it easier for the leaves to come off.
Also the core being very stiff will not roll well with stuffing, so is best left out.
Bring water to a boil in a large pot and blanch the leaves until soft, just a few minutes.
Most of the large leaves can be cut in half to make two separate rolls.
Fillings of rice and lamb or ground beef, along with spices will be put in the middle of the leaf.
Roll it tightly and stack the cabbage leaves in the bottom of the pot with a bit of olive oil.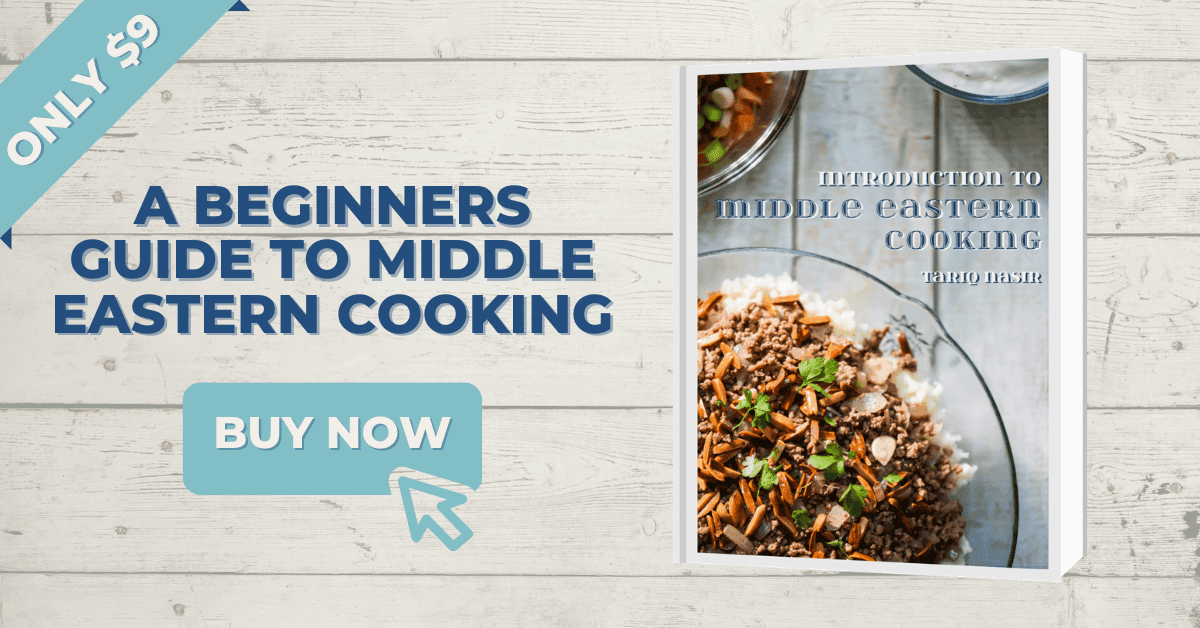 Put an inverted oven proof plate on top of the cabbage rolls when done.
This is so the rolls will stay in place when water and broth is added.
Usually the plate will be removed after the first 20 minutes of cooking when the danger of floating has passed.
Add the water and broth, bring to a boil, then turn down to a simmer and cover the pot.
Once you have taken the plate out, cook for another 30 minutes or so until all the liquid has evaporated.
Don't worry if you need to cook it longer, it won't make a difference to the rolls.
Traditionally the pot will be turned over onto a big plate, but you can also serve the rolls out of the pot.
Serve with yogurt and lemon juice.
What to Serve with Malfouf
Oftentimes meat will get cooked right along with the malfouf in the bottom of the pot.
Usually the meat will be a leg of lamb that has been cut into smaller portions for cooking, rib chops are often used as well.
Served with yogurt, lemon wedges for squeezing, along with a salad is most typical.
Tips for Making
Make sure to blanch the cabbage leaves for the best result when rolling.

Cook slowly over low heat to make sure that all the water is absorbed into the rice.

Add some minced garlic along with whole cloves into the pot with the rolls for an extra zesty flavor.
Malfouf Recipe
Cabbage stuffed with rice and meat, creating an explosion of flavor delivered directly to your mouth!
Print
Rate
Ingredients
1

Cabbage

Middle Eastern if possible

6

Garlic Cloves

minced

2

cups

Rice

short grain

2

tsp

Salt

2

tsp

Seven Spices

1

tsp

Black Pepper

2

oz

Lamb

ground

2

cups

Chicken Broth

2

cups

Water
Instructions
For the Cabbage
Peel cabbage leaves. Bring a pot of water to boil.

Blanch cabbage leaves until soft and set aside.
For the Filling
Place rice in a bowl and cover with water. Let sit for

15 minutes

and drain.

Mix the rice, salt, spices, and meat.

Place a few leaves in the bottom of the pot to be used for cooking.

Take a small amount of filling and place in cabbage leaf. Roll into cigar shape and place in the pot. Stack malfouf until the pot is full.

Mince garlic and spread on top layer of malfouf. (Place a plate on top of the malfouf in the pot, so that they don't float.)

Pour the broth into the pot. Bring to a boil, and then turn down to a simmer. Cover loosely with lid, so that steam can escape easily.

Once the water levels with the top of the malfouf, you can remove the plate. Cover again and keep cooking.

Cook until done, about

45 minutes

in total or until broth has cooked off.

Remove lid. Place the serving dish over the pot and then flip. Remove pot and serve immediately with yogurt and salad.
Nutrition
Calories:
166
kcal
|
Carbohydrates:
36
g
|
Protein:
4
g
|
Fat:
1
g
|
Saturated Fat:
1
g
|
Cholesterol:
1
mg
|
Sodium:
828
mg
|
Potassium:
279
mg
|
Fiber:
3
g
|
Sugar:
3
g
|
Vitamin A:
90
IU
|
Vitamin C:
40.3
mg
|
Calcium:
58
mg
|
Iron:
1
mg