I believe that one of the best skills I have is how to roast sesame seeds.
Raw sesame seeds are great too, but there is no substitute for the roasted variety.
I love the taste of sesame seeds,with their glorious nutty flavor.
I like including them in all kinds of foods that I'm cooking.
From bread, desserts, salads, and in many other dishes.
One of my favorites being its inclusion in za'atar.
Have you ever thought of what a sesame seed is, and where it comes from?
The sesame plant is a flowering species that produces seeds which grow in pods.
Sesame plants have been cultivated from the very earliest times for its nutritious seeds.
These seeds are some of the most healthy foods you can come across with loads of nutrients,
dietary fiber, and many other health benefits.
There are a couple of different methods for toasting.
Here's my guide on how to roast sesame seeds:
Toasting in the Oven
Roasting sesame seeds in the oven can take longer than doing them in a pan on the stovetop.
For the oven method preheat the oven to 350 degrees.
Line a baking sheet with parchment paper.
Place in the oven removing every few minutes shaking the pan to make sure the seeds brown evenly.
You will know that you have correctly toasted the sesame seeds when they develop a light golden brown color.
For best results, be sure not to over brown or burn the delicate seeds.
Toasting on the Stovetop
I have found that a cast iron frying pan works really well for this.
Heat your pan over medium low heat to begin toasting the seeds.
Stirring occasionally with a wooden spoon cook for 3-5 minutes until golden brown.
Simple as that!
Using Toasted Sesame Seeds in Recipes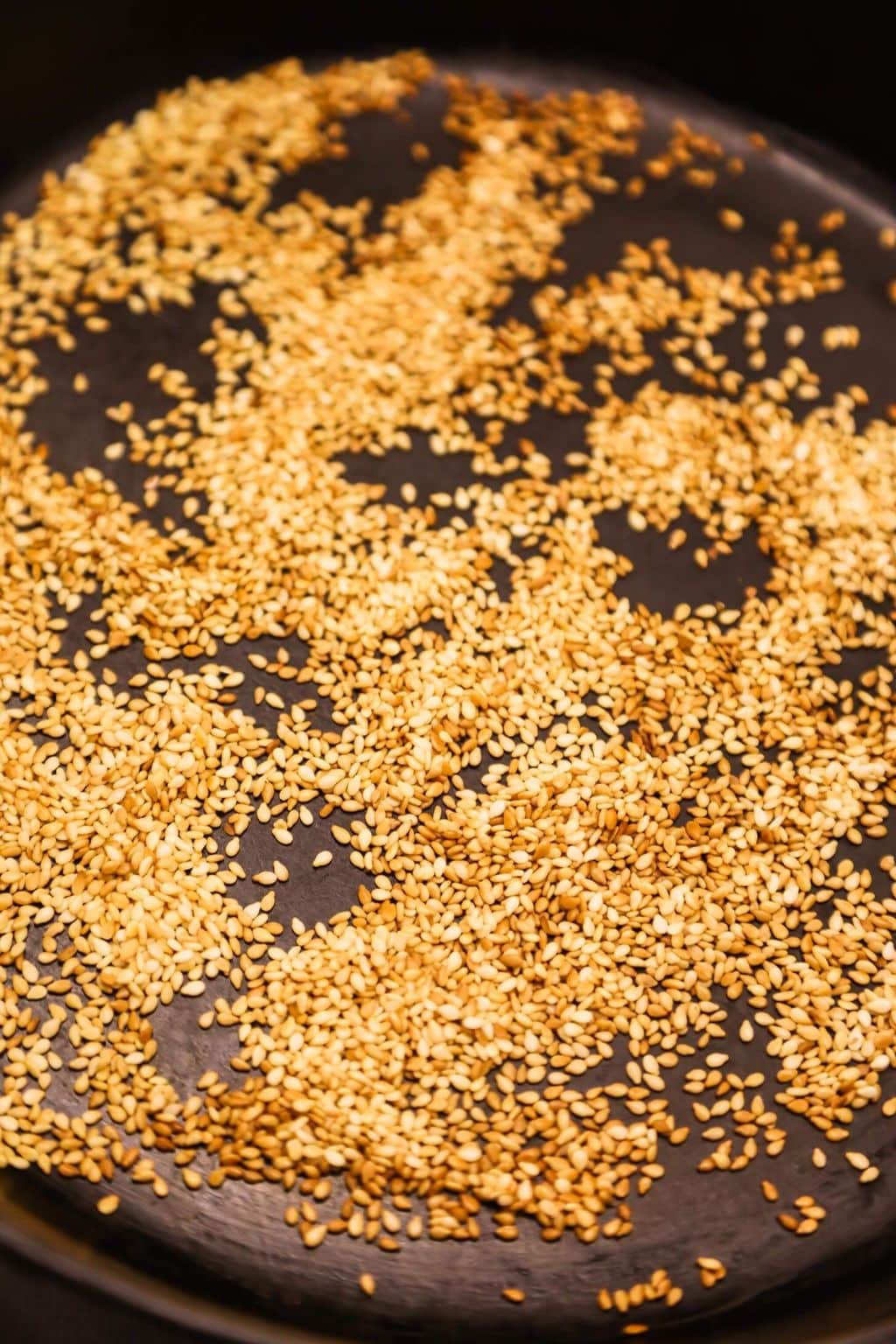 Sesame brittle is as good a place to start as any when it comes to sesame seeds and what to do with them.
This simple dessert made with sesame seeds, honey or sugar and pressed into a bar or a ball.
Delicious!
Sesames seeds are a great addition to homemade crackers, cookies, breads and other baked goods.
They can be used in salads, as garnishes for soups, to add a crunch in a stirfry, or added to dips or spice mixes like za'atar.
I would encourage you to experiment and see where you think toasted sesame seeds can be used in new ways.
Please let me know what you come up with, I'd be really interested to hear.
FAQs
Are Sesame Seeds Gluten Free?
Yes they are!
Wonderfully gluten free and packed to the brim with goodness.
From being sprinkled on your favorite gluten free snacks, to being ground up and pressed through a fine mesh strainer to make tahini, sesame seeds are versatile.
Are Sesame Seeds Good For You?
Yes they are! Very good for you in fact. T
hey contain properties that help keep blood pressure low, protect the liver, and lower cholesterol.
All that plus several nutrients, vitamins, and dietary fiber.
Do Sesame Seeds Go Bad?
Sadly they do.
It's a good idea to store your seeds properly to give the best chance to stay fresh.
Like most seeds, sesame seeds have a high oil content and therefore are very susceptible to becoming rancid.
Be sure to keep them stored in an airtight container in a cool dry place.
You can keep them in the refrigerator or freezer but you need to watch out for moisture which is the enemy of sesame seeds.