My memories of Sfiha are of my grandmother as she sat on the ground outside baking the meat pies in her little taboon oven.
Little dough balls sitting in a tray next to her on a floured surface, she would take them one at a time and prepare them.
Where most of us would be rolling the dough with a rolling pin, but not my Sitti (grandmother), she would flatten them out with her hands, load them up with meat topping, and toss them, without baking sheet, parchment paper, into her wood fired oven.
She would always make me special cheese ones with mint and olive oil.
The pies would just cook on the clay floor of the oven, and they would come out beautifully, and the taste was exquisite.
I can still remember the taste of that beautifully melted cheese all these years later.
JUMP TO:
What is Sfiha?
Essentially this is a Middle Eastern open faced pizza with a lamb meat mixture, or cheese mixture, topped with either olive oil or pine nuts.
Like everyone in the Middle East every family has their own recipe that is passed down.
Some people use tahini in the meat mixture, some use pomegranate molasses, but regardless most recipes I've tasted have been delicious, especially when freshly out of the oven.
These days when buying these pies outside the house you will find that the topping is made of either a mix of lamb and beef or all beef depending where you go.
Lamb has become more expensive in the Middle East, and where once was the staple meat, has been taken over by cheaper local and imported beef.
How to Make Sfiha Dough
Again, there is no one way to make this dough, everyone has their own method based on family recipes that have been passed down the generations.
Below I will share my recipe.
Bread is such an integral part of Middle Eastern cooking, and so getting the dough right for these recipes is important.
You will want to start with a good quality flour, and yeast, instant is usually best so you can mix it all in at once.
Put the flour and yeast in a large bowl, add salt, whisk to mix well.
Add warm water and mix until dough forms.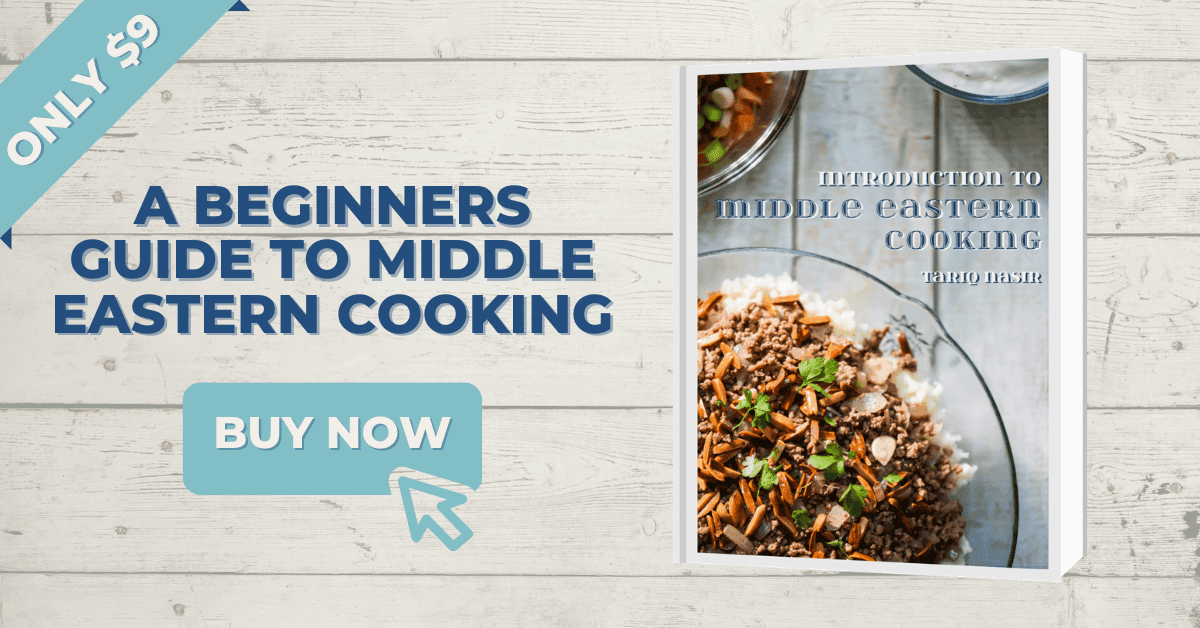 If the mixture is too dry, add some liquid, and if it's too wet, add flour until you have a good consistency that is a bit more on the sticky side, but not sticky.
Make sure you knead the dough for a good fifteen minutes, five to seven if you are using a mixer.
The kneading process for dough is a very important step in developing the gluten, making the bread lighter and more chewy, and giving it its overall structure.
Cover bowl and set aside in a warm spot, leave until dough has at least doubled in size.
How to Make Sfiha
Get the ingredients together for the kind of sfiha you will be making, chop the onions, crumble the cheese, or fry the meat topping.
I like to divide my dough into one ounce pieces making the sfihas small and easy to handle, but these pies traditionally come in many various sizes.
Once you divide the dough it will be important to let the dough balls rest for about 10 minutes before you begin shaping them into little disks.
You can use different methods to finish the pies, one is to take the dough ball and just push some of the topping in the middle without spreading the dough too far.
This will give you a very puffed up version of the sfiha with the topping becoming a bit of a filling.
You can use a rolling pin to roll the dough into a flat disk shape and then put the topping on by pressing it into the dough with your fingers so that it doesn't come off easily after baking.
Or you can shape the dough the old fashioned way using your hands.
Press your thumbs into the dough ball as you rotate it between thumb and forefinger flattening it out as you go, again creating a small round disk of dough.
Press the topping of cheese or meat into the dough and back in the oven for 20-25 minutes until brown.
Sifa Ingredients
Equipment I Used
Palestinian Sfiha Recipe
Print Recipe
Palestinian Sfiha Recipe
These mini "Arab Pizzas" are perfect for parties and gatherings!
Instructions
Place flour in a large bowl. Add salt and yeast.

Stir with whisk until well mixed.

Create a well in the middle of the flour mixture. Pour in olive oil and water.

Pulling flour in from the outside with your hand as you mix it into dough.

Once you have your dough cover the bowl and set aside in a warm place. Allow dough to rise to at least twice its size.

Cut dough into equal size pieces, and roll them into balls. Set aside while you make the topping.

Crumble the cheese into a bowl. Add the olive oil, and dried mint.

Stir until all ingredients are well incorporated. 

Roll out the dough balls into flat round disc shapes.

Spoon a measure of topping onto dough. Press the topping into the dough with your fingers. Place on a baking sheet.

Bake at 392ºF (200ºC) for 20 minutes or until brown.
Nutrition Per Serving
Calories:
111
kcal
-
Carbohydrates:
12
g
-
Protein:
4
g
-
Fat:
5
g
-
Saturated Fat:
2
g
-
Cholesterol:
7
mg
-
Sodium:
133
mg
-
Potassium:
24
mg
-
Fiber:
1
g
-
Sugar:
1
g
-
Vitamin A:
70
IU
-
Vitamin C:
1
mg
-
Calcium:
51
mg
-
Iron:
1
mg