Laban Immo (Yogurt Cooked Lamb)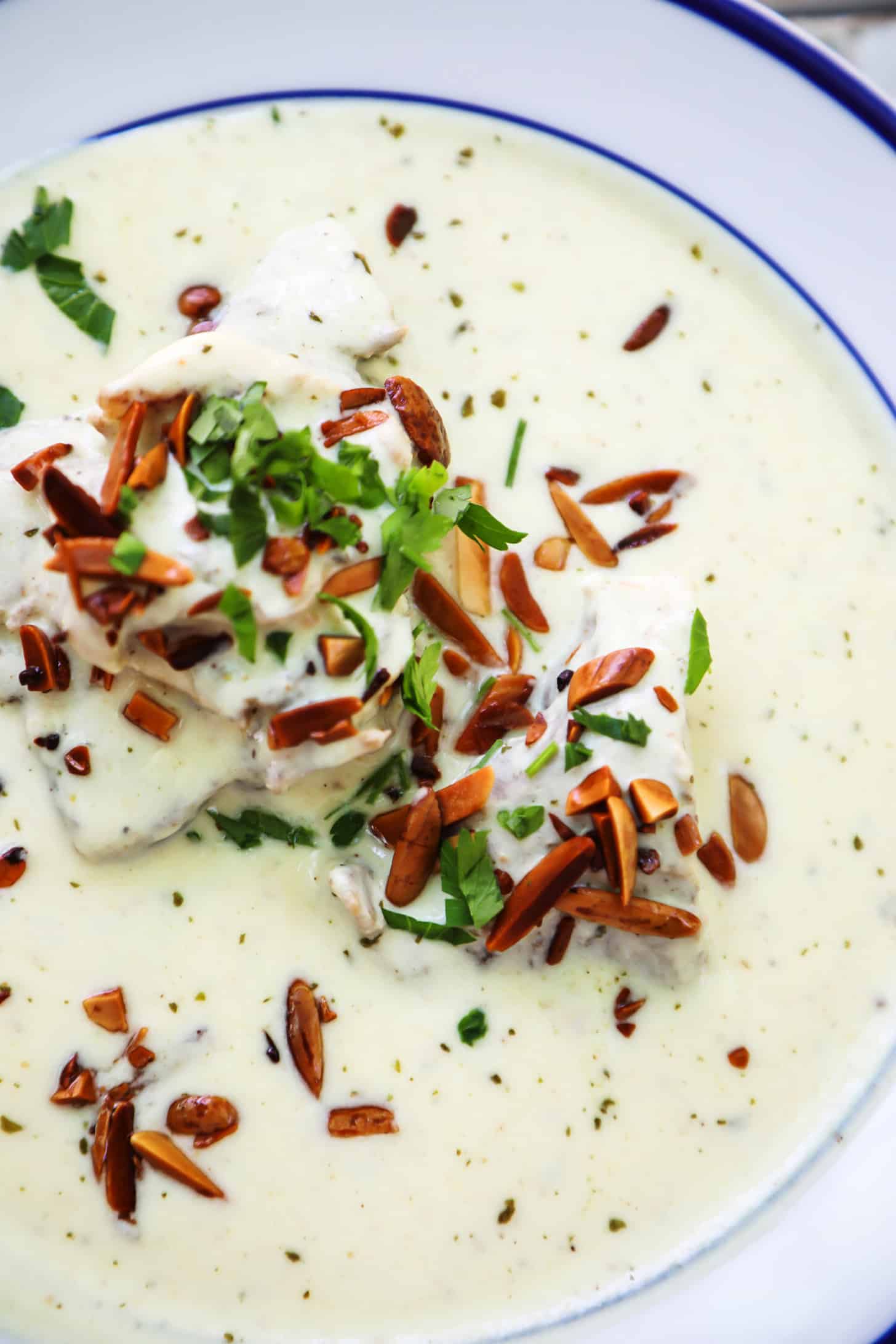 Laban immo literally translates from the Arabic as his mother's milk reflecting on the cooking method.
This is a lesser known dish in the west, but very popular in many countries of the Middle East.
A meal where the meat is tender, cooked in a lovely bath of velvety smooth yogurt sauce with a hint of mint.
Delicious everytime, andd something I would assume would go on your to be cooked often list.
How to Make Laban Immo
Slow cook a pound of lamb meat, preferably with bones, ahead of time until it is tender and well cooked.
Add garlic to a pan and fry for a few minutes until it begins to brown, then add the yougurt and stir.
Stir cold broth into the corn starch(corn flour), stir for a minute, then pour into the yogurt.
Seven spices are then added, dried mint, with salt and pepper if you choose.
Add the cooked meat, and bring the mixture to the boil stirring, then simmer for 10 minutes.
Toast slivered almonds, or pine nuts, in a little bit of olive oil and use as a garnish when serving over rice.
What is The Best Type of Yogurt to Use
Traditionally this dish is made using sheep or goat's milk yogurt for the mild and slightly tangy flavor.
These yogurts are also much lower in lactose than cow's milk making them much easier for most people to digest.
Sheep's milk yogurt is higher in calcium over other types of milk.
This type of milk gives you up to 40 percent of the daily value in one serving of yogurt.
Higher in protein than cow's milk, sheep's milk also holds up well at high temperature, so is well suited for cooking.
Sheep's milk is thicker than cow's milk as well making it lovely and creamy!
Laban Immo (Yogurt Cooked Lamb)
Instructions
Add 1 cup cold lamb broth to the cornstarch and stir well, then add to the yogurt.

Add the slow cooked meat and bring to a boil, then simmer for 10 minutes.
Nutrition Per Serving
Calories:
160
kcal
–
Carbohydrates:
12
g
–
Protein:
7
g
–
Fat:
10
g
–
Saturated Fat:
4
g
–
Polyunsaturated Fat:
1
g
–
Monounsaturated Fat:
5
g
–
Cholesterol:
21
mg
–
Sodium:
464
mg
–
Potassium:
298
mg
–
Fiber:
1
g
–
Sugar:
8
g
–
Vitamin A:
190
IU
–
Vitamin C:
1
mg
–
Calcium:
217
mg
–
Iron:
1
mg