Halva/Halawa (Both Spell Dessert)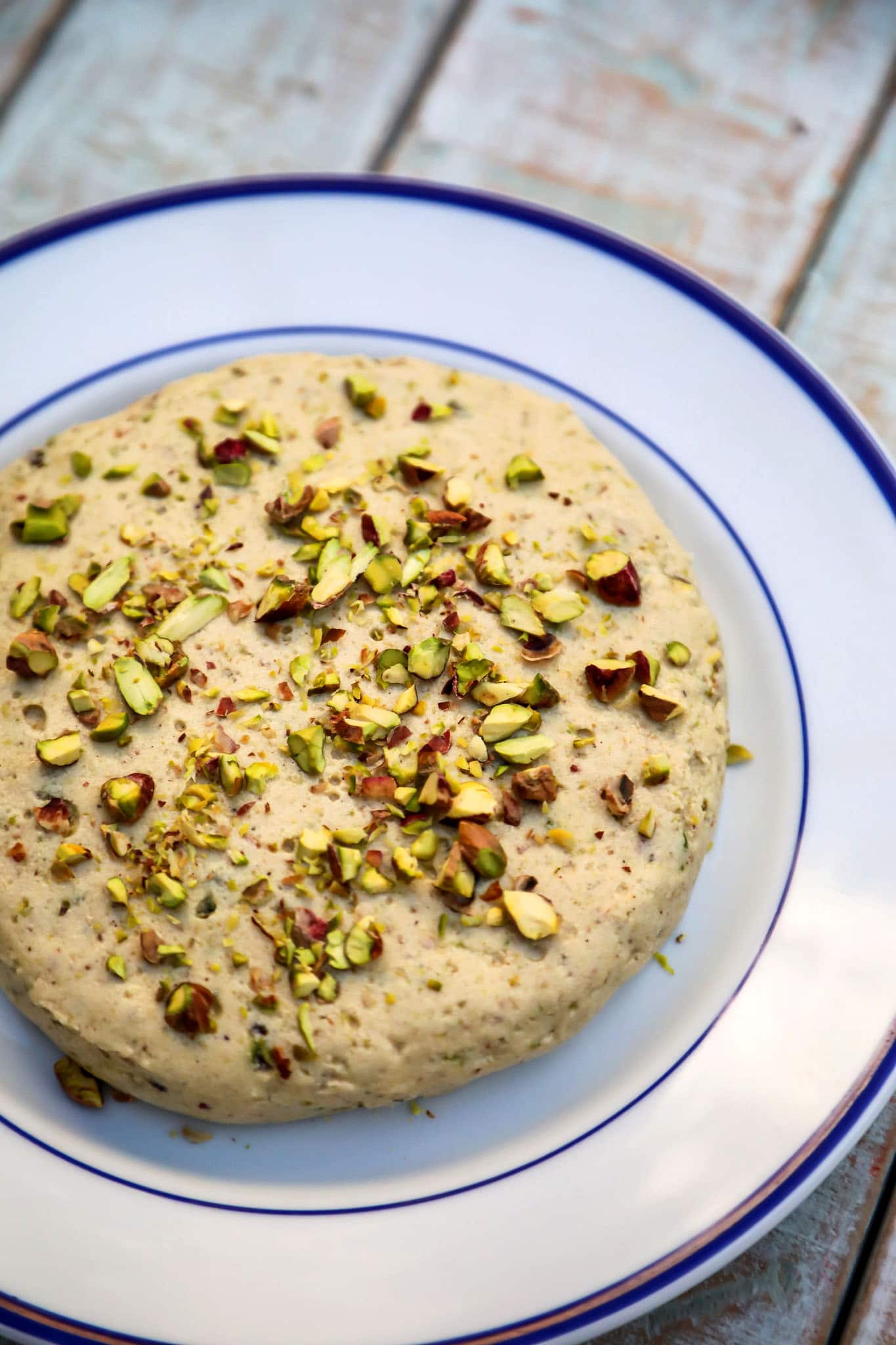 No matter if you call it halva or hallawa you are talking about a delicious sesame dessert.
Very popular in the Arab world, this Middle Eastern treat is as unique as it is delicious.
There are several variations of this exceptional and very unusual confection.
The Arabic word halawa, pronounced as halva in some places simply means sweet.
A very fitting, and appropriate description for this terrific dessert.
What is This Dessert?
This dessert goes all the way back to Byzantine times, so around and about the 12th century.
It made an appearance in the oldest known Arabic cookbook, translated as The Book of Dishes, as a typical dessert.
This recipe, with it's Turkish roots, is made with simple ingredients which is indicative of an ancient method of cooking.
A very popular recipe in the Middle East, it comes in all kinds of flavors, textures and shapes.
The recipe itself has been modernized, and is made commercially, which like other foods changes the soul of a food.
For example whereas the original included powdered sugar, a lot of big producers now use sugar syrup in the form of corn syrup.
This tends to make the halawa harder, more slicable and easier to store.
Helva, as it's known in Turkish is made in slightly different ways depending on which country it is made in.
Each village or province in different countries will have their own version.
In the United States this dessert can be found mostly in cans.
It will be sold in vacuum sealed packaging and in only a couple of flavors.
How to Make Halva or Halawa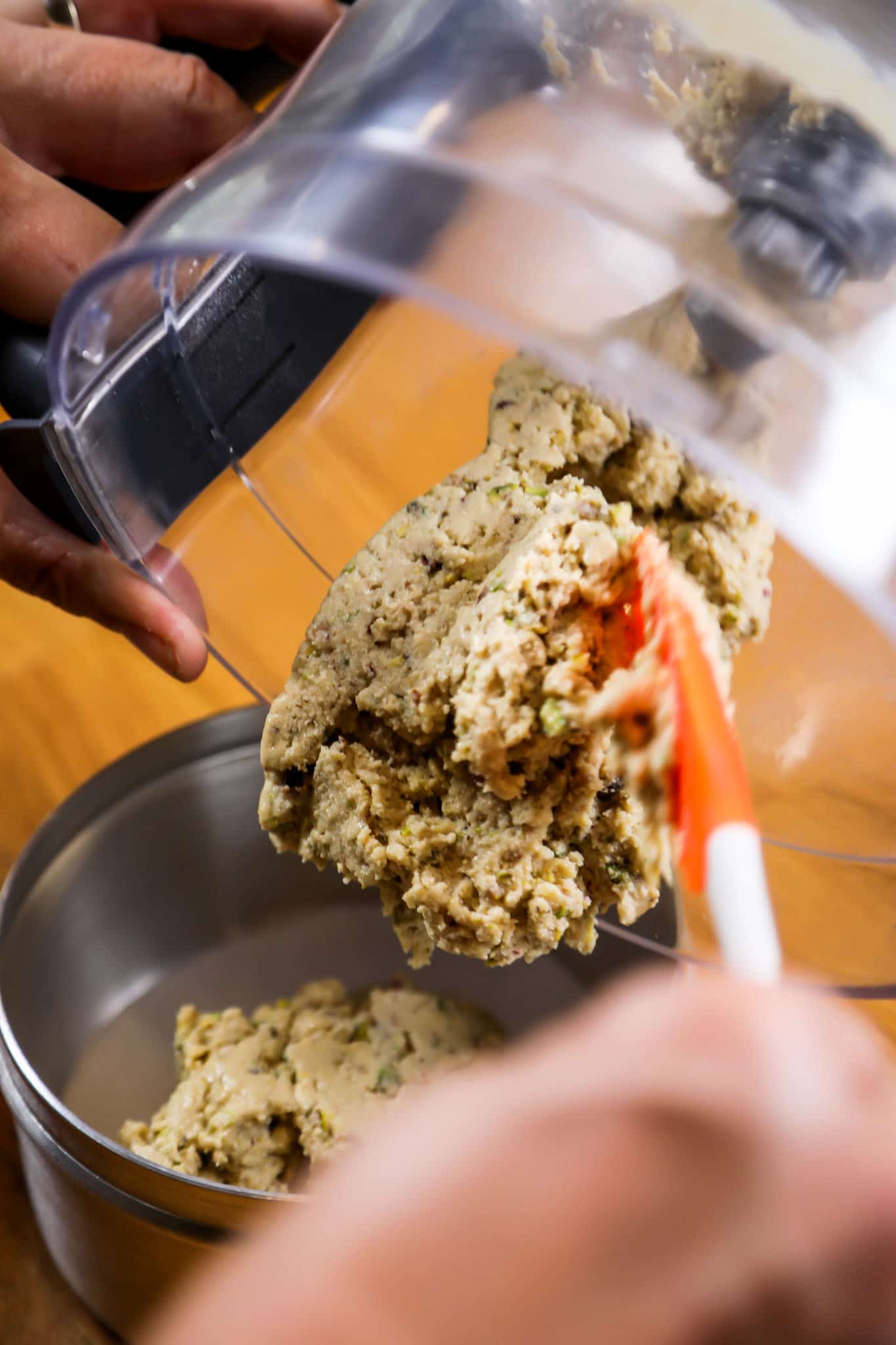 This easy recipe uses simple ingredients that are relatively easy to find in most grocery stores.
This original method will require powdered milk, tahini, powdered sugar, and ground cardamom.
Add all ingredients to a food processor along with chopped, shelled pistachio nuts, and process.
Be careful not to overmix otherwise it can become a little grainy and bitty.
Scrape the sides of the bowl with a wooden spoon getting the whole mixture.
Very quickly the ingredients will come together to form a tahini mixture that will easily form a ball.
Line a loaf pan with parchment paper, and the mixture, then press down with your hands.
For this recipe a small loaf pan or other small container will be ample to hold the halawa.
Other methods that have been developed more recently will utilize a homemade sugar syrup.
This recipe uses about two cups of granulated sugar, with about half a cup water over medium heat in a small saucepan.
When the sugar mixture reaches 245 degrees, registering on a candy thermometer, then pour the syrup into the tahini.
A flavoring such as vanilla extract can be added at this stage, along with nuts or sesame seeds.
Working quickly, once the mixture has begun to thicken, pour it into the prepared pan.
Tahini in Sweets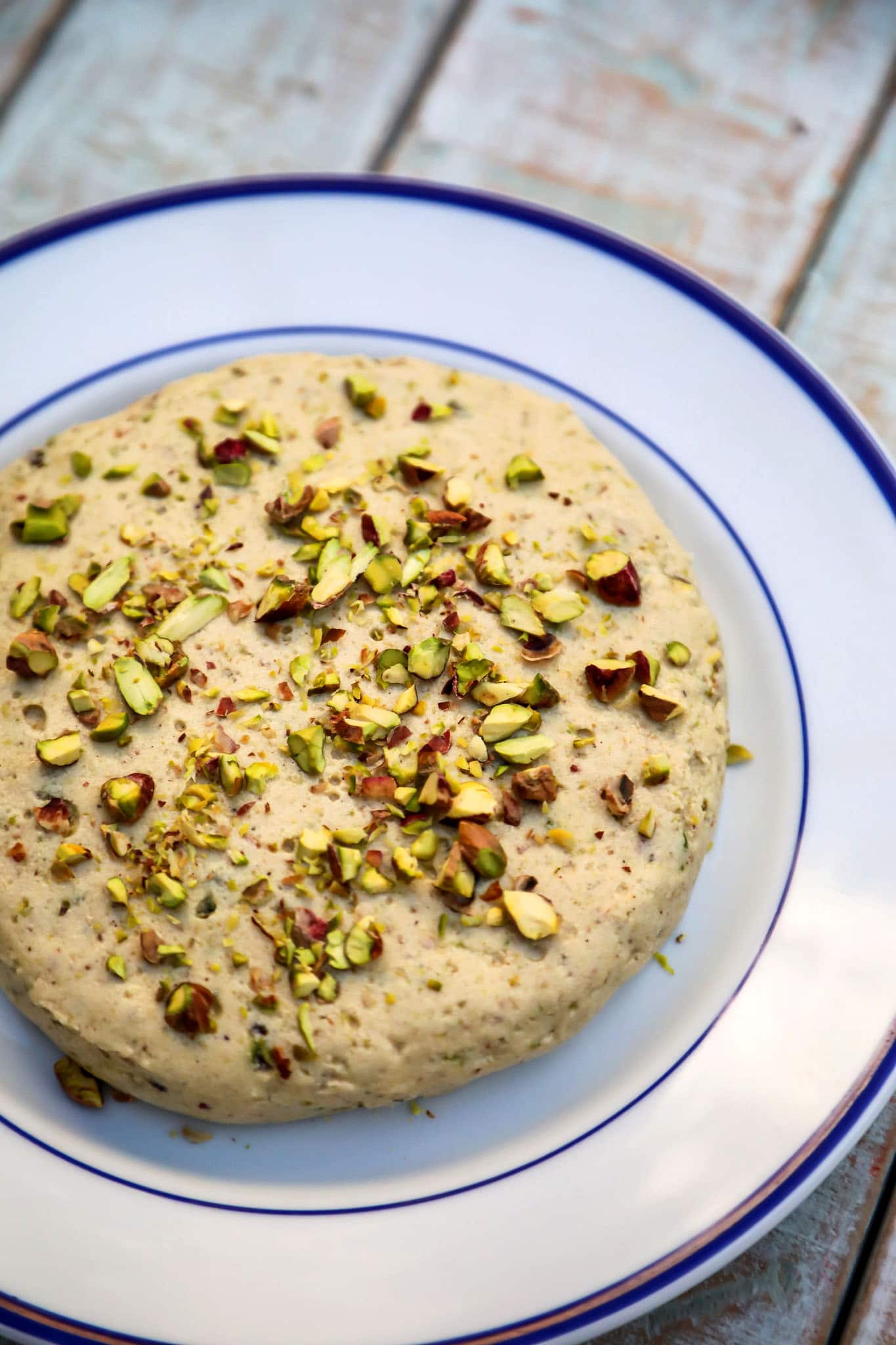 Probably the most famous tahini sweet is halawa or halva, the ubiquitous street dessert in the Arab world.
But there are other ways to turn tahini into a sweet dish, like mixing it with date molasses, producing a lovely dip.
Tahini can be used to make granola or even to create a delicious ice cream sweetened with honey.
Coconut tahini fudge, cinnamon tahini cookies or tahini chocolate pudding are some others.
Then there are brownies, chocolate chip cookies, and one of my favorites, tahini doughnuts!
Halva/Halawa Recipe
No matter if you call it halva or hallawa you are talking about a delicious sesame dessert.
Print
Rate
Ingredients
1

cup

Powdered Milk

¾

cup

Tahini

½

cup

Powdered Sugar

½

tsp

Cardamom

¼

cup

Pistachios

chopped
Instructions
Place all the ingredients in a food processor and process until thick.

Pour into a lined pan and allow to firm up slightly.
Nutrition
Calories:
132
kcal
|
Carbohydrates:
10
g
|
Protein:
4
g
|
Fat:
9
g
|
Saturated Fat:
2
g
|
Cholesterol:
8
mg
|
Sodium:
34
mg
|
Potassium:
179
mg
|
Fiber:
1
g
|
Sugar:
7
g
|
Vitamin A:
90
IU
|
Vitamin C:
1
mg
|
Calcium:
91
mg
|
Iron:
1
mg