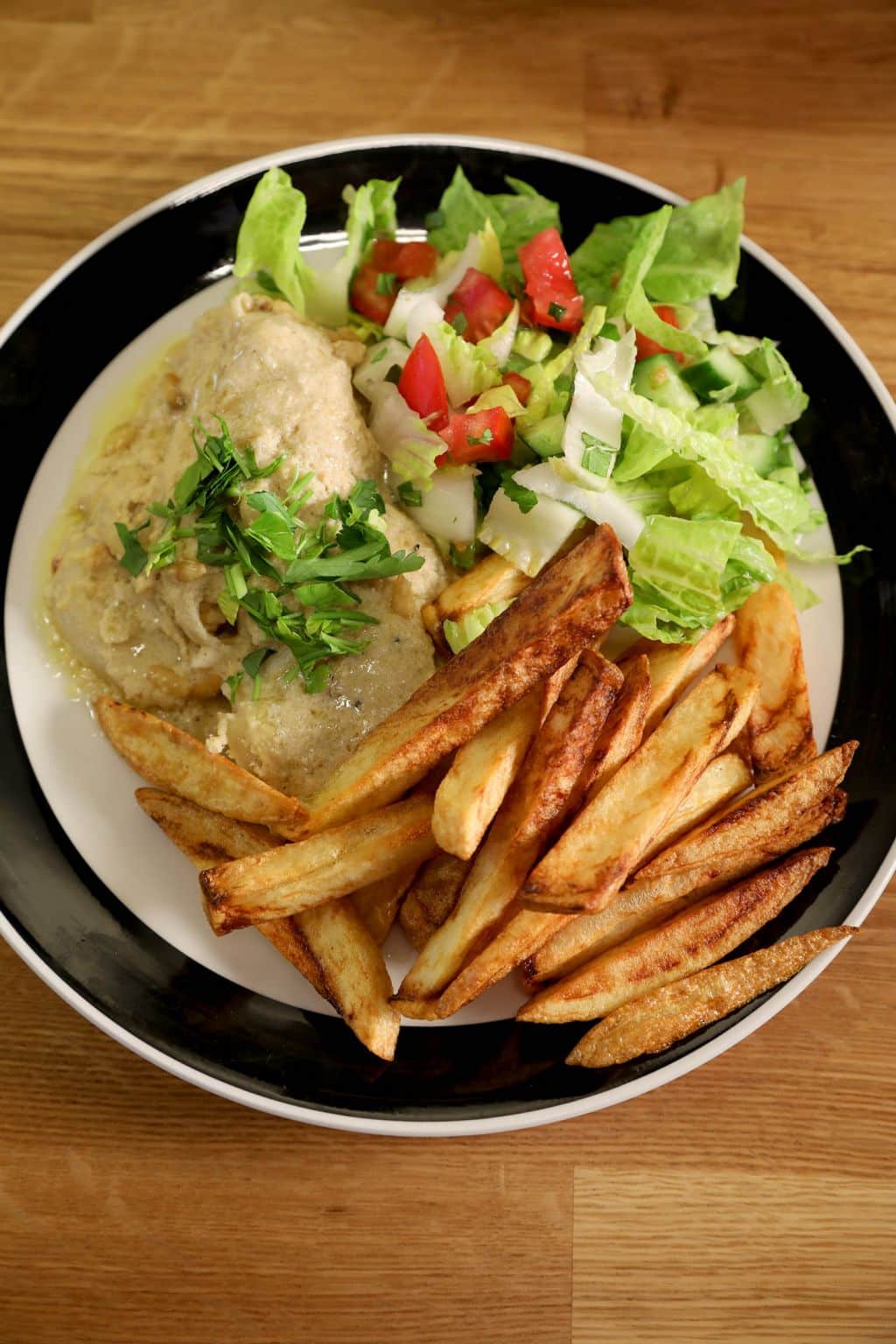 I like to make this recipe using black grouper, as it is quite a robust fish, and holds up quite well in the fish with tahini sauce recipe.
This a wonderful tasting dish, and is a favorite of many people.
Fish is widely eaten in the Middle East, and there are many variations, from simply roasting, to frying to baked in sauce.
Tahini is used in a lot of dishes in this part of the world.
And tahini is quite good for you after all.
It helps regulate blood pressure, lowers cholesterol, and boosts nutrient absorption, among many other things.
So that combined with fish makes this a healthy meal to enjoy.
Fishing has always been something I've enjoyed.
I am by no means a seasoned fisherman or anything like that, but it feels therapeutic to sit quietly with a fishing rod in the water waiting for a fish to bite.
Many years ago I did some deep sea fishing with a friend off the coast of North Carolina in the U.S.
We caught sea bass and had a wonderful day out, drinking beer, and enjoying the fresh air and beautiful weather of the day.
I also attempted fly fishing once in Colorado which I found a lot of fun.
I think the most fun was wading into the river with waders on and enjoying the feel of the current rushing past.
The method to fly fishing is definitely an intricate one, and will take many years of practice to become good at.
And of course it isn't about collecting the fish, the fishermen catch and release their prizes, usually after a quick photo for proof to show family and friends.
Otherwise without photographic evidence you would get lot's of the 'one who got away' stories.
Colorado in the summer can be very beautiful indeed, and allows you to fly fish, or hike, or ride horses, and other outdoorsy stuff.
I have mostly spent time in Colorado in the winters, when again it is a very beautiful place to be.
Skiing is a very enjoyable sport to enjoy in Colorado in the winter.
It wasn't always enjoyable for me since I learned to ski as a grown up.
I found that once I learned to stop it became much more enjoyable.
Before learning to stop I literally threw myself on the ground to stop.
A bit hard on the body!
But once you learn the rules it becomes a beautiful thing having two flat boards attached to your feet.
Once you go against your instincts and actually lean your body downhill, when your brain is insisting you lean the other way, you learn to trust the method and go with it.
And in the process become a good skier.
It's kind of like baking food at altitude, the normal rules change, and the instincts you had for cooking go out the window.
Low pressure has an effect on food.
For one thing food will lose moisture more quickly, given that water will boil at a lower temperature.
Therefore, if you are baking fish with tahini sauce at altitude you may have to cook it a bit longer and add a bit more liquid.
What feels right under normal circumstances may not be the way to go when your fish is smothered in tahini sauce!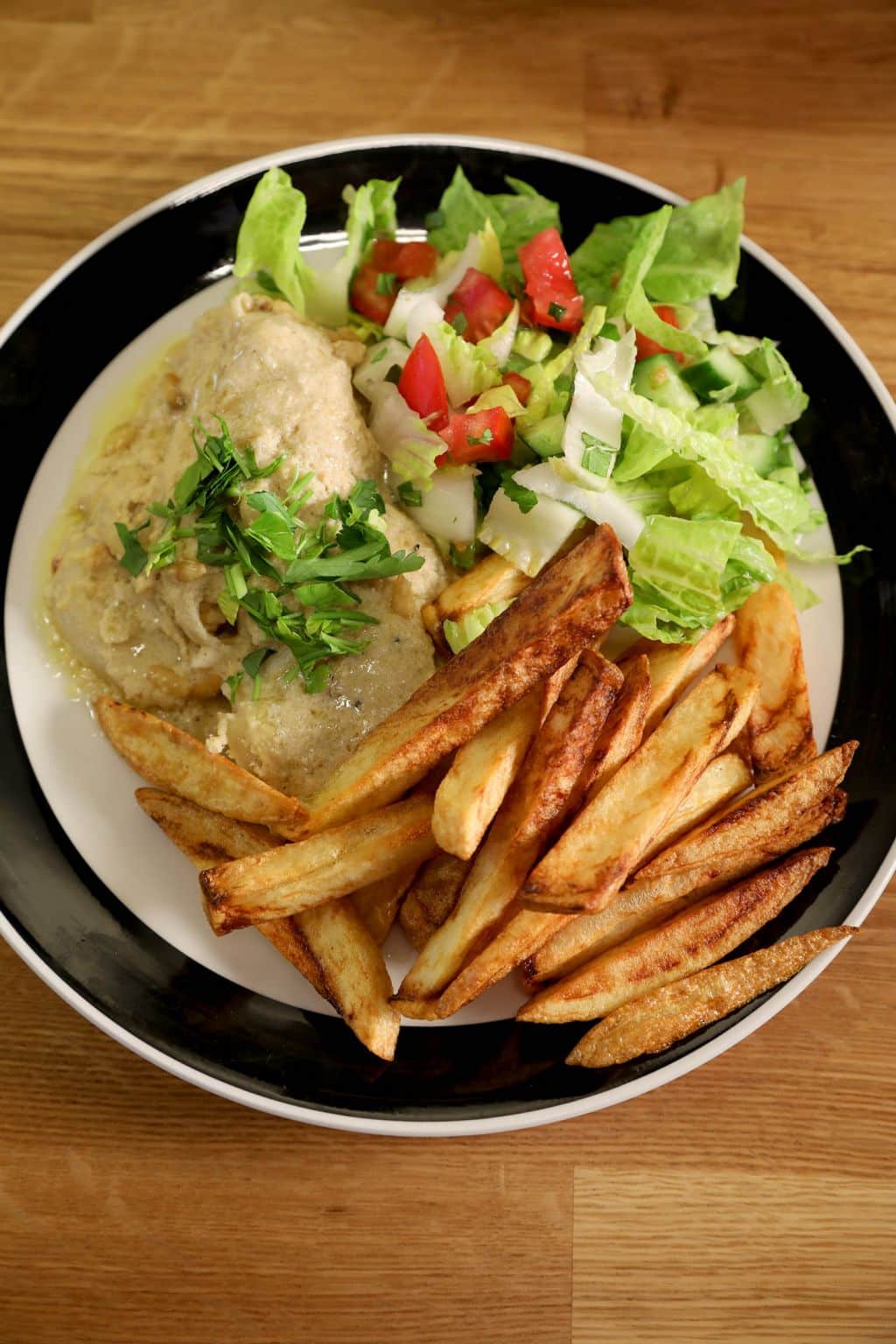 Fish with Tahini Sauce
A wonderful twist on baking fish, that will definitely get people talking!
Instructions
Rub the spices into the fish until well coated.

Bake for 15 minutes at 350°F (175°C).

Add the tahini, yogurt, salt and water. Mix well.

After 15 minutes, take the fish out of the oven and cover with the tahini sauce. Put back into the oven for a further 15 minutes.

Remove from the oven and serve.
Nutrition Per Serving
Calories:
1101
kcal
-
Carbohydrates:
26
g
-
Protein:
65
g
-
Fat:
86
g
-
Saturated Fat:
12
g
-
Cholesterol:
128
mg
-
Sodium:
1049
mg
-
Potassium:
1337
mg
-
Fiber:
5
g
-
Sugar:
6
g
-
Vitamin A:
70
IU
-
Vitamin C:
20.6
mg
-
Calcium:
177
mg
-
Iron:
5.8
mg