This month was mostly filled with visiting family and friends.
We spent the first week in Amman and then we headed to the States for two weeks.
One thing I'm really excited about this month is the launch of my 2020 challenge – #CookTheStates.
More on that below…
This month has flown by but it's been a beautiful start to a new year.
Launched #CooktheStates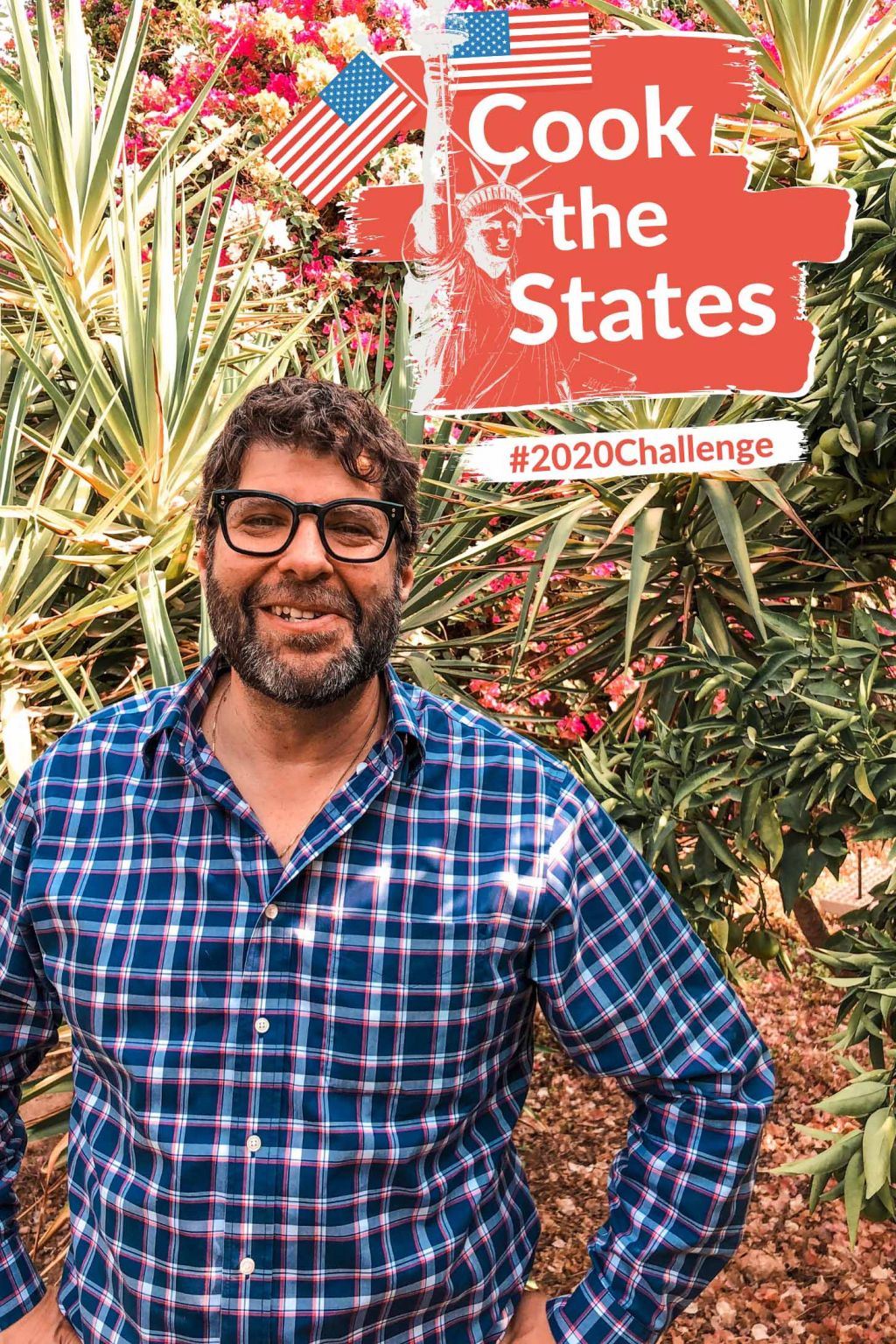 After spending a year in Amman rediscovering my Arab heritage and the food that goes with it, I decided to focus on the other half of me.
My Mom is from Michigan and I spent time there growing up.
I then lived in North Carolina for 20+ years.
I had experienced American food but as there is so much variety from State to State, there was so much to still discover.
My challenge is 50 dishes from 50 States over 50 weeks.
This month I explored New York (my birthplace), North Carolina (where I cooked with my son) and Michigan (where I cooked with my Mom and Sister).
It's been such an interesting challenge so far and I'm excited to explore all of the other States!
If you want to know more, head over to my Cook The States page.
Had a Quick Stopover in London
On our way to America, we stopped in London for two nights.
I lived in London for 10 years before moving to Amman and it's one of my favorite cities.
Luckily, two of my best friends were in town at the same time and we grabbed dinner.
We realised that we had been friends for 40 years this year!
Quite an achievement!
We spent our days wandering London and just taking the opportunity to walk and walk.
The second night we visited one of our favorite restaurants, Sticks n' Sushi, which I wrote about in last month's January Favorites.
We ate what felt like everything on the menu!
But it was absolutely worth it.
The food is always incredible there.
I definitely recommend you try it out the next time you're in London.
Visited My Family and Friends in the States
The big trip we took this month was to visit my son in North Carolina, and my sister and Mom in Michigan.
On our first night we had dinner with one of my oldest friends, Collin.
It's always such a joy to see him.
We ate, we laughed and we reminisced. 
I also got to spend a lot of time with my son Sari who has just bought his first house.
He helped me with my weekly edition of #CookTheStates.
We also got to catch up with my dear friend Randy and his wife Kat.
As it got nearer to leaving for Michigan, Storm Jacob came rolling through.
We were in two minds whether we should even go as the night before our flights, Chicago O'Hare cancelled over 600 flights.
However, we took our chances and surprisingly had no issues whatsoever.
If you've ever flown in or out of O'Hare on a normal day, you'll know that this is a seemingly rare event!
We landed into O'Hare, 12°F weather and snowy roads.
Luckily the highway was pretty clear and we slowly made our way safely to Benton Harbour, MI.
I spent 2 days visiting with my Mom and sister in cold, snowy Michigan.
While I was there, they both helped me cook my weekly #CookTheStates challenge.
We made fudge, which was incredibly rich but very delicious.
Our journey back was very long due to our ticketing.
We left Chicago at 8am local time on Wednesday and arrived at 11pm local time in Amman.
We flew from Chicago to Raleigh to London to Amman.
I was glad to be finally home!
My Other Brother Visited Us in Amman
My oldest brother Jamil came from Maryland to visit us in Amman for a week.
My family is spread out all over the world so we have to make a big effort to make sure we visit each other.
Above is my Dad and my brother on our daily walk.
It's been a while since there's been a few of us in one place so we've been having lovely family lunches everyday.
These are the moments that we have to appreciate in life.